Abstract
Throughout the world, urban policymakers continue to struggle balancing the ever-increasing levels of activity in cities against the need for more-sustainable forms of urban development. City-making challenges are exacerbated by the global environmental crisis and concerns about climate change, resource depletion, increased levels of pollution, and the loss of biodiversity. These concerns are directly related to current unsustainable patterns of urbanisation. This chapter first focuses on the overall context of global urbanisation and its connections to the challenge of urban transport. With reference to the current growth of cities and the ongoing urbanisation evident in many parts of the world, it details three main components of this growth: people, urban land, and transport. The chapter moves on to highlight the problems, challenges and risks that cities are facing today by looking at the central environmental, economic and social concerns that have emerged in relation to the systemic, spatial component of cities and its linkages to urban transport and access to the city. The chapter concludes by highlighting the importance of working productively with the interrelatedness of urban systems, particularly with regard to land use and urban transport.
Keywords
Ecological Footprint

Social Concern

Gated Community

Urban Transport

Slum Dweller
These keywords were added by machine and not by the authors. This process is experimental and the keywords may be updated as the learning algorithm improves.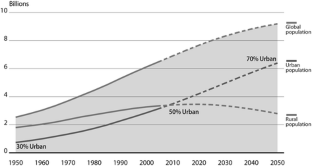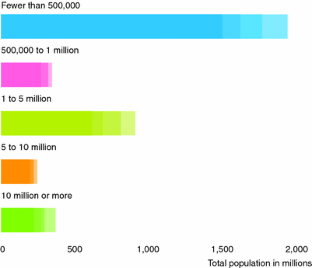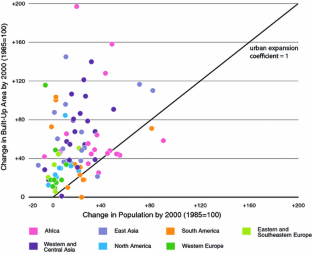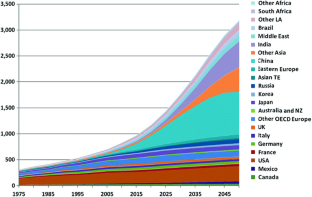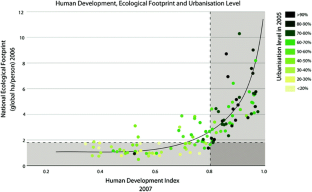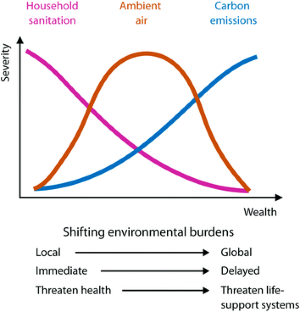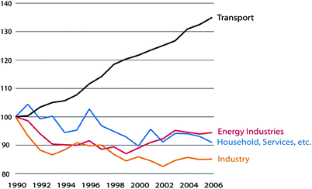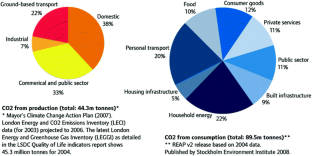 References
Angel S (2011) Making room for a planet of cities. Policy Focus Report

Angel S, Sheppard SC, Civco DL (2005) The dynamics of global urban expansion. The World Bank, Washington

Appleyard DM, Gerson S, Lintell M (eds) (1982) Livable streets. University of California Press, Berkeley

Barber B (2012) If Mayors ruled the world: why cities can and should govern globally and how they already do. Yale University Press, New Haven

Best Foot Forward (2002) City limits: a resource flow and ecological footprint analysis of greater London. Best Foot Forward, London

BioRegional and L. S. D. Commission (2009) Capital consumption: the transition to sustainable consumption and production in London. Chartered Institution of Wastes Management—Environmental Body. London

Bookchin M (1992) Urbanization without cities: the rise and decline of citizenship. Black Rose Books, Montreal

Bottles SL (1987) Los Angeles and the automobile: the making of the modern city. University of California Press, Berkeley

Bradbury A, Tomlinson P, Millington A (2007) Understanding the evolution of community severance and its consequences on mobility and social cohesion over the past century. European transport conference 2007, creating a livable environment seminar. Association for European Transport and Contributors

Buchanan CD (1963) Traffic in towns: a study of the long term problems of traffic in urban areas. H.M. Stationery Office, London

Bull FC, Armstrong TP, Dixon T, Ham S, Neiman A, Pratt M (eds) (2004) Physical inactivity. Comparative quantification of health risks. World Health Organization, Geneva

Burdett R, Rode P (2011) Living in the urban age. In: Burdett R, Sudjic D (eds) Living in the endless city. Phaidon Press, London

Burdett R, Sudjic D (2011) The endless city. Phaidon Press, London

Carruthers JI, Ulfarsson GF (2003) Urban sprawl and the cost of public services. Environ Plann B: Plann Des 30(4):503–522

CEO for Cities (2011) New York City's green dividend. http://www.ceosforcities.org/work/nycs_green_dividend

Cervero R (1998) The transit metropolis: a global inquiry. Island Press, Washington

Chen H, Jia B, Lau S (2008) Sustainable Urban form for Chinese compact cities: challenges of a rapid urbanized economy. Habitat Int 32(1):28–40

Cohen B (2006) Urbanization in developing countries: current trends, future projections, and key challenges for sustainability. Technol Soc 28(1–2):63–80

Confederation of British Industry (2004) The UK as a place to do Business: is transport holding the UK Back? CBI Report

Dargay J, Gatley D, Sommer M (2007) Vehicle ownership and income growth, Worldwide: 1960–2030. Energy J 28(4):143–170

Dora C (2007) Health burden of urban transport: the technical challenge. Sādhanā 32(4):285–292. http://www.ias.ac.in/sadhana/Pdf2007Aug/285.PDF

Edwards PTA (2008) A healthy city is an active city: a physical activity planning guide. World Health Organization Regional Office for Europe, Copenhagen

European Commission—Directorate-General Energy and Transport (2007) EU 27 CO2 Emissions by Sector, EU-27. http://ec.europa.eu/dgs/energy_transport/figures/pocketbook/doc/2007/2007_environment_en.xls

European Environment Agency (ed) (2006) Urban sprawl in Europe: the ignored challenge. EEA Report No. 10

Fulton L (2008) CO2 reductions in transport: what's hot and Not. In: IEA Day, COP-14. International Energy Agency. Poznan

Gayda S, Haag G, Besussi E, Lautso K, Noel C, Martino A et al (2005) SCATTER—Sprawling cities and transport. Stratec S.A.

Greater London Authority (2007) Action today to protect tomorrow—The Mayor's climate change action plan. Greater London Authority

Heinze GW, Kill HH (1991) Chancen des ÖPNV am Ende der autogerechten Stadt. Verkehrspolitische Lehren für einen traditionellen Verkehrsträger im Strukturbruch. Jahrbuch für Regionalwissenschaft 12/13:105–136

Herzog T (2009) World greenhouse gas emissions in 2005: WRI working paper. World Resources Institute, Washington

IBI Group (2009) The implications of alternative growth patters on infrastructure costs. Plan it Calgary, Calgary

Kamal-Chaoui L, Robert A (2009) Competitive cities and climate change: OECD regional development working papers N° 2. OECD Publishing, Paris

Knoflacher H, Rode P, Tiwari G (2008) How roads kill cities. In: Burdett R, Sudjic D (eds) The endless city. Phaidon Press, London, pp 394–411

Koolhaas R, Boeri S, Kwinter D, Tazi N, Obrist HU (2001) Mutations. ACTAR, Barcelona

Kutzbach M (2010) Megacities and megatraffic. ACCESS 37:31–35

Laconte P (2005) Urban and transport management—International trends and practices: international symposium. Sustainable Urban transport and city. Tongji University, Nagoya University, Shanghai

Litman T (2006) Cities connect: how urbanity helps achieve social inclusion objectives. In: Metropolis conference, Victoria Transport Policy Institute, Toronto

Litman T (2011) Understanding smart growth savings,http://www.vtpi.org/sg_save.pdf

Massey DS, Denton NA (eds) (1993) American apartheid: segregation and the making of the underclass. Harvard University Press, Cambridge

McDonald R, Kareiva P, Forman RTT (2008) The implications of current and future urbanization for global protected areas and biodiversity conservation. Biol Conserv 141:1695–1703

McGranahan G, Jacobi P, Songsore J, Surfjadi C, Kjellèn M (2001) The citizens at risk: from urban sanitation to sustainable cities. Earthscan, London

McKinsey Global Institute (2010) India's urban awakening: building inclusive cities, Sustaining Economic Growth

Melchert L (2004) Transnational urban spaces and urban environmental reforms: analyzing Beijing's environmental restructuring in the light of globalization. Cities 21(4):321–328

Mohan D (2002) Social cost of road traffic crashes in India. In: First safe community conference on cost of injury, Viborg, Denmark pp 33–38, http://tripp.iitd.ernet.in/publications/paper/safety/dnmrk01.PDF

Mohan D, Tsimhoni O, Sivak M, Flannagan M (eds) (2009) Road safety in India: challenges and opportunities. Transportation Research Institute, The University of Michigan Ann Arbor, Michigan, http://www.ki.se/csp/pdf/Publications/DM_UMTRI_2009_1_1.pdf

O'Connor KM, Sauer SJ (2006) Recognizing social capital in social networks: experimental results (Johnson School Research Paper Series). pp 16–18

OECD (2006) Competitive cities the global economy (OECD Territorial Reviews). Paris

OECD (2009) Cities and climate change: key messages from the OECD

Ogden CL, Carroll MD (2010) Prevalence of overweight, obesity, and extreme obesity among adults: United States, Trends 1960–1962 through 2007–2008

Pan H (2011) Implementing sustainable travel policies in China: international transport forum. OECD, Leipzig

Peden M, Scurfield R, Sleet D, Mohan D, Hyder AA, Jarawan E, Mathers C (2004) World report on road traffic injury prevention. World Health Organization, Geneva

Power A (1987) Property before people: the management of twentieth-century council housing. Allen and Unwin, London

Putnam R (2004) Education, diversity, social cohesion and 'Social Capital'. 'Raising the quality of learning for all': Meeting of OECD Education Minister Dublin. Dublin

Putnam RD (2000) Bowling alone: the collapse and revival of American Community. Simon and Schuster, New York

Putnam RD, Leonardi R, Nanetti RY (1994) Making democracy work: civic traditions in modern Italy. Princeton University Press, Princeton

Ravallion M, Chen S, Sangraula P (2007) New evidence on the urbanization of global poverty. Population Dev Rev 33(4):667–701

Rodrigue J-P, Comtois C, Slack B (2009) The geography of transport systems. Routledge, New York

Satterthwaite D (2011) Surviving in an urban age. In: Burdett R, Sudjic D (eds) Living in the endless city. Phaidon Press, London

Sennett R (2012) The open city. In: Burdett R, Sudjic D (eds) The endless city. Phaidon Press, London

Sennett R (2012) Together; the rituals, pleasures, and politics of cooperation. Yale University Press, New Haven

Staniford S (2010) Chinese transportation growth

Steinberg F (2007) Jakarta: environmental problems and sustainability. Habitat Int 31(3–4):354–365

UN Habitat (2006) The habitat agenda goals and principles, commitments and the global plan of action

UN Habitat (2007) Enhancing Urban Safety and Security—Global Report on Human Settlements 2007

UN Habitat (2008) State of the World's Cities 2008/2009: Harmonious Cities, Earthscan

UN Habitat (2010) State of the World's Cities 2010/2011: Bridging the Urban Divide

UN Habitat (2011) Global Report on Human Settlements 2011: Cities and Climate Change. Nairobi

UN Population Division (2007) World Urbanisation Prospects 2007: World Urbanization Level—1950–2005. http://esa.un.org/unup/

UN Population Division (2009) World Urbanization Prospects—The 2009 Revision

UN Population Division (2010) World Population Prospects—The 2010 Revision

UNEP (2011) Towards a Green Economy: Pathways to Sustainable Development and Poverty Eradication

Webster D, Bertraud A, Jianming C, Zhenshan Y (2010) Toward Efficient Urban Form in China. United Nations University Working Paper, No. 2010/97

Wolfram M, Bührmann S, Martino A, Brigati E (2005) Sustainable urban transport plans (SUTP) and urban environment: policies, effects and simulations. Rupprecht Consult, Cologne

World Bank (2002) Cities on the move: a world bank urban transport strategy review. World Bank, Washington

World Bank (2009) World development report 2009: reshaping economic geography. World Bank, Washington

World Health Organization (2011) Road traffic injuries—Fact sheet No 358

Wright L, Fulton L (2005) Climate change mitigation and transport in developing nations. Transp Rev 25(6):691–717

Zijderveld A (2008) A theory of urbanity: the economic and civic culture of cities. Transaction Publishers, New Brunswick
Acknowledgments
This essay is based on a contribution to the Green Economy Report's cities chapter published by the United Nations Environment Programme [70] and on the author's research on integrated planning, design and transport.
Copyright information
© 2013 Springer-Verlag Berlin Heidelberg
About this chapter
Cite this chapter
Rode, P. (2013). Trends and Challenges: Global Urbanisation and Urban Mobility. In: Megacity Mobility Culture. Lecture Notes in Mobility. Springer, Berlin, Heidelberg. https://doi.org/10.1007/978-3-642-34735-1_1
DOI: https://doi.org/10.1007/978-3-642-34735-1_1

Published:

Publisher Name: Springer, Berlin, Heidelberg

Print ISBN: 978-3-642-34734-4

Online ISBN: 978-3-642-34735-1