Abstract

Progressing climate changes have effects on forests. As a consequence, more and more woods will be endangered by forest fires. This is the motivation to get the needed information about forest fire propagation in order to enhance prevention concerning forest protection and firefighting. To model forest fire spreading we apply a physical model which considers the chemical and physical processes like combustion and heat and mass transfer mechanisms. Following this approach we are led to a time-dependent non-linear convection-diffusion-reaction-problem. Based on this framework, we present a numerical solution by a collocation method and a time-stepping scheme. Afterwards, we give an approach for stabilization which is needed in the numerical treatment of the underlying equations. Finally, we present some numerical simulations of forest fire spreading.
Keywords
Forest fire spreading

Convection-diffusion-reaction-problem

Collocation method

Stabilization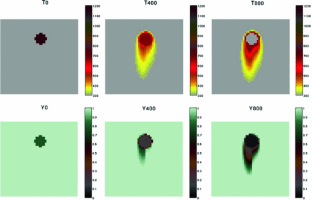 References
Asensio, I., & Ferragut, L. (2002). On a wildland fire model with radiation. International Journal for Numerical Methods in Engeneering, 54, 137–157.

Eberle, S., Freeden, W., Matthes, U. Forest fire spreading. Handbook of geomathematics (2nd ed.). Springer (in preperation).

Kuzmin, D., Löhner, R., Turek, S. (Eds.) (2012). Flux-corrected transport. scientific computation . New York: Springer.

Möller, M. (2008). Adaptive High-Resolution Finite Element Schemes. Ph.D. Thesis, Technische Universität Dortmund. Germany.

Zalesak, S.T. (1979). Fully multidimensional flux-corrected transport algorithms for fluids. London: Academic Press, Inc.
Copyright information

© 2014 Springer-Verlag Berlin Heidelberg
About this paper
Cite this paper
Eberle, S. (2014). Modeling and Simulation of Forest Fire Spreading. In: Pardo-Igúzquiza, E., Guardiola-Albert, C., Heredia, J., Moreno-Merino, L., Durán, J., Vargas-Guzmán, J. (eds) Mathematics of Planet Earth. Lecture Notes in Earth System Sciences. Springer, Berlin, Heidelberg. https://doi.org/10.1007/978-3-642-32408-6_175
DOI: https://doi.org/10.1007/978-3-642-32408-6_175

Published:

Publisher Name: Springer, Berlin, Heidelberg

Print ISBN: 978-3-642-32407-9

Online ISBN: 978-3-642-32408-6