Abstract
The success of active vibration control in adaptronics decisively depends on the performance of the actuators used as multifunctional structural elements. DLR's concept of impedance matched actuators proposes novel actuators in honeycomb design (Fig. 
8.1
). The partitions of their hexagonal cells are made of piezoceramic materials. The honeycomb geometry guarantees lightweight properties with nearly perfect load distributions in the plane perpendicular to the cell tubes. Furthermore there is a dynamic flexibility in this plane even when the static stiffness is very high. New fabrication methods are required to realize honeycomb actuators with very small cells, low wall thicknesses and perfect rounded corners. In order to fulfill the lightweight conditions self-organizing effects were used to guarantee optimal 3D geometries. In this context, a local thermal treatment of ceramic structures by employing lasers initiates self-organizing mechanisms via material flow. Experimental comparisons between piezoelectric honeycomb actuators and conventional monolithic actuators demonstrate a reduction of electrical power by a factor of 500. Honeycomb actuators seem to be the most promising candidate for technical applications that require low energy consumption.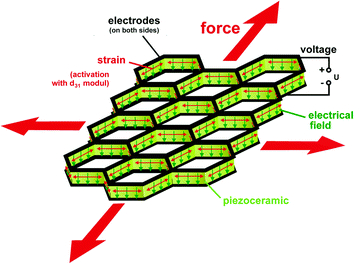 Keywords
Piezoelectric Actuator 
Mechanical Impedance 
Tuned Mass Damper 
Active Vibration Control 
Power Extraction 
These keywords were added by machine and not by the authors. This process is experimental and the keywords may be updated as the learning algorithm improves.
Notes
Acknowledgments
The author would like to thank the German Federal Ministry of Education and Research (BMBF) for financial support of the research investigations, that were also performed at the research groups of Prof. Dr. J. G. Heinrich from the Institute of Nonmetallic Materials of the TU Clausthal, Prof. Dr. J. Tautz from the Beegroup of the University of Würzburg, and Dr. W. Braue from the Institute of Materials Research at DLR, Köln. Additionally the author has to thank industrial partners participating the development of piezoceramic honeycomb elements, such as Prof. Dr. J. Günster from CIC Ceramic Institute Clausthal GmbH, R. Wimmel from ERAS GmbH, Göttingen, H. Wichmann and S. Linke from Invent GmbH, Braunschweig and Dr. H.-J. Schreiner and R. Bindig from CeramTec GmbH, Lauf.
Copyright information
© Springer-Verlag Berlin Heidelberg 2013