Abstract
Water is a critical element of global economic activity and its supply and distribution involves enormous ongoing capital investment and operations and maintenance costs. The use of water is also subject to market forces. Water has a value, which varies depending on its scarcity, its production, treatment, and transportation costs, and the value of crops and other goods produced through its use. Water also has aesthetic, recreational, and environmental values. The demand for water, beyond that needed for basic human survival, is elastic in that cost influences the amount used (Fig. 
34.1
). There is little question concerning the correlation between the rate of water use and the price paid by users (if any). Any meaningful discussion of water management, therefore, cannot ignore economic issues associated with the development and use of water resources.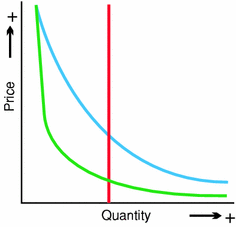 Keywords
National Research Council 
Water Transfer 
Water Footprint 
Integrate Water Resource Management 
Virtual Water 
These keywords were added by machine and not by the authors. This process is experimental and the keywords may be updated as the learning algorithm improves.
Copyright information
© Springer-Verlag Berlin Heidelberg 2012