Abstract

In South Africa, animals and plants are commonly used as traditional medicine for both the healing of ailments and for symbolic purposes such as improving relationships and attaining good fortune. The aim of this study was twofold: to quantify the species richness and diversity of traded animal species and to assess the trade in species of conservation concern. We surveyed the Faraday traditional medicine market in Johannesburg and conducted 45 interviews with 32 traders during 23 visits. We identified 147 vertebrates representing about 9% of the total number of vertebrates in South Africa and about 63% of the total number of documented species (excluding domestic animals) traded in all South African traditional medicine markets. The vertebrates included 60 mammal species, 33 reptiles, 53 birds and one amphibian. Overall, species diversity in the Faraday market was moderately high and highest for mammals and birds, respectively. Evenness values indicated that relatively few species were dominant. Mammal body parts and bones were the most commonly sold items (n = 453, excluding porcupine quills and pangolin scales), followed by reptiles (n = 394, excluding osteoderms), birds (n = 193, excluding feathers and ostrich eggs), and amphibians (n = 6). Most (87.5%) species traded were of Least Concern using IUCN criteria, although 17 species were of conservation concern. However, a higher than expected proportion of traders (62.5%) were selling listed species, which is a matter for concern and should be monitored in the future.
Keywords
Biodiversity

Threatened species

Ethnozoology

Mammal

Bird

Reptile
Published in Journal of Zoology, 2011, 284: 84–96.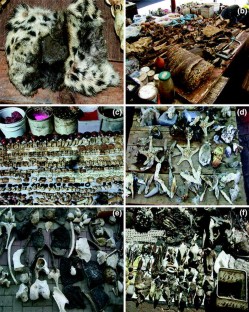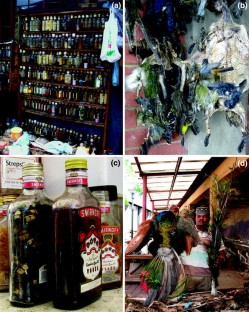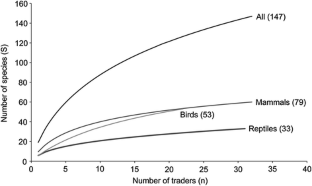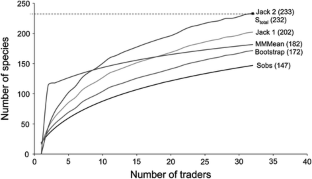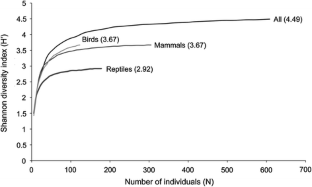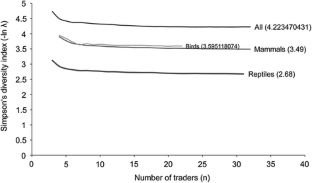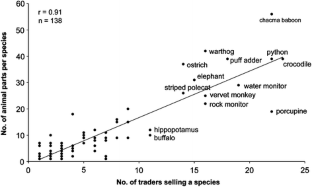 References
Alexander G, Marais J (2007) A guide to the reptiles of Southern Africa, 1st edn. Struik, Cape Town

Barnes KN (ed) (2000) The Eskom red data book of birds of South Africa, Lesotho and Swaziland, 1st edn. BirdLife, South Africa

Begossi A (1996) Use of ecological methods in ethnobotany: diversity indices. Econ Bot 50(3):280–289

BirdLife International (2009) World bird database (WBDB). Cambridge. http://www.birdlife.org/datazone/index.html. Accessed 10 July 2009

Branch B (1998) Field guide to snakes and other reptiles of southern Africa, 3rd edn. Struik, Cape Town

But PPH, Lung LC, Tam YK (1990) Ethnopharmacology of rhinoceros horn. I: antipyretic effects of rhinoceros horn and other animal horns. J Ethnopharmacol 30:157–168

Bye SN, Dutton MF (1991) The inappropriate use of traditional medicines in South Africa. J Ethnopharmacol 34:253–259

Chiarucci A, Enright NJ, Perry GLW, Miller BP, Lamont BB (2003) Performance of nonparametric species richness estimators in a high diversity plant community. Divers Distrib 9:283–295

Cocks M, Dold A (2000) The role of 'African Chemists' in the health care system of the Eastern Cape Province of South Africa. Soc Sci Med 51(10):1505–1515

Colwell R (2006) EstimateS: statistical estimation of species richness and shared species from samples, version 7.5.1. http://viceroy.eeb.uconn.edu/estimates. Accessed 10 July 2009

Crump CM (2003) Need to assess animals used by traditional healers in South Africa. In: Williams VL (ed) Hawkers of health: an investigation of the Faraday Street traditional medicine market in Johannesburg, Appendix 4. Unpublished Report to Gauteng Directorate for Nature Conservation, DACEL

Cunningham AB, Zondi AS (1991) Use of animal parts for the commercial trade in traditional medicines, 1st edn. Institute of Natural Resources, Pietermaritzburg

Derwent S, Mander M (1997) Twitchers bewitched. The use of birds in traditional healing. Africa: Birds & Birding 2(1):22–25

Ehrlich PR (2009) Cultural evolution and the human predicament. TREE 24:409–412

Friedmann Y, Daly B (eds) (2004) Red data book of the mammals of South Africa: a conservation assessment. CBSG Southern Africa, conservation breeding specialist group (SSC/IUCN). Endangered Wildlife Trust, South Africa

Hanazaki N, Tamashiro JY, Leitão-Filho HF, Begossi A (2000) Diversity of plant uses in two Caiçara communities from the Atlantic forest coast, Brazil. Biodivers Conserv 9:597–615

Hayek LC, Buzas MA (1997) Surveying natural populations, 1st edn. Columbia University Press, New York

Heck KL, van Belle G, Simberloff D (1975) Explicit calculation of the rarefaction diversity measurement and the determination of sufficient sample size. Ecology 56(6):1459–1461

Herbert DG, Hamer ML, Mander M, Mkhize N, Prins F (2003) Invertebrate animals as a component of traditional medicine trade in KwaZulu-Natal South Africa. Afr Invertebr 44(2):327–344

Hockey PAR, Dean WRJ, Ryan PG (eds) (2005) Roberts birds of southern Africa, 7th edn. The trustees of the John Voelcker Bird Book Fund, Cape Town

IUCN (2009) 2009 IUCN Red list of threatened species. IUCN, Gland, Switzerland. http://www.iucnredlist.org. Accessed 24 Aug 2009

Kingdon J, Butynski TM, de Jong Y (2008) Cercopithecus mitis ssp. albogularis. In: IUCN 2010. IUCN Red List of Threatened Species. Version 2010.4. http://iucnredlist.org/. Accessed 10 July 2009

Lev E (2003) Traditional healing with animals (zootherapy): medieval to present-day Levantine practice. J Ethnopharmacol 85:107–118

Li YW, Zhu X, But PPH, Yeung HW (1995) Ethnopharmacology of bear gall bladder: I. J Ethnopharmacol 47:27–31

Ludwig JA, Reynolds JF (1988) Statistical ecology: a primer on methods and computing. Wiley, Toronto

McKinney ML (1997) Extinction vulnerability and selectivity: combining ecological and paleontological views. Annu Rev Ecol Syst 28:495–516

Magurran AE (1988) Ecological diversity and its measurement, 1st edn. Princeton University Press, Princeton

Mander M, Diederichs N, Ntuli L, Mavundla K, Williams V, McKean S (2007) Survey of the trade in vultures for the traditional health industry in South Africa, 1st edn. FutureWorks, Durban

Marshall NT (1998) Searching for a cure: conservation of medicinal wildlife resources in east and southern Africa, 1st edn. TRAFFIC International, Cambridge

Minter LR, Burger M, Harrison JA, Braack HH, Bishop PJ, Kloepfer D (eds) (2004) Atlas and red data book of the frogs of South Africa, Lesotho and Swaziland. SI/MAB Series 9. Smithsonian Institution, Washington

Ngwenya MP (2001) Implications for the medicinal animal trade for nature conservation in Kwazulu-Natal. Ezemvelo KZN Wildlife Report No. NA/124/04

Simelane TS (1996) The traditional use of indigenous vertebrates. PhD. Thesis, University of Port Elizabeth, Port Elizabeth

Simelane TS, Kerley GIH (1998) Conservation implications for the use of vertebrates by Xhosa traditional healers in South Africa. S Afr J Wildl Res 28(4):121–126

Sinclair I, Hockey P, Tarboton W (1997) Sasol birds of southern Africa, 2nd edn. Struik, Cape Town

Still J (2003) Use of animal products in traditional Chinese medicine: environmental impact and health hazards. Complement Therap Med 11:118–122

Skinner JD, Chimimba CT (2005) The mammals of the southern African subregion, 3rd edn. Cambridge University Press, Cambridge

Stuart C, Stuart T (2001) Field guide to mammals of southern Africa, 3rd edn. Struik, Cape Town

Toti DS, Coyle FA, Miller JA (2000) A structured inventory of Appalachian grass bald and heath bald spider assemblages and a test of species richness estimator performance. J Arachnol 28:329–345

White RM, Cocks M, Herbert DG, Hamer ML (2004) Traditional medicines from forest animals. In: Lawes MJ, Eeley HAC, Shackleton CM, Geach BGS (eds) Indigenous forests and woodlands in South Africa: people, policy and practice, 1st edn. University of Natal Press, Pietermaritzburg

Williams VL (2003) Hawkers of health: an investigation of the Faraday street traditional medicine market in Johannesburg. Unpublished Report to Gauteng Directorate for Nature Conservation, DACEL

Williams VL (2007) The design of a risk assessment model to determine the impact of the herbal medicine trade on the Witwatersrand on resources of indigenous plant species. PhD thesis, University of the Witwatersrand, Johannesburg

Williams VL, Witkowski ETF, Balkwill K (2005) Application of diversity indices to appraise plant availability in traditional medicine markets in Johannesburg, South Africa. Biodivers Conserv 14:2971–3001

Williams VL, Balkwill K, Witkowski ETF (2007a) Size-class prevalence of bulbous and perennial herbs sold in the Johannesburg medicinal plant markets between 1995 and 2001. S Afr J Bot 73:144–155

Williams VL, Witkowski ETF, Balkwill K (2007b) Volume and financial value of species traded in the medicinal plant markets in Gauteng, South Africa. Int J Sustain Dev World Ecol 14:584–603

Williams VL, Witkowski ETF, Balkwill K (2007c) The use of incidence-based species richness estimators, species accumulation curves and similarity measures to appraise ethnobotanical inventories from South Africa. Biodivers Conserv 16:2495–2513

Wilson EO (ed) (1988) Biodiversity. National Academy Press, Washington

Zug GR, Vitt LJ, Caldwell JP (2001) Herpetology: an introductory biology of amphibians and reptiles, 2nd edn. Academic Press, California
Acknowledgments

This study was funded by a National Research Foundation grant to M.J.W. In addition, V.L.W. was funded by a Postdoctoral Fellowship from the University of the Witwatersrand during the write-up of this paper. We are very grateful to Tebogo Mothupi, Zuko Mafani, Mdu Seakamela and Simphiwe Khuluse for collecting a significant portion of the data presented here. We also thank Solomon Mvubu, chairman of the Faraday Traders Committee, and all the Faraday traders for their co-operation, without whom, this study would not have been possible. We are grateful for updated species counts for South Africa from Bill Branch (reptiles), Louis du Preez (frogs), Trevor Hardaker (birds) and Chris Chimimba (mammals). The protocol for this research was approved by the University of the Witwatersrand Human Research Ethics Committee (Medical) (Protocol M0500945).
Copyright information

© 2013 Springer-Verlag Berlin Heidelberg
About this chapter
Cite this chapter
Whiting, M.J., Williams, V.L., Hibbitts, T.J. (2013). Animals Traded for Traditional Medicine at the Faraday Market in South Africa: Species Diversity and Conservation Implications. In: Alves, R., Rosa, I. (eds) Animals in Traditional Folk Medicine. Springer, Berlin, Heidelberg. https://doi.org/10.1007/978-3-642-29026-8_19