Abstract

Glacier ice cover, in the Himalayas, at the height of the Last Glacial Maximum – around 65,000 years BP – had extended to around 20 odd kilometres downstream of the present glacier snout positions. Glaciers, for whatever the reason, stayed put around these altitudes till up to the end of LGM – around 12–15 ka BP. Current phase of the glacier retreat in the Himalayas which began around this time and has been continuing since has not been gradual but spasmodic. There have been periods of relative halt or stand still preceded and succeeded by rapid with drawl and glacier melt, obviously in response to some climatic oscillation. Current retreat of the glaciers in the Himalayas – historical – based on the data generated over the last 150 years or so, is, more or less, in constant with and continuance of the secular retreat that began at the end of the last glacial cycle and likewise has been spasmodic. Periods of rapid retreat alternating with slow retreat of the order of almost stand still. At no time has the retreat or the area vacation from under the glacier ice cover been what can be termed as alarming/abnormal, especially in the last decade or so. So far as observation of the glaciers, for more than five decades now, allows a judgment, I have no hesitation in making a statement that a glacier does not necessarily respond to the immediate climatic changes. Illustrated account of a few selected glaciers of varying dimensions, from different physiographic zones of the Himalayas, and having an observation record of almost 100 years, has been sited to enable the readers to arrive at a proper conclusion regarding: (1) the glacier retreat in the Himalayas and (2) impact of global warming. Data presented reveals the fact that the glacier snout fluctuation is not influenced by one single parameter but by a combination of parameters. Physiographic character of the accumulation zone and valley slope probably has more dominant role than the annual precipitation and the atmospheric temperature per se. Local changes in the glacier front may sometimes show close relation with the climatic parameters but these could be mere coincidence and, it would not be proper to come to any conclusion with the limited data available.
Keywords
Ablation Zone

Accumulation Zone

Glacier Retreat

Debris Cover

Himalayan Glacier
These keywords were added by machine and not by the authors. This process is experimental and the keywords may be updated as the learning algorithm improves.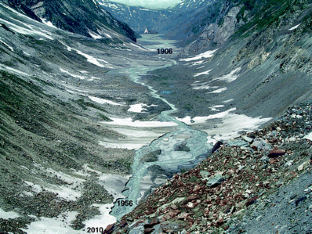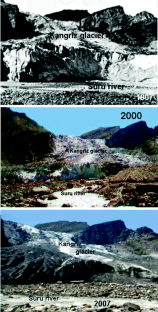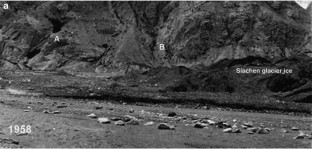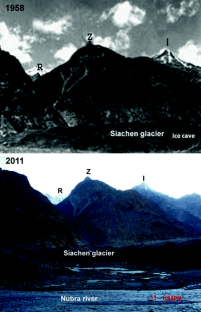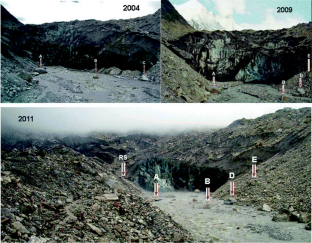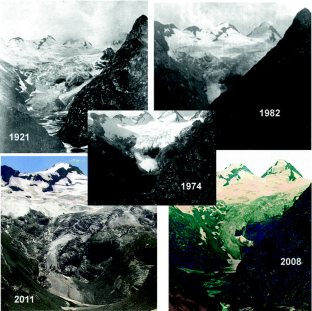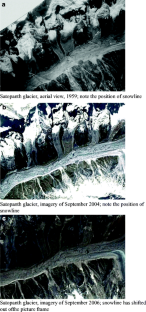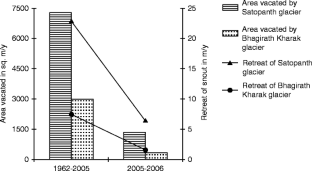 Notes
1.

As per the convention of the International working group all glaciers under the inventory programme are numbered (IN stands for India, 5Q for Indus basin, other digits represent glacier classification and number (Sangewar and Shukla 2009)).
References
Bhambri R, Bolch T, Chaujar RK, Kulshreshtha SC (2011) Glacier change in Garhwal Himalaya, India, from 1968 to 2006 based on remote sensing. J Glaciol 57(203):543–556

Owen LA, Gualtieri L, Finkel RC, Caffee MW, Benn DI, Sharma MC (2001) Cosmogenic radionuclide dating of glacial landforms in the Lahul Himalaya, northern India: defining the timing of Late Quaternary glaciation. J Quat Sci 16:555–563

Raina VK (2006) Glacier retreat and global warming – a review. XIX Indian Institute of Geomorphologists, National Conference on Himalaya to Indian Ocean, Geomorphic Processes and Landscape Change, University of Jammu, India (in press)

Raina VK, Sangewar CV (2007) Siachen glacier of Karakoram mountains, Ladakh – its secular retreat. J Geol Soc 70:11–16

Raina VK, Srivastava D (2008) Glacier atlas of India. Geol Soc, Bangalore, India

Sangewar C, Shukla SP (2009) Inventory of the Himalayan glaciers. Geol Surv Ind Spl Pub 34:588
Copyright information

© 2013 Springer-Verlag Berlin Heidelberg
About this chapter
Cite this chapter
Raina, V.K. (2013). Global Warming and the Glacier Retreat: An Overview. In: Sinha, R., Ravindra, R. (eds) Earth System Processes and Disaster Management. Society of Earth Scientists Series. Springer, Berlin, Heidelberg. https://doi.org/10.1007/978-3-642-28845-6_2
DOI: https://doi.org/10.1007/978-3-642-28845-6_2

Published:

Publisher Name: Springer, Berlin, Heidelberg

Print ISBN: 978-3-642-28844-9

Online ISBN: 978-3-642-28845-6