Abstract

Many corporations and individuals realize that environmental sustainability is an urgent problem to address. In this chapter, we contribute to the emerging academic discussion by proposing two innovative approaches for engaging in the development of environmentally sustainable business processes. Specifically, we describe an extended process modeling approach for capturing and documenting the dioxide emissions produced during the execution of a business process. For illustration, we apply this approach to the case of a governmental Shared Services provider. Second, we then introduce an analysis method for measuring the carbon dioxide emissions produced during the execution of a business process. To illustrative this approach, we apply it in the real-life case of an European airport and show how this information can be leveraged in the re-design of "green" business processes.
Keywords
Business Process

Emission Factor

Carbon Footprint

Business Process Modeling Notation

Taxi Company
These keywords were added by machine and not by the authors. This process is experimental and the keywords may be updated as the learning algorithm improves.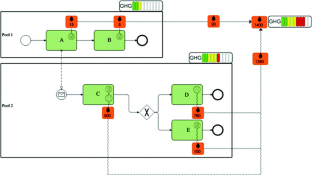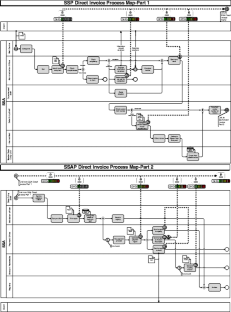 References
Bromwich, M., & Hong, C. (1999). Activity-based costing systems and incremental costs. Management Accounting Research, 10(1), 39–60.

Cooper, R., & Kaplan, R. S. (1991). Profit priorities from activity-based costing. Harvard Business Review, 69(3), 130–135.

Davies, G. B. (1982). Strategies for information requirements determination. IBM Systems Journal, 21(1), 4–30.

Gulla, J. A., & Brasethvik, T. (2000, June 9–23). On the challenges of business modeling in large-scale reengineering projects. Paper presented at the 4th international conference on requirements engineering, Schaumburg, IL.

Heijungs, R., & Suh, S. (2006). Reformulation of matrix-based LCI: From product balance to process balance. Journal of Cleaner Production, 14(1), 47–51.

Hendrickson, C., Horvath, A., Joshi, S., & Lave, L. (1998). Economic input–output models for environmental life-cycle assessment. Environmental Science and Technology, 32(7), 184–191.

Innes, J., & Falconer, M. (1995). A survey of activity-based costing in the U.K.'s largest companies. Management Accounting Research, 6(2), 137–153.

Kaplan, R. S., & Bruns, W. J. (1987). Accounting and management: A field study perspective. Boston: Harvard Business Publishing.

Lauesen, S., & Vinter, O. (2001). Preventing requirement defects: An experiment in process improvement. Requirements Engineering, 6(1), 37–50.

Mendling, J. (2008). Metrics for process models: Empirical foundations of verification, error prediction and guidelines for correctness (Vol. 6). Berlin, Germany: Springer.

Mendling, J., Reijers, H. A., & Recker, J. (2010). Activity labeling in process modeling: Empirical insights and recommendations. Information Systems, 35(4), 467–482.

Nuseibeh, B., & Easterbrook, S. (2000). Requirements engineering: A roadmap. Paper presented at the 22nd international conference on software engineering, Limerick, Ireland.

Pan, X., & Kraines, S. (2001). Environmental input–output models for life-cycle analysis. Environmental and Resource Economics, 20(1), 61–72.

Poniatowski, M. (2009). Foundation of Green IT: Consolidation, virtualization, efficiency, and ROI in the data center. Boston: Prentice Hall.

Ray, M. R., & Gupt, P. P. (1992, December). Activity-based costing. Internal Auditor 91, 45–51.

Recker, J., Rosemann, M., Indulska, M., & Green, P. (2009). Business process modeling: A comparative analysis. Journal of the Association for Information Systems, 10(4), 333–363.

Reijers, H. A., & Mansar, S. L. (2005). Best practices in business process redesign: An overview and qualitative evaluation of successful redesign heuristics. Omega, 33(4), 283–306.

Seidel, S., Recker, J., Pimmer, C., & vom Brocke, J. (2010). Enablers and barriers to the organizational adoption of sustainable business practices. Paper presented at the 16th Americas conference on information systems, Lima, Peru.

Cooper, J. S., & Fava, J. A. (2006). Life-cycle assessment practitioner survey: Summary of results. Journal of Industrial Ecology, 10(4), 12–14.

Tornberg, K., Jämsen, M., & Paranko, J. (2002). Activity-based costing and process modeling for cost-conscious product design: A case study in a manufacturing company. International Journal of Production Economics, 19(1), 75–82.

vom Brocke, J., & Rosemann, M. (Eds.). (2010). Handbook on business process management 1: Introduction, methods, and information systems. Berlin/Heidelberg, Germany: Springer.

Watson, R. T., Boudreau, M.-C., & Chen, A. J. (2010). Information systems and environmentally sustainable development: Energy informatics and new directions for the IS community. MIS Quarterly, 34(1), 23–38.

World Commission on Environment and Development. (1987). Our common future. Oxford, England: Oxford University Press.
Copyright information

© 2012 Springer-Verlag Berlin Heidelberg
About this chapter
Cite this chapter
Recker, J., Rosemann, M., Hjalmarsson, A., Lind, M. (2012). Modeling and Analyzing the Carbon Footprint of Business Processes. In: vom Brocke, J., Seidel, S., Recker, J. (eds) Green Business Process Management. Springer, Berlin, Heidelberg. https://doi.org/10.1007/978-3-642-27488-6_6