Abstract

Perfluorinated compounds are a chemical family of all organic compounds consisting of a carbon backbone fully surrounded by fluorine and represent a large and complex group of organic substances with unique characteristics. They are used in several industrial branches, but they also occur in a large range of consumer products. Because of their extraordinary properties such as chemically inert, non-wetting, very slippery, nontoxic, nonstick, highly fire resistant, very high-temperature ratings, highly weather resistant, they are applied in fluoropolymer-coated cookware, sports clothing, extreme weather-resistant military uniforms, food handling equipment, medical equipment, motor oil additives, fire fighting foams, paint and ink as well as water-repellent products. Currently, the knowledge of the exact chemical compositions in articles and preparations of perfluorinated compounds is very limited. Since the exact composition of perfluorinated compounds in consumer products is mostly confidential, a range of analytical studies concerning the content of perfluorinated compounds in consumer products have been carried out over the past years with the intention to better understand the intentional and residual content and release of fluorinated substances from consumer products and their impact to health and the environment.
Keywords
Consumer products

Perfluorinated carboxylic acids

Perfluorinated compounds

Telomer alcohols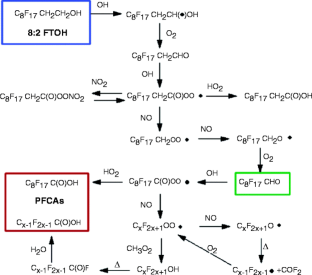 Notes
1.

Includes four car-care products, two boat-care products, one deck cleaner and one dry sack for outdoor use.
Abbreviations
FTOH:

Fluorotelomer alcohols

FTS:

Fluorotelomer sulfonates

PFCA:

Perfluoroalkyl carboxylic acid/Perfluoroalkyl carboxylate

PFCs:

Perfluoroalkyl compounds

PFNA:

Perfluorononanoic acid

PFOA:

Perfluorooctanoic acid

PFOS:

Perfluorooctane sulfonic acid

PFS:

Perfluorinated sulfonates

POP:

Persistent organic pollutant

PTFE:

Polytetrafluoroethylene

UNEP:

United Nations Environmental Programme
References
Wallington TJ, Hurley MD, Xia J, Wuebbles DJ, Sillman S, Ito A, Penner JE, Ellis DA, Martin J, Mabury SA, Nielsen OJ, Andersen MPS (2006) Formation of C7F15COOH (PFOA) and other perfluorocarboxylic acids during the atmospheric oxidation of 8:2 fluorotelomer alcohol. Environ Sci Technol 40:924–930

Colbert JF, May MA (1983) TAPPI Seminar notes – Nonwovens, 113–118

Corpart JM, Dessaint A (1997) Melliand Textileberichte 9:625–629

Prevedouros K, Cousins IT, Buck RC, Korzeniowski SH (2006) Sources, fate and transport of perfluorocarboxylates. Environ Sci Technol 40:32–44

Armitage J, Cousins IT, Buck RC, Prevedouros K, Russell MH, MacLeod M, Korzeniowski SH (2006) Modeling global-scale fate and transport of perfluorooctanoate emitted from direct sources. Environ Sci Technol 40:6969–6975

Washburn ST, Bingmann TS, Braithwaite SK, Buck RC, Buxton LW, Clewell HJ, Haroun LA, Kester JE, Rickard RW, Shipp AM (2005) Exposure Assessment and Risk Characterization for Perfluorooctanoate (PFO) in Selected Consumer Articles. ENVIRON International Corporation and DuPont

Yamashita N, Kannan K, Taniyasu S, Horii Y, Okazawa T, Petrick G, Gamo T (2004) Analysis of perfluorinated acids at parts-per-quadrillion levels in seawater using liquid chromatography-tandem mass spectrometry. Environ Sci Technol 38:5522–5528

Fromme H, Tittlemier SA, Völkel W, Wilhelm M, Twardella D (2009) Perfluorinated compounds – exposure assessment for the general population in western countries. Int J Hyg Environ Health 212(3):239–270

Tittlemier SA, Pepper K, Seymour C, Moisey J, Bronson R, Cao XL, Dabeka RW (2007) Dietary exposure of Canadians to perfluorinated carboxylates and perfluorooctane sulfonate via consumption of meat, fish, fast foods, and food items prepared in their packaging. J Agr Food Chem 55:3203–3210

Naturvernforbund (2007) Fluorerade miljögifter i impregneringsmedel. Rapport 9019009–2

US EPA (2009), Perfluorocarboxylic Acid Content in 116 Articles of Commerce, EPA/600/R-09/033

Begley TH, White K, Honigfort P, Twaroski ML, Neches R, Walker RA (2005) Perfluorochemicals: potential sources of and migration from food packaging. Food Addit Contam 22:1023–1031

Larsen BS, Kaiser MA, Botelho M, Wooler GR, Buxton LW (2005) Comparison of pressurized solvent and reflux extraction methods for the determination of perfluorooctanoic acid in polytetrafluoroethylene polymers using LC-MS-MS. Analyst 130:59–62

Powley CR, Michalczyk MJ, Kaiser MA, Buxton LW (2005) Determination of perfluorooctanoic acid (PFOA) extractable from the surface of commercial cookware under simulated cooking conditions by LC/MS/MS. Analyst 130:1299–1302

Horowitz L (2007) Swiss Federal institute of Technology Zurich, Assessment of consumer exposure to perfluorinated compounds using the SceBRA-method

Sinclair E, Kim SK, Akinleye HB, Kannan K (2007) Quantitation of gas-phase perfluoroalkyl surfactants and fluorotelomer alcohols released from nonstick cookware and microwave popcorn bags. Environ Sci Technol 41:1180–1185

Dinglasan MJA, Ye Y, Edwards EA, Mabury SA (2004) Fluorotelomer alcohol biodegradation yields poly- and perfluorinated acids. Environ Sci Technol 38:2857–2864

Dinglasan-Panlilio MJA, Mabury SA (2006) Significant residual fluorinated alcohols present in various fluorinated materials. Environ Sci Technol 40:1447–1453

Annotated outline for a guidance document on perfluorooctane sulfonate alternatives (PFOS),UNEP/POPS/POPRC.5/INF/10, August 2009

European Community Regulation 1907/2006, REACH – Registration, Evaluation, Authorisation and Restriction of Chemicals

Herzke D, Schlabach M, Mariussen E, Uggerud H, and Heimstad E (2007) A literature study on selected chemical substances. SFT. TA 2238/2007

Jensen AA, Poulsen PB FORCE Technology. Bossi R, DMU (2008) Survey and environmental/health assessment of fluorinated substances in impregnated consumer products and impregnating agents. Danish Ministry of the Environment, Survey of Chemical Substances in Consumer Products, No. 99

Kubwabo C, Stewart B, Zhu J, Marro L (2005) Occurrence of perfluorosulfonates and other perfluorochemicals in dust from selected homes in the city of Ottawa. J Environ Monit 7:1074–1078

Martin JW, Smithwick MM, Braune BM, Hoekstra PF, Muir DCG, Mabury SA (2004) Identification of long-chain perfluorinated acids in biota from the Canadian Arctic. Environ Sci Technol 38:373–380

Mawn MP, Mckay RG, Ryan TW, Szostek B, Powley CR, Buck RC (2005) Determination of extractable perfluorooctanoic acid (PFOA) in water, sweat simulant, saliva simulant, and methanol from textile and carpet samples by LC/MS/MS. Analyst 130:670–678

Moriwaki H, Takatah Y, Arakawa R (2003) Concentrations of perfluorooctane sulfonate (PFOS) and perfluorooctanoic acid (PFOA) in vacuum cleaner dust collected in Japanese homes. J Environ Monit 5:753–757

Nasjonalt folkehelseinstitutt (2007) Helserisikovurdering for SFT av Teflon – Polytetrafluoretylen (PTFE) CASnr 9002-84-0

OECD (2006) Risk Management Series No. 21: Preliminary lists of PFOS, PFAS, PFOA and related compounds, and chemicals that may degrade to PFCA. ENV/JM/MONO(2006)15 21

OECD (2006) Survey on production and use of PFOS, PFAS, PFOA, PFCA, their related substances and products/mixtures containing these substances. Environment, Health and Safety Publications, Series on Risk Management, No. 22; env/jm/mono(2006)36

OECD. Lists of PFOS, PFAS, PFOA, PFCA, related compounds and chemicals that may degrade to PFCA. Environment Directorate, Joint meeting of the chemicals committee and the working party on chemicals, pesticides and biotechnology, ENV/JM/MONO(2006)15, 21-Aug-2007, OECD. Found at http://appli1.oecd.org/olis/2006doc.nsf/linkto/env-jm-mono(2006)15

Poulsen PB, Jensen AA, and Wallström E (2005) More environmentally friendly alternatives to PFOS-compounds and PFOA. Danish Ministry of the Environment. Environmental project No. 10132005

Rao NS, Baker BE (1994) Textile finishes and fluorosurfactants. In: Banks RE, Smart BE, Tatlow JC (eds) Orgaofluorine chemistry. Plenum, New York

SFT (2004) Bruken av PerFluorAkylStoffer (PFAS) i produkter i Norge.Materialstrømsanalyse. ISBN 82-7655-487-3

SFT (2006) Kartlegging av perfluoralkylstoffer (PFAS) i utvalgte tekstiler. ISBN 82-7655-285-4

SFT (2007) Konsekvensvurderinger av forslag til forbud mot miljøgifter i Forbrukerprodukter

Strynar MJ, Lindstrom AB (2008) Perfluorinated compounds in house dust from Ohio and North Carolina. Environ Sci Technol 42:3751–3756

Trudel D, Horowitz L, Wormuth M, Scheringer M, Cousins IT, Hungerbühler K (2008) Estimating consumer exposure to PFOS and PFOA. Risk Analysis 28:251–269

US EPA (2004) Preliminary risk assessment of the developmental toxicity associated with exposure to PFOA and its salts. Office of Pollution Preventiona and toxics, Risk Assessment

Wania F (2007) A global mass balance analysis of the source of perfluorocarboxylic acids in the Arctic Ocean. Environ Sci Technol 41:4529–4535

Yamada T, Taylor PH, Buck RC, Kaiser MA, Giraud RH (2005) Thermal degradation of fluorotelomer treated articles and related materials. Chemosphere 61:974–984
Copyright information

© 2012 Springer-Verlag Berlin Heidelberg
About this chapter
Cite this chapter
Posner, S. (2012). Perfluorinated Compounds: Occurrence and Uses in Products. In: Knepper, T., Lange, F. (eds) Polyfluorinated Chemicals and Transformation Products. The Handbook of Environmental Chemistry(), vol 17. Springer, Berlin, Heidelberg. https://doi.org/10.1007/978-3-642-21872-9_2
DOI: https://doi.org/10.1007/978-3-642-21872-9_2

Published:

Publisher Name: Springer, Berlin, Heidelberg

Print ISBN: 978-3-642-21871-2

Online ISBN: 978-3-642-21872-9