Abstract

Station velocities derived from space geodetic measurements in Central and South America were processed by the finite element method using a geophysical model and by a least squares collocation approach with empirical correlation functions for computing a continuous velocity field of the South American and the Caribbean crust. Velocities of the reference frame for the Americas (SIRGAS), and of various geodynamic networks (CASA, SNAPP, CAP, SAGA, and seismic gap projects) are used as input data. In general, the results present good agreement with previous models. Moreover, there are significant improvements, particularly in areas with new data (northern and central Andes, southern Tierra del Fuego).
Keywords
International GNSS Service

East Component

North Component

South American Continent

South American Plate
These keywords were added by machine and not by the authors. This process is experimental and the keywords may be updated as the learning algorithm improves.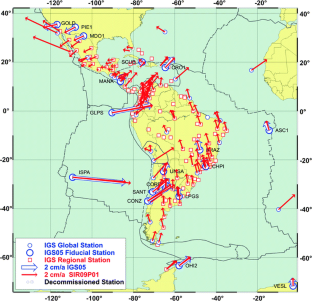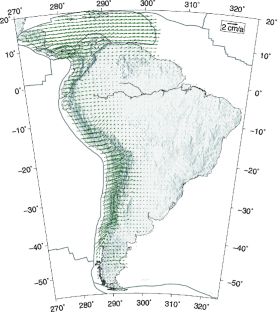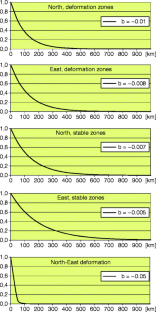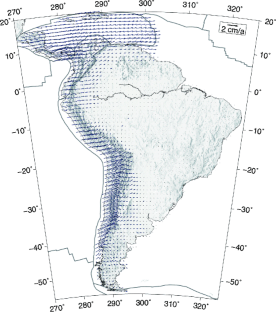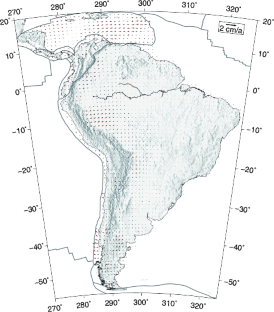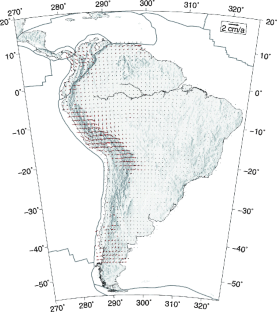 References
Baez JC, de Freitas SRC, Drewes H, Dalazoana R, Luz RT (2007) Deformations control for the Chilean part of the SIRGAS 2000 frame. IAG Symposia, Springer, Berlin, vol 130, 660–664

Bird P (2003) An updated digital model for plate boundaries. Geochem Geophys Geosyst 4 No. 3, p 52, doi:1010.1029/2001GC000252

Brooks BA, Bevis M, Smalley R, Kendrick E, Manceda R, Lauria E, Maturana R, Araujo M (2003) Crustal motion in the southern Andes (26°–36°S): Do the Andes behave like a microplate? Geochem Geophys Geosyst GC000505

DeMets C, Gordon RG, Argus DF, Stein S (1990) Current plate motions. Geophys J Int 101:425–478

DeMets C, Gordon R, Argus DF, Stein S (1994) Effect of recent revisions to the geomagnetic reversal time scale on estimates of current plate motions. Geophys Res Lett 21:2191–2194

Drewes H (1980) Precise Gravimetric Networks and Recent Gravity Changes in Western Venezuela. Dt. Geod. Komm., Reihe B, Nr. 251, München

Drewes H (2009) The Actual Plate Kinematic and crustal deformation Model (APKIM2005) as basis for a non-rotating ITRF. Springer, IAG Symposia, vol 134, 95–99 doi:10.1007/978-3-642-00860-3_15

Drewes H, Kaniuth K, Voelksen C, Alves Costa SM, Fortes LPS (2005) Results of the SIRGAS campaign 2000 and coordinates variations with respect to the 1995 South American geocentric reference frame. IAG Symposia, Springer, Berlin, vol 128, 32–37

Drewes H, Heidbach O (2005) Deformation of the South American crust estimated from finite element and collocation methods. IAG Symposia, Springer, Berlin, vol 128, 544–549

Espurt N, Funiciello F, Martinod J, Guillaume B, Regard V, Faccenna C, Brusset S (2008) Flat subduction dynamics and deformation of the South American plate: Insights from analog modeling. Tectonics (27) TC3011, doi:10.1029/2007TC002175

Heidbach O, Iaffaldano G, Bunge H-P (2008) Topography growth drives stress rotations in the central Andes: Observations and models. Geophys Res Lett (35) L08301, 6pp, doi:10.1029/2007GL032782

Kaniuth K, Drewes H, Tremel H, Stuber K, Kahle H-G, Geiger A, Hernandez JN, Hoyer MJ, Wildermann E (2002a). Inter-seismic, co-seismic and post-seismic deformations along the South American-Caribbean plate boundary from repeated GPS observations in the CASA project. Proceedings of the IAG Symposium "Recent crustal deformations in South America and surrounding area", Santiago, Chile

Kaniuth K, Haefele P, Sanchez L (2002b) Subsidence of the permanent GPS station Bogota. IAG Symposia, Springer, Berlin, vol 124, 56–59

Kaniuth K, Mueller H, Seemueller W (2002c) Displacement of space geodetic observatory Arequipa due to recent earthquakes. Zeitschr für Verm 127:238–243

Kaniuth K, Stuber K (2005) Apparent and real local movements of two co-located permanent GPS stations at Bogota, Colombia. Zeitschr für Verm 130:41–46

Kendrick E, Bevis M, Smalley R, Brooks B (2001) An integrated crustal velocity field for the central Andes. Geochem Geophys Geosyst 2:2001GC000191

Kendrick EC, Bevis M, Smalley R (2003) The Nazca – South America Euler vector and its rate of change. J South Am Earth Sci 16:125–131

Khazaradze G, Klotz J (2003) Short- and long-term effects of GPS measured crustal deformation rates along the south central Andes. J Geophys Res 108(B6):5, 15

Klotz J, Khazaradze G, Angermann D, Reigber C, Perdomo R, Cifuentes O (2001) Earthquake cycle dominates contemporary crustal deformation in Central and Southern Andes. Earth Planet Sci Lett 193:437–446

Ruegg JC, Rudloff A, Vigny C, Madariaga R, de Chabalier JB, Campos J, Kausel E, Barrientos S, Dimitrov D (2009) Interseismic strain accumulation measured by GPS in the seismic gap between Constitución and Concepción in Chile. Phys Earth Planet Int 175:78–85

Seemüller W, Seitz M, Sánchez L, Drewes H (2009) The position and velocity solution SIR09P01 of the IGS Regional Network Associate Analysis Centre for SIRGAS (IGS RNAAC SIR). DGFI Report No. 85, available at http://www.sirgas.org/ and this volume

Smalley R, Kendrick E, Bevis MG, Dalziel IWD, Taylor F, Lauria E, Barriga R, Casassa G, Olivero E, Piana E (2003) Geodetic determination of relative plate motion and crustal deformation across the Scotia-South America plate boundary in eastern Tierra del Fuego. Geochem Geophys Geosyst (4) No. 9, doi:10.1029/2002GC000446

Trenkamp R, Kellogg JN, Freymueller JT, Mora HP (2002) Wide margin deformation, southern Central America and northwestern South America, CASA GPS observations. J South Am Earth Sci 15:157–171

Trenkamp R, Mora H, Salcedo E, Kellogg JN (2004) Possible rapid strain accumulation rates near Cali, Colombia, determined from GPS measurements (1996–2003). Earth Sci Res J 8:25–33

Vigny C, Rudloff A, Ruegg J-C, Madariaga R, Campos J, Alvarez M (2009) Upper plate deformation measured by GPS in the Coquimbo Gap, Chile. Phys Earth Planet Int 175:86–95
Copyright information

© 2012 Springer-Verlag Berlin Heidelberg
About this paper
Cite this paper
Drewes, H., Heidbach, O. (2012). The 2009 Horizontal Velocity Field for South America and the Caribbean. In: Kenyon, S., Pacino, M., Marti, U. (eds) Geodesy for Planet Earth. International Association of Geodesy Symposia, vol 136. Springer, Berlin, Heidelberg. https://doi.org/10.1007/978-3-642-20338-1_81
DOI: https://doi.org/10.1007/978-3-642-20338-1_81

Published:

Publisher Name: Springer, Berlin, Heidelberg

Print ISBN: 978-3-642-20337-4

Online ISBN: 978-3-642-20338-1