Kurzbeschreibung

Der Beitrag geht auf die konzeptionelle Entwicklung eines planungsunterstützenden Werkzeuges für kleine und mittelgroße Kommunen ein. Dabei liegt der Fokus auf der frühen Planungsphase der Zielplanung. Es wird die Bedeutung einer strukturierten Zielplanung im Kontext der energieeffizienten kommunalen Entwicklung herausgestellt. Das Fachgebiet Building Lifecycle Management (BLM) erarbeitete im Rahmen der Begleitforschung zum Wettbewerb "Energieeffiziente Stadt" ein Vorgehensmodell und Werkzeugkonzept für diesen Anwendungskontext, welches im zweiten Teil des Artikels in seinen Grundzügen beschrieben wird. Im Rahmen des Projektes wurden die wichtigsten Funktionalitäten bereits prototypisch als Webanwendung implementiert.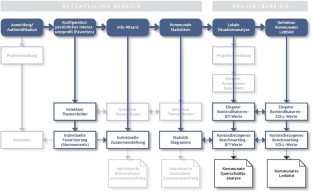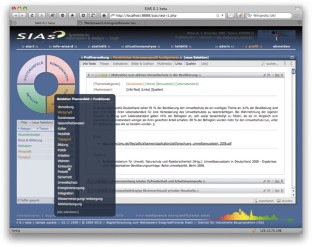 Notes
1.

2.

RealisBench. http:/www.relisag.de.

3.

EnBW Energiebericht. http://www.enbw.com.

4.

European Energy Award. http://www.european-energy-award.de.

5.

Klima-Bündnis: Benchmark Kommunaler Klimaschutz. http://www.benchmark-kommunaler-klimaschutz.net.

6.

Bundesministerium für Bildung und Forschung: Wettbewerb Energieeffiziente Stadt. http://www.wettbewerb-energieeffiziente-stadt.de/.

7.

Aquabench GmbH. http://www.aquabench.de.

8.

Bundesministerium für Umwelt, Naturschutz und Reaktorsicherheit: Bundeswettbewerb Energieeffiziente Stadtbeleuchtung. http://www.bundeswettbewerb-stadtbeleuchtung.de.

9.

Verband kommunaler Unternehmen (VKU): Betriebsvergleich kommunaler Unternehmern. http://www.bkv-benchmarking.de.

10.

Kommunale Gemeinschaftsstelle für Verwaltungsmanagement (KGSt). http://www.kgst.de.
Bibliografie
Aggteleky, B.; Bajna, N. (1992): Projektplanung. München, Wien.

BMBF – Bundesministerium für Bildung und Forschung (2008): Bekanntmachung des Bundesministeriums für Bildung und Forschung von Richtlinien über die Fördermaßnahme Wettbewerb Energieeffiziente Stadt im Rahmen des Förderkonzepts Grundlagenforschung Energie 2020+. Bonn.

Burckhardt, L. (2004): Wer plant die Planung? Berlin.

Dörner, D. (1979): Problemlösen als Informationsverarbeitung. 2. Aufl. Stuttgart.

Dörner, D. (2001): Die Logik des Misslingens. 14. Aufl. Reinbek.

Gehrlein, U. (2004): Nachhaltigkeitsindikatoren zur Steuerung kommunaler Entwicklung. Wiesbaden.

Possehl, K. (2002): Zielvereinbarungen mit KlientInnen in der Sozialen Arbeit. In: Sozial Aktuell, H. 19. Bern.

Rexroth, K.; Brüggemann, T.; Both, P. von (2009): Methodology of target and requirements management for complex systems concerning the application field of an energy-efficient city. In: Schrenk, M. (Hrsg.): Proceedings of 14th International Conference on Urban Planning, Regional Development and Information Society. Strategies, concepts and technologies for planning the urban future. REAL CORP 2009: cities 3.0 – smart, sustainable, integrative. Sitges, 22.-25.04.2009, S. 353–359.

Seidel, S. (2009): Praxisreport Benchmarkingsysteme. Diplomarbeit. KIT – Karlsruher Institut für Technologie, Fachgebiet Building Lifecycle Management (BLM), Industrielle Bauproduktion (ifib). Karlsruhe. Online verfügbar unter http://blm.ieb.kit.edu.

von Both, P. (2004): LuZie – Lebenszyklusbezogene Einbindung der Zielplanung und des Zielcontrolling in den Integralen Planungsprozess. In: FIA-News, Jg. 2004, H. 33. Bietigheim-Bissingen.

von Both, P. (2006): Ein systemisches Projektmodell für eine kooperative Planung komplexer Unikate. Karlsruhe.

Wiegand, J. (2005): Handbuch Planungserfolg. Zürich.
Copyright information

© 2012 Springer-Verlag Berlin Heidelberg
About this chapter
Cite this chapter
von Both, P., Rexroth, K. (2012). SIAS – Konzeption eines planungsunterstützenden Werkzeuges für die Zielplanung. In: Knoll, M., Oertel, B. (eds) Dienstleistungen für die energieeffiziente Stadt. Springer Spektrum, Berlin, Heidelberg. https://doi.org/10.1007/978-3-642-18438-3_9
DOI: https://doi.org/10.1007/978-3-642-18438-3_9

Published:

Publisher Name: Springer Spektrum, Berlin, Heidelberg

Print ISBN: 978-3-642-18437-6

Online ISBN: 978-3-642-18438-3

eBook Packages: Business and Economics (German Language)