Abstract
Posterior reversible encephalopathy syndrome (PRES) [1], [2] is a clinicoradiological entity that was well described by Hinchey et al. [3] in 1996 based on 15 cases, shortly after two other small case-series were published [4], [5]. This condition has been designated by a variety of names (reversible posterior leukoencephalopathy syndrome, reversible posterior cerebral edema syndrome, and reversible occipital parietal encephalopathy). PRES is now the accepted term [1], [2], [6] but has been challenged recently based on the risk of neurological impairment and up to 15 % mortality rate [7], [8]. PRES is characterized by variable associations of seizure activity, consciousness impairment, headaches, visual abnormalities, nausea/vomiting, and focal neurological signs. The cerebral imaging abnormalities are often symmetric and predominate in the posterior white matter (Fig. 1). Recognition of PRES has evolved with increasing availability of magnetic resonance imaging (MRI).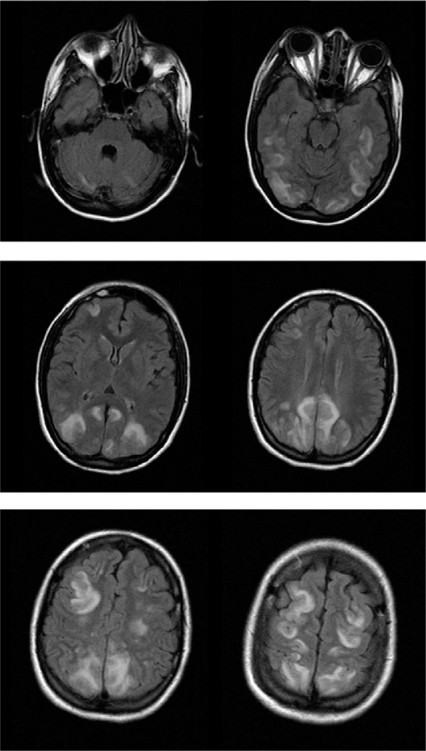 Keywords
Magnetic Resonance Angiography

Status Epilepticus

Progressive Multifocal Leukoencephalopathy

Mean Arterial Blood Pressure

Occipital Lobe
These keywords were added by machine and not by the authors. This process is experimental and the keywords may be updated as the learning algorithm improves.
References
Bartynski WS (2008) Posterior reversible encephalopathy syndrome, part 1: fundamental imaging and clinical features. AJNR Am J Neuroradiol 29: 1036–1042

Bartynski WS (2008) Posterior reversible encephalopathy syndrome, part 2: controversies surrounding pathophysiology of vasogenic edema. AJNR Am J Neuroradiol 29: 1043–1049

Hinchey J, Chaves C, Appignani B, et al (1996) A reversible posterior leukoencephalopathy syndrome. N Engl J Med 334: 494–500

Schwartz RB, Jones KM, Kalina P, et al (1992) Hypertensive encephalopathy: findings on CT, MR imaging, and SPECT imaging in 14 cases. AJR Am J Roentgenol 159: 379–383

Schwartz RB, Bravo SM, Klufas RA, et al (1995) Cyclosporine neurotoxicity and its relationship to hypertensive encephalopathy: CT and MR findings in 16 cases. AJR Am J Roentgenol 165: 627–631

Casey SO, Sampaio RC, Michel E, Truwit CL (2000) Posterior reversible encephalopathy syndrome: utility of fluid-attenuated inversion recovery MR imaging in the detection of cortical and subcortical lesions. AJNR Am J Neuroradiol 21: 1199–1206

Lee VH, Wijdicks EF, Manno EM, Rabinstein AA (2008) Clinical spectrum of reversible posterior leukoencephalopathy syndrome. Arch Neurol 65: 205–210

Burnett MM, Hess CP, Roberts JP, Bass NM, Douglas VC, Josephson SA (2010) Presentation of reversible posterior leukoencephalopathy syndrome in patients on calcineurin inhibitors. Clin Neurol Neurosurg 112: 886–889

Servillo G, Striano P, Striano S, et al (2003) Posterior reversible encephalopathy syndrome (PRES) in critically ill obstetric patients. Intensive Care Med 29: 2323–2326

Kozak OS, Wijdicks EF, Manno EM, Miley JT, Rabinstein AA (2007) Status epilepticus as initial manifestation of posterior reversible encephalopathy syndrome. Neurology 69: 894–897

Bartynski WS, Boardman JF (2007) Distinct imaging patterns and lesion distribution in posterior reversible encephalopathy syndrome. AJNR Am J Neuroradiol 28: 1320–1327

Bartynski WS, Boardman JF, Zeigler ZR, Shadduck RK, Lister J (2006) Posterior reversible encephalopathy syndrome in infection, sepsis, and shock. AJNR Am J Neuroradiol 27: 2179–2190

Covarrubias DJ, Luetmer PH, Campeau NG (2002) Posterior reversible encephalopathy syndrome: prognostic utility of quantitative diffusion-weighted MR images. AJNR Am J Neuroradiol 23: 1038–1048

McKinney AM, Short J, Truwit CL, et al (2007) Posterior reversible encephalopathy syndrome: incidence of atypical regions of involvement and imaging findings. AJR Am J Roentgenol 189: 904–912

Ducros A, Boukobza M, Porcher R, Sarov M, Valade D, Bousser MG (2007) The clinical and radiological spectrum of reversible cerebral vasoconstriction syndrome. A prospective series of 67 patients. Brain 130: 3091–3101

Hefzy HM, Bartynski WS, Boardman JF, Lacomis D (2009) Hemorrhage in posterior reversible encephalopathy syndrome: imaging and clinical features. AJNR Am J Neuroradiol 30: 1371–1379

Belogolovkin V, Levine SR, Fields MC, Stone JL (2006) Postpartum eclampsia complicated by reversible cerebral herniation. Obstet Gynecol 107: 442–445

Lamy C, Mas JL (2001) [Reversible posterior leukoencephalopathy. A new syndrome or a new name for an old syndrome?]. Presse Med 30: 915–920

Legriel S, Bruneel F, Spreux-Varoquaux O, et al (2008) Lysergic acid amide-induced posterior reversible encephalopathy syndrome with status epilepticus. Neurocrit Care 9: 247–252

Cole AJ (2004) Status epilepticus and periictal imaging. Epilepsia 45(Suppl 4): 72–77

Thurnher MM, Post MJ, Rieger A, Kleibl-Popov C, Loewe C, Schindler E (2001) Initial and follow-up MR imaging findings in AIDS-related progressive multifocal leukoencephalopathy treated with highly active antiretroviral therapy. AJNR Am J Neuroradiol 22: 977–984

O'Sullivan M (2008) Leukoaraiosis. Pract Neurol 8: 26–38

Chabriat H, Joutel A, Dichgans M, Tournier-Lasserve E, Bousser MG (2009) Cadasil. Lancet Neurol 8: 643–653

Gilman S (1998) Imaging the brain. First of two parts. N Engl J Med 338: 812–820

Sonneville R, Klein IF, Wolff M (2010) Update on investigation and management of postinfectious encephalitis. Curr Opin Neurol 23: 300–304

Matthews PM, Tampieri D, Berkovic SF, et al (1991) Magnetic resonance imaging shows specific abnormalities in the MELAS syndrome. Neurology 41: 1043–1046

Pomper MG, Miller TJ, Stone JH, Tidmore WC, Hellmann DB (1999) CNS vasculitis in autoimmune disease: MR imaging findings and correlation with angiography. AJNR Am J Neuroradiol 20: 75–85

Kallenberg K, Schulz-Schaeffer WJ, Jastrow U, et al (2006) Creutzfeldt-Jakob disease: comparative analysis of MR imaging sequences. AJNR Am J Neuroradiol 27: 1459–1462

Stam J (2005) Thrombosis of the cerebral veins and sinuses. N Engl J Med 352: 1791–1798

Culebras A, Kase CS, Masdeu JC, et al (1997) Practice guidelines for the use of imaging in transient ischemic attacks and acute stroke. A report of the Stroke Council, American Heart Association. Stroke 28: 1480–1497

Vaughan CJ, Delanty N (2000) Hypertensive emergencies. Lancet 356: 411–417

Baethmann A, Maier-Hauff K, Kempski O, Unterberg A, Wahl M, Schurer L (1988) Mediators of brain edema and secondary brain damage. Crit Care Med 16: 972–978

Ferrara JL (2000) Pathogenesis of acute graft-versus-host disease: cytokines and cellular effectors. J Hematother Stem Cell Res 9: 299–306

Antin JH, Ferrara JL (1992) Cytokine dysregulation and acute graft-versus-host disease. Blood 80: 2964–2968

Holler E, Kolb HJ, Moller A, et al (1990) Increased serum levels of tumor necrosis factor alpha precede major complications of bone marrow transplantation. Blood 75: 1011–1016

Schots R, Kaufman L, Van Riet I, et al (2003) Proinflammatory cytokines and their role in the development of major transplant-related complications in the early phase after allogeneic bone marrow transplantation. Leukemia 17: 1150–1156

de Vries HE, Kuiper J, de Boer AG, Van Berkel TJ, Breimer DD (1997) The blood-brain barrier in neuroinflammatory diseases. Pharmacol Rev 49: 143–155

Stanimirovic D, Satoh K (2000) Inflammatory mediators of cerebral endothelium: a role in ischemic brain inflammation. Brain Pathol 10: 113–126

Narushima I, Kita T, Kubo K, et al (2003) Highly enhanced permeability of blood-brain barrier induced by repeated administration of endothelin-1 in dogs and rats. Pharmacol Toxicol 92: 21–26

Wijdicks EF (2001) Neurotoxicity of immunosuppressive drugs. Liver Transpl 7: 937–942

Bartynski WS, Boardman JF (2008) Catheter angiography, MR angiography, and MR perfusion in posterior reversible encephalopathy syndrome. AJNR Am J Neuroradiol 29: 447–455

Brubaker LM, Smith JK, Lee YZ, Lin W, Castillo M (2005) Hemodynamic and permeability changes in posterior reversible encephalopathy syndrome measured by dynamic susceptibility perfusion-weighted MR imaging. AJNR Am J Neuroradiol 26: 825–830

Engelter ST, Petrella JR, Alberts MJ, Provenzale JM (1999) Assessment of cerebral microcirculation in a patient with hypertensive encephalopathy using MR perfusion imaging. AJR Am J Roentgenol 173: 1491–1493

Wang X, Lo EH (2003) Triggers and mediators of hemorrhagic transformation in cerebral ischemia. Mol Neurobiol 28: 229–244

Szabo C (2005) Mechanisms of cell necrosis. Crit Care Med 33(12 Suppl): S530–S534

Allport JR, Ding H, Collins T, Gerritsen ME, Luscinskas FW (1997) Endothelial-dependent mechanisms regulate leukocyte transmigration: a process involving the proteasome and disruption of the vascular endothelial-cadherin complex at endothelial cell-to-cell junctions. J Exp Med 186: 517–527

Bartynski WS, Tan HP, Boardman JF, Shapiro R, Marsh JW (2008) Posterior reversible encephalopathy syndrome after solid organ transplantation. AJNR Am J Neuroradiol 29: 924–930

Kwon EJ, Kim SW, Kim KK, Seo HS, Kim do Y (2009) A case of gemcitabine and cisplatin associated posterior reversible encephalopathy syndrome. Cancer Res Treat 41: 53–55

Nagata Y, Omuro Y, Shimoyama T, et al (2009) [A case of colon cancer with reversible posterior leukoencephalopathy syndrome following 5-FU and oxaliplatin (FOLFOX regime)]. Gan To Kagaku Ryoho 36: 1163–1166

Vieillot S, Pouessel D, de Champfleur NM, Becht C, Culine S (2007) Reversible posterior leukoencephalopathy syndrome after carboplatin therapy. Ann Oncol 18: 608–609

Saito B, Nakamaki T, Nakashima H, et al (2007) Reversible posterior leukoencephalopathy syndrome after repeat intermediate-dose cytarabine chemotherapy in a patient with acute myeloid leukemia. Am J Hematol 82: 304–306

Dicuonzo F, Salvati A, Palma M, et al (2009) Posterior reversible encephalopathy syndrome associated with methotrexate neurotoxicity: conventional magnetic resonance and diffusion-weighted imaging findings. J Child Neurol 24: 1013–1018

Hualde Olascoaga J, Molins Castiella T, Souto Hernandez S, et al (2008) [Reversible posterior leukoencephalopathy: report of two cases after vincristine treatment]. An Pediatr (Barc) 68: 282–285

Allen JA, Adlakha A, Bergethon PR (2006) Reversible posterior leukoencephalopathy syndrome after bevacizumab/FOLFIRI regimen for metastatic colon cancer. Arch Neurol 63: 1475–1478

Cumurciuc R, Martinez-Almoyna L, Henry C, Husson H, de Broucker T (2008) Posterior reversible encephalopathy syndrome during sunitinib therapy. Rev Neurol (Paris) 164: 605–607

Govindarajan R, Adusumilli J, Baxter DL, El-Khoueiry A, Harik SI (2006) Reversible posterior leukoencephalopathy syndrome induced by RAF kinase inhibitor BAY 43-9006. J Clin Oncol 24: e48

Kamar N, Kany M, Bories P, et al (2001) Reversible posterior leukoencephalopathy syndrome in hepatitis C virus-positive long-term hemodialysis patients. Am J Kidney Dis 37: E29

Karp BI, Yang JC, Khorsand M, Wood R, Merigan TC (1996) Multiple cerebral lesions complicating therapy with interleukin-2. Neurology 47: 417–424

Zito JA, Lee CC, Johnson S, Singer A, Vacirca J (2010) Reversible posterior leukoencephalopathy syndrome after rituximab. Am J Emerg Med 28: 537

Zamvar V, Sugarman ID, Tawfik RF, Macmullen-Price J, Puntis JW (2009) Posterior reversible encephalopathy syndrome following infliximab infusion. J Pediatr Gastroenterol Nutr 48: 102–105

Belmouaz S, Desport E, Leroy F, et al (2008) Posterior reversible encephalopathy induced by intravenous immunoglobulin. Nephrol Dial Transplant 23: 417–419

Kastrup O, Diener HC (2008) TNF-antagonist etanercept induced reversible posterior leukoencephalopathy syndrome. J Neurol 255: 452–453

Greaves P, Oakervee H, Kon SS, Jones R, Farah N (2006) Posterior reversible encephalopathy syndrome following anti-lymphocyte globulin treatment for severe aplastic anaemia. Br J Haematol 134: 251

Bodkin CL, Eidelman BH (2007) Sirolimus-induced posterior reversible encephalopathy. Neurology 68: 2039–2040

Huang YC, Tsai PL, Yeh JH, Chen WH (2008) Reversible posterior leukoencephalopathy syndrome caused by blood transfusion: a case report. Acta Neurol Taiwan 17: 258–262

Leniger T, Kastrup O, Diener HC (2000) Reversible posterior leukencephalopathy syndrome induced by granulocyte stimulating factor filgrastim. J Neurol Neurosurg Psychiatry 69: 280–281

Ridolfo AL, Resta F, Milazzo L, et al (2008) Reversible posterior leukoencephalopathy syndrome in 2 HIV-infected patients receiving antiretroviral therapy. Clin Infect Dis 46:e19–e22

Nagel S, Kohrmann M, Huttner HB, Storch-Hagenlocher B, Schwab S (2007) Linezolidinduced posterior reversible leukoencephalopathy syndrome. Arch Neurol 64: 746–748

Delanty N, Vaughan C, Frucht S, Stubgen P (1997) Erythropoietin-associated hypertensive posterior leukoencephalopathy. Neurology 49: 686–689

Moawad FJ, Hartzell JD, Biega TJ, Lettieri CJ (2006) Transient blindness due to posterior reversible encephalopathy syndrome following ephedra overdose. South Med J 99: 511–514

Furuta N, Fujita Y, Sekine A, Ikeda M, Okamoto K (2009) [Reversible posterior leukoencephalopathy syndrome associated with carbamazepine-induced hypertension]. Rinsho Shinkeigaku 49: 191–193

Ortiz GA, Bianchi NA, Tiede MP, Bhatia RG (2009) Posterior reversible encephalopathy syndrome after intravenous caffeine for post-lumbar puncture headaches. AJNR Am J Neuroradiol 30: 586–587

Fabbian F, Pala M, Fallica E, et al (2010) Posterior reversible encephalopathy syndrome in an 87-year-old woman with Escherichia coli bloodstream infection. Clin Exp Nephrol 14: 176–179

Servillo G, Apicella E, Striano P (2008) Posterior reversible encephalopathy syndrome (PRES) in the parturient with preeclampsia after inadvertent dural puncture. Int J Obstet Anesth 17: 88–89

Baizabal-Carvallo JF, Barragan-Campos HM, Padilla-Aranda HJ, et al (2009) Posterior reversible encephalopathy syndrome as a complication of acute lupus activity. Clin Neurol Neurosurg 111: 359–363

Yong PF, Hamour SM, Burns A (2003) Reversible posterior leukoencephalopathy in a patient with systemic sclerosis/systemic lupus erythematosus overlap syndrome. Nephrol Dial Transplant 18: 2660–2662

Stanzani L, Fusi L, Gomitoni A, Roncoroni M, Villa P, Grampa G (2008) A case of posterior reversible encephalopathy during polyarteritis nodosa vasculitis. Neurol Sci 29: 163–167

Nishio M, Yoshioka K, Yamagami K, et al (2008) Reversible posterior leukoencephalopathy syndrome: a possible manifestation of Wegener's granulomatosis-mediated endothelial injury. Mod Rheumatol 18: 309–314

Burrus TM, Mandrekar J, Wijdicks EF, Rabinstein AA (2010) Renal failure and posterior reversible encephalopathy syndrome in patients with thrombotic thrombocytopenic purpura. Arch Neurol 67: 831–834

Kamimura H, Hirose S, Tazaki K, Suzuki Y, Satou M (2007) [Reversible posterior leukoencephalopathy syndrome with microscopic polyangiitis]. Nippon Naika Gakkai Zasshi 96: 2532–2535

Fujita M, Komatsu K, Hatachi S, Yagita M (2008) Reversible posterior leukoencephalopathy syndrome in a patient with Takayasu arteritis. Mod Rheumatol 18: 623–629

Yildiz OK, Segmen H, Oztoprak I, Bolayir E, Topaktas S (2010) Posterior reversible encephalopathy and alexia without agraphia in a patient with Hashimoto's encephalopathy. Neurol Sci 31: 523–525

Zipper SG, Tischendorf M, Westphal K (2006) [Postoperative occurrence of reversible posterior encephalopathy in a patient with Crohn's disease]. Anaesthesist 55: 1064–1067

Fugate JE, Wijdicks EF, Kumar G, Rabinstein AA (2009) One Thing Leads to Another: GBS Complicated by PRES and Takotsubo Cardiomyopathy. Neurocrit Care 11: 395–397

Ma ES, Chiu EK, Fong GC, Li FK, Wong CL (2009) Burkitt lymphoma presenting as posterior reversible encephalopathy syndrome secondary to hypercalcaemia. Br J Haematol 146: 584

Greenwood MJ, Dodds AJ, Garricik R, Rodriguez M (2003) Posterior leukoencephalopathy in association with the tumour lysis syndrome in acute lymphoblastic leukaemia—a case with clinicopathological correlation. Leuk Lymphoma 44: 719–721

Kang SY, Kang JH, Choi JC, Lee JS (2010) Posterior reversible encephalopathy syndrome in a patient with acute intermittent porphyria. J Neurol 257: 663–664

Rodriguez-Uranga JJ, Franco-Macias E, Bernal Sanchez-Arjona M, Villalobos-Chavez F (2003) [Posterior reversible leukoencephalopathy syndrome, pheochromocytoma and von Hippel-Lindau disease]. Rev Neurol 37: 797–798

Lodish M, Patronas NJ, Stratakis CA (2010) Reversible posterior encephalopathy syndrome associated with micronodular adrenocortical disease and Cushing syndrome. Eur J Pediatr 169: 125–126

Narbone MC, Musolino R, Granata F, Mazzu I, Abbate M, Ferlazzo E (2006) PRES: posterior or potentially reversible encephalopathy syndrome? Neurol Sci 27: 187–189

Schiff D, Lopes MB (2005) Neuropathological correlates of reversible posterior leukoencephalopathy. Neurocrit Care 2: 303–305

Meierkord H, Boon P, Engelsen B, et al (2010) EFNS guideline on the management of status epilepticus in adults. Eur J Neurol 17: 348–355

Ramsay LE, Williams B, Johnston GD, et al (1999) British Hypertension Society guidelines for hypertension management 1999: summary. BMJ 319: 630–635

Varon J, Marik PE (2003) Clinical review: the management of hypertensive crises. Crit Care 7: 374–384

Buch J (2010) Urapidil, a dual-acting antihypertensive agent: Current usage considerations. Adv Ther 27: 426–443
Copyright information
© 2011 Springer Science+Business Media LLC
About this chapter
Cite this chapter
Legriel, S., Pico, F., Azoulay, E. (2011). Understanding Posterior Reversible Encephalopathy Syndrome. In: Vincent, JL. (eds) Annual Update in Intensive Care and Emergency Medicine 2011. Annual Update in Intensive Care and Emergency Medicine 2011, vol 1. Springer, Berlin, Heidelberg. https://doi.org/10.1007/978-3-642-18081-1_56
DOI: https://doi.org/10.1007/978-3-642-18081-1_56

Publisher Name: Springer, Berlin, Heidelberg

Print ISBN: 978-3-642-18080-4

Online ISBN: 978-3-642-18081-1

eBook Packages: MedicineMedicine (R0)