Abstract

The vast majority of molecules detected in space has been identified by rotational and ro-vibrational spectra in the millimeter- and sub-millimeter wavelength region. Laboratory studies at sub-millimeter wavelengths or terahertz frequencies require sophisticated spectroscopic techniques, which have been developed over the last few decades by worldwide leading spectroscopy groups. In this section spectroscopic tools for high resolution Terahertz spectroscopy of gas phase molecules are presented and illustrated by examples from the Cologne laboratories.
Keywords
Intermediate Frequency

Tunnel Junction

Submillimeter Wavelength

Monochromatic Radiation Source

Herschel Space Observatory
These keywords were added by machine and not by the authors. This process is experimental and the keywords may be updated as the learning algorithm improves.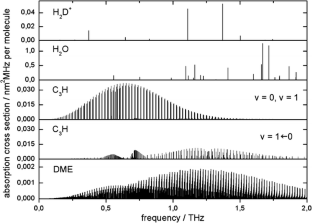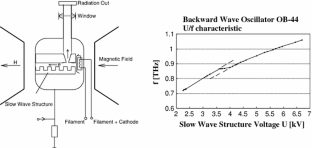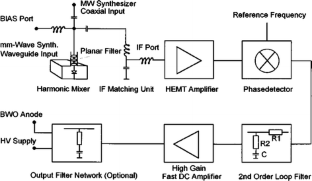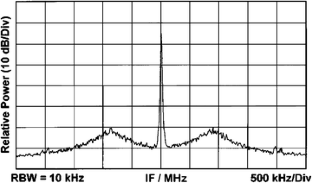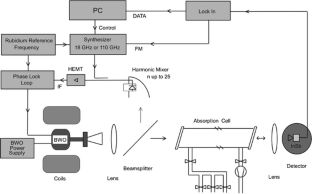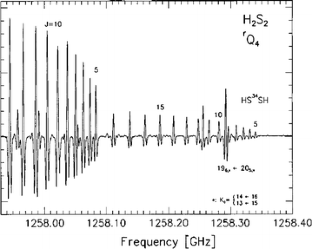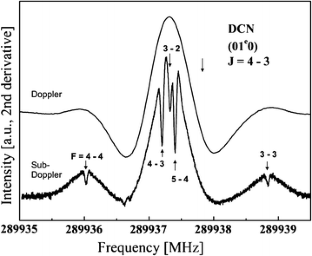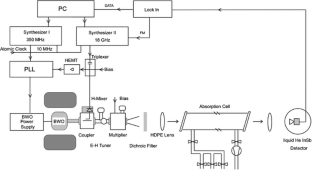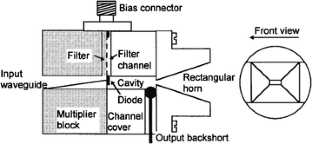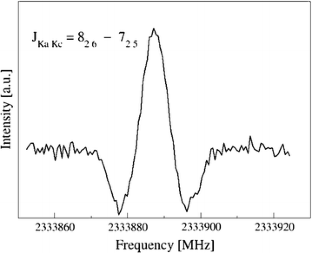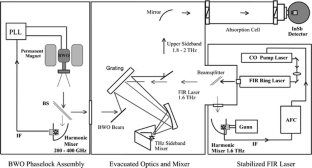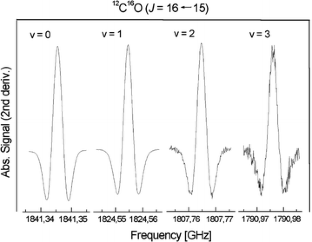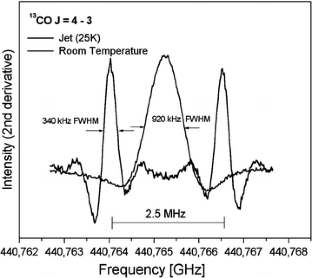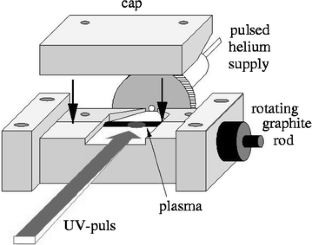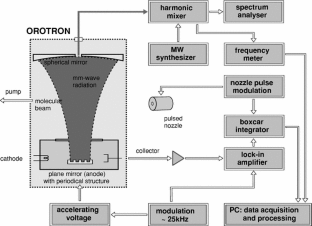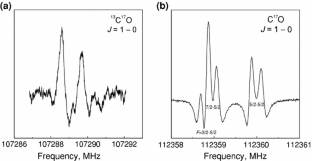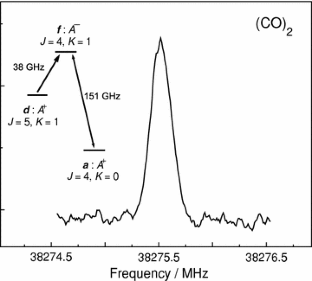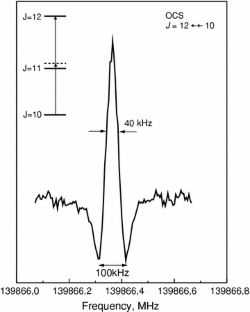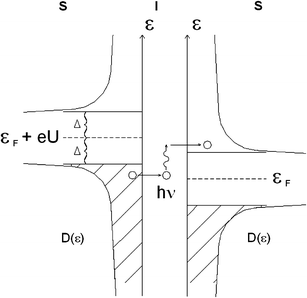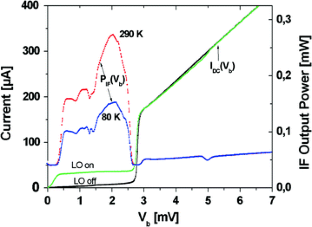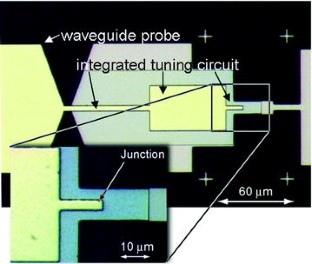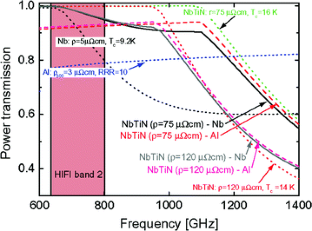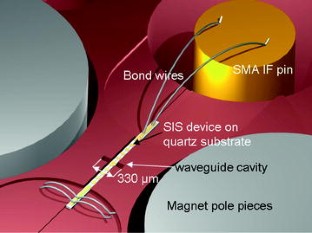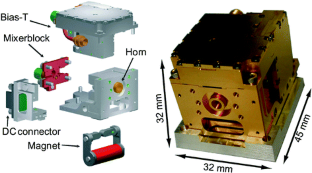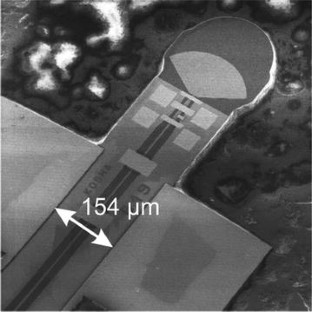 References
T. Amano, Astrophys. J. 716, L1 (2010)

E. Falgarone, V. Ossenkopf, M. Gerin, P. Lesaffre, B. Godard, J. Pearson, S. Cabrit, Ch. Joblin, A.O. Benz, F. Boulanger, A. Fuente, R. Güsten, A. Harris, T. Klein, C. Kramer, S. Lord, P. Martin, J. Martin-Pintado, D. Neufeld, T.G. Phillips, M. Röllig, R. Simon, J. Stutzki, F. van der Tak, D. Tryssier, M. Yorke, N. Erickson, M. Fich, W. Jellema, A. Marston, C. Risacher, M. Salez, F. Schmülling, Astron. Astrophys. 518, L118 (2010)

T. de Graauw et al. (with 165 authors), Astron. Astrophys. 518, L6 (2010)

O. Asvany, O. Ricken, H.S.P. Müller, M.C. Wiedner, T.F. Giesen, S. Schlemmer, Phys. Rev. Lett. 100, 233004 (2008)

H.M. Pickett, R.L. Poynter, E.A. Cohen, M.L. Delitsky, J.C. Pearson, H.S.P. Müller, J. Quant. Spectrosc. Radiat. Transf. 60, 883 (1998)

H.S.P. Müller, F. Schlöder, J. Stutzki, G. Winnewisser, J. Mol. Struct. 742, 215 (2005)

R. Güsten, L.Å. Nyman, P. Schilke, K. Menten, C. Cesarsky, R. Booth, Astron. Astrophys. 454, L13 (2006)

A. Staprans, E.W. McCune, J.A. Ruetz, Proc. IEEE 61, 299 (1973)

C.P. Endres, B.J. Drouin, J.C. Pearson, H.S.P. Müller, F. Lewen, S. Schlemmer, T.F. Giesen, Astron. Astrophys. 504, 635 (2009)

P.H. Siegel, IEEE Trans. Microw. Theory Tech. 50, 910 (2002)

B. Levush, T. Antonsen Jr., A. Bromborsky, W.R. Lou, D. Abe, S. Miller, Y. Carmel, J. Rodgers, V. Granatstein, W. Destler, in Electron Devices Meeting 1991, Technical Digest (1991), p. 775

B. Levush, T.M. Anonsen, A. Bromborsky, W.R. Lou, Y. Carmel, IEEE Trans. Plasma Sci. 20, 263 (1992)

A.N. Korolev, S.A. Zaitsev, I.I. Golenitskij, Y.V. Zhary, A.D. Zarkurdayev, M.I. Lopin, P.M. Meleshkevich, E.A. Gelvich, A.A. Negirev, A.S. Podedonostsev, V.I. Poognin, V.B. Homich, A.N. Gargin, IEEE Trans. Electron. Devices 48, 2929 (2001)

M. Liedtke, R. Schieder, K.M.T. Yamada, G. Winnewisser, S.P. Belov, A.F. Krupnov, J. Mol. Spectrosc. 161, 317 (1993)

S.P. Below, M. Liedtke, T. Klaus, R. Schieder, A.H. Saleck, J. Behrend, K.M.T. Yamada, G. Winnewisser, A.F. Krupnov, J. Mol. Spectrosc. 166, 489 (1994)

G.M. Plummer, G. Winnewisser, M. Winnewisser, J. Hahn, K. Reinartz, J. Mol. Spectrosc. 126, 255 (1987)

M. Bester, K. Jacobs, B. Vowinkel, in Proceedings of 13th European Microwave Conference, Nürnberg (1983), p. 308

A.F. Krupnov, L.I. Gershtein, Prib. Tekh. Eksp. 6, 143 (1970)

P. Goy, C. Fabre, M. Gross, S. Haroche, J. Phys. B 13, L83–L91 (1980)

A.H.F. van Vliet, T. de Graauw, S. Lindholm, H. van de Stadt, Int. J. Infrared Millimeter Wave 3, 817 (1982)

P. Goy, J.M. Raimond, G. Vitrant, S. Haroshe, Phys. Rev. A 26, 2733 (1982)

E. Bava, A. Godone, G.D. Rovera, Infrared Phys. 23, 157 (1983)

G. Winnewisser, A.F. Krupnov, M.Yu. Tretyakov, M. Liedtke, F. Lewen, A.H. Saleck, R. Schieder, A.P. Shkaev, S.V. Volokhov, J. Mol. Spectrosc. 165, 294 (1994)

G. Winnewisser, Vib. Spectrosc. 8, 241 (1995)

M. Bogey, S. Civi, B. Delcroix, C. Demuynck, A.F. Krupnov, J. Quiguer, M.Yu. Tretyakov, A. Walters, J. Mol. Spectrosc. 182, 85 (1997)

I. Morino, M. Fabian, H. Takeo, K.M.T. Yamada, J. Mol. Spectrosc. 185, 142 (1997)

T. Amano, Astrophys. J. 531, L161 (2000)

F. Lewen, R. Gendriesch, I. Pak, D.G. Paveliev, M. Hepp, R. Schieder, G. Winnewisser, Rev. Sci. Instrum. 69, 32 (1998)

A.F. Krupnov, Int. J. Infrared Millimeter Waves 22, 1 (2001)

S. Schlemmer, T. Giesen, F. Lewen, G. Winnewisser, in Frontiers of Molecular Spectroscopy, ed. by J. Laane (Elsevier, Amsterdam, 2009), p. 241

G. Klapper, L. Surin, F. Lewen, H.S.P. Müller, I. Pak, G. Winnewisser, Astrophys. J. 582, 262 (2003)

S. Brünken, E.A. Michael, F. Lewen, T. Giesen, H. Ozeki, G. Winnewisser, P. Jensen, E. Herbst, Can. J. Chem. 82, 676 (2004)

U. Fuchs, S. Brünken, G.W. Fuchs, S. Thorwirth, V. Ahrens, F. Lewen, S. Urban, T. Giesen, G. Winnewisser, Z. Naturforsch. 59, 861 (2004)

S. Brünken, U. Fuchs, F. Lewen, S. Urban, T. Giesen, G. Winnewisser, J. Mol. Spectrosc. 225, 152 (2004)

P. Siegel, R. Smith, M. Graidis, S. Martin, IEEE Trans. Microw. Theory Tech. 47, 59 (1999)

J. Bruston, E. Schlecht, A. Maestrini, F. Maiwald, S. Martin, R. Smith, I. Mehdi, P. Siegel, J. Pearson, in Proceedings of the SPIE-International Symposium on Astronomical Telescope and Instrumentation (2000), p. 22

G. Chattopadhyay, E. Schlecht, J. Ward, J. Gill, H. Javadi, F. Maiwald, I. Medhi, IEEE Trans. Microw. Theory Tech. 52, 1538 (2004)

A. Maestrini, J. Ward, J. Gill, H. Javadi, E. Schlecht, G. Chattopadhyay, F. Maiwald, N. Erickson, I. Mehdi, IEEE Microw. Wirel. Compon. Lett. 14, 253 (2004)

F. Maiwald, S. Martin, J. Bruston, A. Maestrini, T. Crawford, P.H. Siegel, in Microwave Symposium Digest, 2001 IEEE MTT-S International, vol. 3 (2001), p. 1637

H. Xu, G.S. Schoenthal, J.L. Hesler, T.W. Crowe, R.M. Weikle, IEEE Trans. Microw. Theory Tech. 55, 648 (2007)

B.J. Drouin, F.W. Maiwald, J.C. Pearson, Rev. Sci. Inst. 76, 093113 (2005)

F. Lewen, D.G. Paveljev, B. Vowinkel, J. Freyer, H. Grothe, G. Winnewisser, in Proceedings of 4th International Workshop on Terahertz Electronics, Erlangen (1996)

F. Maiwald, F. Lewen, B. Vowinkel, W. Jabs, D.G. Paveljev, M. Winnewisser, G. Winnewisser, IEEE Microw. Guided Wave Lett. 9, 198 (1999)

F. Maiwald, F. Lewen, V. Ahrens, M. Beaky, R. Gendriesch, A.N. Koroliev, A.A. Negirev, D.G. Paveljev, B. Vowinkel, G. Winnewisser, J. Mol. Spectrosc. 202, 166 (2000)

C.P. Endres, F. Lewen, T.F. Giesen, S. Schlemmer, D.G. Paveliev, Y.I. Koschurinov, V.M. Ustinov, A.E. Zhucov, Rev. Sci. Instrum. 78, 043106 (2007)

G. Piau, F.X. Brown, D. Dangoisse, P. Glorieux, IEEE J. Quantum Electron. QE-23, 1388 (1987)

G.A. Blake, K.B. Laughlin, R.C. Cohen, K.L. Busarow, D.H. Gwo, C.A. Schmuttenmaer, D.W. Steyert, R.J. Saykally, Rev. Sci. Inst. 62, 1701 (1991)

P. Verhoeve, E. Zwart, M. Versluis, M. Drabbels, J.J. ter Meulen, W.L. Meerts, A. Dymanus, D.B. Mclay, Rev. Sci. Inst. 61, 1612 (1990)

F. Lewen, E. Michael, J. Stutzki, G. Winnewisser, J. Mol. Spectrosc. 183, 207 (1997)

E. Michael, F. Lewen, R. Gendriesch, J. Stutzki, G. Winnewisser, Int. J. Infrared Millimeter Waves 20, 1073 (1999)

R. Gendriesch, F. Lewen, G. Winnewisser, J. Hahn, J. Mol. Spectrosc. 203, 205 (2000)

R. Gendriesch, F. Lewen, G. Winnewisser, H.S.P. Müller, J. Mol. Struct. 599, 293 (2001)

R. Gendriesch, K. Pehl, T. Giesen, G. Winnewisser, F. Lewen, Z. Naturforsch. 58, 129 (2003)

S. Brünken, H.S.P. Müller, F. Lewen, G. Winnewisser, Phys. Chem. Chem. Phys. 5, 1515 (2003)

S. Brünken, H.S.P. Müller, S. Thorwirth, F. Lewen, G. Winnewisser, J. Mol. Struct. 780(81), 3 (2006)

H. Linnartz, T. Motylewski, F. Maiwald, D.A. Roth, F. Lewen, I. Pak, G. Winnewisser, Chem. Phys. Lett. 292, 188 (1998)

M. Hepp, R. Gendriesch, I. Pak, Y.A. Kuritsyn, F. Lewen, G. Winnewisser, M. Brookes, A.R.W. McKellar, J.K.G. Watson, T. Amano, Mol. Phys. 92, 229 (1997)

T. Imasaka, D.S. Moore, T. Vo-Dinh, Pure Appl. Chem. 75, 975 (2003)

T. Motylewski, O. Vaizert, T.F. Giesen, H. Linnartz, J.P. Maier, J. Chem. Phys. 111, 6161 (1999)

T.F. Giesen, A. Van Orden, H.J. Hwang, R.S. Fellers, R.A. Provencal, R.J. Saykally, Science 265, 756 (1994)

B.S. Dumesh, V.P. Kostromin, F.S. Rusin, L.A. Surin, Meas. Sci. Technol. 3, 873 (1992)

B.S. Dumesh, L.A. Surin, Rev. Sci. Instrum. 67, 3458 (1996)

L.A. Surin, Vib. Spectrosc. 24, 147 (2000)

B.S. Dumesh, V.D. Gorbatenkov, V.G. Koloshnikov, V.A. Panfilov, L.A. Surin, Spectrochim. Acta A 53, 835 (1997)

L.A. Surin, B.S. Dumesh, F. Lewen, D.A. Roth, V.P. Kostromin, F.S. Rusin, G. Winnewisser, I. Pak, Rev. Sci. Instrum. 72, 2535 (2001)

A.V. Potapov, L. Surin, V.A. Panfilov, B.S. Dumesh, Opt. Spectrosc. 106, 183 (2009)

V.L. Bratman, B.S. Dumesh, A.E. Fedotov, Yu.A. Grishin, F.S. Rusin, Int. J. Infrared Millimeter Waves 23, 1595 (2002)

Yu. Grishin, M. Fuchs, A. Schnegg, A. Dubinski, B. Dumesh, F. Rusin, V. Bratman, K. Mobius, Rev. Sci. Instrum. 75, 2928 (2004)

L.A. Surin, D.N. Fourzikov, F. Lewen, B.S. Dumesh, G. Winnewisser, A.R.W. McKellar, J. Mol. Spectrosc. 222, 93 (2003)

L.S. Vasilenko, V.P. Chebotaev, A.V. Shishaev, Pis'ma, Zh. Eksp. Teor. Fis 12, 161 (1970)

V.S. Letokhov, V.P. Chebotaev, Springer Series in Optical Sciences, vol. 4 (Springer, Berlin, 1970)

L.A. Surin, B.S. Dumesh, F.S. Rusin, G. Winnewisser, I. Pak, Phys. Rev. Lett. 86, 2002 (2001)

J. Zmuidzinas, P.L. Richards, Proc. IEEE 92, 1597 (2004)

J.R. Tucker, IEEE J. Quantum Electron. QE-15(11), 1234 (1979)

J.R. Tucker, M.J. Feldman, Rev. Mod. Phys. 57(4), 1055 (1985)

K.-H. Gundlach, S. Takada, M. Zahn, H.J. Hartfuss, Appl. Phys. Lett. 41, 294 (1982)

M. Gurvitch, M.A. Washington, H.A. Huggins, Appl. Phys. Lett. 42, 472 (1983)

R.L. Kautz, J. Appl. Phys 49(1), 308 (1978)

D.C. Mattis, J. Bardeen, Phys. Rev. 111, 412 (1958)

R. Pöpel, J. Appl. Phys. 66, 5950 (1989)

K. Jacobs, U. Kotthaus, B. Vowinkel, Int. J. Infrared Millimeter Waves 13, 15 (1992)

E.M. Gershenzon, M.E. Gershenzon, G.N. Goltsman, A.D. Semenov, A.V. Sergeev, IEEE Trans. Magn. 27, 1317 (1991)

D.E. Prober, Appl. Phys. Lett. 62, 2119 (1993)

P.P. Munoz, S. Bedorf, M. Brandt, T. Tils, N. Honingh, K. Jacobs, IEEE MWCL 16(11), 606 (2006)

S.P. Belov, F. Lewen, T. Klaus, G. Winnewisser, J. Mol. Spectrosc. 174, 606 (1995)

R. Gendriesch, F. Lewen, G. Klapper, K.M. Menten, G. Winnewisser, J.A. Coxon, H.S.P. Müller, Astron. Astrophys. 497, 927 (2009)

M. Caris, T.F. Giesen, C. Duan, H.S.P. Müller, S. Schlemmer, K.M.T. Yamada, J. Mol. Spectrosc. 253, 99 (2009)
Copyright information

© 2011 Springer-Verlag Berlin Heidelberg
About this chapter
Cite this chapter
Giesen, T.F., Jacobs, K. (2011). Laboratory Experimental Methods. In: Yamada, K., Winnewisser, G. (eds) Interstellar Molecules. Springer Tracts in Modern Physics, vol 241. Springer, Berlin, Heidelberg. https://doi.org/10.1007/978-3-642-16268-8_4