Introduction
The Gulf of Khambhat, (also known as the Gulf of Cambay, Gujarat), an inlet of the Arabian Sea is located between 20° 35′–22° 20′N and 72° 05′–72° 55′E on the West Coast of India (Fig.
1
). A high tidal energy environment this Gulf receives freshwater from 12 rivers including the Shetrunj, Mahi Sagar, Narmada, Tapi, Sabarmati, Kim and the Dhadhar, that flow through Gujarat State (Fig.
2
). These rivers have traditionally supported thriving human settlements (Karanth et al.
2005
). Known as the 'lifeline of Madhya Pradesh' Narmada has 34.537 × 10
6
m
3
of utilizable freshwater to be shared by Madhya Pradesh (65%), Gujarat (32%), Rajasthan (1.78%) and Maharashtra (0.89%).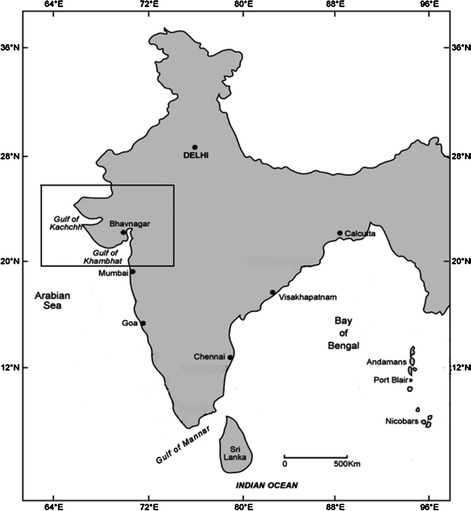 Keywords
Dissolve Inorganic Nitrogen 
Mangrove Forest 
Submarine Pipeline 
Dissolve Inorganic Phosphate 
Freshwater Reservoir 
These keywords were added by machine and not by the authors. This process is experimental and the keywords may be updated as the learning algorithm improves.
Notes
Acknowledgments
I am most grateful to Dr. James E. Stewart, Emeritus Scientist, Bedford Institute of Oceanography, Dartmouth, Nova Scotia, Canada and Dr. Ravi V. Durvasula, University of New Mexico, Albuquerque, NM, USA for constructive criticism of the manuscript. I thank Professor Viorel Badescu for his infinite patience. My thanks are due to Dr. P.S. Rao, Senior Scientist, National Institute of Oceanography, Goa, India for providing several publications on the Gulf of Khambhat and Mr. Francis Kelly, Technographics Bedford Institute of Oceanography for the illustrations, and Bala T. Durvasula for formatting the text.
Copyright information
© Springer-Verlag Berlin Heidelberg 2010