Abstract

To quantify the role of earthworms in ecosystems, a precise and accurate estimation of their diversity, abundance and biomass is needed. In this chapter, we contribute to the optimization of earthworm sampling in terms of (1) how to sample, (2) where to sample and (3) how many samples to take. First, we assess optimal concentrations of chemical expellants (allyl isothiocyanate (AITC) and mustard) recently recommended for earthworm sampling. The efficiency of these vermifuges is then evaluated against formalin application using a combined earthworm sampling method (extraction followed by hand sorting). Practical considerations are discussed. Like many living organisms, earthworm populations are neither uniformly nor randomly distributed, but exhibit an aggregated distribution in patches. The range of spatial autocorrelation in these patches is an important variable to consider in spatial sampling designs. Based on a literature overview, guidelines for spatial sampling design are presented. Finally, species rarefaction curves are used to determine the optimal sample size to accurately represent earthworm diversity.
Keywords
Earthworm Species

Allyl Isothiocyanate

Earthworm Population

Earthworm Community

Hand Sorting
These keywords were added by machine and not by the authors. This process is experimental and the keywords may be updated as the learning algorithm improves.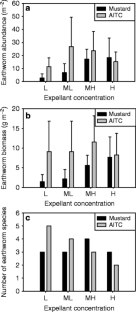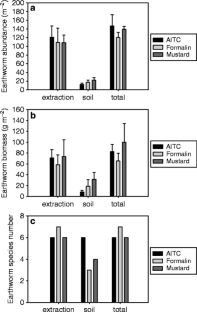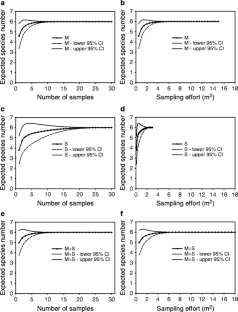 References
Bouché MB (1969) Comparaison critique de méthodes d'évaluation des populations de Lombricidés. Pedobiologia 9:26–34

Bouché MB, Aliaga R (1986) Contre une degradation physique et chimique des sols et pour leur optimisation économique, l'échantillonage des Lombriciens: une urgente nécessité. La défense des Végétaux 242:30–36

Bouché MB, Beugnot M (1972) Contribution à l'approche méthodologique de l'étude des biocénoses. II. L'extraction des macro-éléments du sol par lavage-tamisage. Annales de Zoologie-Ecologie Animale 4:537–544

Bouché MB, Gardner RH (1984) Earthworm functions. VIII. – Population estimation techniques. Revue d'écologie et de biologie du sol 21:37–63

Cannavacciuolo M, Bellido A, Cluzeau D, Gascuel C, Trehen P (1998) A geostatistical approach to the study of earthworm distribution in grassland. Appl Soil Ecol 9:345–349

Chan K-Y, Munro K (2001) Evaluating mustard extracts for earthworm sampling. Pedobiologia 45:272–278

Colwell RK (2009). EstimateS: statistical estimation of species richness and shared species from samples. Version 8.2. User's guide and application published at: http://purl.oclc.org/estimates

Colwell RK, Mao CX, Chang J (2004) Interpolating, extrapolating, and comparing incidence-based species accumulation curves. Ecology 85:2717–2727

Daniel O, Jager P, Cuendet G, Bieri M (1992) Sampling of Lumbricus terrestris (Oligochaeta, Lumbricidae). Pedobiologia 36:213–220

DeClerq DR, Daun JK (2003). Quality of western Canadian mustard 2003. http://www.grainscanada.gc.ca/Quality/Mustard/2003/mustard-2003-e.pdf. Accessed July 19 2005. Canadian Grain Commission, Winnipeg, Man

Dickey JB, Kladivko EJ (1989) Sample unit sizes and shapes for quantitative sampling of earthworm populations in crop lands. Soil Biol Biochem 21:105–111

Dutilleul P (1993) Modifying the t test for assessing the correlation between two spatial processes. Biometrics 49:305–314

East D, Knight D (1998) Sampling soil earthworm populations using household detergent and mustard. J Biol Educ 32:201–206

Edwards CA, Bohlen PJ (1996) Biology and ecology of earthworms. Kluwer Academic Publishers, Dordrecht

Eichinger E, Bruckner A, Stemmer M (2007) Earthworm expulsion by formalin has severe and lasting side effects on soil biota and plants. Ecotoxicol Environ Saf 67:260–266

Fahey JW, Zalcmann AT, Talalay P (2001) The chemical diversity and distribution of glucosinolates and isothiocyanates among plants. Phytochemistry 56:5–51

Fortin MJ, Dale MRT (2009) Spatial autocorrelation in ecological studies: a legacy of solutions and myths. Geogr Anal 41:392–397

Gotelli NJ, Colwell RK (2001) Quantifying biodiversity: procedures and pitfalls in the measurement and comparison of species richness. Ecol Lett 4:379–391

Gunn A (1992) The use of mustard to estimate earthworm populations. Pedobiologia 36:65–67

Hernández P, Fernandez R, Novo M, Trigo D, Diaz Cosin DJ (2007) Geostatistical and multivariate analysis of the horizontal distribution of an earthworm community in El Molar (Madrid, Spain). Pedobiologia 51:13–21

Jiménez JJ, Rossi J-P, Lavelle P (2001) Spatial distribution of earthworms in acid-soil savannes of the eastern plains of Colombia. Appl Soil Ecol 17:267–278

Lavelle P (1983) The structure of earthworm communities. In: Satchell JE (ed) Earthworm ecology – from Darwin to vermiculture. Chapman and Hall, London, pp 449–466

Lawrence AP, Bowers MA (2002) A test of the 'hot' mustard extraction method of sampling earthworms. Soil Biol Biochem 34:549–552

Lee KE (ed) (1985) Earthworms, their ecology and relationships with soils and land use. Academic, New York

Legendre P, Legendre L (eds) (1998) Numerical ecology. Elsevier Science B.V, Amsterdam

Legendre P, Dale MRT, Fortin M-J, Gurevitch J, Hohn M, Myers D (2002) The consequences of spatial structure for the design and analysis of ecological field surveys. Ecography 25:601–615

Levin SA (1992) The problem of pattern and scale in ecology: The Robert H. MacArthur Award Lecture. Ecology 73:1943–1967

Mao CX, Colwell RK (2005) Estimation of species richness: mixture models, the role of rare species, and inferential challenges. Ecology 86:1143–1153

Neter J, Kutner MH, Nachtsheim CJ, William W (1996) Applied linear statistical models. WCB/McGraw-Hill, Boston

Poier KR, Richter J (1992) Spatial distribution of earthworms and soil properties in an arable loess soil. Soil Biol Biochem 24:1601–1608

Raw F (1959) Estimating earthworm populations by using formalin. Nature 184:1661–1662

Rombke J, Sousa J-P, Schouten T, Riepert F (2006) Monitoring of soil organisms: a set of standardized field methods proposed by ISO. Eur J Soil Biol 42:61–64

Rossi J-P (2003a) Clusters in earthworm spatial distribution. Pedobiologia 47:490–496

Rossi J-P (2003b) Short-range structures in earthworm spatial distribution. Pedobiologia 47:582–587

Rossi J-P, Nuutinen V (2004) The effect of sampling unit size on the perception of the spatial pattern of earthworm (Lumbricus terrestris L.) middens. Appl Soil Ecol 27:189–196

Rossi J-P, Lavelle P, Ebagnerin Tondoh J (1995) Statistical tool for soil biology X. Geostatistical analysis. Eur J Soil Biol 31:173–181

Satchell JE (1971) Earthworms. In: Philipson J (ed) Methods of study in quantitative soil ecology: population. Production and energy flow. Blackwell Scientific Publications, Oxford, pp 107–127

Schmidt O (2001) Appraisal of the electrical octet method for estimating earthworm populations in arable land. Ann Appl Biol 138:231–241

Siegel S, Castellan NJ (eds) (1988) Non parametric statistics for the behavioral sciences. McGraw-Hill, New York

Sims RW, Gerard BM (eds) (1999) Earthworms. Published for The Linnean Society of London and The Estuarine and Coastal Sciences Association by Field Studies Council, Shrewsbury

Stein A, Ettema C (2003) An overview of spatial sampling procedures and experimental design of spatial studies for ecosystem comparisons. Agric Ecosyst Environ 94:31–47

Valckx J, Cockx L, Wauters J, Van Meirvenne M, Govers G, Hermy M, Muys B (2009) Within-field spatial distribution of earthworm populations related to species interactions and soil apparent electrical conductivity. Appl Soil Ecol 41:315–328

Whalen JK, Costa C (2003) Linking spatio-temporal dynamics of earthworm populations to nutrient cycling in temperate agricultural and forest ecosystems. Pedobiologia 47:801–806

Yu JC, Jiang ZT, Li R, Chan SM (2003) Chemical composition of the essential oils of Brassica juncea (L.) Coss. grown in different regions, Hebei, Shanxi and Shandong, of China. J Food Drug Anal 11:22–26

Zaborski ER (2003) Allyl isothiocyanate: an alternative chemical expellant for sampling earthworms. Appl Soil Ecol 22:87–95

Zasada IA, Ferris H (2004) Nematode suppression with brassicaceous amendments: application based upon glucosinolate profiles. Soil Biol Biochem 36:1017–1024
Acknowledgements

We thank Veerle Cielen, Eric Van Beek and Johan Wauters for their technical assistance during field work and earthworm identification.

This research is part of the project 'Framework for assessing sustainability levels in Belgian agricultural systems-SAFE' (CP 04) supported by the Belgian Science Policy Office. Financial support by the IWT project ECOWORM (project 040681) is gratefully acknowledged.
Copyright information

© 2011 Springer Berlin Heidelberg
About this chapter
Cite this chapter
Valckx, J., Govers, G., Hermy, M., Muys, B. (2011). Optimizing Earthworm Sampling in Ecosystems. In: Karaca, A. (eds) Biology of Earthworms. Soil Biology, vol 24. Springer, Berlin, Heidelberg. https://doi.org/10.1007/978-3-642-14636-7_2