Abstract

In this chapter, we describe how to read and report cardiac CT angiography studies.
Keywords
Coronary Artery Stenos

Coronary Artery Segment

Coronary Artery Lumen

Axial Source Image

Coronary Artery Evaluation
These keywords were added by machine and not by the authors. This process is experimental and the keywords may be updated as the learning algorithm improves.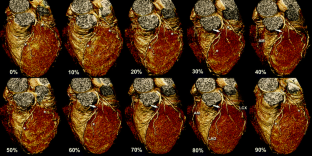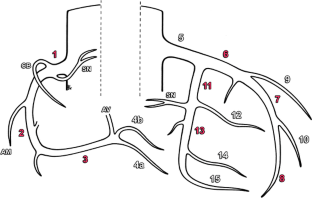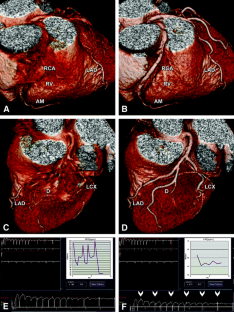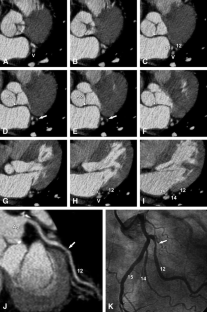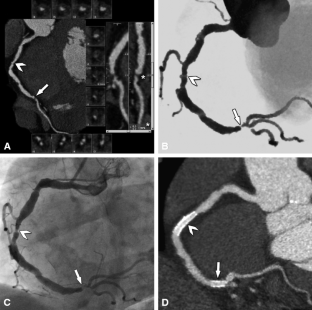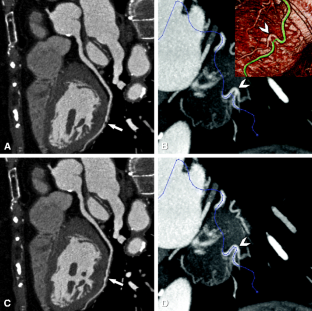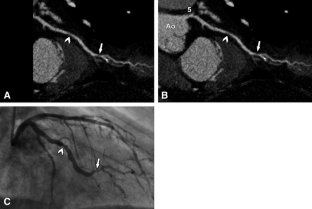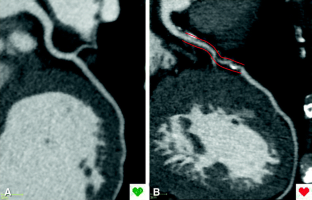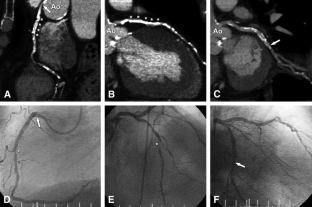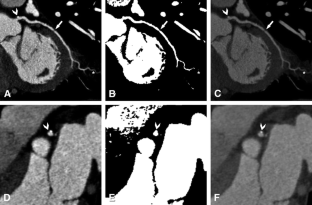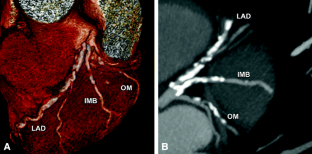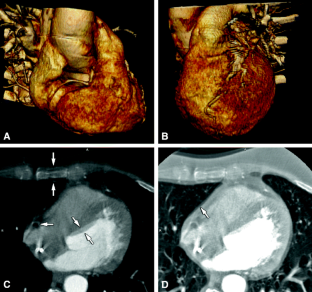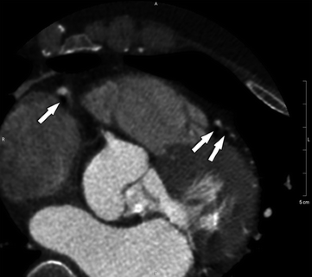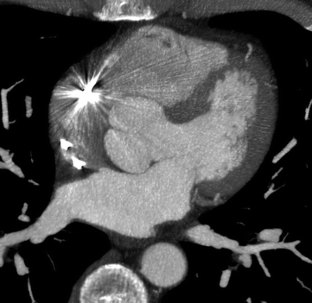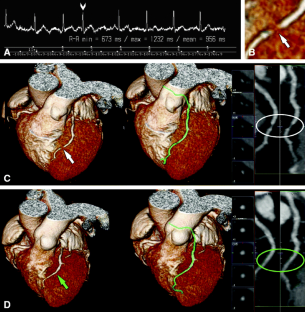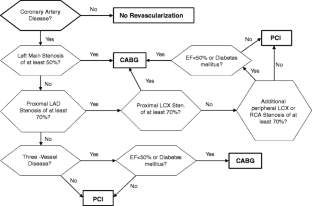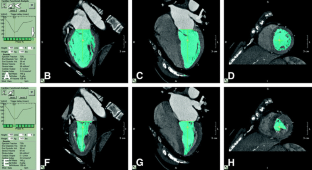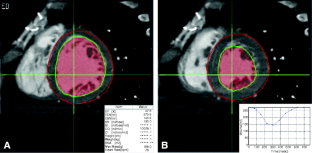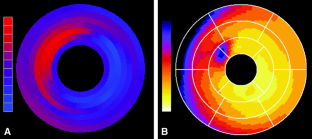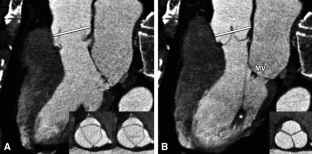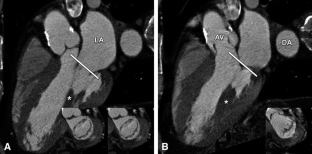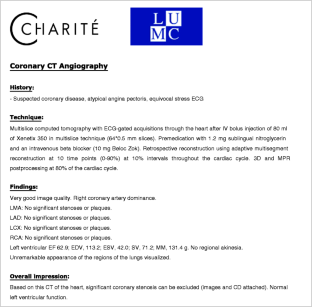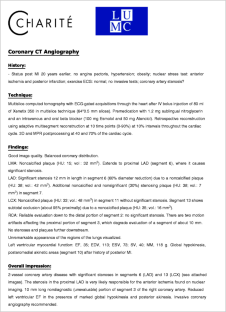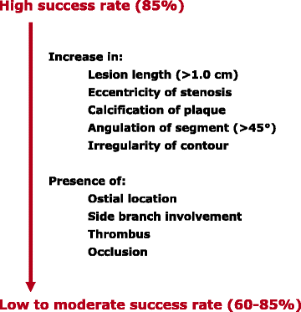 Notes
1.

Double-oblique orthogonal reconstructions, thin-slab maximum-intensity projections, and curved multiplanar reformation are very helpful displays for evaluating the major coronary arteries and their large side-branches. Any pathology detected on such advanced reconstructions should be confirmed on original axial, coronal, or sagittal slices.

2.

3.

4.

To explain why an examination with radiation exposure was necessary.
Recommended Reading
Arnoldi E, Gebregziabher M, Schoepf UJ et al (2009) Automated computer-aided stenosis detection at coronary CT angiography: initial experience. Eur Radiol

Austen WG, Edwards JE, Frye RL et al (1975) A reporting system on patients evaluated for coronary artery disease. Report of the Ad Hoc Committee for Grading of Coronary Artery Disease, Council on Cardiovascular Surgery, American Heart Association. Circulation 51:5–40

Bonow RO, Carabello B, de Leon AC et al (1998) ACC/AHA guidelines for the management of patients with valvular heart disease. executive summary. A report of the American College of Cardiology/American Heart Association Task Force on Practice Guidelines (Committee on Management of Patients With Valvular Heart Disease). J Heart Valve Dis 7:672–707

Califf RM, Mark DB, Harrell FE Jr et al (1988) Importance of clinical measures of ischemia in the prognosis of patients with documented coronary artery disease. J Am Coll Cardiol 11:20–26

Chin S, Ong T, Chan W et al (2006) 64 row multi-detector computed tomography coronary image from a centre with early experience: first illustration of learning curve. J Geriatric Cardiol 3:29–34

Coakley FV, Liberman L, Panicek DM (2003) Style guidelines for radiology reporting: a manner of speaking. AJR Am J Roentgenol 180:327–328

de Roos A, Kroft LJ, Bax JJ, Geleijns J (2007) Applications of multislice computed tomography in coronary artery disease. J Magn Reson Imaging 26:14–22

Dewey M, Müller M, Eddicks S et al (2006) Evaluation of global and regional left ventricular function with 16-slice computed tomography, biplane cineventriculography, and two-dimensional transthoracic echocardiography: comparison with magnetic resonance imaging. J Am Coll Cardiol 48:2034–2044

Dewey M, Schnapauff D, Laule M et al (2004) Multislice CT coronary angiography: evaluation of an automatic vessel detection tool. Fortschr Röntgenstr 176:478–483

Eagle KA, Guyton RA, Davidoff R et al (2004) ACC/AHA 2004 guideline update for coronary artery bypass graft surgery: a report of the American College of Cardiology/American Heart Association Task Force on Practice Guidelines (Committee to Update the 1999 Guidelines for Coronary Artery Bypass Graft Surgery). Circulation 110:e340–e437

Feuchtner GM, Dichtl W, Friedrich GJ et al (2006) Multislice computed tomography for detection of patients with aortic valve stenosis and quantification of severity. J Am Coll Cardiol 47:1410–1417

Feuchtner GM, Dichtl W, Schachner T et al (2006) Diagnostic performance of MDCT for detecting aortic valve regurgitation. AJR Am J Roentgenol 186:1676–1681

Friedman PJ (1983) Radiologic reporting: the hierarchy of terms. AJR Am J Roentgenol 140:402–403

Gibbons RJ, Abrams J, Chatterjee K et al (2003) ACC/AHA 2002 guideline update for the management of patients with chronic stable angina–summary article: a report of the American College of Cardiology/American Heart Association Task Force on Practice Guidelines (Committee on the Management of Patients With Chronic Stable Angina). Circulation 107:149–158

Hall FM (2000) Language of the radiology report: primer for residents and wayward radiologists. AJR Am J Roentgenol 175:1239–1242

Hamon M, Morello R, Riddell JW (2007) Coronary arteries: diagnostic performance of 16- versus 64-section spiral CT compared with invasive coronary angiography–meta-analysis. Radiology 245:720–731

Herzog C, Ay M, Engelmann K et al (2001) Visualization techniques in multislice CT-coronary angiography of the heart. Correlations of axial, multiplanar, three-dimensional and virtual endoscopic imaging with the invasive diagnosis. Rofo 173:341–349

Hoe JW, Toh KH (2007) A practical guide to reading CT coronary angiograms–how to avoid mistakes when assessing for coronary stenoses. Int J Cardiovasc Imaging 23:617–633

Hoffmann H, Dübel HP, Laube H, Hamm B, Dewey M (2007) Triage of patients with suspected coronary artery disease using multislice computed tomography. Acad Radiol 14:901–909

Jacobs JE, Boxt LM, Desjardins B, Fishman EK, Larson PA, Schoepf J (2006) ACR practice guideline for the performance and interpretation of cardiac computed tomography (CT). J Am Coll Radiol 3:677–685

Juergens KU, Fischbach R (2006) Left ventricular function studied with MDCT. Eur Radiol 16:342–357

Kelle S, Hug J, Kohler U, Fleck E, Nagel E (2005) Potential intrinsic error of noninvasive coronary angiography. J Cardiovasc Magn Reson 7:401–407

Koonce J, Schoepf JU, Nguyen SA, Northam MC, Ravenel JG (2009) Extra-cardiac findings at cardiac CT: experience with 1,764 patients. Eur Radiol 19:570–576

Kroft LJ, de Roos A, Geleijns J (2007) Artifacts in ECG-synchronized MDCT coronary angiography. AJR Am J Roentgenol 189:581–591

Kushner DC, Lucey LL (2005) Diagnostic radiology reporting and communication: the ACR guideline. J Am Coll Radiol 2:15–21

Leber AW, Becker A, Knez A et al (2006) Accuracy of 64-slice computed tomography to classify and quantify plaque volumes in the proximal coronary system: a comparative study using intravascular ultrasound. J Am Coll Cardiol 47:672–677

Libby P (2007) Braunwald's heart disease: a textbook of cardiovascular medicine. Saunders, An Imprint of Elsevier

MacMahon H, Austin JH, Gamsu G et al (2005) Guidelines for management of small pulmonary nodules detected on CT scans: a statement from the Fleischner Society. Radiology 237:395–400

Raff GL, Abidov A, Achenbach S et al (2009) SCCT guidelines for the interpretation and reporting of coronary computed tomographic angiography. J Cardiovasc Comput Tomogr 3:122–136

Ryan TJ, Faxon DP, Gunnar RM et al (1988) Guidelines for percutaneous transluminal coronary angioplasty. A report of the American College of Cardiology/American Heart Association Task Force on Assessment of Diagnostic and Therapeutic Cardiovascular Procedures (Subcommittee on Percutaneous Transluminal Coronary Angioplasty). Circulation 78:486–502

Schnapauff D, Zimmermann E, Dewey M (2008) Technical and clinical aspects of coronary computed tomography angiography. Semin Ultrasound CT MR 29:167–175

Smith SC Jr, Dove JT, Jacobs AK et al (2001) ACC/AHA guidelines of percutaneous coronary interventions (revision of the 1993 PTCA guidelines)--executive summary. A report of the American College of Cardiology/American Heart Association Task Force on Practice Guidelines (committee to revise the 1993 guidelines for percutaneous transluminal coronary angioplasty). J Am Coll Cardiol 37:2215–2239

Stillman AE, Rubin GD, Teague SD, White RD, Woodard PK, Larson PA (2008) Structured reporting: coronary CT angiography: a white paper from the American College of Radiology and the North American Society for Cardiovascular Imaging. J Am Coll Radiol 5:796–800

Vogel-Claussen J, Pannu H, Spevak PJ, Fishman EK, Bluemke DA (2006) Cardiac valve assessment with MR imaging and 64-section multi-detector row CT. Radiographics 26:1769–1784

Vogl TJ, Abolmaali ND, Diebold T et al (2002) Techniques for the detection of coronary atherosclerosis: multi-detector row CT coronary angiography. Radiology 223:212–220

The ACR practice guideline for the performance and interpretation of cardiac CT (Jacobs et al.) can be accessed at:http://www.acr.org/SecondaryMainMenuCategories/quality_safety/guidelines/dx/cardio/ct_cardiac.aspx

The ACR practice guideline for communication of diagnostic imaging findings (Kushner et al.) can be accessed at: http://www.acr.org/SecondaryMainMenuCategories/quality_safety/guidelines/dx/comm_diag_rad.aspx

The SCCT guidelines for the interpretation and reporting of coronary computed tomographic angiography (Raff et al.) can be accessed at: http://www.scct.org/documents/SCCTGuidelinesforI&RofCCTA.pdf
Copyright information

© 2011 Springer-Verlag Berlin Heidelberg
About this chapter
Cite this chapter
Kroft, L.J.M., Dewey, M. (2011). Reading and Reporting. In: Cardiac CT. Springer, Berlin, Heidelberg. https://doi.org/10.1007/978-3-642-14022-8_14
DOI: https://doi.org/10.1007/978-3-642-14022-8_14

Published:

Publisher Name: Springer, Berlin, Heidelberg

Print ISBN: 978-3-642-14021-1

Online ISBN: 978-3-642-14022-8

eBook Packages: MedicineMedicine (R0)