Abstract

Most soils contain large reserves of total phosphorus (P), but its fixation and precipitation with soil constituents cause a major P-deficiency and severely restrict the growth and yield of plants. The use of chemical P-fertilizers is obviously the best means to circumvent P-deficiency, but their use is always limited due to its spiraling cost. In order to increase the availability of P and to reduce the use of chemical fertilizers, solubilization of insoluble P by phosphate-solubilizing microorganisms has provided an alternative to chemical phosphatic fertilizer. Besides P, these organisms promote the growth of plants by N2 fixation, enhancement of other plant nutrients, synthesizing phytohormones, suppressing plant diseases (bio-control) and reducing the toxicity of ethylene through 1-aminocyclopropane-1carboxylate (ACC) deaminase. In this chapter, attention is paid to understanding the fundamental and molecular basis as to how precisely these microbes, notably bacteria and fungi, help plants to grow better in P-deficient soils. Effective use of such microbes is likely to result in an ideal cropping system with a lesser impact on the environment through decreased application of chemical fertilizers.
Keywords
Indole Acetic Acid

Faba Bean

Single Inoculation

Agronomic Efficiency

Triple Inoculation
These keywords were added by machine and not by the authors. This process is experimental and the keywords may be updated as the learning algorithm improves.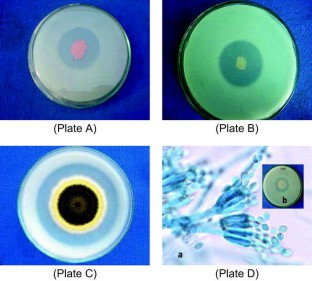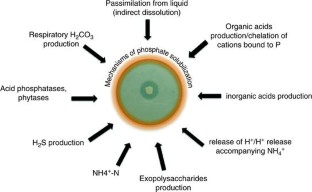 References
Abril A, Zurdo-Piñeiro JL, Peix A, Rivas R, Velázquez E (2007) Solubilization of phosphate by a strain of Rhizobium leguminosarum bv. trifolii isolated from Phaseolus vulgaris in El Chaco Arido soil (Argentina). In: Velazquez E, Rodriguez-Berrueco C (eds) Book Series: Developments in Plant and Soil Sciences. Springer, The Netherlands, pp 135–138

Abd-Alla MH, Omar SA, Omar SA (2001) Survival of rhizobia/bradyrhizobia and a rock phosphate solubilising fungus on various carriers from some agro-industrial wastes and their effects on nodulation and growth of fababean and soybean. J Plant Nutr 24: 261–272

Afzal A, Bano A (2008) Rhizobium and phosphate solubilizing bacteria improve the yield and phosphorus uptake in wheat (Triticum aestivum). Int J Agric Biol 10:85–88

Ahmad F, Ahmad I, Khan MS (2008) Screening of free-living rhizospheric bacteria for their multiple plant growth promoting activities. Microbiol Res 163:173–181

Alikhani HA, Saleh-Rastin N, Antoun H (2007) Phosphate solubilization activity of rhizobia native to Iranian soils. In: Velazquez E, Rodriguez-Berrueco C (eds) Book Series: Developments in plant and soil sciences. Springer, The Netherlands, pp 135–138

Altomare C, Norvell WA, Bjorkman T, Harman GE (1999) Solubilization of phosphates and micronutrients by the plant growth promoting and biocontrol fungus Trichoderma harzianum rifai 1295–22. Appl Environ Microbiol 65:2926–2933

Anandham R, Gandhi PI, Madhaiyan M, Sa T (2008) Potential plant growth promoting traits and bioacidulation of rock phosphate by thiosulfate oxidizing bacteria isolated from crop plants. J Basic Microbiol. doi:10.1007/978-3-642-01979-1_2

Asea PEA, Kucey RMN, Stewart JWB (1988) Inorganic phosphate solubilization by two Penicillium species in solution culture and soil. Soil Biol Biochem 20:459–464

Azcon-Aguilar C, Diaz-Rodriguez R, Barea JM (1986) Effect of soil microorganisms on spore germination and growth on the vesicular arbuscular mycorrhizal fungus Glomus moseae. Trans Br Mycol Soc 86:337–340

Babana AH, Antoun H (2006) Biological system for improving the availability of Tilemsi phosphate rock for wheat (Triticum aestivum L.) cultivated in Mali. Nutr Cycl Agroecosys 76:285–295

Babu-Khan S, Yeo C, Martin WL, Duron MR, Rogers R, Goldstein A (1995) Cloning of a mineral phosphate-solubilizing gene from Pseudomonas cepacia. Appl Environ Microbiol 61:972–978

Bar-Yosef B, Rogers RD, Wolfram JH, Richman E (1999) Pseudomonas cepacia mediated rock phosphate solubilization in kaolinite and montmorillonite suspensions. Soil Sci Soc Am J 63:1703–1708

Batjes NH (1997) A world data set of derived soil properties by FAO–UNESCO soil unit for global modelling. Soil Use Manage 13:9–16

Bishop ML, Chang AC, Lee RWK (1994) Enzymatic mineralization of organic phosphorus in a volcanic soil in Chile. Soil Sci 157:238–243

Bojinova D, Velkova R, Ivanova R (2008) Solubilization of Morocco phosphorite by Aspergillus niger. Biores Technol 99:7348–7353

Brookes PC, Powlson DS, Jenkinson DS (1984) Phosphorus in the soil microbial biomass. Soil Biol Biochem 16:169–175

Canbolat MY, Bilen S, Cakmakci R, Sahin F, Aydin A (2006) Effect of plant growth-promoting bacteria and soil compaction on barley seedling growth, nutrient uptake, soil properties and rhizosphere microflora. Biol Fertil Soils 42:350–357

Chandra S, Choure K, Dubey RC, Maheshwari DK (2007) Rhizosphere competent Mesorhizobium loti mp6 induces root hair curling, inhibits Sclerotinia sclerotiorum and enhances growth of Indian mustard (Brassica campestris). Brazil J Microbiol 38:124–130

Chen YP, Rekha PD, Arun AB, Shen FT, Lai WA, Young CC (2006) Phosphate solubilizing bacteria from subtropical soil and their tricalcium phosphate solubilizing abilities. Appl Soil Ecol 34:33–41

Chen Z, Ma S, Liu LL (2008) Studies on phosphorus solubilizing activity of a strain of phosphobacteria isolated from chestnut type soil in China. Biores Technol 99:6702–6707

Chuang CC, Kuo YL, Chao CC, Chao WL (2007) Solubilization of inorganic phosphates and plant growth promotion by Aspergillus niger. Biol Fertil Soils 43:575–584

Chung H, Park M, Madhaiyan M, Seshadri S, Song J, Cho H, Sa T (2005) Isolation and characterization of phosphate solubilizing bacteria from the rhizosphere of crop plants of Korea. Soil Biol Biochem 37:1970–1974

Colbert SF, Hendson M, Ferri M, Schroth MN (1993) Enhanced growth and activity of a biocontrol bacterium genetically engineered to utilize salicylate. Appl Microbiol 59:2071–2076

Cunningham J, Kuiack C (1992) Production of citric and oxalic acids and solubilization of calcium phosphate by Penicillium bilaii. Appl Environ Microbiol 58:1451–1458

Dakora FD, Phillips DA (2002) Root exudates as mediators of mineral acquisition in low-nutrient environments. Plant Soil 245:35–47

De Freitas JR, Banerjee MR, Germida JJ (1997) Phosphate-solubilizing rhizobacteria enhance the growth and yield but not phosphorus uptake of canola (Brassica napus L.). Biol Fertil Soils 24:358–364

Dwivedi BS, Singh VK, Dwivedi V (2004) Application of phosphate rock, with or without Aspergillus awamori inoculation, to meet phosphorus demands of rice–wheat systems in the Indo–Gangetic plains of India. Aust J Exp Agric 44:1041–1050

Ehteshami SMR, Aghaalikhani M, Khavazi K, Chaichi MR (2007) Effect of phosphate solubilizing microorganisms on quantitative and qualitative characteristics of maize (Zea mays L.) under water deficit stress. Pak J Biol Sci 10:3585–3591

Elizabeth P, Miguel S, Ball Maria M, Andrés YL (2007) Isolation and characterization of mineral phosphate-solubilizing bacteria naturally colonizing a limonitic crust in the south-eastern Venezuelan region. Soil Biol Biochem 39:2905–2914

Elkoca E, Kantar F, Sahin F (2008) Influence of nitrogen fixing and phosphorus solubilizing bacteria on the nodulation, plant growth, and yield of chickpea. J Plant Nutr 31:157–171

Fenice M, Selbman L, Federici F, Vassilev N (2000) Application of encapsulated Penicillium variabile P16 in solubilization of rock phosphate. Biores Technol 73:157–162

Fernández LA, Zalba P, Gómez MA, Sagardoy MA (2007) Phosphate-solubilization activity of bacterial strains in soil and their effect on soybean growth under greenhouse conditions. Biol Fertil Soils 43:805–809

Fraga-Vidal R, Rodriguez HM, De Villegas TG (2003) Vector for chromosomal integration of the phoC gene in plant growth-promoting bacteria. In: Velazquez E, Rodrıguez-Barrueco C (eds) First international meeting on microbial phosphate solubilization. Springer, Berlin, pp 239–244

Ganesan V (2008) Rhizoremediation of cadmium soil using a cadmium-resistant plant growth-promoting rhizopseudomonad. Curr Microbiol 56:403–407

Glick BR, Bashan Y (1997) Genetic manipulation of plant growth promoting bacteria to enhance biocontrol of phytopathogens. Biotechnol Adv 15:353–378

Goldstein AH (1986) Bacterial solubilization of mineral phosphates: historical perspectives and future prospects. Am J Altern Agric 1:57–65

Goldstein AH (1994) Involvement of the quinoprotein glucose dehydrohenase in the solubilization of exogenous phosphates by gran-negative bacteria. In: Torriani-Gorini A, Yagil E, Silver S (eds) Phosphate in microorganisms: cellular and molecular biology. ASM, Washington DC, pp 197–203

Goldstein AH, Liu ST (1987) Molecular cloning and regulation of a mineral phosphate solubilizing gene from Erwinia herbicola. Biotechnology 5:72–74

Goldstein AH, Braverman K, Osorino N (1999) Evidence for mutualism between a plant growing in a phosphate limited desert environment and a mineral phosphates solubilizing (MPS) rhizobacterium. FEMS Microbiol Ecol 30:295–300

Goud MJP, Goud JVS, Charya MAS (2008) Replica plate screening method for detecting phosphatase activity in basidiomycetes using 1-napthyl phosphate as a chromogenic substrate. Sci World J 3:13–15

Guimarães LHS, Peixoto-Nogueira SC, Michelin M, Rizzatti ACS, Sandrim VC, Zanoelo F, Aquino ACMM, Junior AB, De Lourdes M, Polizeli TM (2006) Screening of filamentous fungi for production of enzymes of biotechnological interest. Brazil J Microbiol 37:474–480

Gupta RR, Singal R, Shanker A, Kuhad RC, Saxena RK (1994) A modified plate assay for secreening phosphate solubilizing microorganisms. Gen Appl Microbiol 40:255–260

Gyaneshwar P, Naresh K, Parekh LJ (1998) Cloning of mineral phosphate solubilizing genes from Synechocystis PCC 6803. Curr Sci 74:1097–1099

Halder AK, Chakrabarty PK (1993) Solubilization of inorganic phosphate by Rhizobium. Folia Microbiol 38:325–330

Hamdali H, Hafidi M, Virolle MJ, Ouhdouch Y (2008) Rock phosphate-solubilizing Actinomycetes: screening for plant growth-promoting activities. World J Microbiol Biotechnol 24:2565–2575

Hameeda B, Harini G, Rupela OP, Wani SP, Reddy G (2008) Growth promotion of maize by phosphate-solubilizing bacteria isolated from composts and macrofauna. Microbiol Res 163:234–242

Han SH, Kim CH, Lee JH, Park JY, Cho SM, Park SK, Kim KY, Krishnan HB, Kim YC (2008) Inactivation of pqq genes of Enterobacter intermedium 60–2G reduces antifungal activity and induction of systemic resistance. FEMS Microbiol Lett 282:140–146

Harman GE, Bjorkman T (1998) Potential and existing uses of Trichoderma and Gliocladium for plant disease control and plant growth enhancement. In: Harman GE, Kubicek CP (eds) Trichoderma and Gliocladium, vol 2. Taylor and Francis, London, UK, pp 229–265

Henri F, Laurette NN, Annette D, John Q, Wolfgang M, François-Xavier E, Dieudonne N (2008) Solubilization of inorganic phosphates and plant growth promotion by strains of Pseudomonas fluorescens isolated from acidic soils of Cameroon. Afr J Microbiol Res 2:171–178

Hinsinger P (2001) Bio-availability of soil inorganic P in the rhizosphere as affected by root induced chemical changes: a review. Plant Soil 237:173–195

Hwangbo H, Park RD, Kim YW, Rim YS, Park KH, Kim TH, Such JS, Kim KY (2003) 2-ketogluconic acid production and phosphate solubilization by Enterobacter intermedium. Curr Microbiol 47:87–92

Illmer P, Schinner F (1992) Solubilization of inorganic phosphates by microorganisms isolated from forest soil. Soil Biol Biochem 24:389–395

Illmer P, Schinner F (1995) Solubilization of inorganic calcium phosphates-solubilization mechanisms soil. Soil Biol Biochem 27:257–263

Illmer P, Barbato A, Schinner F (1995) Solubilization of hardly soluble AlPO4 with P-solubilizing microorganisms. Soil Biol Biochem 27:265–270

Indiragandhi P, Anandham R, Madhaiyan M, Sa TM (2008) Characterization of plant growth-promoting traits of bacteria isolated from larval guts of diamondback moth Plutella xylostella (Lepidoptera: Plutellidae). Curr Microbiol 56:327–333

Jha BK, Pragash MG, Cletus J, Raman G, Sakthivel N (2008) Simultaneous phosphate solubilization potential and antifungal activity of new fluorescent pseudomonad strains, Pseudomonas aeruginosa, P. plecoglossicida and P. mosselii. World J Microbiol Biotechnol. doi:10.1007/978-3-642-01979-1_2

Jiang C, Sheng X, Qian M, Wang Q (2008) Isolation and characterization of a heavy metal-resistant Burkholderia sp. from heavy metal-contaminated paddy field soil and its potential in promoting plant growth and heavy metal accumulation in metal-polluted soil. Chemosphere 72:157–164

Kang SC, Choi MC (1999) Solid culture of phosphate solubilising fungus. Sanoeb Misaegmul Haghoeji 27:1–7

Khan MR, Khan SM (2001) Biomanagement of Fusarium wilt of tomato by the soil application of certain phosphate-solubilizing microorganisms. Int J Pest Manag 47:227–231

Khan MR, Khan SM (2002) Effect of root-dip treatment with certain phosphate-solubilizing microorganisms on the Fusarium wilt of tomato. Biores Technol 85:213–215

Khan MS, Zaidi A (2006) Influence of composite inoculations of phosphate solubilizing organisms and an arbuscular mycorrhizal fungus on yield, grain protein and phosphorus and nitrogen uptake by greengram. Arch Agron Soil Sci 52:579–590

Khan MS, Zaidi A (2007) Synergistic effects of the inoculation with plant growth promoting rhizobacteria and arbuscular mycorrhizal fungus on the performance of wheat. Turk J Agric For 31:355–362

Khan MS, Aamil M, Zaidi A (1997) Associative effect of Bradyrhizobium sp. (vigna) and phosphate solubilizing bacteria on moongbean [Vigna radiata(L.) wilczek]. Biojournal 10:101–106

Khan MS, Aamil M, Zaidi A (1998) Moongbean response to inoculation with nitrogen fixing and phosphate solubilizing bacteria. In: Deshmukh AM (ed) Biofertilizers and biopesticides. Technoscience, Jaipur, pp 40–48

Khan MR, Khan SM, Mohiddin FA (2007a) Effect of certain fungal and bacterial phosphate solubilizing microorganisms on the fusarial wilt of tomato. In: Velázquez E, Rodríguez-Barrueco C (eds) First International Meeting on Microbial Phosphate Solubilization. Springer, The Netherlands, pp 357–361

Khan MS, Zaidi A, Wani PA (2007b) Role of phosphate solubilizing microorganisms in sustainable agriculture: A review. Agron Sustain Dev 27:29–43

Khan MS, Zaidi A, Wani PA, Oves M (2009) Role of plant growth promoting rhizobacteria in the remediation of metal contaminated soils. Environ Chem Lett 7: 1–19

Kim KY, Mcdonald GA, Jordan D (1997) Solubilization of hydroxypatite by Enterobacter agglomerans and cloned Escherichia coli in culture medium. Biol Fertil Soils 24:347–352

Kim KY, Jordan D, Krishnan HB (1998) Expression of genes from Rahnella aquatilis that are necessary for mineral phosphate solubilization in Escherichia coli. FEMS Microbiol Lett 159:121–127

Krishnaraj PU, Goldstein AH (2001) Cloning of a Serratia marcescens DNA fragment that induces quinoprotein glucose dehydrogenase-mediated gluconic acid production in Escherichia coli in the presence of stationary phase Serratia marcescens. FEMS Microbiol Lett 205:215–220

Kucey RMN (1988) Effect of Penicillium bilaji on the solubility and uptake of P and micronutrients from soil by wheat. Can J Soil Sci 68:261–270

Kucey RMN, Janzen HH, Legget ME (1989) Microbial mediated increases in plant available phosphorus. Adv Agron 42:199–228

Kumar V, Behl RK, Narula N (2001) Establishment of phosphate-solubilizing strains of Azotobacter chroococcum in the rhizosphere and their effect on wheat cultivars under greenhouse conditions. Microbiol Res 156:87–93

Kumar KV, Singh N, Behl HM, Srivastava S (2008) Influence of plant growth promoting bacteria and its mutant on heavy metal toxicity in Brassica juncea grown in fly ash amended soil. Chemosphere 72:678–683

Lipping Y, Jiatao X, Daohong J, Yanping F, Guoqing L, Fangcan L (2008) Antifungal substances produced by Penicillium oxalicum strain PY-1–potential antibiotics against plant pathogenic fungi. World J Microbiol Biotechnol 24:909–915

Maliha R, Samina K, Najma A, Sadia A, Farooq L (2004) Organic acids production and phosphate solubilization by phosphate solubilizing microorganisms under in vitro conditions. Pak J Biol Sci 7:187–196

Marschner H, Dell B (1994) Nutrient uptake in mycorrhizal symbiosis. Plant Soil 159:89–102

Mckenzie RH, Roberts TL (1990) Soil and fertilizers phosphorus update. Alberta Soil Science Workshop Proceedings, Edmonton, Alberta, pp 84–104

Mehmet O, Cevdet A, Oral D, Ali SM (2005) Single and double inoculation with Azospirillum/Trichoderma : the effects on dry bean and wheat. Biol Fertil Soils 41:262–272

Mittal V, Singh O, Nayyar H, Kaur J, Tewari R (2008) Stimulatory effect of phosphate-solubilizing fungal strains (Aspergillus awamori and Penicillium citrinum) on the yield of chickpea (Cicer arietinum L. cv. GPF2). Soil Biol Biochem 40:718–727

Morales A, Alvear M, Valenzuela E, Rubio R, Borie F (2007) Effect of inoculation with Penicillium albidum, a phosphate-solubilizing fungus, on the growth of Trifolium pratense cropped in a volcanic soil. J Basic Microbiol 47:275–280

Nautiyal CS (1999) An efficient microbiological growth medium for screening of phosphate solubilizing microorganisms. FEMS Microbiol Lett 170:265–270

Nikolay V, Maria V, Iana N (2006) Simultaneous P-solubilizing and biocontrol activity of microorganisms: potentials and future trends. Appl Microbiol Biotechnol 71:137–144

Nozawa M, Hu HY, Fujie K, Tanaka H, Urano K (1998) Quantitative detection of Enterobacter cloacae strain HO-I In bioreactor for chromate wastewater treatment using polymerase chain reaction (PCR). Water Res 32:3472–3476

Oberson A, Friesen DK, Rao IM, Bühler S, Frossard E (2001) Phosphorus transformations in an oxisol under contrasting land-use systems: The role of the microbial biomass. Plant Soil 237:197–210

Oliveira CA, Alves VMC, Marriel IE, Gomes EA, Scotti MR, Carneiro NP, Guimarães CT, Schaffert RE, Sá NMH (2008) Phosphate solubilizing microorganisms isolated from rhizosphere of maize cultivated in an oxisol of the Brazilian Cerrado Biome. Soil Biol Biochem. doi:10.1007/978-3-642-01979-1_2

Omar SA, Abd-Alla MH (2000) Physiological aspects of fungi isolated from root nodules of faba bean (Vicia faba L.). Microbiol Res 154:339–347

Pal SS (1998) Interaction of an acid tolerant strain of phosphate solubilizing bacteria with a few acid tolerant crops. Plant Soil 198:169–177

Pandey A, Trivedi P, Kumar B, Palni LMS (2006) Characterization of a phosphate solubilizing and antagonistic strain of Pseudomonas putida (B0) isolated from a sub-alpine location in the Indian Central Himalaya. Curr Microbiol 53:102–107

Pandey A, Das N, Kumar B, Rinu K, Trivedi P (2008) Phosphate solubilization by Penicillium spp. isolated from soil samples of Indian Himalayan region. World J Microbiol Biotechnol 24: 97–102

Patel DK, Archana G, Kumar GN (2008) Variation in the nature of organic acid secretion and mineral phosphate solubilization by Citrobacter sp. DHRSS in the presence of different sugars. Curr Microbiol 56:168–174

Petruccioli M, Federici F, Bucke C, Keshavarz T (1999) Enhancement of glucose oxidase production by Penicillium variabile P16. Enzyme Microb Technol 24:397–401

Pikovskaya RI (1948) Mobilization of phosphorus in soil in connection with vital activity of some microbial species. Microbiology 17:362–370

Poi SC, Ghosh G, Kabi MC (1989) Response of chickpea (Cicer aeritinum L.) to combined inoculation with Rhizobium, phosphobacteria and mycorrhizal organisms. Zentral fur Microbiol 114:249–253

Ponmurugan P, Gopi C (2006) In vitro production of growth regulators and phosphatase activity by phosphate solubilizing bacteria. Afr J Biotechnol 5:348–350

Poonguzhali S, Madhaiyan M, Sa T (2008) Isolation and identification of phosphate solubilizing bacteria from chinese cabbage and their effect on growth and phosphorus utilization of plants. J Microbiol Biotechnol 18:773–777

Pradhan N, Sukla LB (2005) Solubilization of inorganic phosphates by fungi isolated from agriculture soil. Afr J Biotechnol 5:850–854

Raghothama KG (1999) Phosphate acquisition. Annu Rev Plant Physiol Mol Biol 50:665–693

Rajkumar M, Freitas H (2008) Influence of metal resistant-plant growth-promoting bacteria on the growth of Ricinus communis in soil contaminated with heavy metals. Chemosphere 71: 834–842

Rajkumar M, Nagendran R, Lee KJ, Lee WH, Kim SZ (2006) Influence of plant growth promoting bacteria and Cr6+ on the growth of Indian mustard. Chemosphere 62:741–748

Rane MR, Sarode PD, Chaudhari BL, Chincholkar SB (2008) Exploring antagonistic metabolites of established biocontrol agent of marine origin. Appl Biochem Biotechnol 151:665–675

Reyes I, Bernier L, Simard RR, Antoun H (1999) Effect of nitrogen source on the solubilization of different inorganic phosphates by an isolate of Penicillium rugulosum and two UV induced mutants. FEMS Micobiol Ecol 28:281–290

Reyes I, Bernier L, Antoun H (2002) Rock phosphate solubilization and colonization of maize rhizosphere by wild and genetically modified strains of Penicillium regulosum. Microb Ecol 44:39–45

Reyes I, Baziramakenga R, Bernier L, Antoun H (2001) Solubilization of phosphate rocks and minerals by a wild type strain and two UV induced mutants of Penicillium regulosum. Soil Biol Biochem 33: 1741–1747

Richardson AE (1994) Soil microorganisms and phosphorous availability. In: Pankhurst CE, Doube BM, Gupta VVSR (eds) Soil biota: management in sustainable farming systems. CSIRO, Victoria, Australia, pp 50–62

Richardson AE, Hadobas PA, Hayes JE (2001a) Extracellular secretion of Aspergillus phytase from Arabidopsis roots enables plants to obtain phosphorous from phytate. Plant J 25:641–649

Richardson AE, Hadobas PA, Hayes JE, O'Hara CP, Simpson RJ (2001b) Utilization of phosphorus by pasture plants supplied with myo-inositol hexaphosphate is enhanced by the presence of soil micro-organisms. Plant Soil 229:47–56

Rodriguez H, Fraga R (1999) Phosphate solubilizing bacteria and their role in plant growth promotion. Biotechnol Adv 17:319–339

Rodriguez H, Fraga R, Gonzalez T, Bashan Y (2006) Genetics of phosphate solubilization and its potential applications for improving plant growth-promoting bacteria. Plant Soil 287:15–21

Rodríguez H, Gonzalez T, Selman G (2000) Expression of a mineral phosphate solubilizing gene from Erwinia herbicola in two rhizobacterial strains. J Biotechnol 84:155–161

Ruch DG, Motta JJ (1987) Ultrastructure and cytochemistry of dormant basidiospores of Psilocybe cubensis. Mycologia 79:387–398

Rudresh DL, Shivaprakash MK, Prasad RD (2005a) Tricalcium phosphate solubilizing abilities of Trichoderma spp. in relation to P uptake and growth and yield parameters of chickpea (Cicer arietinum L.). Can J Microbiol 51:217–222

Rudresh DL, Shivaprakash MK, Prasad RD (2005b) Effect of combined application of Rhizobium, phosphate solubilizing bacterium and Trichoderma spp. on growth, nutrient uptake and yield of chickpea (Cicer aritenium L.). Appl Soil Ecol 28:139–146

Saber K, Nahla L, Ahmed D, Chedly A (2005) Effect of P on nodule formation and N fixation in bean. Agron Sustain Dev 25:389–393

Saito M (1995) Enzyme activities of the internal hypha and germinated spores of an arbuscular mycorrhizal fungus, Gigaspora margarita. New Phytol 129:425–431

Schadeck RJG, Buchi DF, Leite B (1998a) Ultrastructural aspects of Colletotrichum graminicola conidium germination, appressorium formation and penetration on cellophane membranes: focus on lipid reserves. J Submicrosc Cytol Pathol 30:555–561

Schadeck RJG, Leite B, Buchi DF (1998b) Lipid mobilization and acid phosphatase activity in lytic compartments during conidium dormancy and appressorium formation of Colletotrichum graminicola. Cell Struct Funct 23:333–340

Schreiner RP, Mihara KL, Mcdaniel H, Bethlenfalvay GJ (1997) Mycorrhizal fungi influence plant and soil functions and interactions. Plant Soil 188:199–209

Selvakumar G, Mohan M, Kundu S, Gupta AD, Joshi P, Nazim S, Gupta HS (2008) Cold tolerance and plant growth promotion potential of Serratia marcescens strain SRM (MTCC 8708) isolated from flowers of summer squash (Cucurbita pepo). Lett Appl Microbiol 46:171–175

Shaharoona B, Naveed M, Arshad M, Zahir ZA (2008) Fertilizer-dependent efficiency of Pseudomonads for improving growth, yield, and nutrient use efficiency of wheat (Triticum aestivum L.). Appl Microbiol Biotechnol 79:147–155

Sharan A, Shikha DNS, Gaur R (2008) Xanthomonas campestris, a novel stress tolerant, phosphate-solubilizing bacterial strain from saline–alkali soils. World J Microbiol Biotechnol 24:753–759

Shin W, Ryu J, kim Y, Yang J, Madhaiyan M, Sa T (2006) Phosphate solubilization and growth promotion of maize (Zea mays L.) by the rhizosphere soil fungus Penicillium oxalicum.18th World Congress of Soil Science. July 9–15, Philadelphia, Pennsylvania, USA

Singal R, Gupta R, Saxena RK (1994) Rock phosphate solubilization under alkaline conditions by Aspergillus japonicus and A. foetidus. Folia Microbiol 39:33–36

Singh N, Pandey P, Dubey R, Maheshwari DK (2008) Biological control of root rot fungus Macrophomina phaseolina and growth enhancement of Pinus roxburghii (Sarg.) by rhizosphere competent Bacillus subtilis BN1. World J Microbiol Biotechnol 24:1669–1679

Song OR, Lee SJ, Lee YS, Lee SC, Kim KK, Choi YL (2008) Solubilization of insoluble inorganic phosphate by Burkholderia cepacia DA23 isolated from cultivated soil. Brazil J Microbiol 39:151–156

Souchie EL, Azcón R, Barea JM, Saggin-Júnior OJ, Silva EMR (2006) Phosphate solubilization and synergism between P-solubilizing and arbuscular mycorrhizal fungi. Pesquisa Agropecuária Brasileira 41:1405–1411

Souchie EL, Abboud ACS, Caproni AL (2007) In vitro phosphate solubilization by rhizospheric microorganisms from pigeonpea. Biosci J 23:53–60

Sridevi M, Mallaiah KV, Yadav NCS (2007) Phosphate solubilization by Rhizobium isolates from Crotalaria species. J Plant Sci 2:635–639

Thomas GV, Shantaram MV, Saraswathy N (2005) Occurrence and activity of phosphate solubilizing fungi from coconut plantation soils. J Plant Sci 87:357–364

To-o K, Kamasaka H, Kusaka K, Kuriki T, Kometani K, Okada S (1997) A novel acid phosphatase from Aspergillus niger KU-8 that specifically hydrolyzes C-6 phosphate groups of phosphoryl oligosaccharides. Biosci Biotechnol Biochem 61:1512–1517

To-o K, Kamasaka H, Kuriki T, Okada S (2000) Substrate selectivity in Aspergillus niger KU-8 acid phosphatase II using phosphoryl oligosaccharides. Biosci Biotechnol Biochem 64:1534–1537

Toro M (2007) Phosphate solubilizing microorganisms in the rhizosphere of native plants from tropical savannas: An adaptive strategy to acid soils? In: Velazquez C, Rodriguez-Barrueco E (eds) Developments in Plant and Soil Sciences. Springer, The Netherlands, pp 249-–252

Trivedi P, Sa TM (2008) Pseudomonas corrugata (NRRL B-30409) mutants increased phosphate solubilization, organic acid production, and plant growth at lower temperatures. Curr Microbiol 56:140–144

Valverde A, Burgos A, Fiscella T, Rivas R, Velazquez E, Rodriguez-Barrueco C, Cervantes E, Chamber M, Igual JM (2006) Differential effects of coinoculations with Pseudomonas jessenii PS06 (a phosphate-solubilizing bacterium) and Mesorhizobium ciceri C-2/2 strains on the growth and seed yield of chickpea under greenhouse and field conditions. Plant Soil 287:43–50

Varenyam A, Savant VV, Reddy MS (2007) Phosphate solubilization by a wild type strain and UV-induced mutants of Aspergillus tubingensis. Soil Biol Biochem 39:695–699

Vassilev N, Fenice M, Federici F (1996) Rock phosphate solubilisation with gluconic acid produced by immobilized Penicillium variable P16. Biotecnol Tech 20: 585–588

Vassilev N, Vassileva M, Nikolaeva I (2006) Simultaneous P-solubilizing and biocontrol activity of microorganisms: potentials and future trends. Appl Microbiol Biotechnol 71:137–144

Vassilev N, Vassileva M, Bravo V, Fernández-Serrano M, Nikolaeva I (2007) Simultaneous phytase production and rock phosphate solubilization by Aspergillus niger grown on dry olive wastes. Ind Crop Prod 26:332–336

Vazquez P, Holguin G, Puente M, Elopez CA, Bashan Y (2000) Phosphate solubilizing microorganisms associated with the rhizosphere of mangroves in a semi arid coastal lagoon. Biol Fertil Soil 30:460–468

Vikram A, Hamzehzarghani H (2008) Effect of phosphate solubilizing bacteria on nodulation and growth parameters of greengram (Vigna radiate L. Wilczec). Res J Microbiol 3:62–72

Wahid OA, Mehana TA (2000) Impact of phosphate solubilizing fungi on the yield and phosphorus uptake by wheat and faba bean plants. Microbiol Res 155:221–227

Wakelin SA, Gupta VVSR, Harvey PR, Ryder MH (2007) The effect of Penicillium fungi on plant growth and phosphorus mobilization in neutral to alkaline soils from southern Australia. Can J Microbiol 53:106–115

Wani PA, Zaidi A, Khan AA, Khan MS (2005) Effect of phorate on phosphate solubilization and indole acetic acid (IAA) releasing potentials of rhizospheric microorganisms. Ann Plant Prot. Sci 13:139–144

Wani PA, Khan MS, Zaidi A (2007a) Chromium reduction, plant growth promoting potentials and metal solubilization by Bacillus sp. isolated from alluvial soil. Curr Microbiol 54:237–243

Wani PA, Khan MS, Zaidi A (2007b) Co-inoculation of nitrogen fixing and phosphate solubilizing bacteria to promote growth, yield and nutrient uptake in chickpea. Acta Agron Hung 55: 315–323

Wani PA, Khan MS, Zaidi A (2007c) Synergistic effects of the inoculation with nitrogen fixing and phosphate solubilizing rhizobacteria on the performance of field grown chickpea. J Plant Nutr Soil Sci 170:283–287

Whitelaw MA, Harden TJ, Helyar KR (1999) Phosphate solubilization in solution culture by the soil fungus Penicillium radicum. Soil Biol Biochem 32:655–665

Yadav RS, Tarafdar JC (2003) Phytase and phosphatase producing fungi in arid and semi-arid soils and their efficiency in hydrolyzing different organic P compounds. Soil Biol Biochem 35: 745–751

Yi Y, Huang W, Ge Y (2008) Exopolysaccharide: a novel important factor in the microbial dissolution of tricalcium phosphate. World J Microbiol Biotechnol 24:1059–1065

Zaidi A (1999) Synergistic interactions of nitrogen fixing microorganisms with phosphate mobilizing microorganisms. PhD Thesis, Aligarh Muslim University, Aligarh

Zaidi A, Khan MS (2006) Co-inoculation effects of phosphate solubilizing microorganisms and Glomus fasciculatum on green gram Bradyrhizobium symbiosis. Turk J Agric For 30:223–230

Zaidi A, Khan MS (2007) Stimulatory effects of dual inoculation with phosphate solubilizing microorganisms and arbuscular mycorrhizal fungus on chickpea. Aust J Exp Agric 47:1016–1022

Zaidi A, Khan MS, Amil M (2003) Interactive effect of rhizotrophic microorganisms on yield and nutrient uptake of chickpea (Cicer arietinum L.). Eur J Agron 19:15–21

Zaidi A, Khan MS, Aamil M (2004) Bio-associative effect of rhizospheric microorganisms on growth, yield and nutrient uptake of greengram. J Plant Nutr 27:599–610
Copyright information

© 2009 Springer-Verlag Berlin Heidelberg
About this chapter
Cite this chapter
Zaidi, A., Khan, M.S., Ahemad, M., Oves, M., Wani, P.A. (2009). Recent Advances in Plant Growth Promotion by Phosphate-Solubilizing Microbes. In: Khan, M., Zaidi, A., Musarrat, J. (eds) Microbial Strategies for Crop Improvement. Springer, Berlin, Heidelberg. https://doi.org/10.1007/978-3-642-01979-1_2