Weather and climate and optimization of farm technologies at different input levels
Abstract
Weather and climatic conditions are the most important production factors for agriculture. Farmers within any agroecosystem therefore try to adapt to these conditions as much as possible (
Adger et al. 2005
;
Smit and Yunlong 1996
). Farm technologies play a major role in this adaptation process in both the short and the long term. Farm technologies are optimized for different purposes such as maximizing food production or profit. There is an urgent need, however, for such aims to be directed to permit sustainability of food production at the local level, which can be based only on stable agroecosystems (Fig.10.1). This has to be the basic strategy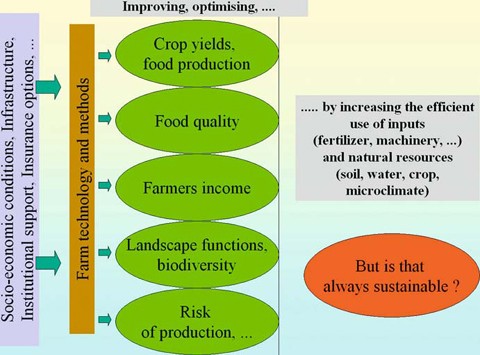 for the long term as important resources for agricultural production such as water, land and soil resources are highly limited in our world. Moreover, these resources are also endangered in many regions by desertification and climate change.
Keywords
Farm Technology 
Maximize Food Production 
IBWF CFFO 
DPNQBSFE XJUI 
MPOH UFSN 
These keywords were added by machine and not by the authors. This process is experimental and the keywords may be updated as the learning algorithm improves.
Copyright information
© Springer-Verlag Berlin Heidelberg 2007