Abstract

Building on the results of the Guizot inquiry, carried out in autumn 1833 on the initiative of François Guizot, the minister of public instruction, this article examines the process of human capital accumulation in the early nineteenth-century France. We rely on an original measure of human capital—student progress—to highlight the high level of heterogeneity in human capital accumulation in this period. We identify two types of schools in the French educational landscape: first, large schools, well-endowed in human and material resources, which contributed a great deal to human capital accumulation, and, second, small schools, characterised by some degree of amateurism and improvisation, which weakly contributed to human capital formation. We note that the use of literacy rates or school enrolment rates can be misleading with regard to the estimation of French human capital endowments, laying emphasis instead on the heterogeneity in the French educational landscape at the dawn of the nineteenth century, as the country embarked on the process of industrialisation.
Keywords
Guizot inquiry

Human capital accumulation

France

Nineteenth century
JEL Classification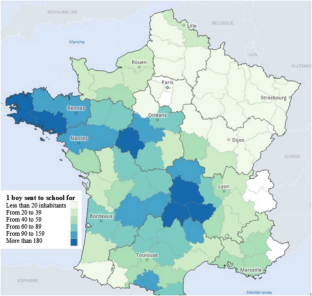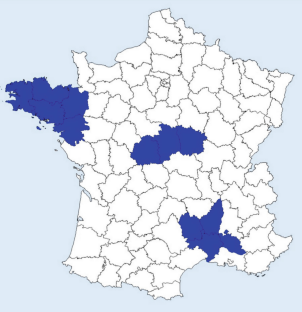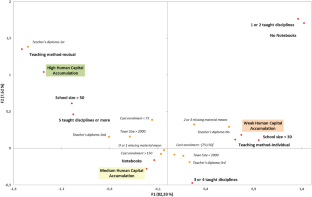 Notes
1.

Given the lack of data, new strategies to measure human capital (within the spirit of the procedure based on marriage registers) have recently been developed. The age heaping method (see, for instance, A'Hearn et al. 2009; Crayen and Baten 2010 and Baten et al. 2014) uses accuracy of age reporting as a proxy for numeracy. This method relies on "the tendency of poorly educated people to round their age erroneously. For example, they answer more often '40', if they are in fact 39 or 41, compared with better educated people" (Crayen and Baten 2010, p. 452).

2.

Girls' schools fell outside the scope of the Guizot law.

3.

In 1833, the daily wage of a bricklayer equalled 2.21F.

4.

We also note that almost half of the schools of our sample did not have enough books for the pupils.

5.

Religious instruction was taught in all schools in the sample, so we do not count it.

6.

Guernanville is located in the department of Eure.

7.

In his report, inspector Louis-Arsène Meunier explained that he asked a pupil to resolve a basic mathematical problem. The pupil failed and the teacher said "I didn't teach that, I don't know myself".

8.

Les progrès étaient fort lents. La méthode de lecture était détestable. Les élèves mettaient beaucoup de temps à apprendre à lire, et comme il était d'usage de ne leur montrer à écrire que lorsqu'ils étaient arrivés à lire couramment, il en résultait que beaucoup d'enfants quittaient la classe sans même savoir signer leurs noms. Quant à ceux qui avaient appris à écrire, un grand nombre n'étaient pas en état de se servir de leur écriture, soit faute de savoir l'orthographe, soit faute d'avoir été habitués à exprimer leurs idées sur le papier (Account of the inspector Louis-Arsène Meunier, 1833).
References
A'hearn B, Baten J, Crayen D (2009) Quantifying quantitative literacy: age heaping and the history of human capital. J Econ Hist 69(3):783–808

Baten J, Crayen D, Voth H (2014) Numeracy and the impact of high food prices in industrializing Britain, 1780–1850. Rev Econ Stat 96(3):418–430

Crayen D, Baten J (2010) New evidence and new methods to measure human capital inequality before and during the industrial revolution: France and the US in the seventeenth to nineteenth centuries. Econ Hist Rev 63(2):452–478

Dupin C (1827) Forces productives et commerciales de la France. Bachelier, Paris

Fleury M, Valmary P (1957) Les Progrès de l'Instruction Elémentaire de Louis XIV à Napoleon III d'après l'Enquête de Louis Maggiolo (1877–1879). Population 12(1):71–92

Furet F, Ozouf J (1977) Lire et écrire: l'alphabétisation des Français de Calvin à Jules Ferry, Paris, Éditions de Minuit, ouvrage publié avec le concours du CNRS, 2 vol

Greenacre MJ (1984) Theory and applications of correspondence analysis. Academic Press, London

Hanushek E, Kimko D (2000) Schooling, labor force quality, and the growth of nations. Am Econ Rev 90(5):1184–1208

Hanushek E, Woessmann L (2008) The role of cognitive skills in economic development. J Econ Lit 46(3):607–668

Hanushek E, Woessmann L (2011) The economics of international differences in educational achievement. In: Hanushek E, Machin S, Woessmann L (eds) Handbook of the economics of education, vol 3. North Holland, Amsterdam, pp 89–200

Hanushek E, Woessmann L (2012) Do better schools lead to more growth? Cognitive skills, economic outcomes, and causation. J Econ Growth 17(4):267–321

Hanushek E, Woessmann L (2015) The knowledge capital of nations: education and the economics of growth. MIT Press, Cambridge, MA

Jamison E, Jamison D, Hanushek E (2007) The effects of education quality on income growth and mortality decline. Econ Educ Rev 26:772–789

Mitch D (1999) The role of education and skill in the British industrial revolution. The British industrial revolution: an economic perspective, vol 2. pp 241–279

Nilsson A (1999) What do literacy rates in the 19th century really signify?-New light on an old problem from unique Swedish data. Paedagog Hist 35(2):274–296
Appendix
Appendix
10.1.1

The Original Questionnaire of the Guizot Inquiry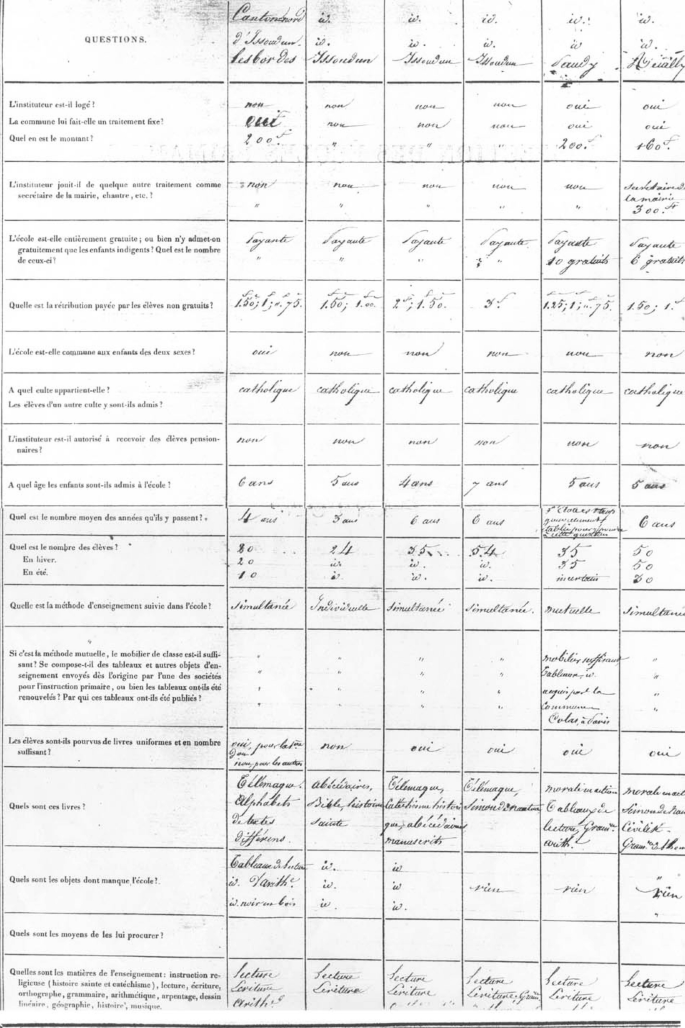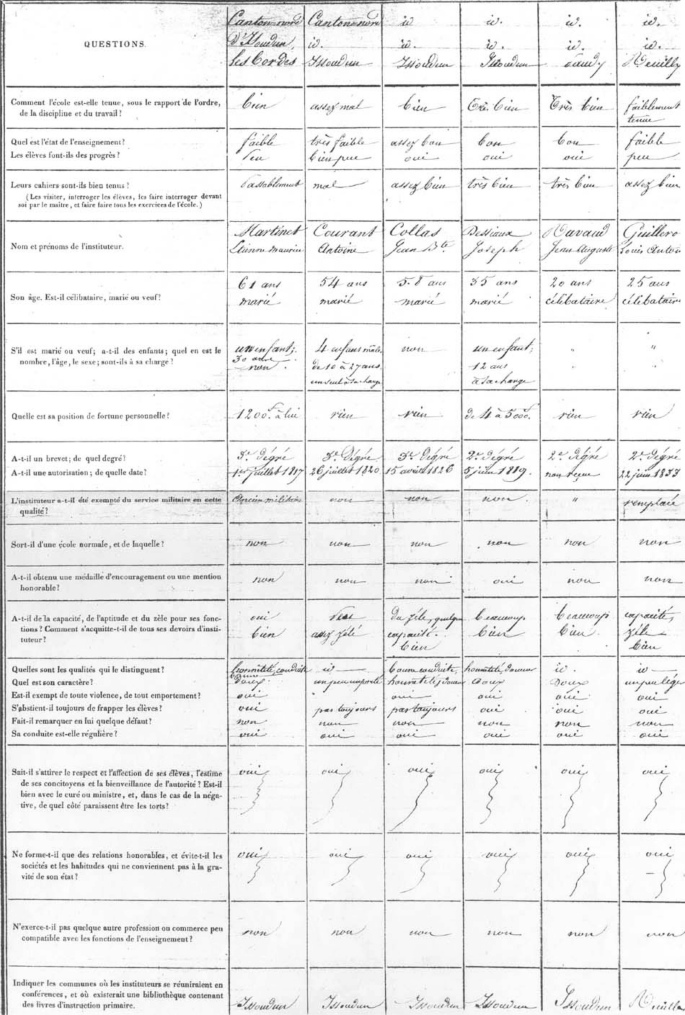 Copyright information

© 2019 Springer Nature Switzerland AG
About this chapter
Cite this chapter
Jaoul-Grammare, M., Le Chapelain, C. (2019). Human Capital Accumulation in France at the Dawn of the Nineteenth Century: Lessons from the Guizot Inquiry. In: Diebolt, C., Rijpma, A., Carmichael, S., Dilli, S., Störmer, C. (eds) Cliometrics of the Family. Studies in Economic History. Springer, Cham. https://doi.org/10.1007/978-3-319-99480-2_10