Abstract

The article describes an analysis of various bearing systems for the rotor of an ORC turbine with an electric power of 1 kW. The nominal rotational speed of the newly designed single-stage axial-flow turbine is 100,000 rpm. The turbine is supplied with a low-boiling medium's vapor and this medium is not compatible with all typical materials used for constructing power turbines. Additionally, the turbine must be an oil-free machine. In one of the design variants, the turbine rotor disk is to be made of plastic and the temperature of the working medium directed to the vanes will be approx. 150°C (at a pressure of 10 bar). Three different bearing systems were considered: 1. bearings lubricated with a low-boiling medium's liquid; 2. gas bearings lubricated with a low-boiling medium's vapor; 3. rolling bearings. After initial analysis, it was found that hydrodynamic bearings lubricated with a low-boiling medium did not work properly in this case and it was decided to conduct a detailed analysis of the second and third type of bearings. The two bearing systems are associated with changes in the geometry of the rotor, which in turn strongly affect the dynamic performance of the entire rotating system. The dynamic analysis of the rotor is the subject of the conducted research and constitutes part of the bearing selection process. This article presents the process of selecting and optimizing the bearing system for the rotor of a 1 kW turbine.
Keywords
High-speed bearings

Microturbine

ORC system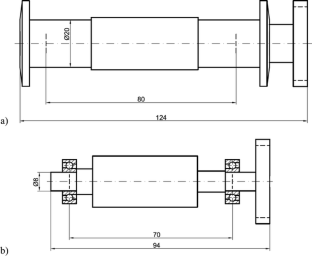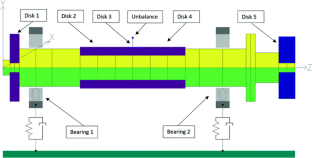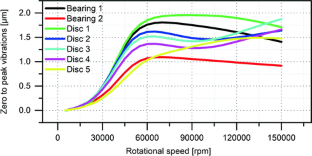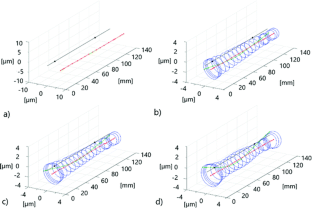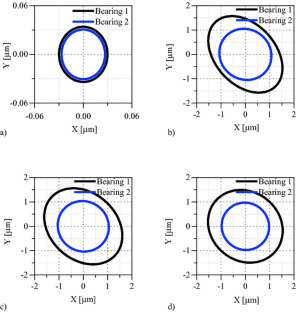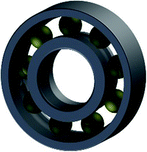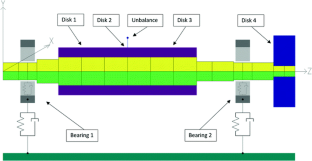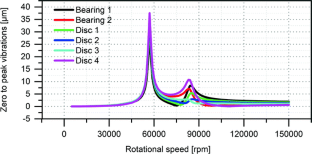 References
Kaczmarczyk, T.Z., Żywica, G., Ihnatowicz, E.: The impact of changes in the geometry of a radial microturbine stage on the efficiency of the micro CHP plant based on ORC. Energy 137, 530–543 (2017)

Klonowicz, P., Witanowski, Ł., Suchocki, T., Lampart, P.: A turbine based domestic micro ORC system. Energy Procedia 129, 930–993 (2017)

Frigo, S., Gabbrielli, R., Puccini, M., Seggiani, M., Vitolo, S.: Small-scale wood-fuelled CHP plants: a comparative evaluation of the available technologies. Chem. Eng. Trans. 37, 847–852 (2014)

Peirs, J., Reynaerts, D., Verplaetsen, F.: A microturbine for electric power generation. Sens. Acuators Phys. 113, 86–93 (2004)

Hernandez-Carrillo, I., Wood, C.J., Liu, H.: Advanced materials for the impeller in an ORC radial microturbine. Energy Procedia 129, 1047–1054 (2017)

Maia, T.A.C., Faria, O.A., Barros, J.E.M., Porto, M.P., Filho, B.J.C., Research, E.P.S.: Test and simulation of an electric generator driven by a micro-turbine. Electr. Power Syst. Res. 147, 224–232 (2017)

De Paepe, W., Carrero, M.M., Bram, S., Parente, A., Contino, F.: Experimental characterization of a T100 micro gas turbine converted to full humid air operation. Energy Procedia 61, 2083–2088 (2014)

Kaczmarczyk, T.Z., Ihnatowicz, E.: The experimental investigation of scroll expanders operating in the ORC system with HFE7100 as a working medium. Appl. Mech. Mater. 831, 245–255 (2016)

Breńkacz, Ł., Żywica, G., Bogulicz, M.: Analysis of dynamical properties of a 700 kW turbine rotor designed to operate in an ORC installation. Diagnostyka 17, 17–23 (2016)

Breńkacz, Ł., Żywica, G.: Comparison of experimentally and numerically determined dynamic coefficients of the hydrodynamic slide bearings operating in the nonlinear rotating system. In: Proceedings of the ASME Turbo Expo2017: Turbomachinery Technical Conference and Exposition, Charlotte, NC, USA, pp. 1–12 (2017)

Breńkacz, Ł., Żywica, G., Drosińska-Komor, M.: The experimental identification of the dynamic coefficients of two hydrodynamic journal bearings operating at constant rotational speed and under nonlinear conditions. Pol. Marit. Res. 24, 108–115 (2017)

Kiciński, J.: Dynamics of rotors and slide bearings (in Polish). IMP PAN, Maszyny Przepływowe, Gdańsk (2005)

Hamrock, B.J., Schmid, S.R., Jacobson, B.O.: Fundamentals of Fluid Film Lubrication, 2nd edn. Marcel Dekker, New York (2004)

ISO 1940-1 Mechanical vibration - balance quality requirements for rotors in a constant (rigid) state. Part 1: Specification and verification of balance tolerances (2003)

SKF Catalogue: Rolling bearings (2014)

Krzemiński-Freda, H.: Łożyska toczne. Państwowe Wydawnictwo Naukowe, Warsaw (1989)
Acknowledgments

This work has been funded by the Polish Agency for Enterprise Development and Smart Growth Operational Programme (European funds) within the project No. POIR.02.03.02-22-0009/15 carried out in cooperation with the SARK company.
Copyright information

© 2019 Springer Nature Switzerland AG
About this paper
Cite this paper
Breńkacz, Ł., Żywica, G., Bogulicz, M. (2019). Selection of the Bearing System for a 1 kW ORC Microturbine. In: Cavalca, K., Weber, H. (eds) Proceedings of the 10th International Conference on Rotor Dynamics – IFToMM. IFToMM 2018. Mechanisms and Machine Science, vol 60. Springer, Cham. https://doi.org/10.1007/978-3-319-99262-4_16
DOI: https://doi.org/10.1007/978-3-319-99262-4_16

Published:

Publisher Name: Springer, Cham

Print ISBN: 978-3-319-99261-7

Online ISBN: 978-3-319-99262-4

eBook Packages: EngineeringEngineering (R0)