Abstract

The next-generation sequencing revolution is allowing the whole-genome resequencing (WGRS) of hundreds or even thousands of accessions for staple crops and model species. With the release of their reference genome, progressively also other plants, species are undertaking WGRS projects for a broad variety of studies. In common eggplant (Solanum melongena L.), although a first draft of the reference genome sequence has been published, no resequencing studies have been performed so far. In this chapter, we present the first results of the resequencing of eight accessions, seven of common eggplant and one of the wild relative S. incanum L., that correspond to the parents of a multi-parent advanced generation inter-cross (MAGIC) population that is currently under development using the newly developed eggplant genome sequence presented in Chap. 7 of this book. Over ten million polymorphisms were identified among the accessions, 90% of them in the wild related S. incanum, confirming the genetic erosion of the cultivated common eggplant. Among the MAGIC population parents, the common polymorphism distribution pattern along the chromosomes has revealed possible footprints of ancestral introgression from interspecific crosses. The set of polymorphisms has been extensively annotated and currently is being used for further analyses in order to efficiently genotype the ongoing MAGIC population and to dissect important agronomic and morphological traits. The information provided in this first resequencing study in eggplant will be extremely helpful to assist plant breeding to develop new improved and resilient varieties to face future threats and challenges.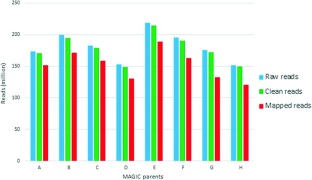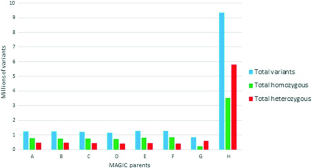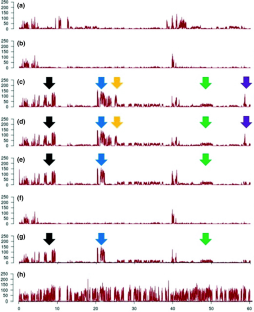 References
Aflitos S, Schijlen E, de Jong H, de Ridder D, Smit S, Finkers R, Wang J, Zhang G, Li N, Mao L, Bakker F, Dirks R, Breit T, Gravendeel B, Huits H, Struss D, Swanson-Wagner R, van Leeuwen H, van Ham RC, Fito L, Guignier L, Sevilla M, Ellul P, Ganko E, Kapur A, Reclus E, de Geus B, van de Geest H, Te Lintel Hekkert B, van Haarst J, Smits L, Koops A, Sanchez-Perez G, van Heusden AW, Visser R, Quan Z, Min J, Liao L, Wang X, Wang G, Yue Z, Yang X, Xu N, Schranz E, Smets E, Vos R, Rauwerda J, Ursem R, Schuit C, Kerns M, van den Berg J, Vriezen W, Janssen A, Datema E, Jahrman T, Moquet F, Bonnet J, Peters S (2014) Exploring genetic variation in the tomato (Solanum section Lycopersicon) clade by whole-genome sequencing. Plant J 80:136–148. https://doi.org/10.1111/tpj.12616

Barchi L, Delledonne M, Lanteri S, Dal Molin A, Minio A, Ferrarini A, Venturini L, Avanzato C, Toppino L, Sala T, Bassolino L, Comino C, Acquadro A, Portis E, Rinaldi R, Scaglione D, Francese G, D'Alessandro A, Mennella G, Perrone D, Acciarri N, Pietrella M, Aprea G, Sulli M, Giuliano G, Rotino GL (2016) A high quality eggplant genome sequence: a new tool for the analysis of the Solanaceae family evolution and for the molecular deciphering of complex traits. Paper presented at 20th EUCARPIA General Congress Plant Breeding: The Art of Bringing Science to Life, Zurich, 29 August–1 September 2016

Causse M, Desplat N, Pascual L, Le Paslier M-C, Sauvage C, Bauchet G, Bérard A, Bounon R, Tchoumakov M, Brunel D, Bouchet J-P (2013) Whole genome resequencing in tomato reveals variation associated with introgression and breeding events. BMC Genom 14:791. https://doi.org/10.1186/1471-2164-14-791

Du X, Huang G, He S, Yang Z, Sun G, Ma X, Li N, Zhang X, Sun J, Liu M, Jia Y, Pan Z, Gong W, Liu Z, Zhu H, Ma L, Liu F, Yang D, Wang F, Fan W, Gong Q, Peng Z, Wang L, Wang X, Xu S, Shang H, Lu C, Zheng H, Huang S, Lin T, Zhu Y, Li F (2018) Resequencing of 243 diploid cotton accessions based on an updated A genome identifies the genetic basis of key agronomic traits. Nat Genet 50:796–802. https://doi.org/10.1038/s41588-018-0116-x

Faostat (2016) http://www.fao.org/faostat. Accessed 23 July 2018

Gisbert C, Prohens J, Raigón MD, Stommel JR, Nuez F (2011) Eggplant relatives as sources of variation for developing new rootstocks: effects of grafting on eggplant yield and fruit apparent quality and composition. Sci Hort 128:14–22

Gramazio P, Prohens J, Plazas M, Andújar I, Herraiz FJ, Castillo E, Knapp S, Meyer RS, Vilanova S (2014) Location of chlorogenic acid biosynthesis pathway and polyphenol oxidase genes in a new interspecific anchored linkage map of eggplant. BMC Plant Biol 14:350. https://doi.org/10.1186/s12870-014-0350-z

Gramazio P, Prohens J, Plazas M, Mangino G, Herraiz FJ, Vilanova S (2017) Development and genetic characterization of advanced backcross materials and an introgression line population of Solanum incanum in a S. melongena background. Front Plant Sci. https://doi.org/10.3389/fpls.2017.01477

Gramazio P, Prohens J, Plazas M, Mangino G, Herraiz FJ, Garcia-Fortea E, Vilanova S (2018) Genomic tools for the enhancement of vegetable crops: a case in eggplant. Not Bot Horti Agrobot Cluj-Napoca. https://doi.org/10.15835/nbha46110936

Guo L, Gao Z, Qian Q (2014) Application of resequencing to rice genomics, functional genomics and evolutionary analysis. Rice 7:4. https://doi.org/10.1186/s12284-014-0004-7

Hirakawa H, Shirasawa K, Miyatake K, Nunome T, Negoro S, Ohyama A, Yamaguchi H, Sato S, Isobe S, Tabata S, Fukuoka H (2014) Draft genome sequence of eggplant (Solanum melongena L.): the representative Solanum species indigenous to the old world. DNA Res 21:649–660

Huang X, Lu T, Han B (2013) Resequencing rice genomes: an emerging new era of rice genomics. Trends Genet 29:225–232

Jha U, Barh D, Parida S, Jhu R, Singh NP (2016) Whole-genome resequencing: Current status and future prospects in genomics-assisted crop improvement. In: Khan MS, Khan IA, Barh D (eds) Applied molecular biotechnology: the next generation of genetic engineering. CRC Press, Boca Raton, pp 187–211

Jiao Y, Zhao H, Ren L, Song W, Zeng B, Guo J, Wang B, Liu Z, Chen J, Li W, Zhang M, Xie S, Lai J (2012) Genome-wide genetic changes during modern breeding of maize. Nat Genet 44:812–815. https://doi.org/10.1038/ng.2312

Jung YJ, Nou IS, Cho YG, Kim MK, Kim H-T, Kang KK (2016) Identification of an SNP variation of elite tomato (Solanum lycopersicum L.) lines using genome resequencing analysis. Hortic Environ Biotechnol 57:173–181

Kevei Z, King RC, Mohareb F, Sergeant MJ, Azan SZ, Thompson AJ (2015) Resequencing at ≥40-fold depth of the parental genomes of a Solanum lycopersicum × S. pimpinellifolium recombinant inbred line population and characterization of frame-shift Indels that are highly likely to perturb protein function. G3: Genes, Genomes, Genetics. https://doi.org/10.1534/g3.114.016121

Knapp S, Vorontsova MS, Prohens J (2013) Wild relatives of the eggplant (Solanum melongena L.: Solanaceae): new understanding of species names in a complex group. PLoS One 8:e57039

Kobayashi M, Nagasaki H, Garcia V, Just D, Bres C, Mauxion JP, Le Paslier MC, Brunel D, Suda K, Minakuchi Y, Toyoda A, Fujiyama A, Toyoshima H, Suzuki T, Igarashi K, Rothan C, Kaminuma E, Nakamura Y, Yano K, Aoki K (2014) Genome-wide analysis of intraspecific DNA polymorphism in 'micro-tom', a model cultivar of tomato (Solanum lycopersicum). Plant Cell Physiol 55:445–454

Lin T, Zhu G, Zhang J, Xu X, Yu Q, Zheng Z, Zhang Z, Lun Y, Li S, Wang X, Huang Z, Li J, Zhang C, Wang T, Zhang Y, Wang A, Zhang Y, Lin K, Li C, Xiong G, Xue Y, Mazzucato A, Causse M, Fei Z, Giovannoni JJ, Chetelat RT, Zamir D, Städler T, Li J, Ye Z, Du Y, Huang S (2014) Genomic analyses provide insights into the history of tomato breeding. Nat Genet 46:1220–1226. https://doi.org/10.1038/ng.3117

Meyer RS, Whitaker BD, Little DP, Wu S-B, Kennelly EJ, Long C-L, Litt A (2015) Parallel reductions in phenolic constituents resulting from the domestication of eggplant. Phytochemistry 115:194–206. https://doi.org/10.1016/j.phytochem.2015.02.006

Ogura T, Busch W (2015) From phenotypes to causal sequences: using genome wide association studies to dissect the sequence basis for variation of plant development. Curr Opin Plant Biol 23:98–108

Prohens J, Whitaker BD, Plazas M, Vilanova S, Hurtado M, Blasco M, Gramazio P, Stommel JR (2013) Genetic diversity in morphological characters and phenolic acids content resulting from an interspecific cross between eggplant, Solanum melongena, and its wild ancestor (S. incanum). Ann Appl Biol 162:242–257. https://doi.org/10.1111/aab.12017

Qi J, Liu X, Shen D, Miao H, Xie B, Li X, Zeng P, Wang S, Shang Y, Gu X, Du Y, Li Y, Lin T, Yuan J, Yang X, Chen J, Chen H, Xiong X, Huang K, Fei Z, Mao L, Tian L, Städler T, Renner SS, Kamoun S, Lucas WJ, Zhang Z, Huang S (2013) A genomic variation map provides insights into the genetic basis of cucumber domestication and diversity. Nat Genet 45:1510–1515. https://doi.org/10.1038/ng.2801

Salas P, Prohens J, Seguí-Simarro JM (2011) Evaluation of androgenic competence through anther culture in common eggplant and related species. Euphytica 182:261–274. https://doi.org/10.1007/s10681-011-0490-2

Sato S, Tabata S, Hirakawa H, Asamizu E, Shirasawa K, Isobe S, Kaneko T, Nakamura Y, Shibata D, Aoki K, Egholm M, Knight J, Bogden R, Li C, Shuang Y, Xu X, Pan S, Cheng S, Liu X, Ren Y, Wang J, Albiero A, Dal Pero F, Todesco S, Van Eck J, Buels RM, Bombarely A, Gosselin JR, Huang M, Leto JA, Menda N, Strickler S, Mao L, Gao S, Tecle IY, York T, Zheng Y, Vrebalov JT, Lee J, Zhong S, Mueller LA, Stiekema WJ, Ribeca P, Alioto T, Yang W, Huang S, Du Y, Zhang Z, Gao J, Guo Y, Wang X, Li Y, He J, Li C, Cheng Z, Zuo J, Ren J, Zhao J, Yan L, Jiang H, Wang B, Li H, Li Z, Fu F, Chen B, Han B, Feng Q, Fan D, Wang Y, Ling H, Xue Y, Ware D, McCombie WR, Lippman ZB, Chia J-M, Jiang K, Pasternak S, Gelley L, Kramer M, Anderson LK, Chang S-B, Royer SM, Shearer LA, Stack SM, Rose JKC, Xu Y, Eannetta N, Matas AJ, McQuinn R, Tanksley SD, Camara F, Guigo R, Rombauts S, Fawcett J, Van de Peer Y, Zamir D, Liang C, Spannagl M, Gundlach H, Bruggmann R, Mayer K, Jia Z, Zhang J, Ye Z, Bishop GJ, Butcher S, Lopez-Cobollo R, Buchan D, Filippis I, Abbott J, Dixit R, Singh M, Singh A, Pal JK, Pandit A, Singh PK, Mahato AK, Dogra V, Gaikwad K, Sharma TR, Mohapatra T, Singh NK, Causse M, Rothan C, Schiex T, Noirot C, Bellec A, Klopp C, Delalande C, Berges H, Mariette J, Frasse P, Vautrin S, Zouine M, Latche A, Rousseau C, Regad F, Pech J-C, Philippot M, Bouzayen M, Pericard P, Osorio S, Fernandez del Carmen A, Monforte A, Granell A, Fernandez-Munoz R, Conte M, Lichtenstein G, Carrari F, De Bellis G, Fuligni F, Peano C, Grandillo S, Termolino P, Pietrella M, Fantini E, Falcone G, Fiore A, Giuliano G, Lopez L, Facella P, Perrotta G, Daddiego L, Bryan G, Orozco M, Pastor X, Torrents D, van Schriek KNVMGM, Feron RMC, van Oeveren J, de Heer P, daPonte L, Jacobs-Oomen S, Cariaso M, Prins M, van Eijk MJT, Janssen A, van Haaren MJJ, Jo S-H, Kim J, Kwon S-Y, Kim S, Koo D-H, Lee S, Hur C-G, Clouser C, Rico A, Hallab A, Gebhardt C, Klee K, Joecker A, Warfsmann J, Goebel U, Kawamura S, Yano K, Sherman JD, Fukuoka H, Negoro S, Bhutty S, Chowdhury P, Chattopadhyay D, Datema E, Smit S, Schijlen EWM, van de Belt J, van Haarst JC, Peters SA, van Staveren MJ, Henkens MHC, Mooyman PJW, Hesselink T, van Ham RCHJ, Jiang G, Droege M, Choi D, Kang B-C, Kim BD, Park M, Kim S, Yeom S-I, Lee Y-H, Choi Y-D, Li G, Gao J, Liu Y, Huang S, Fernandez-Pedrosa V, Collado C, Zuniga S, Wang G, Cade R, Dietrich RA, Rogers J, Knapp S, Fei Z, White RA, Thannhauser TW, Giovannoni JJ, Angel Botella M, Gilbert L, Gonzalez R, Goicoechea JL, Yu Y, Kudrna D, Collura K, Wissotski M, Wing R, Schoof H, Meyers BC, Gurazada AB, Green PJ, Mathur S, Vyas S, Solanke AU, Kumar R, Gupta V, Sharma AK, Khurana P, Khurana JP, Tyagi AK, Dalmay T, Mohorianu I, Walts B, Chamala S, Barbazuk WB, Li J, Guo H, Lee T-H, Wang Y, Zhang D, Paterson AH, Wang X, Tang H, Barone A, Chiusano ML, Ercolano MR, D'Agostino N, Di Filippo M, Traini A, Sanseverino W, Frusciante L, Seymour GB, Elharam M, Fu Y, Hua A, Kenton S, Lewis J, Lin S, Najar F, Lai H, Qin B, Qu C, Shi R, White D, White J, Xing Y, Yang K, Yi J, Yao Z, Zhou L, Roe BA, Vezzi A, D'Angelo M, Zimbello R, Schiavon R, Caniato E, Rigobello C, Campagna D, Vitulo N, Valle G, Nelson DR, De Paoli E, Szinay D, de Jong HH, Bai Y, Visser RGF, Lankhorst RMK, Beasley H, McLaren K, Nicholson C, Riddle C, Gianese G, Tomato Genome Consortium (2012) The tomato genome sequence provides insights into fleshy fruit evolution. Nature 485 (7400):635–641. https://doi.org/10.1038/nature11119

Schatz MC, Maron LG, Stein JC, Hernandez Wences A, Gurtowski J, Biggers E, Lee H, Kramer M, Antoniou E, Ghiban E, Wright MH, Chia JM, Ware D, McCouch SR, McCombie WR (2014) Whole genome de novo assemblies of three divergent strains of rice, Oryza sativa, document novel gene space of aus and indica. Genome Biol 15:506. https://doi.org/10.1186/s13059-014-0506-z

Shirasawa K, Hirakawa H, Nunome T, Tabata S, Isobe S (2016) Genome-wide survey of artificial mutations induced by ethyl methanesulfonate and gamma rays in tomato. Plant Biotechnol J 14:51–60. https://doi.org/10.1111/pbi.12348

Stommel JR, Whitaker BD (2003) Phenolic Acid Content and composition of eggplant fruit in a germplasm core subset. J Amer Soc Hort Sci 128:704–710. https://doi.org/10.1002/mnfr.200600067

Syfert MM, Castaneda-Alvarez NP, Khoury CK, Sarkinen T, Sosa CC, Achicanoy HA, Bernau V, Prohens J, Daunay MC, Knapp S (2016) Crop wild relatives of the brinjal eggplant (Solanum melongena): poorly represented in genebanks and many species at risk of extinction. Am J Bot 103:635–651

Tranchida-Lombardo V, Aiese Cigliano R, Anzar I, Landi S, Palombieri S, Colantuono C, Bostan H, Termolino P, Aversano R, Batelli G, Cammareri M, Carputo D, Chiusano ML, Conicella C, Consiglio F, D'Agostino N, De Palma M, Di Matteo A, Grandillo S, Sanseverino W, Tucci M, Grillo S (2018) Whole-genome re-sequencing of two Italian tomato landraces reveals sequence variations in genes associated with stress tolerance, fruit quality and long shelf-life traits. DNA Res 25:149–160

Weigel D, Mott R (2009) The 1001 genomes project for Arabidopsis thaliana. Genome Biol 10:107. https://doi.org/10.1186/gb-2009-10-5-107

Xu X, Liu X, Ge S, Jensen JD, Hu F, Li X, Dong Y, Gutenkunst RN, Fang L, Huang L, Li J, He W, Zhang G, Zheng X, Zhang F, Li Y, Yu C, Kristiansen K, Zhang X, Wang J, Wright M, McCouch S, Nielsen R, Wang J, Wang W (2012) Resequencing 50 accessions of cultivated and wild rice yields markers for identifying agronomically important genes. Nat Biotechnol 30:105–111. https://doi.org/10.1038/nbt.2050

Zhang S, Yu H, Wang K, Zheng Z, Liu L, Xu M, Jiao Z, Li R, Liu X, Li J, Cui X (2018) Detection of major loci associated with the variation of 18 important agronomic traits between Solanum pimpinellifolium and cultivated tomatoes. Plant J 95:312–323. https://doi.org/10.1111/tpj.13952

Zhou Z, Jiang Y, Wang Z, Gou Z, Lyu J, Li W, Yu Y, Shu L, Zhao Y, Ma Y, Fang C, Shen Y, Liu T, Li C, Li Q, Wu M, Wang M, Wu Y, Dong Y, Wan W, Wang X, Ding Z, Gao Y, Xiang H, Zhu B, Lee SH, Wang W, Tian Z (2015) Resequencing 302 wild and cultivated accessions identifies genes related to domestication and improvement in soybean. Nat Biotechnol 33:408–414. https://doi.org/10.1038/nbt.3096
Acknowledgements

This work has received funding from the European Union's Horizon 2020 Research and Innovation Programme under grant agreement No 677379 (G2P-SOL project: Linking genetic resources, genomes and phenotypes of Solanaceous crops) and from Spanish Ministerio de Economía, Industria y Competitividad and Fondo Europeo de Desarrollo Regional (grant AGL2015-64755-R from MINECO/FEDER).
Copyright information

© 2019 Springer Nature Switzerland AG
About this chapter
Cite this chapter
Gramazio, P., Vilanova, S., Prohens, J. (2019). Resequencing. In: Chapman, M. (eds) The Eggplant Genome. Compendium of Plant Genomes. Springer, Cham. https://doi.org/10.1007/978-3-319-99208-2_9