Abstract
The decisions on whether to adopt telemedicine can be influenced by a variety of factors. These factors can vary based on the context in which the system is going to be used. In extreme resource-poor countries (ERP), views of the advantages of telemedicine can be shaped not only by social-political and cultural factors but by the technology itself. This chapter discusses technical/system factors that can influence telemedicine adoption based on experiences in Haiti. Factors such as resources and infrastructure, technical service quality, end user support, comprehensive ease of use, and information completeness will be discussed. Recommendations and considerations for those considering implementing telemedicine systems in ERP countries that can also apply to non-ERP countries are provided.
Keywords
Telemedicine

Information science

Diffusion of innovation

Technology transfer

Developing countries
Telemedicine…" It allows us to connect a patient to a doctor and it allows s to erase time and distance which is really the miracle of telemedicine– Jay Robbins, Director of Telemedicine Tift Regional Health System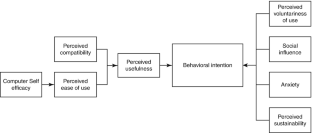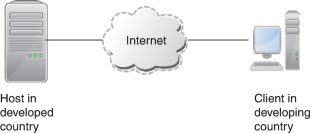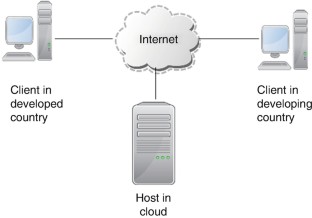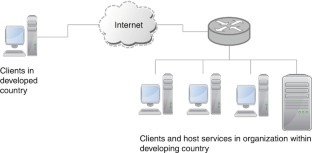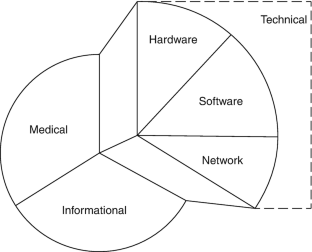 References
Adler-Milstein J, Kvedar J, Bates DW. Telehealth among US hospitals: several factors, including state reimbursement and licensure policies, influence adoption. Health Aff. 2014;33(2):207–15.

Kahn JM, Cicero BD, Wallace DJ, Iwashyna TJ. Adoption of intensive care unit telemedicine in the United States. Crit Care Med. 2014;42(2):362.

Research and Markets Offers Report: Global Telemedicine Market – Growth, Trends and Forecasts (2016–2020). Global Telemedicine Market 2016.

Kruse CS, Karem P, Shifflett K, Vegi L, Ravi K, Brooks M. Evaluating barriers to adopting telemedicine worldwide: a systematic review. J Telemed Telecare. 2018;24(1):4–12. 1357633X16674087.

Edworthy SM. Telemedicine in developing countries: may have more impact than in developed countries. Br Med J. 2001;323(7312):524.

Bashshur RL. Telemedicine effects: cost, quality, and access. J Med Syst. 1995;19(2):81–91.

Xue Y, Liang H, Mbarika V, Hauser R, Schwager P, Getahun MK. Investigating the resistance to telemedicine in Ethiopia. Int J Med Inform. 2015;84(8):537–47.

Mistry H. Systematic review of studies of the cost-effectiveness of telemedicine and telecare. Changes in the economic evidence over twenty years. J Telemed Telecare. 2012;18(1):1–6.

Saliba V, Legido-Quigley H, Hallik R, Aaviksoo A, Car J, McKee M. Telemedicine across borders: a systematic review of factors that hinder or support implementation. Int J Med Inform. 2012;81(12):793–809.

Adelakun O, Kallio P, Garcia R, Fleischer A. Telemedicine adoption and sustainability in extreme resource poor countries. 2016.

Weinstein RS, Lopez AM, Joseph BA, Erps KA, Holcomb M, Barker GP, et al. Telemedicine, telehealth, and mobile health applications that work: opportunities and barriers. Am J Med. 2014;127(3):183–7.

Wootton R. Telemedicine in the National Health Service. J R Soc Med. 1998;91(12):614.

Sood S, Mbarika V, Jugoo S, Dookhy R, Doarn CR, Prakash N, et al. What is telemedicine? A collection of 104 peer-reviewed perspectives and theoretical underpinnings. Teleme J E Health. 2007;13(5):573–90.

Oh H, Rizo C, Enkin M, Jadad A. What is eHealth (3): a systematic review of published definitions. J Med Internet Res. 2005;7(1):e1.

Devore PA, Paulich MJ, Talkington SG, Floeresch NR, Barton PL, Neal S. The slow pace of interactive video telemedicine adoption: the perspective of telemedicine program administrators on physician participation. Telemed J E Health. 2007;13(6):645–57.

Ruas SSM, Assunção AÁ. Teleconsultations by primary care physicians of Belo Horizonte: challenges in the diffusion of innovation. Teleme J E Health. 2013;19(5):409–14.

Grigsby J, Sanders JH. Telemedicine: where it is and where it's going. Ann Intern Med. 1998;129(2):123–7.

Whitten P, Love B. Patient and provider satisfaction with the use of telemedicine: overview and rationale for cautious enthusiasm. J Postgrad Med. 2005;51(4):294.

Hjelm N. Benefits and drawbacks of telemedicine. J Telemed Telecare. 2005;11(2):60–70.

Hailey D, Ohinmaa A, Roine R. Study quality and evidence of benefit in recent assessments of telemedicine. J Telemed Telecare. 2004;10(6):318–24.

Hailey D, Roine R, Ohinmaa A. Systematic review of evidence for the benefits of telemedicine. J Telemed Telecare. 2002;8(suppl 1):1–7.

Isabalija SR, Mayoka KG, Rwashana AS, Mbarika VW. Factors affecting adoption, implementation and sustainability of telemedicine information systems in Uganda. Electron J Inf Syst Dev Ctries. 2011;5(2):299–316.

Martin AB, Probst JC, Shah K, Chen Z, Garr D. Differences in readiness between rural hospitals and primary care providers for telemedicine adoption and implementation: findings from a statewide telemedicine survey. J Rural Health. 2012;28(1):8–15.

Lee Y, Kozar KA, Larsen KR. The technology acceptance model: past, present, and future. Commun Assoc Inf Syst. 2003;12(1):50.

Walker J, Whetton S. The diffusion of innovation: factors influencing the uptake of telehealth. J Telemed Telecare. 2002;8(suppl 3):73–5.

Hu PJ, Chau PY, Sheng ORL, Tam KY. Examining the technology acceptance model using physician acceptance of telemedicine technology. J Manag Inf Syst. 1999;16(2):91–112.

Hu PJ-H. Evaluating telemedicine systems success: a revised model. In: System sciences, 2003 proceedings of the 36th annual Hawaii international conference on: IEEE; 2003.

Orruño E, Gagnon MP, Asua J, Abdeljelil AB. Evaluation of teledermatology adoption by healthcare professionals using a modified technology acceptance model. J Telemed Telecare. 2011;17(6):303–7.

Croteau A-M, Vieru D, editors. Telemedicine adoption by different groups of physicians. System Sciences, 2002 HICSS Proceedings of the 35th Annual Hawaii International Conference on; 2002: IEEE.

Chau PY, Hu PJ-H. Investigating healthcare professionals' decisions to accept telemedicine technology: an empirical test of competing theories. Inf manage. 2002;39(4):297–311.

Miller EA. Telemedicine and doctor–patient communication: a theoretical framework for evaluation. J Telemed Telecare. 2002;8(6):311–8.

Kifle M, Payton FC, Mbarika V, Meso P. Transfer and adoption of advanced information technology solutions in resource-poor environments: the case of telemedicine systems adoption in Ethiopia. Teleme J E Health. 2010;16(3):327–43.

Shaw RJ, Kaufman MA, Bosworth HB, Weiner BJ, Zullig LL, Lee S-YD, et al. Organizational factors associated with readiness to implement and translate a primary care based telemedicine behavioral program to improve blood pressure control: the HTN-IMPROVE study. Implement Sci. 2013;8(1):106.

Mell P, Grance T. The NIST definition of cloud Computing 2011. 1–3. U.S. Department of Commerce. National Institute of Standards and Technology. https://nvlpubs.nist.gov/nistpubs/Legacy/SP/nistspecialpublication800-145.pdf.

Chanopas A, Krairit D, Ba Khang D. Managing information technology infrastructure: a new flexibility framework. Manage Res News. 2006;29(10):632–51.

Fuchs C, Horak E. Africa and the digital divide. Telematics Inform. 2008;25(2):99–116.

Van Dijk J, Hacker K. The digital divide as a complex and dynamic phenomenon. Inf Soc. 2003;19(4):315–26.

Gosselin RA, Maldonado A, Elder G. Comparative cost-effectiveness analysis of two MSF surgical trauma centers. World J Surg. 2010;34(3):415–9.

Laguerre MS. Information technology and development: the internet and the mobile phone in Haiti. Inf Technol Dev. 2013;19(2):100–11.

Mili L. Mitigating the vulnerability of critical infrastructure in developing countries. Washington D.C.: World Bank; 2003. p. 273–88.

Khawaja WS, Xinhai L. A case study of telemedicine for disaster management in underdeveloped remote districts of Balochistan, Pakistan. J Econ Sustain Dev. 2013;4(20):1–13.

Touray A, Salminen A, Mursu A. ICT barriers and critical success factors in developing countries. Electron J Inf Syst Dev Ctries. 2013;56:1.

Wallsten S. Regulation and internet use in developing countries. Econ Dev Cult Chang. 2005;53(2):501–23.

Aladwani AM. Key internet characteristics and e-commerce issues in Arab countries. Inf Technol People. 2003;16(1):9–20.

Petrazzini B, Kibati M. The internet in developing countries. Commun ACM. 1999;42(6):31–6.

Davison R, Vogel D, Harris R, Jones N. Technology leapfrogging in developing countries–an inevitable luxury. Electron J Inf Syst Dev Ctries. 2000;1(5):1–10.

Feder JL. Cell-phone medicine brings care to patients in developing nations. Health Aff. 2010;29(2):259–63.

Gunasekaran V, Harmantzis FC. Emerging wireless technologies for developing countries. Technol Soc. 2007;29(1):23–42.

Kshetri N. Cloud computing in developing economies. Computer. 2010;43(10):47–55.

Garcia R. An examination of instruments for measuring patient satisfaction with telemedicine. 2016.

Garcia R, Olayele A, Han W, editors. Defining dimensions of patient satisfaction with telemedicine: an analysis of existing measurement instruments. In: Proceedings of the 50th Hawaii international conference on system sciences; 2017.

Watkins SG, Parker JM, editors. Thinking outside the box: making digital content available where the internet is not. In: Forty years of sailing: connecting islands in a digital world-Proceedings of IAMSLIC conference; 2014.

Dada D. The failure of e-government in developing countries: a literature review. Electron J Inf Syst Dev Ctries. 2006;26:1.

Petter S, DeLone W, McLean ER. Information systems success: the quest for the independent variables. J Manag Inf Syst. 2013;29(4):7–62.

Ryu S. Telemedicine: opportunities and developments in member states: report on the second global survey on eHealth 2009 (global observatory for eHealth series, volume 2). Healthc Inf Res. 2012;18(2):153–5.

Mahmood MA, Burn JM, Gemoets LA, Jacquez C. Variables affecting information technology end-user satisfaction: a meta-analysis of the empirical literature. Int J Hum Comput Stud. 2000;52(4):751–71.

Hersh W, Margolis A, Quirós F, Otero P. Building a health informatics workforce in developing countries. Health Aff. 2010;29(2):274–7.

Indjikian R, Siegel DS. The impact of investment in IT on economic performance: implications for developing countries. World Dev. 2005;33(5):681–700.

Kuehn BM. Global shortage of health workers, brain drain stress developing countries. JAMA. 2007;298(16):1853–5.

Davis FD. Perceived usefulness, perceived ease of use, and user acceptance of information technology. MIS Q. 1989;13:319–40.

Eklund JM, Sprinkle J, Sastry S, Hansen T, editors. Information Technology for Assisted Living at Home: building a wireless infrastructure for assisted living. Engineering in Medicine and Biology Society. In: 2005 IEEE-EMBS 2005 27th annual international conference of the: IEEE; 2006.

Pentland A, Fletcher R, Hasson A. Daknet: rethinking connectivity in developing nations. Computer. 2004;37(1):78–83.

Brohman MK, Watson RT, Piccoli G, Parasurama A. Data completeness: a key to effective net-based customer service systems. Commun ACM. 2003;46(6):47–51.

Ong LM, De Haes JC, Hoos AM, Lammes FB. Doctor-patient communication: a review of the literature. Soc Sci Med. 1995;40(7):903–18.

Akter S, Ray P, D'Ambra J. Continuance of mHealth services at the bottom of the pyramid: the roles of service quality and trust. Electron Mark. 2013;23(1):29–47.
Copyright information
© 2019 Springer Nature Switzerland AG
About this chapter
Cite this chapter
Adelakun, O., Garcia, R. (2019). Technical Factors in Telemedicine Adoption in Extreme Resource-Poor Countries. In: Olivier, M., Croteau-Chonka, C. (eds) Global Health and Volunteering Beyond Borders. Springer, Cham. https://doi.org/10.1007/978-3-319-98660-9_7
DOI: https://doi.org/10.1007/978-3-319-98660-9_7

Published:

Publisher Name: Springer, Cham

Print ISBN: 978-3-319-98659-3

Online ISBN: 978-3-319-98660-9

eBook Packages: MedicineMedicine (R0)