Abstract

Non-formal learning in Communities of Practice (CoPs) makes up a significant portion of today's knowledge gain. However, only little technological support is tailored specifically towards CoPs and their particular strengths and challenges. Even worse, CoPs often do not possess the resources to host or even develop a software ecosystem to support their activities. In this paper, we describe a distributed, microservice-based Web infrastructure for non-formal learning in CoPs. It mitigates the need for central infrastructures, coordination or facilitation and takes into account the constant change of these communities. As a real use case, we implement an inquiry-based learning application on-top of our infrastructure. Our evaluation results indicate the usefulness of this learning application, which shows promise for future work in the domain of community-hosted, microservice-based Web infrastructures for learning outside of formal settings.
Keywords
Learning infrastructures

Microservices

Communities of Practice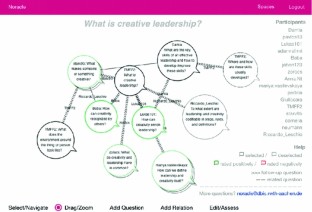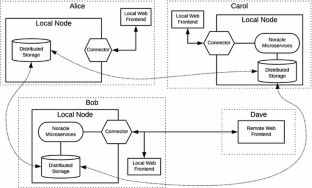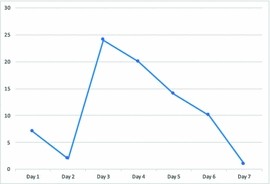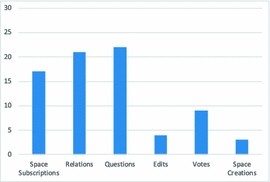 References
Anderson, C.: The long tail: why the future of business is selling less of more. Hyperion (2006)

Babaoglu, O., Marzolla, M.: The people's cloud. IEEE Spectr. 51(10), 50–55 (2014)

Benet, J.: IPFS - content addressed, versioned, p2p file system. arXiv preprint arXiv:1407.3561 (2014)

de Lange, P., Farell-Frey, T., Göschlberger, B., Klamma, R.: Transferring a question-based dialog framework to a distributed architecture. In: Lavoué, É., Drachsler, H., Verbert, K., Broisin, J., Pérez-Sanagustín, M. (eds.) EC-TEL 2017. LNCS, vol. 10474, pp. 549–552. Springer, Cham (2017). https://doi.org/10.1007/978-3-319-66610-5_60

Eshach, H.: Bridging in-school and out-of-school learning: formal, non-formal, and informal education. J. Sci. Educ. Technol. 16(2), 171–190 (2007)

Farrell-Frey, T., Gkotsis, G., Mikroyannidis, A.: Are you thinking what i'm thinking? representing metacognition with question-based dialogue. In: ARTEL 2016, pp. 51–58 (2016). http://ceur-ws.org/Vol-1736/

Garcia Lopez, P., et al.: Edge-centric computing: vision and challenges. SIGCOMM Comput. Commun. Rev. 45(5), 37–42 (2015)

Hevner, A.R., March, S.T., Park, J., Ram, S.: Design science in information systems research. MIS Q. 28(1), 75–105 (2004)

Iandoli, L., Quinto, I., De Liddo, A., Buckingham Shum, S.: On online collaboration and construction of shared knowledge: assessing mediation capability in computer supported argument visualization tools. JASIST 67(5), 1052–1067 (2016)

Klamma, R., Renzel, D., de Lange, P., Janßen, H.: las2peer - a primer. ResearchGate (2016). https://doi.org/10.13140/RG.2.2.31456.48645

McLoughlin, C., Patel, K., O'Callaghan, T., Reeves, S.: The use of virtual communities of practice to improve interprofessional collaboration and education: findings from an integrated review. J. Interprof. Care 32(2), 136–142 (2018)

Meyer, K.A.: Face-to-face versus threaded discussions: the role of time and higher-order thinking. JALN 7(3), 55–65 (2003)

Nejdl, W., Wolf, B., Qu, C., Decker, S., Sintek, M., Naeve, A., Nilsson, M., Palmér, M., Risch, T.: EDUTELLA: A p2p networking infrastructure based on RDF. In: WWW 2002, pp. 604–615. ACM (2002)

Newman, S.: Building Microservices: Designing Fine-Grained Systems. O'Reilly Media Inc, USA (2015)

Ochoa, X., Ternier, S.: Technical learning infrastructure, interoperability and standards. In: Duval, E., Sharples, M., Sutherland, R. (eds.) Technology Enhanced Learning, pp. 145–155. Springer, Cham (2017). https://doi.org/10.1007/978-3-319-02600-8_14

Pritchett, D.: BASE: an acid alternative. Queue 6(3), 48–55 (2008)

Renzel, D., Klamma, R., Jarke, M.: IS success awareness in community-oriented design science research. In: Donnellan, B., Helfert, M., Kenneally, J., VanderMeer, D., Rothenberger, M., Winter, R. (eds.) DESRIST 2015. LNCS, vol. 9073, pp. 413–420. Springer, Cham (2015). https://doi.org/10.1007/978-3-319-18714-3_33

Schugurensky, D.: The forms of informal learning: Towards a conceptualization of the field. Technical report, Centre for the Study of Education and Work (2000)

Sloane, P.: The Leader's Guide to Lateral Thinking Skills: Unlock the Creativity and Innovation in You and Your Team. Kogan Page (2017)

Wenger, E.: Communities of Practice: Learning, Meaning, and Identity. Learning in Doing. Cambridge University Press, Cambridge (1998)
Acknowledgments

This project has received funding from the European Union's Horizon 2020 research and innovation programme under grant agreements No 687669 (WEKIT) and from the European Union's Erasmus Plus programme, grant agreement 2017-1-NO01-KA203-034192.
Copyright information

© 2018 Springer Nature Switzerland AG
About this paper
Cite this paper
de Lange, P., Göschlberger, B., Farrell, T., Klamma, R. (2018). A Microservice Infrastructure for Distributed Communities of Practice. In: Pammer-Schindler, V., Pérez-Sanagustín, M., Drachsler, H., Elferink, R., Scheffel, M. (eds) Lifelong Technology-Enhanced Learning. EC-TEL 2018. Lecture Notes in Computer Science(), vol 11082. Springer, Cham. https://doi.org/10.1007/978-3-319-98572-5_14
DOI: https://doi.org/10.1007/978-3-319-98572-5_14

Published:

Publisher Name: Springer, Cham

Print ISBN: 978-3-319-98571-8

Online ISBN: 978-3-319-98572-5

eBook Packages: Computer ScienceComputer Science (R0)