Abstract

Number of devices needing wireless communication is more than ever. The main ingredient of wireless communication-the spectrum-is limited and due to the unprecedented growth of smart devices the demand for spectrum is high. To serve all the devices needing wireless communication, intelligent spectrum sensing and its trading has been the hot topic of research in this decade. In spectrum trading, so far in the literature, two layers are considered in terms of primary and secondary users. However, it may be the case, that the secondary users (may be NGOs) may redistribute their spectrum to some third party (downtrodden people of the rural areas) freely. To the best of our knowledge, this environment is not addressed in the literature so far. In this paper this three layer potentially demanding architecture is studied and algorithms are proposed based on the theory of mechanism design without money. Our algorithm is also simulated with a specially designed benchmark algorithm.
Keywords
Spectrum Trading

Tertiary Market

Secondary Users

Strict Preference Order

Strategyproof
These keywords were added by machine and not by the authors. This process is experimental and the keywords may be updated as the learning algorithm improves.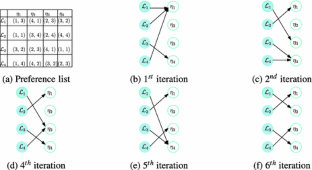 Notes
1.

The dynamic environment version of the problem is reserved for our future work. By dynamic environment we mean that the agents may arrive and depart from the system on regular basis.
References
Bandyopadhyay, A., Mukhopadhyay, S., Ganguly, U.: Allocating resources in cloud computing when users have strict preferences. In: 2016 International Conference on Advances in Computing, Communications and Informatics (ICACCI), pp. 2324–2328, September 2016

Feng, X., Chen, Y., Zhang, J., Zhang, Q., Li, B.: TAHES: a truthful double auction mechanism for heterogeneous spectrum. IEEE Trans. Wirel. Commun. 11(11), 4038–4047 (2012)

Habes, M.R., Belleili-Souici, H.: Towards a fairer negotiation for dynamic resource allocation in cloud by relying on trustworthiness. Int. J. Grid Util. Comput. 8(3), 185–200 (2017)

Hyder, C.S., Jeitschko, T.D., Xiao, L.: Bid and time strategyproof online spectrum auctions with dynamic user arrival and dynamic spectrum supply. In: 2016 25th International Conference on Computer Communication and Networks (ICCCN), pp. 1–9, August 2016

Köppen, M., Yoshida, K., Tsuru, M.: Relational approaches to resource-aware multi-maxmin fairness in multi-valued resource sharing tasks. Int. J. Space Based Situat. Comput. 3(2), 91–101 (2013)

Mochaourab, R., Holfeld, B., Wirth, T.: Distributed channel assignment in cognitive radio networks:stable matching and walrasian equilibrium. IEEE Trans. Wirel. Commun. 14, 3924–3936 (2015)

Roughgarden, T.: Lectures Notes on Algorithmic Game Theory. Cambridge university press, June 2014

Roughgarden, T.: Lecture #1: the draw and college admissions, 26 September 2016

Schummer, J., Vohra, R.K.: Mechanism design without money. In: Algorithmic Game Theory, pp. 243–267. Cambridge University Press, New York (2007)

Shapley, L.S., Scarf, H.: On cores and indivisibility. J. Math. Econ. 1, 23–37 (1974)

Singh, V.K., Mukhopadhyay, S., Das, R.: Hiring doctors in e-healthcare with zero budget, pp. 379–390. Springer International Publishing, Cham (2018)

Singh, V.K., Mukhopadhyay, S., Sharma, A., Roy, A.: Hiring expert consultants in e-healthcare: a two sided matching approach. CoRR, abs/1703.08698 (2017)

Wang, X., Ji, Y., Zhou, H., Li, J.: A non monetary qos-aware auction framework toward secure communications for cognitive radio networks. IEEE Trans. Veh. Technol. 65(7), 5611–5623 (2016)

Wang, X., Ji, Y., Zhou, H., Li, J.: Auction-based frameworks for secure communications in static and dynamic cognitive radio networks. IEEE Trans. Veh. Technol. 66(3), 2658–2673 (2017)

Wang, Y., Yu, J., Lin, X., Zhang, Q.: A uniform framework for network selection in cognitive radio networks, pp. 3708–3713 (2015)

Yang, D., Xue, G., Zhang, X.: Group buying spectrum auctions in cognitive radio networks. IEEE Trans. Veh. Technol. 66, 810–817 (2016)

Yi, C., Cai, J., Zhang, G.: Online spectrum auction in cognitive radio networks with uncertain activities of primary users. In: 2015 IEEE International Conference on Communications (ICC), London, pp. 7576–7581 (2015). https://doi.org/10.1109/ICC.2015.7249538

Zhan, S.-C., Chang, S.-C.: Double auction design for short-interval and heterogeneous spectrum sharing. IEEE Trans. Cogn. Commun. Netw. 2(1), 83–94 (2016)

Zhang, Y., Song, L., Pan, M., Dawy, Z., Han, Z.: Non-cash auction for spectrum trading in cognitive radio networks: contract theoretical model with joint adverse selection and moral hazard. IEEE J. Sel. Areas Commun. 35(3), 643–653 (2017)

Zhou, X., Zheng, H.: TRUST: a general framework for truthful double spectrum auctions. In: IEEE INFOCOM 2009, pp. 999–1007 (2009)
Copyright information

© 2019 Springer Nature Switzerland AG
About this paper
Cite this paper
Chowdhury, A.B., Xhafa, F., Rongpipi, R., Mukhopadhyay, S., Singh, V.K. (2019). Spectrum Trading in Wireless Communication for Tertiary Market. In: Xhafa, F., Barolli, L., Greguš, M. (eds) Advances in Intelligent Networking and Collaborative Systems. INCoS 2018. Lecture Notes on Data Engineering and Communications Technologies, vol 23. Springer, Cham. https://doi.org/10.1007/978-3-319-98557-2_13
DOI: https://doi.org/10.1007/978-3-319-98557-2_13

Published:

Publisher Name: Springer, Cham

Print ISBN: 978-3-319-98556-5

Online ISBN: 978-3-319-98557-2