Abstract

This chapter aims to explore how the notion of human security is perceived and interpreted by Cambodians, and what suggestions can be offered for mitigating the human insecurities faced by the people. The authors conducted extensive interview surveys and focus group discussions targeting key stakeholders as well as ordinary villagers. Guided by the framework of the seven dimensions of human security proposed in the Human Development Report 1994, the authors try to identify threats in Cambodia. According to interviewees, human security in Cambodia will only be ensured through "cooperative" communication and collaboration among multiple layers of the government, political parties, and other stakeholders. Those who are in power should listen to the voices of the people.
Keywords
Human Security

Rural Focus Group

United Nations Transitional Authority In Cambodia (UNTAC)

Fear Freedom

ASEAN Association Of Southeast Asian Nations (ASEAN)
These keywords were added by machine and not by the authors. This process is experimental and the keywords may be updated as the learning algorithm improves.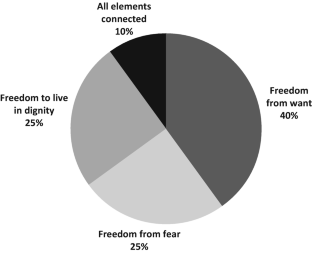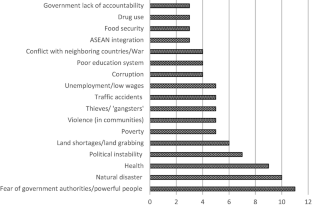 Notes
1.

The Cambodian Mine Action Centre (CMAC) estimates that there may still be 4–6 million mines and other pieces of unexploded ordnance in Cambodia (CMAC 2014).

2.

Comment made at a meeting of the Prey Lang Network at the Foreign Correspondents' Club, Phnom Penh, June 19, 2014.
References
ADB (Asian Development Bank). 2017. Basic Statistics. Manila: ADB.

Cambodia Ministry of Public Works. 2012. Annual Report on Traffic Accidents 2012. Phnom Penh: Ministry of Public Works.

CDRI (Cambodia Development Research Institute). 2014. Annual Development Review 2013–2014: Development Inclusiveness, Sustainability and Governance in Cambodia. Phnom Penh: CDRI.

CMAC (Cambodia Mine Action Center). 2014. Ten Years: Achievements and Perspectives. Phnom Penh: CMAC.

Gellman, Neesha. 2007. Powerful Cultures: Indigenous and Western Conflict Resolution Practices in Cambodian Peacebuilding. Journal of Peace, Conflict and Development 11: 25–36.

Gregory, Peter. 2013. Cambodian Government Must Reform Land Rights Laws. Cambodia Daily, June 6.

Heuveline, Patrick. 1998. Between One and Three Million: Towards the Demographic Reconstruction of a Decade of Cambodian History (1970–79). Population Studies 52: 49–65.

Ministry of Planning. 2014. National Strategic Development Plan 2014–2018. http://mop.gov.kh/Home/NSDP/NSDP20142018/tabid/216/Default.aspx. Accessed 24 Oct 2015.

Morton, Eddie. 2014. Cambodia Most Vulnerable to Climate Change: Study. Phnom Penh Post, June 12.

Nishikawa, Yukiko. 2009. Human Security in Southeast Asia: Viable Solution or Empty Slogan? Security Dialogue 40 (2): 213–236.

———. 2010. Human Security in Southeast Asia. London: Routledge.

Peou, Sorpong. 2014. Human Security in Post-Cold War Cambodia. In Post-Conflict Development in East Asia, ed. Brendan M. Howe, 117–136. Burlington: Ashgate.

Pheap, Aun. 2014. Unions Tell Garment Workers to Suspend Strike. The Cambodia Daily, January 8.

Reaksmey, Hul. 2014. CNRP Promises Museum to Document 'Criminal' Acts by CPP. Cambodia Daily, July 7.

Southeast Asia Weekly. 2013. Cambodia Starts Focusing on Human Security. Southeast Asia Weekly, December 29.

Sundaranaman, Shankari. 1997. Cambodia Since the UNTAC: Deep into the Quagmire. https://www.idsa-india.org/an-sep-8.html. Accessed 25 Oct 2014.

Transparency International. 2014. Cambodia: Corruption Concerns Amid Hopes for the Future. Transparency International, February 20.

Umegaki, Michio. 2009. Introduction: East Asia in a Human Security Perspective. In Human Insecurity in East Asia, ed. Michio Umegaki, Lynn Thiesmeyer, and Atsushi Watabe, 1–19. Tokyo: United Nations University Press.

UNDP (United Nations Development Programme). 1994. Human Development Report 1994. New York: Oxford University Press.

World Bank. 2014. Poverty Has Fallen, Yet Many Cambodians Are Still at Risk of Falling Back into Poverty, Report Finds. Washington, DC: World Bank.
About this chapter
Cite this chapter
Sovachana, P., Beban, A. (2019). Human Security Problems in Cambodia: Far from Over. In: Mine, Y., Gómez, O.A., Muto, A. (eds) Human Security Norms in East Asia. Security, Development and Human Rights in East Asia. Palgrave Macmillan, Cham. https://doi.org/10.1007/978-3-319-97247-3_2
DOI: https://doi.org/10.1007/978-3-319-97247-3_2

Published:

Publisher Name: Palgrave Macmillan, Cham

Print ISBN: 978-3-319-97246-6

Online ISBN: 978-3-319-97247-3