Abstract
The materialization of a creative interaction with a poem through translation reveals how reading a poem is a plurilingual, as well as visual, experience which allows the translator to re-visit and inscribe past readings and other sensorial experiences.
This chapter initially engages with the notion of intersemiotic 'translatability' of the poetic form, by examining principles of visual poetics. Successively, the phenomenological nature of the reading experience is explored with an experimental translation of "Tramonto" (Sunset) (1916), a three-line composition by Italian poet Giuseppe Ungaretti, into three digital images. These eventually form a physical object, a triptych entitled "Sunset Triptych".
Observations on these translations attempt to assess the importance of the role of multimodality and intermediality in literary translation.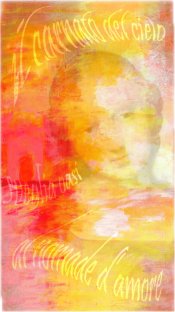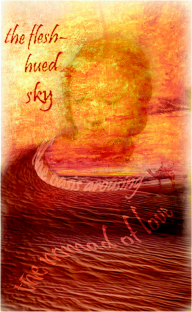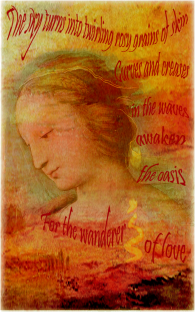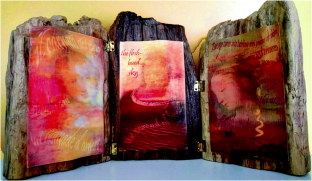 Notes
1.

This consciousness has, of course, increased with the advent of graphic design and successively with digitalisation processes.

2.

Visual poetry is a complex and variegated phenomenon still resisting taxonomies. However, the variety of phenomena can be summarised with a spectrum that ranges from visual poems using exclusively the material resources of the verbal language to create pictorial meaning (including concrete poetry, pattern poetry, typography), to works that are purely visual, with the absence of verbal language. In the middle of the spectrum, to varying degrees, examples of visual poetry combine verbal and non-verbal materials. Theorising the 'poeticness' of texts standing at the purely visual pole is more challenging than those standing at the verbal pole.

3.

See also Lars Elleström (2016) on "Visual Iconicity."

4.

Alison Gibbons' (2012) Multimodality, Cognition and Experimental Literature is an interesting study which looks at visual experiments in multimodal novels, underscoring the fact that multimodal experiments are not restricted to poetry.

5.

Taxonomic controversies reveal the difficulties of categorising concepts such as modality and medium, precisely due to the sheer diversity of the phenomenon. Among recent studies, Lars Elleström (ed.) in Media Borders,MultimodalityandIntermediality (2010) attempts to define these two terms, contributing to terminological and conceptual clarity.

6.

It is important to emphasise that the multimodal perspective of translation does not simply refer to audiovisual texts, which multimodality is generally associated with in Translation Studies.

7.

The conflation of the ephemeral and the eternal is expressed in another imagistic poem by Ungaretti, "Eterno" (1914), consisting of only two verses:

"Eterno"

Tra un fiore colto e l'altro donato

l'inesprimibile nulla

"Eternal"

Between one flower plucked and the other offered

the inexpressible nothingness

(my translation)

8.

The opportunity to exhibit "Sunset Triptych" for an interaction with visitors was given by the exhibition TransARTation:Wandering Texts, Travelling Objects, 2017 (http://transartation.co.uk/), which gathered together a variety of image-translations and translation-objects. The possibility of manipulating the object in a specific moment and in a specific environment allows the phenomenology of the reading experience initiated by the translator to be handed over to the reader-viewer.

9.

In EkphrasticEncounter in Contemporary British Poetry and Elsewhere (2012), Kennedy mentions the work by Monica Prendergast in theatre and curriculum studies: "Prendergast notes that in a play 'we are always witnessing the actor and the character contemporaneously, that is, in the same place and the same time' and argues that 'Ekphrasis asks for this phenomenological double-mindedness of the spectator as well'" (12).
References
Bohn, Willard. 1986. The Aesthetics of Visual Poetry 1914–1928. Cambridge: Cambridge University Press.

Elleström, Lars, ed. 2010. Media Borders, Multimodality and Intermediality. Houndmills and Basingstoke: Palgrave Macmillan.

Elleström, Lars. 2016. "Visual Iconicity." Orbis Litterarum 71 (6): 437–72.

Gibbons, Alison. 2012. Multimodality, Cognition and Experimental Literature. London: Routledge.

Jakobson, Roman. 1959 (2000). "On Linguistic Aspects of Translation." In The Translation Studies Reader, edited by Lawrence Venuti, 113–25. London and New York: Routledge.

Kennedy, David. 2012. The Ekphrastic Encounter in Contemporary British Poetry and Elsewhere. New York: Routledge.

Lee, Tong-King. 2013. "Performing Multimodality: Literary Translation, Intersemioticity and Technology." Perspectives: Studies in Translatology 21 (2): 241–56.

Lessing, Gotthold Ephraim. 1879. Selected Prose Works of G. E. Lessing. Edited by Edward Bell, translated by E.C. Beasley and Helen Zimmer. London: G. Bell.

Livorni, Ernesto. 1998. Avanguardia e tradizione: Ezra Pound e Giuseppe Ungaretti. Firenze: Le Lettere.

Loffredo, Eugenia, and Manuela Perteghella, eds. 2009. One Poem in Search of a Translator: Rewriting 'Les Fenêtres' by Apollinaire. Oxford: Peter Lang.

Lund, Hans. 1992. Text as Picture: Studies in the Literary Transformation of Pictures. Translated by Kacke Götrick. Lewiston, Queenston, and Lampeter: The Edwin Mellen Press.

Petrilli, Susan, ed. 2003. Translation Translation. Amsterdam and New York: Rodopi.

Prohm, Alan. 2013. "Resources of Visual Poetics." https://alanprohm.wordpress.com/resources-for-a-visual-poetics-prohm/. Accessed August 21, 2017.

Scott, Clive. 2000. Translating Baudelaire. Exeter: University of Exeter Press.

Scott, Clive. 2012. Literary Translation and the Rediscovery of Reading. Cambridge: Cambridge University Press.

Scott, Clive. 2014. Translating Apollinaire. Exeter: University of Exeter Press.

Torop, Peeter. 2003. "Intersemiosis and Intersemiotic Translation." In Translation Translation, edited by Susan Petrilli, 271–82. Amsterdam and New York: Rodopi.

Ungaretti, Giuseppe. 1992. Vita di uomo: Tutte le poesie. Milan: Oscar Mondadori.
About this chapter
Cite this chapter
Loffredo, E. (2019). Incarnating a Poem in Images: An Intersemiotic Translation of "Tramonto" by Giuseppe Ungaretti. In: Campbell, M., Vidal, R. (eds) Translating across Sensory and Linguistic Borders. Palgrave Macmillan, Cham. https://doi.org/10.1007/978-3-319-97244-2_2
DOI: https://doi.org/10.1007/978-3-319-97244-2_2

Published:

Publisher Name: Palgrave Macmillan, Cham

Print ISBN: 978-3-319-97243-5

Online ISBN: 978-3-319-97244-2

eBook Packages: Social SciencesSocial Sciences (R0)