Abstract

Methods for the experimental determination of dynamic coefficients are commonly used for the analysis of various types of bearings, including hydrodynamic, aerodynamic and foil bearings. There are currently several algorithms that allow estimating bearing dynamic coefficients. Such algorithms usually use various excitation techniques applied to rotor–bearings systems. So far only a small number of scientific publications show how calculated dynamic coefficients of bearings change as speed rises. In the literature, there are no computation results that demonstrate changes in these coefficients either in a broad range of speeds (that would cover resonant speeds) or at speeds at which a phenomenon of hydrodynamic instability can be observed. This article fills the literature gap in question. For calculation purposes, the impulse response method based on an in-house algorithm (with a linear approximation using the least squares method) was applied. On its basis, the stiffness, damping and mass coefficients of a rotor–bearings system were calculated. It turns out that some of the obtained values of damping coefficients are negative at the resonant speed. Moreover, if the values are calculated at a speed at which the hydrodynamic instability phenomenon is present they are accompanied by considerably higher standard deviations. On the basis of our computation results and the literature review, capabilities and limitations of the method used for the experimental identification of dynamic coefficients of hydrodynamic bearings were discussed.
Keywords
Bearing dynamic coefficients

Experimental research

Nonlinear coefficients

Impact excitation

Hydrodynamic bearing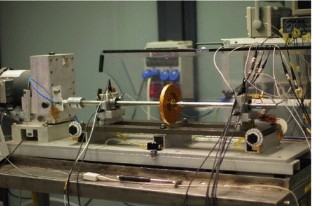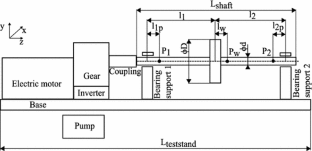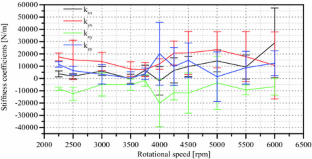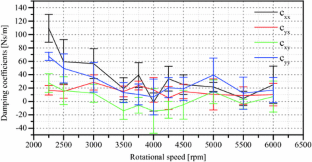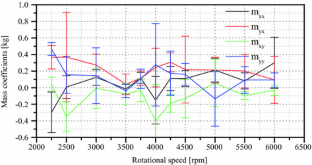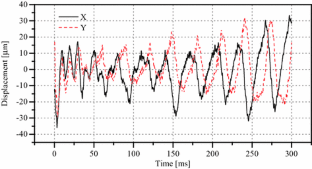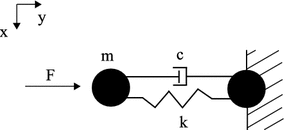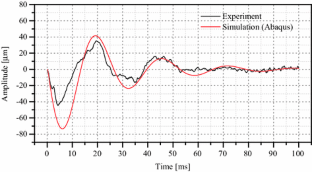 References
Tiwari, R., Lees, A.W., Friswell, M.I.: Identification of dynamic bearing parameters: a review. Shock Vib. Dig. 36, 99–124 (2004)

Wang, X., Li, H., Meng, G.: Rotordynamic coefficients of a controllable magnetorheological fluid lubricated floating ring bearing. Tribol. Int. 114, 1–14 (2017)

Li, Q., Wang, W., Weaver, B., Wood, H.: Model-based interpolation-iteration method for bearing coefficients identification of operating flexible rotor-bearing system. Int. J. Mech. Sci. 131–132, 471–479 (2017)

Nordmann, R., Schoellhorn, K.: Identification of stiffness and damping coefficients of journal bearings by means of the impact method. In: 2nd International Conference on Vibrations in Rotating Machinery, pp. 231–238 (1980)

Qiu, Z.L., Tieu, A.K.: Identification of sixteen force coefficients of two journal bearings from impulse responses. Wear 212, 206–212 (1997)

Breńkacz, Ł.: Identification of stiffness, damping and mass coefficients of rotor-bearing system using impulse response method. J. Vibroeng. 17, 2272–2282 (2015)

Breńkacz, Ł., Żywica, G.: The sensitivity analysis of the method for identification of bearing dynamic coefficients. In: Awrejcewicz, J. (ed.) Dynamical Systems: Modelling: Łódź Poland, December 7–10, 2015, pp. 81–96. Springer International Publishing, Cham (2016)

Kudra, G., Awrejcewicz, J.: Application and experimental validation of new computational models of friction forces and rolling resistance. Acta Mech. 226, 2831–2848 (2015)

Awrejcewicz, J., Dzyubak, L.P.: Chaos caused by hysteresis and saturation phenomenon in 2-DOF vibrations of the rotor supported by the magneto-hydrodynamic bearing. Int. J. Bifurc. Chaos. 21, 2801 (2011)

Kaźmierczak, M., Kudra, G., Awrejcewicz, J., Wasilewski, G.: Mathematical modelling, numerical simulations and experimental verification of bifurcation dynamics of a pendulum driven by a dc motor. Eur. J. Phys. 36 (2015)

Breńkacz, Ł., Żywica, G.: An experimental investigation conducted in order to determine bearing dynamic coefficients of two hydrodynamic bearings using impulse responses. Trans. Inst. Fluid-Flow Mach. 133, 39–54 (2016)

Breńkacz, Ł., Żywica, G., Drosińska-Komor, M.: The experimental identification of the dynamic coefficients of two hydrodynamic journal bearings operating at constant rotational speed and under nonlinear conditions. Polish Marit. Res. 24, 108–115 (2017)

Bagiński, P., Żywica, G.: Analysis of dynamic compliance of the supporting structure for the prototype of organic Rankine cycle micro-turbine with a capacity of 100 kWe. J. Vibroeng. 18, 3153–3163 (2016)

Jin, J., Wang, Z., Cao, L.: Numerical analysis on the influence of the twisted blade on the aerodynamic performance of turbine. Pol. Marit. Res. 23, 86–90 (2016)

Olejnik, P., Awrejcewicz, J.: Coupled oscillators in identification of nonlinear damping of a real parametric pendulum. Mech. Syst. Signal Process. 98, 91–107 (2018)
Acknowledgements

The research is being financed by the National Science Centre (NCN) in Poland under the research project no. 2015/17/N/ST8/01825. Calculations were carried out at the Academic Computer Centre in Gdańsk (CI TASK).
Copyright information

© 2018 Springer International Publishing AG, part of Springer Nature
About this paper
Cite this paper
Breńkacz, Ł., Żywica, G., Drosińska-Komor, M., Szewczuk-Krypa, N. (2018). The Experimental Determination of Bearings Dynamic Coefficients in a Wide Range of Rotational Speeds, Taking into Account the Resonance and Hydrodynamic Instability. In: Awrejcewicz, J. (eds) Dynamical Systems in Applications. DSTA 2017. Springer Proceedings in Mathematics & Statistics, vol 249. Springer, Cham. https://doi.org/10.1007/978-3-319-96601-4_2