Abstract

We present a space- and phenotype-structured model of selection dynamics between cancer cells within a solid tumour. In the framework of this model, we combine formal analyses with numerical simulations to investigate in silico the role played by the spatial distribution of oxygen and therapeutic agents in mediating phenotypic selection of cancer cells. Numerical simulations are performed on the 3D geometry of an in vivo human hepatic tumour, which was imaged using computerised tomography. Our modelling extends our previous work in the area through the inclusion of multiple therapeutic agents, one that is cytostatic, whilst the other is cytotoxic. In agreement with our previous work, the results show that spatial inhomogeneities in oxygen and therapeutic agent concentrations, which emerge spontaneously in solid tumours, can promote the creation of distinct local niches and lead to the selection of different phenotypic variants within the same tumour. A novel conclusion we infer from the simulations and analysis is that, for the same total dose, therapeutic protocols based on a combination of cytotoxic and cytostatic agents can be more effective than therapeutic protocols relying solely on cytotoxic agents in reducing the number of viable cancer cells.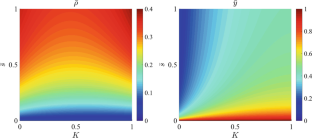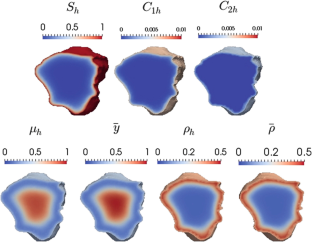 References
J.D. Gordan, J.A. Bertout, C.-J. Hu, J.A. Diehl, M.C. Simon, Hif-2α promotes hypoxic cell proliferation by enhancing c-Myc transcriptional activity. Cancer Cell 11(4), 335–347 (2007)

C. Legendre, S. Avril, C. Guillet, E. Garcion, Low oxygen tension reverses antineoplastic effect of iron chelator deferasirox in human glioblastoma cells. BMC Cancer 16(1), 51 (2016)

M.C. Lloyd, J.J. Cunningham, M.M. Bui, R.J. Gillies, J.S. Brown, R.A. Gatenby, Darwinian dynamics of intratumoral heterogeneity: not solely random mutations but also variable environmental selection forces. Cancer Res. 76(11), 3136–3144 (2016)

T. Lorenzi, C. Venkataraman, A. Lorz, M.A. Chaplain, The role of spatial variations of abiotic factors in mediating intratumour phenotypic heterogeneity. Preprint available from http://hdl.handle.net/10023/10685 (2017)

A. Lorz, T. Lorenzi, J. Clairambault, A. Escargueil, B. Perthame, Modeling the effects of space structure and combination therapies on phenotypic heterogeneity and drug resistance in solid tumors. Bull. Math. Biol. 77(1), 1–22 (2015)

L.M. Merlo, J.W. Pepper, B.J. Reid, C.C. Maley, Cancer as an evolutionary and ecological process. Nat. Rev. Cancer 6(12), 924–935 (2006)

S. Mirrahimi, B. Perthame, Asymptotic analysis of a selection model with space. J. de Mathématiques Pures et Appliquées 104(6), 1108–1118 (2015)

S. Strese, M. Fryknäs, R. Larsson, J. Gullbo, Effects of hypoxia on human cancer cell line chemosensitivity. BMC Cancer 13(1), 1 (2013)

V. Walther, C.T. Hiley, D. Shibata, C. Swanton, P.E. Turner, C.C. Maley, Can oncology recapitulate paleontology? Lessons from species extinctions. Nat. Rev. Clin. Oncol. 12(5), 273–285 (2015)
Acknowledgements

CV wishes to acknowledge partial support from the European Union's Horizon 2020 research and innovation programme under the Marie Sklodowska-Curie grant agreement No 642866. AL was supported by King Abdullah University of Science and Technology (KAUST) baseline and start-up funds (BAS/1/1648-01-01 and BAS/1/1648-01-02). MAJC gratefully acknowledges support of EPSRC grant no. EP/N014642/1.
Copyright information

© 2019 Springer Nature Switzerland AG
About this paper
Cite this paper
Chaplain, M.A.J., Lorenzi, T., Lorz, A., Venkataraman, C. (2019). Mathematical Modelling of Phenotypic Selection Within Solid Tumours. In: Radu, F., Kumar, K., Berre, I., Nordbotten, J., Pop, I. (eds) Numerical Mathematics and Advanced Applications ENUMATH 2017. ENUMATH 2017. Lecture Notes in Computational Science and Engineering, vol 126. Springer, Cham. https://doi.org/10.1007/978-3-319-96415-7_20