Abstract

A quantitative assessment of TV White Space in Tanzania was conducted to assess the level of spectrum utilization as well as a key milestone towards the use of white space for affordable broadband communication. Two approaches have been used; pollution and protection viewpoints and experimental spectrum measurements based on energy detection principle. The study focused on 470–694 MHz UHF spectrum band which is used for digital terrestrial television in Tanzania. It was found that, more than 120 MHz is available as white space in various locations in Tanzania when pollution and protection view point was used and about 184 MHz are available as white space in Dodoma urban using experimental spectrum measurements and almost 100% of the available frequencies are not used in Dodoma rural. Both approaches revealed that there is low spectrum utilization and therefore presents a best case towards development of dynamic spectrum access technologies in Tanzania.
Keywords
White space

Spectrum analyzer

Energy detection principle

Dynamic spectrum access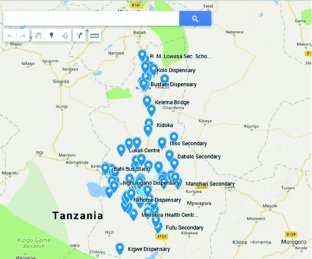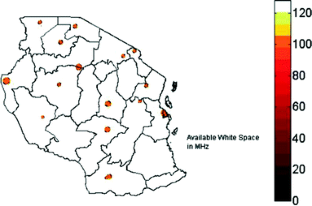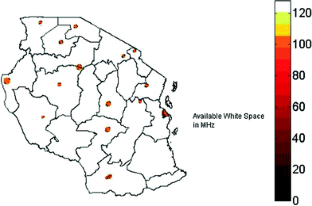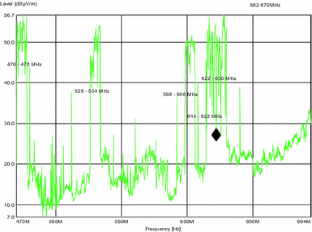 Notes
1.

While TV transmitters' information is publicly available in other countries including US, it is not so in Tanzania. This information is only available upon request to Tanzania Communications Regulatory Authority.
References
TCRA: Telecommunication Statistics as at March 2007 (2007). https://www.tcra.go.tz/index.php/2007/March-2007. Accessed 29 June 2017

TCRA: Quarterly Communications Statistics Report: January–March 2017 Quarter. Dar es Salaam (2017)

McHenry, M.A., Tenhula, P.A., McCloskey, D., Roberson, D.A., Hood, C.S.: Chicago spectrum occupancy measurements & analysis and a long-term studies proposal. In: TAPAS' 2006, Proceedings of the First International Workshop on Technology and Policy for Accessing Spectrum, Article No. 1 (2006)

López-Benítez, M., Umbert, A., Casadevall, F.: Evaluation of spectrum occupancy in Spain for cognitive radio applications. In: VTC Spring 2009 - IEEE 69th Vehicular Technology Conference, Barcelona, pp. 1–5 (2009)

Martian, A.: Evaluation of spectrum occupancy in urban and rural environments of Romania. Rev. Roum. des Sci. Tech. - Ser. Electrotech. Energ. 59(1), 87–96 (2014)

Pintor, A.L.C., To, M.R.S., Salenga, J.S., Geslani, G.M., Agpawa, D.P., Cabatuan, M.K.: Spectrum survey of VHF and UHF bands in the Philippines. In: TENCON 2012, IEEE Region 10 Conference, Cebu, pp. 1–6 (2012)

Mehdawi, M., Riley, N., Paulson, K., Fanan, A., Ammar, M.: Spectrum occupancy survey in HULL-UK for cognitive radio applications: measurement & analysis. Int. J. Sci. Technol. Res. 2(4), 231–236 (2013)

Van de Beek, J., Riihijarvi, J., Achtzehn, A., Mahonen, P.: TV white space in Europe. IEEE Trans. Mob. Comput. 11(2), 178–188 (2012)

Fadda, M., Popescu, V., Murroni, M., Angueira, P., Morgade, J.: On the feasibility of unlicensed communications in the TV white space: field measurements in the UHF band. Int. J. Digit. Multimed. Broadcast. 2015 (2015)

Barnes, S.D., Jansen Van Vuuren, P.A., Maharaj, B.T.: Spectrum occupancy investigation: measurements in South Africa. Meas. J. Int. Meas. Confed. 46(9), 3098–3112 (2013)

Nekovee, M.: Quantifying the availability of TV white spaces for cognitive radio operation in the UK. In: 2009 IEEE International Conference on Communications Workshops, Dresden, pp. 1–5 (2009)

Naik, G., Singhal, S., Kumar, A., Karandikar, A.: Quantitative assessment of TV white space in India. In: 2014 Twentieth National Conference on Communications (NCC), pp. 1–6 (2014)

Brown, T.X., Pietrosemoli, E., Zennaro, M., Bagula, A., Mauwa, H., Nleya, S.M.: A survey of TV white space measurements. In: International Conference on E-Infrastructure and E-Services for Developing Countries, pp. 164–172 (2014)

Kumar, P., Rakheja, N., Sarswat, A., Varshney, H., Bhatia, P., Goli, S.R., Ribeiro, V.J., Sharma, M.: White space detection and spectrum characterization in urban and rural India. In: 2013 IEEE 14th International Symposium on "A World Wireless, Mobile and Multimedia Networks" (WoWMoM), Madrid, pp. 1–6 (2013)

Mishra, S.M.: Maximizing Available Spectrum for Cognitive Radios. University of California at Berkeley, Berkeley (2010)

Hata, M.: Empirical formula for propagation loss in land mobile radio services. IEEE Trans. Veh. Technol. 29(3), 317–325 (1980)

RF Explorer: RF Explorer User Manual. http://j3.rf-explorer.com/download/docs/RFExplorerSpectrumAnalyzerUserManual.pdf. Accessed 27 June 2017

Rohde-Schwarz: Monitoring Software R&S ARGUS. http://www.rohde-schwarz-ad.com/docs/specmon/TI_ARGUS.pdf. Accessed 17 May 2017

Makris, D., Gardikis, G., Kourtis, A.: Quantifying TV white space capacity: a geolocation-based approach. IEEE Commun. Mag. 50(9), 145–152 (2012)

Harrison, K., Mishra, S.M., Sahai, A.: How much white-space capacity is there? In: 2010 IEEE Symposium on New Frontiers in Dynamic Spectrum Access Network (DySPAN), Singapore, pp. 1–10 (2010)

Zennaro, M., Pietrosemoli, E., Mlatho, J., Thodi, M., Mikeka, C.: An assessment study on white spaces in Malawi using affordable tools. In: 2013 IEEE Global Humanitarian Technology Conference (GHTC), San Jose, CA, pp. 265–269 (2013)

Dinh, C.H., Van Tien, P.: Assessment of TV white space in Vietnam. In: 2014 International Conference on Advanced Technologies for Communications (ATC 2014), Hanoi, pp. 637–640 (2014)

United Repubic of Tanzania (URT): 2012 Population and Housing Census Population Distribution by Administrative Areas. National Bureau of Statistics, Dar es Salaam (2013)
Acknowledgments

Mr. Jabhera Matogoro, a first author of this study would like to extend his thanks to NAM S&T Centre of New Delhi and Indian Institute of Technology Bombay, India for the award of Six Months Research Training Fellowship for Developing Country Scientists (RTF-DCS) where he participated in TV White Space Research Project in India. This work was also supported by various stakeholders in different capacity, including; The University of Dodoma, Higher Education Students' Loans Board, International Centre for Theoretical Physics, Internet Society, Council for Scientific and Industrial Research and Tanzania Communications Regulatory Authority.
Copyright information

© 2018 ICST Institute for Computer Sciences, Social Informatics and Telecommunications Engineering
About this paper
Cite this paper
Matogoro, J., Mvungi, N.H., Justinian, A., Karandikar, A., Singh, J. (2018). Towards Affordable Broadband Communication: A Quantitative Assessment of TV White Space in Tanzania. In: Mekuria, F., Nigussie, E., Dargie, W., Edward, M., Tegegne, T. (eds) Information and Communication Technology for Development for Africa. ICT4DA 2017. Lecture Notes of the Institute for Computer Sciences, Social Informatics and Telecommunications Engineering, vol 244. Springer, Cham. https://doi.org/10.1007/978-3-319-95153-9_29
DOI: https://doi.org/10.1007/978-3-319-95153-9_29

Published:

Publisher Name: Springer, Cham

Print ISBN: 978-3-319-95152-2

Online ISBN: 978-3-319-95153-9

eBook Packages: Computer ScienceComputer Science (R0)