Abstract

Currently, wheelchair rugby athletes face the challenges of playing the sport without specifically designed sports-wear kit. A few designs and recommendations have already been proposed by researchers but none have made it to market yet. The purpose of this study was to evaluate a set of design recommendations for the development of wheelchair rugby sports-wear. This was done so that the products to be created are developed in collaboration with their potential users, responding to their particular needs and requirements. The evaluation was done through an online survey, where the athletes were presented with a visual representation of the design recommendations. The results indicate that the people questioned agree with the majority of the proposed designs and would be happy to have these improvements made to their current sports-wear. The most criticised recommendations were for the gloves, as they are the most important part of the kit, so it is important that they are adequate and allow for a good performance.
Keywords
Sports-wear

Wheelchair rugby

Design recommendations

Inclusive design

Gloves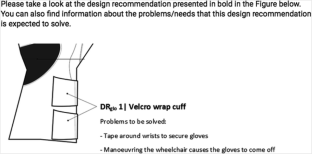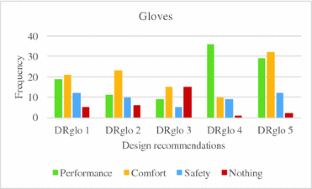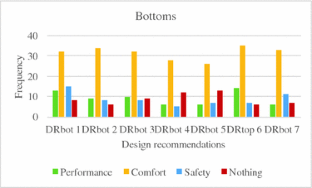 References
Chua, J.: A novel approach to identify and quantify activity and performance in wheelchair rugby. Ph.D. (2013)

Sasaki, M., Kimura, T., Matsuo, K., Obinata, G., Iwami, T., Miyawaki, K., Kiguchi, K.: Simulator for optimal wheelchair design. J. Robot. Mechatron. 20, 854 (2008)

Usma-Alvarez, C.C., Subic, A., Burton, M., Fuss, F.K.: Identification of design requirements for rugby wheelchairs using the QFD method. Procedia Eng. 2, 2749–2755 (2010)

Fowler, D.: The attributes sought in sports apparel: a ranking. J. Mark. Theory Pract. 7, 81–88 (1999)

Kratz, G., Söderback, I., Guidetti, S., Hultling, C., Rykatkin, T., Söderström, M.: Wheelchair users' experience of non-adapted and adapted clothes during sailing, quad rugby or wheel-walking. Disabil. Rehabil. 19, 26–34 (1997)

Bragança, S., Castellucci, I., Gill, S., Matthias, P., Carvalho, M., Arezes, P.: Insights on the apparel needs and limitations for athletes with disabilities: the design of wheelchair rugby sports-wear. Appl. Ergon. 67, 9–25 (2018)

Bruseberg, A., McDonagh-Philp, D.: New product development by eliciting user experience and aspirations. Int. J. Hum. Comput. 55, 435–452 (2001)

Pullin, G.: Design Meets Diability. MIT Press, Cambridge, Massachusetts (2009)

Hignett, S.: Why design starts with people. Health Found., 1–5 (2013)

Antonela, C., Viorica, C., Laura, M., Marian, P.: Designing functional clothes for persons with locomotor disabilities. Autex Res. J. 14, 281–289 (2014)

Mason, B.S., van der Woude, L.H.V., Goosey-Tolfrey, V.L.: Influence of glove type on mobility performance for wheelchair rugby players. Am. J. Phys. Med. Rehabil. 88, 559–570 (2009)

Lutgendorf, M., Mason, B.S., Van Der Woude, L.H.V., Goosey-Tolfrey, V.L.: The effect of glove type on wheelchair rugby sports performance. Assist. Technol. Res. Ser. 26, 363–365 (2009)
Acknowledgments

The authors wish to acknowledge the commitment of the participants of this study. This study had the financial support of FCT - Fundação para a Ciência e a Tecnologia of Portugal under the projects UID/CEC/00319/2013 and UID/CTM/000264; and FEDER funds through the Competitive Factors Operational Program (COMPETE) POCI-01-0145-FEDER-007136.
Copyright information

© 2019 Springer International Publishing AG, part of Springer Nature
About this paper
Cite this paper
Braganca, S., Castellucci, I., Gill, S., Carvalho, M., Arezes, P. (2019). Evaluation of Design Recommendations for the Development of Wheelchair Rugby Sports-Wear. In: Di Bucchianico, G. (eds) Advances in Design for Inclusion. AHFE 2018. Advances in Intelligent Systems and Computing, vol 776. Springer, Cham. https://doi.org/10.1007/978-3-319-94622-1_3
DOI: https://doi.org/10.1007/978-3-319-94622-1_3

Published:

Publisher Name: Springer, Cham

Print ISBN: 978-3-319-94621-4

Online ISBN: 978-3-319-94622-1

eBook Packages: EngineeringEngineering (R0)