Abstract

Big data technologies enable smart city systems in sensing the city at micro-levels, making intelligent decisions, and taking appropriate actions, all within stringent time bounds. Social media have revolutionized our societies and is gradually becoming a key pulse of smart societies by sensing the information about the people and their spatio-temporal experiences around the living spaces. In this paper, we use Twitter for the detection of spatio-temporal events in London. Specifically, we use big data and machine learning platforms including Spark, and Tableau, to study twitter data about London. Moreover, we use the Google Maps Geocoding API to locate the tweeters and make additional analysis. We find and locate congestion around London and empirically demonstrate that events can be detected automatically by analyzing data. We detect the occurrence of multiple events including the London Notting Hill Carnival 2017 event, both their locations and times, without any prior knowledge of the event. The results presented in the paper have been obtained by analyzing over three million tweets.
Keywords
Smart cities

Big data

High performance computing

Social media analysis

Machine learning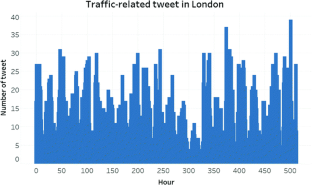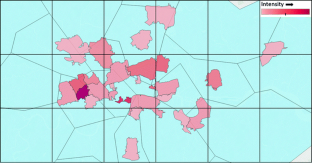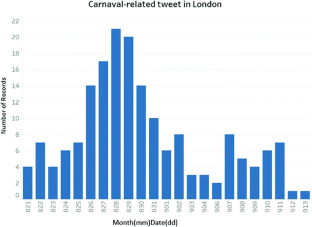 References
Suma, S., Mehmood, R., Albugami, N., Katib, I., Albeshri, A.: Enabling next generation logistics and planning for smarter societies. Procedia Comput. Sci. 109, 1122–1127 (2017)

London.gov.uk: Notting Hill Carnival (2017). https://www.london.gov.uk/events/2017-08-26/notting-hill-carnival-2017

Khan, Z., Anjum, A., Soomro, K., Tahir, M.A.: Towards cloud based big data analytics for smart future cities. J. Cloud Comput. 4, 1–11 (2015)

Herrera-Quintero, L.F., Banse, K., Vega-Alfonso, J., Venegas-Sanchez, A.: Smart ITS sensor for the transportation planning using the IoT and Bigdata approaches to produce ITS cloud services, pp. 3–9 (2016)

Kolchyna, O., Treleaven, P.C., Aste, T.: A framework for twitter events detection, differentiation and its application for retail brands (2016)

Arfat, Y., Aqib, M., Mehmood, R., Albeshri, A., Katib, I., Albogami, N., Alzahrani, A.: Enabling smarter societies through mobile big data fogs and clouds. Procedia Comput. Sci. 109, 1128–1133 (2017)

Ayres, G., Mehmood, R.: On discovering road traffic information using virtual reality simulations. In: 11th International Conference on Computer Modelling and Simulation, UKSim 2009, pp. 411–416 (2009)

Ayres, G., Mehmood, R.: LocPriS: a security and privacy preserving location based services development framework (2010)

Mehmood, R., Graham, G.: Big data logistics: a health-care transport capacity sharing model. Procedia Comput. Sci. 64, 1107–1114 (2015)

Mehmood, R., Lu, J.A.: Computational Markovian analysis of large systems. J. Manuf. Technol. Manag. 22, 804–817 (2011)

Mehmood, R., Meriton, R., Graham, G., Hennelly, P., Kumar, M.: Exploring the influence of big data on city transport operations: a Markovian approach. Int. J. Oper. Prod. Manag. (2016, forthcoming)

Graham, G., Mehmood, R., Coles, E.: Exploring future cityscapes through urban logistics prototyping: a technical viewpoint. Supply Chain Manag. 20, 341–352 (2015)

Alazawi, Z., Alani, O., Abdljabar, M.B., Altowaijri, S., Mehmood, R.: A smart disaster management system for future cities. In: International Workshop on Wireless and Mobile Technologies for Smart Cities, WiMobCity 2014, pp. 1–10 (2014)

Alazawi, Z., Abdljabar, Mohmmad B., Altowaijri, S., Vegni, A.M., Mehmood, R.: ICDMS: an intelligent cloud based disaster management system for vehicular networks. In: Vinel, A., Mehmood, R., Berbineau, M., Garcia, C.R., Huang, C.-M., Chilamkurti, N. (eds.) Nets4Cars/Nets4Trains 2012. LNCS, vol. 7266, pp. 40–56. Springer, Heidelberg (2012). https://doi.org/10.1007/978-3-642-29667-3_4

Gu, Y., Sean, Z., Chen, F.: From twitter to detector: real-time traffic incident detection using social media data. Transp. Res. Part C Emerg. Technol. 67, 321–342 (2016)

Nguyen, D.T., Jung, J.E.: Real-time event detection for online behavioral analysis of big social data. Futur. Gener. Comput. Syst. 66, 137–145 (2017)

Unankard, S., Li, X., Sharaf, M.A.: Emerging event detection in social networks with location sensitivity. World Wide Web 18, 1393–1417 (2015)

Wang, Y.: Tweeting cameras for event detection categories and subject descriptors. In: International World Wide Web Conferences Steering Committee, pp. 1231–1241 (2015)

Kaleel, S.B., Abhari, A.: Cluster-discovery of twitter messages for event detection and trending. J. Comput. Sci. 6, 47–57 (2015)

D'andrea, E., Ducange, P., Lazzerini, B., Marcelloni, F.: Real-time detection of traffic from twitter Stream analysis. IEEE Trans. Intell. Transp. Syst. 16, 2269–2283 (2015)

Li, R., Lei, K.H., Khadiwala, R., Chang, K.C.C.: TEDAS: a Twitter-based event detection and analysis system. In: 2012 IEEE 28th International Conference on Data Engineering, Washington, DC, pp. 1273–1276 (2012). https://doi.org/10.1109/ICDE.2012.125

Gutierrez, C., Figuerias, P., Oliveira, P., Costa, R., Jardim-Goncalves, R.: Twitter mining for traffic events detection. In: 2015 Science and Information Conference (SAI), pp. 371–378. IEEE (2015)

Apache: Apache Spark. https://spark.apache.org/

Fujitsu Ltd.: Fujitsu Releases World's Highest-Performance File System. http://www.fujitsu.com/global/about/resources/news/press-releases/2011/1017-01.html

Ranks.nl: stopwords. http://www.ranks.nl/stopwords

Lextek.com: Stop Word List 1. http://www.lextek.com/manuals/onix/stopwords1.html

Github.com/Alir3z4: stop-words. https://github.com/Alir3z4/stop-words/blob/master/english.txt

Tableau: What is tableau - make your data make an impact. https://www.tableau.com/trial/tableau-software

Visitlondon.com: London Events Calendar. http://www.visitlondon.com/things-to-do/whats-on/special-events/london-events-calendar#KRbiWhui4SMAd9PT.97

Underbellyfestival.com: About underbelly festival. http://www.underbellyfestival.com/about
Acknowledgments

The authors acknowledge with thanks the technical and financial support from the Deanship of Scientific Research (DSR) at the King Abdulaziz University (KAU), Jeddah, Saudi Arabia, under the grant number G-661-611-38. The experiments reported in this paper were performed on the Aziz supercomputer at King AbdulAziz University.
Copyright information

© 2018 ICST Institute for Computer Sciences, Social Informatics and Telecommunications Engineering
About this paper
Cite this paper
Suma, S., Mehmood, R., Albeshri, A. (2018). Automatic Event Detection in Smart Cities Using Big Data Analytics. In: Mehmood, R., Bhaduri, B., Katib, I., Chlamtac, I. (eds) Smart Societies, Infrastructure, Technologies and Applications. SCITA 2017. Lecture Notes of the Institute for Computer Sciences, Social Informatics and Telecommunications Engineering, vol 224. Springer, Cham. https://doi.org/10.1007/978-3-319-94180-6_13
DOI: https://doi.org/10.1007/978-3-319-94180-6_13

Published:

Publisher Name: Springer, Cham

Print ISBN: 978-3-319-94179-0

Online ISBN: 978-3-319-94180-6

eBook Packages: Computer ScienceComputer Science (R0)