Abstract

Accompanied, domestic dogs frequently disturb birds on coasts, and meet the ecological definition of invasive species. Dogs occur most commonly singly or in 'packs' of two dogs. We examine whether group size (one versus two leashed dogs) influenced Flight-initiation Distance (FID), a measure of wariness towards potential predators, of birds on southern Australian beaches. We report 303 FIDs from 16 species, of which seven species had sufficient data to compare responses between one and two dog approaches. None of the seven focal species varied their FID or escape modality (walk/run versus fly) with one versus two dogs approaching. Birds do not apparently judge risk associated with dogs in relation to 'pack' size. Regulations which reduce the number of dogs walked are therefore unlikely to reduce disturbance of coastal birds. Further studies, using unleashed dogs, and dogs which bark, may evoke greater responsiveness than reported here and may reveal indirect effects of dog group size.
Keywords
Beach

Canid

Disturbance

Gulls

Pets

Shorebirds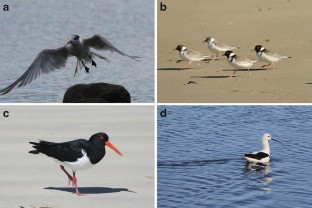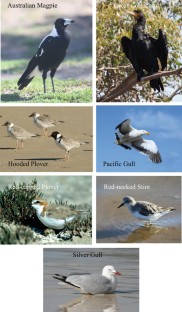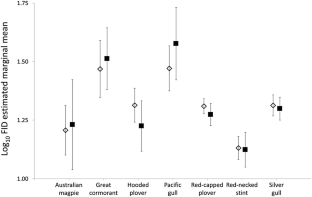 References
Blumstein DT (2003) Flight-initiation distance in birds is dependent on intruder starting distance. J Wildl Manag 67:852–857

Blumstein DT (2016) Habituation and sensitization: new thoughts about old ideas. Anim Behav 120:255–262

Brackenbury J (1984) Physiological responses of birds to flight and running. Biol Rev 59:559–575

Frid A, Dill LM (2002) Human-caused disturbance stimuli as a form of predation risk. Conserv Ecol 6:11

Geist C, Liao J, Libby S, Blumstein DT (2005) Does intruder group size and orientation affect flight initiation distance in birds? Anim Biodivers Conserv 28:69–73

Gill JA (2007) Approaches to measuring the effects of human disturbance on birds. Ibis 149:9–14

Glover HK, Weston MA, Maguire GS, Miller KK, Christie BA (2011) Towards ecologically meaningful and socially acceptable buffers: response distances of shorebirds in Victoria, Australia, to human disturbance. Landsc Urban Plann 103:326–334

Glover HK, Guay P-J, Weston MA (2015) Up the creek with a paddle; avian flight distances from canoes versus walkers. Wetl Ecol Manage 23:775–778

Guay P-J, McLeod EM, Taysom AJ, Weston MA (2014) Are vehicles 'mobile bird hides'? A test of the 'cars cause less disturbance' hypothesis. Vic Nat 131:150–155

Hughes J, MacDonald DW (2013) A review of the interactions between free-roaming domestic dogs and wildlife. Biol Conserv 157:341–351

Lenth BE, Knight RL, Brennan ME (2008) The effects of dogs on wildlife communities. Nat Areas J 28:218–227

Lethlean H, van Dongen WFD, Kostoglou K, Guay P-J, Weston MA (2016) Joggers cause greater avian disturbance than walkers. Landsc Urban Plan 159:42–47

Maguire GS, Miller KK, Weston MA (2018) Only the strictest rules apply: investigating regulation compliance on beaches to minimize invasive dog impacts on threatened shorebird populations. In: Finkl CW, Makowski C (eds) Impacts of invasive species on coastal environments: coasts in crisis. Springer, Dordrecht

McLeod EM, Guay P-J, Taysom AJ, Robinson RW, Weston MA (2013) Buses, cars, bicycles and walkers: the influence of the type of human transport on the flight responses of waterbirds. PLoS One 8:e82008

Mertens PA, Unshelm J (1996) Effects of group and individual housing on the behavior of kennelled dogs in animal shelters. Anthrozoös 9:40–51

Miller SG, Knight RL, Miller CK (2001) Wildlife responses to pedestrians and dogs. Wildl Soc Bull 29:124–132

Paton DC, Ziembicki M, Owen P, Heddle C (2000) Disturbance distances for water birds and the management of human recreation with special reference to the Coorong Region of South Australia. The University of Adelaide, Adelaide

Pongrácz P, Csaba M, Miklósi A (2010) Barking in family dogs: an ethological approach. Vet J 183:141–147

Randler C (2006) Disturbances by dog barking increase vigilance in coots Fulica atra. Eur J Wildl Res 52:265–270

Samia DSM, Nakagawa S, Nomura F, Rangel TF, Blumstein DT (2015) Increased tolerance to humans among disturbed wildlife. Nat Commun 6:8877

Schlacher TA, Weston MA, Lynn D, Connolly RM (2013) Setback distances as a conservation tool in wildlife-human interactions: testing their efficacy for birds affected by vehicles on open-coast sandy beaches. PLoS One 8(9):e71200

Schlacher TA, Weston MA, Lynn D, Schoeman DS, Huijbers CM, Olds AD, Masters S, Connolly RM (2015) Conservation gone to the dogs: when canids rule the beach in small coastal reserves. Biodivers Conserv 24:493–509

Sutherland WJ (2007) Future directions in disturbance research. Ibis 149:120–124

Wallace P (2016) Managing human disturbance of wildlife in coastal areas. N Z Geogr 72:133–143

Weston MA, Stankowich T (2013) Dogs as agents of disturbance. In: Gompper ME (ed) Free-ranging dogs and wildlife conservation. Oxford University Press, Oxford, pp 94–116

Weston MA, McLeod EM, Blumstein DT, Guay P-J (2012) A review of flight-initiation distances and their application to managing disturbance to Australian birds. Emu 112:269–286

Weston MA, Fitzsimons JA, Wescott G, Miller KK, Ekanayake KB, Schneider T (2014) Bark in the park: a review of domestic dogs in parks. Environ Manag 54:373–382

Williams KJH, Weston MA, Henry S, Maguire GS (2009) Birds and beaches, dogs and leashes: dog owners' sense of obligation to leash dogs on beaches in Victoria, Australia. Hum Dimens Wildl 14:89–101

Young JK, Olson KA, Reading RP, Amgalanbaatar S, Berger J (2011) Is wildlife going to the dogs? Impacts of feral and free-roaming dogs on wildlife populations. Bioscience 61:125–132
Acknowledgements

This third year summer research project was funded by a Summer Research Scholarship (Victoria University, College of Engineering and Science), and a Summer Project Prize (Deakin University, School of Life and Environmental Sciences). Deakin Animal Ethics Approval (B32-2012) and DEWLP Permit 10007151 applied to this work. Write-up was supported by the Beach Ecology And Conservation Hub (BEACH, Venus Bay).
Appendix A: Supplementary Tables
Appendix A: Supplementary Tables
Copyright information

© 2019 Springer International Publishing AG, part of Springer Nature
About this chapter
Cite this chapter
Guinness, S., Van Dongen, W.F., Guay, PJ., Robinson, R.W., Weston, M.A. (2019). Evaluating How the Group Size of Domestic, Invasive Dogs Affect Coastal Wildlife Responses: The Case of Flight-Initiation Distance (FID) of Birds on Southern Australian Beaches. In: Makowski, C., Finkl, C. (eds) Impacts of Invasive Species on Coastal Environments. Coastal Research Library, vol 29. Springer, Cham. https://doi.org/10.1007/978-3-319-91382-7_12
DOI: https://doi.org/10.1007/978-3-319-91382-7_12

Published:

Publisher Name: Springer, Cham

Print ISBN: 978-3-319-91381-0

Online ISBN: 978-3-319-91382-7