Abstract
This study integrates ethnoarchaeological, archaeological, and microbotanical evidence to investigate ancient culinary practice at the Pre-Aksumite archaeological site of Mezber (1600 BC-AD 1) in Eastern Tigrai, northern Ethiopia . Starch grains were successfully extracted from Mezber grinding stones and four taxa were identified to cf. Fabaceae and sub-groups of Poaceae. The small sample of starch extracted from the grinding stones appears to be in general agreement with the Pre-Aksumite macro-botanical record. Recovered starches were damaged by grinding and heat treatment both of which suggest they were deposited on grinding stones through food preparation activities involving grinding. Ethnoarchaeological studies of grinding stone surfaces and cooking practice were completed to provide an interpretive context for archaeological starch and grinding stone evidence. Heating damage observed on cf. Triticeae starch suggests that Mezber inhabitants were processing roasted barley flour which is a widespread culinary practice today.
Keywords
Archaeobotany

Culinary practice

Ethiopia

Ethnoarchaeology

Foodways

Grinding stones

Roasted barley flour

Pre-Aksumite period

Starch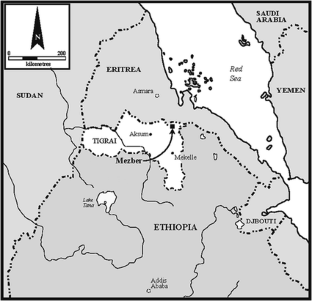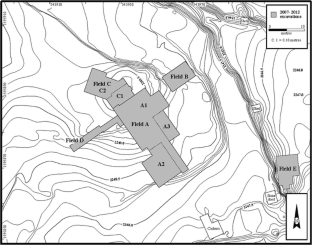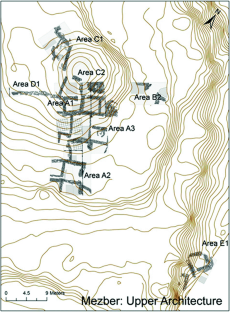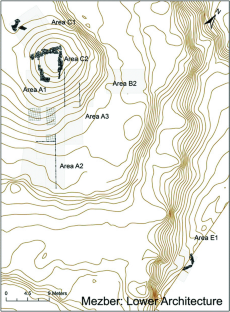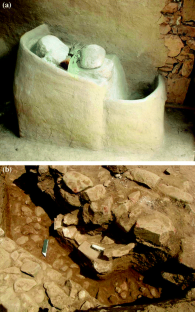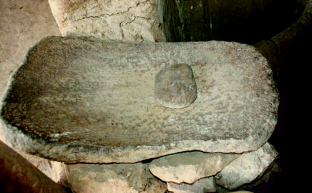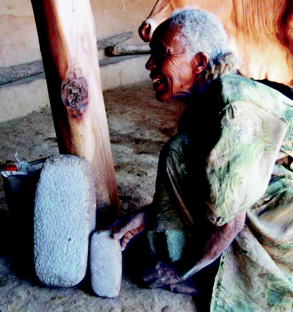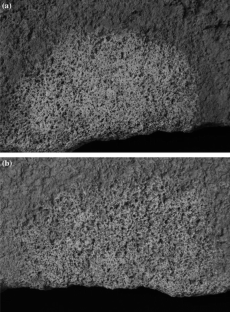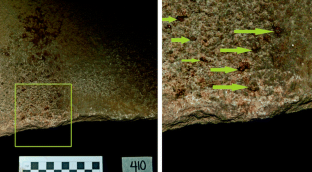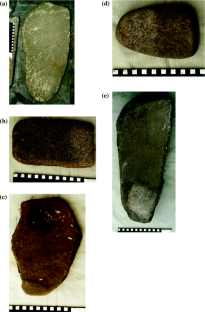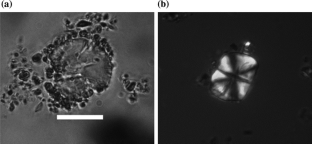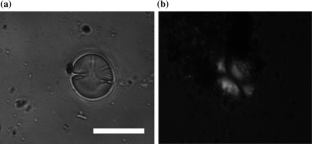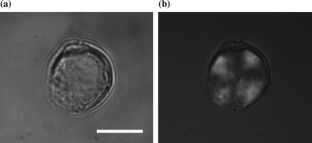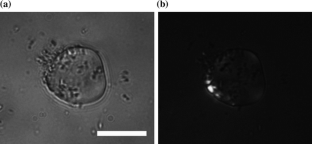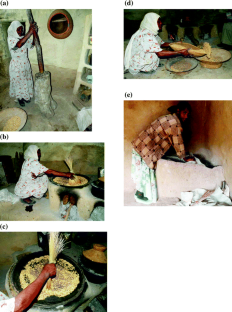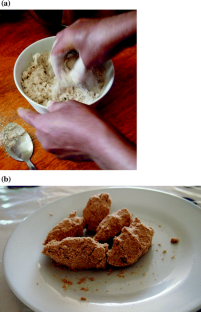 References
Abraha A, Uhlen AK, Abay F et al (2013) Roasted barley foods: processing and varietal differences affecting kolo and tihini, traditional grain products in northern Ethiopia. Cereal Food World 58(2):71–79

Adams JL (1988) Use-wear analyses on manos and hide-processing stones. J Field Archaeol 15(3):307–315

Adams JL (1993) Toward understanding the technological development of manos and metates. Kiva 58(3):331–344

Adams JL (2014a) Ground stone analysis: a technological approach. The University of Utah Press, Salt Lake City

Adams JL (2014b) Ground stone use-wear analysis: a review of terminology and experimental methods. J Archaeol Sci 48:129–138

Aranguren B, Becattini R, Lippi RM et al (2007) Grinding flour in Upper Palaeolithic Europe (25,000 years bp). Antiquity 81(314):845–855

Arthur JW (2014) Culinary crafts and foods in southwestern Ethiopia: an ethnoarchaeological study of Gamo groundstones and pottery. Afr Archaeol Rev 31(2):131–168

Asfaw Z (1990) An ethnobotanical study of barley in the central highlands of Ethiopia. Biol Zbl 109:51–62

Baba WN, Rashid I, Shah A et al (2016) Effect of microwave roasting on antioxidant and anticancerous activities of barley flour. J Saudi Agric Sci 15(1):12–19

Babot MDP (2003) Starch grain damage as an indicator of food processing. In: Hart DM, Wallis LA (eds) Phytolith and starch research in the Australian-Pacific-Asian Regions: the state of the art. Papers from a conference held at the ANU, August 2001, Canberra, Australia, Pandanus Books, pp 69–81

Bekele B, Alemayehu F, Ladew B (2005) Food barley in Ethiopia. In: Grando S, Macpherson HG (eds) Food barley: importance, uses and local knowledge. Proceedings of the International Workshop on Food Barley Improvement. ICARDA, Aleppo, pp 53–82

Beldados A, D'Andrea AC, Manzo A (in prep) Filling the Gap: new Archaeobotanical evidence for 3rd–1st Millennium BCE Agricultural Economy in Sudan and Ethiopia

Beldados A, Costantini L (2011) Sorghum exploitation and Kassala and its environs, north eastern Sudan in the second and first millennia BC. Nyame Akuma 75:33–39

Beldados A, Manzo A, Murphy C et al. (2018) Evidence of sorghum cultivation and introduced West African crops in the second millennium BC at Kasala, Eastern Sudan

Boardman SJ (1999) The agricultural foundation of the Aksumite empire, Ethiopia. In: van der Veen M (ed) Plants and people in Africa: recent archaeobotanical evidence. Plenum Publishing Corp, New York, pp 137–147

Boardman SJ (2000) Archaeobotany. In: Phillipson DW (ed) Archaeology at Aksum, Ethiopia, 1993–7, vol 2. The British Institute in Eastern Africa and the Society of Antiquaries of London, London, pp 363–368

D'Andrea AC, Welton L (in prep) Mezber: A Pre-Aksumite Settlement in the Northern Horn of Africa

D'Andrea AC (2008) T'ef (Eragrostis tef) in ancient agricultural systems of highland Ethiopia. Econ Bot 62(4):547–566

D'Andrea AC (2018, in press) Palaeoethnobotanical investigations at Ona Nagast. In: Bard K, Fattovich R (eds) Archaeology of Bieta Giyorgis, Aksum. Cotsen Institute of Archaeology, UCLA

D'Andrea AC, Haile M (2002) Traditional emmer processing in highland Ethiopia. J Ethnobio 22(2):179–217

D'Andrea AC, Wadge P (2011) T'ef (Eragrostis tef): a legacy of pastoralism? In: Fahmy AG, Kahlheber S, D'Andrea AC (eds) Windows on the African past: current approaches to African archaeobotany. Africa Magna Verlag, Frankfurt, pp 225–241

D'Andrea AC, Manzo A, Harrower MJ et al (2008a) The Pre-Aksumite and Aksumite settlement of NE Tigrai, Ethiopia. J Field Archaeol 33(2):151–176

D'Andrea AC, Schmidt PR, Curtis MC (2008b) Palaeoethnobotanical analysis and agricultural economy in early 1st millennium BCE sites around Asmara. In: Schmidt PR, Curtis MC, Teka Z (eds) The archaeology of eritrea. Red Sea Press, Trenton New Jersey, pp 207–216

D'Andrea AC, Richards MP, Pavlish LA et al (2011) Stable isotopic analysis of human and animal diets from two pre-Aksumite/Proto-Aksumite archaeological sites in northern Ethiopia. J Archaeol Sci 38(2):367–374

Harlan JR (1995) Barley. In: Smartt J, Simmonds NW (eds) Evolution of crop plants, 2nd edn. Longman Group UK Limited, London

Harrower MJ, D'Andrea AC (2014) Landscapes of state Formation: geospatial analysis of Aksumite settlement patterns (Ethiopia). Afr Archaeol Rev 31:513–541

Henry AG, Hudson HF, Piperno DR (2009) Changes in starch grain morphologies from cooking. J Archaeol Sci 36:915–922

Horrocks M (2005) A combined procedure for recovering phytoliths and starch residues from soils, sedimentary deposits and similar materials. J Archaeol Sci 32:1169–1175

Horsfall GA (1987) Design theory and grinding stones. In: Hayden B (ed) Lithic studies among the contemporary highland Maya. University of Arizona Press, Tucson, pp 332–377

Jamieson RJ, Sayre MB (2010) Barley and identity in the Spanish colonial Audiencia of Quito: archaeobotany of the 18th century San Blas neighbourhood in Riobamba. J Anthropol Archaeol 29(2):208–218

Kerssie M, Goitom L (1996) Barley utilization. In: Gebre H, van Leur J (eds) Barley research in Ethiopia: past works and future prospects. Proceedings, First Barley Research Review Workshop. ICARDA, Addis Ababa, pp 167–170

Laurent Y (2015) The Tibetans in the making: barley cultivation and cultural representations. Rev Etud Tibétaines 33:73–108

Liu L, Field J, Fullagar R et al (2010) What did grinding stones grind? New light on Early Neolithic subsistence economy in the Middle Yellow River Valley, China. Antiquity 84(325):816–833

Lyons D (2007) Integrating African cuisines: rural cuisine and identity in Tigray, highland Ethiopia. J Soc Archaeol 7:346–371

Lyons DE, D'Andrea AC (2003) Griddles, ovens and the origins of agriculture: an ethno-archaeological study of bread baking in highland Ethiopia. Am Anthropol 105(3):515–530

Nigusse BT (2005) Barley farming systems and types of barley end uses for human consumption as described by farmers in Eritrea. In: Grando S, Macpherson HG (eds) Food barley: importance, uses and local knowledge. ICARDA, Aleppo, pp 36–41

Nixon-Darcus L (2014) The cultural context of food grinding equipment in northern Ethiopia: an ethnoarchaeological approach. Unpublished M.A. Thesis, Simon Fraser University

Nixon-Darcus L, D'Andrea AC (2017) Necessary for life: studies of ancient and modern grinding stones in highland Ethiopia. Afr Archaeol Rev 34(2):193–223

Norbu D (2006) Economic policy and practice in contemporary Tibet. In: Sautman B, Dreyer JT (eds) Contemporary Tibet: politics, development, and society in a disputed region. M.E. Sharpe, New York

Pearsall DM, Chandler-Ezell K, Zeidler JA (2004) Maize in ancient Ecuador: results of residue analysis of stone tools from the Real Alto site. J Archaeol Sci 31:423–442

Perry L (2004) Starch analyses reveal the relationship between tool type and function: an example from the Orinoco valley of Venezuela. J Archaeol Sci 31(8):1069–1081

Perry L, Quigg JM (2011) Starch remains and stone boiling in the Texas Panhandle Part 2: identifying wild rye (Elymus spp.). Plains Anthropol 56:109–120

Peterson EA (2017) Development of craft specialization during the Pre-Aksumite period in Eastern Tigrai, Ethiopia: a study of hideworking traditions. Unpublished Ph.D. thesis, Simon Fraser University

Rashid U, Gani A, Shah A et al (2015) Effect of sand roasting on the antioxidant and antiproliferative activity of barley (Hordeum vulgare). Nutrafoods 14:227–236

Revedin A, Svoboda J, Aranguren B et al (2010) Thirty thousand-year-old evidence of plant food processing. Proc Nat Acad Sci 107(44):18815–18819

Sharma P, Gujral HS, Rosell CM (2011) Effects of roasting on barley ß-glucan, thermal, textural and pasting properties. J Cereal Sci 53(1):25–30

Shewayrga H, Sopade PA (2011) Ethnobotany, diverse food uses, claimed health benefits and implications on conservation of barley landraces in north eastern Ethiopia highlands. J Ethnobio Ethnomed 7:19–33

Tashi NT, Yawei Z, Xingquan, Z (2013) Food preparation from hulless barley in Tibet. In: Zhang G, Li C, Liu X (eds) Advances in barley sciences. Proceedings of the 11th international Barley genetics symposium. Springer, Dorkrecht, pp 151–158

Teklu G (2012) Ethnoarchaeological study of grind stones at Lakia'a in Adwa, Tigray Regional State, Ethiopia. Unpublished MA Thesis, Addis Ababa University

Woldekiros H, D'Andrea AC (2016) Early evidence for domestic chickens (Gallus gallus domesticus) in the Horn of Africa. Int J Osteoarchaeol. https://doi.org/10.1002/oa.2540

Wangdu Y (2016) Experience the joys of Tibetan Culture. http://www.yowangdu.com/tibetan-food/tsampa.html. Accessed 14 Mar 2016

Weismantel MJ (1988) Food, gender, and poverty in the Ecuadorean Andes. University of Pennsylvania Press, Philadelphia

Wright K (1992) A classification system for ground stone tools from the prehistoric Levant. Paléorient 18(2):53–81

Yallew A, Hailye A, Hassen H (1998) Farmers' food habit and barley utilization in northwest Ethiopia. In: Yirga C, Alemayehu F, Sinebo W (eds) Barley-based farming systems in the highlands of Ethiopia. Ethiopian Agricultural Research Organization, Addis Ababa, pp 107–112
Acknowledgements
We dedicate this paper to the memory our friend and colleague, Prof. Ahmed G. Fahmy, who initiated the laboratory analysis of microbotanical samples from Mezber grinding stones. We are greatly indebted to our Gulo Makeda consultants who shared with us their knowledge in using grinding stones and the making of besso. In particular we thank Waizoro Zaid Mahray, Haleka Tehwoelde Brahn Beyene, Waizoro Nigisti Hagos, Haleka Gebreselassie Gebreyesus, Waizoro Medhin Abade, Ato Hailu Hago, and Ato Mebhratu Areyhu. Our superb interpreters, Habtamu Mekonnen and Yemane Meresa, had a significant role to play in the success of ETAP fieldwork. We are grateful to the Authority for Research and Conservation of Cultural Heritage (ARCCH), and in particular to Ato Desalegn Abebaw for assistance in obtaining research permit clearances. In addition our work was supported by the Tigrai Agency for Culture and Tourism and Ato Kebede Amare. Many thanks to Shannon Wood who produced Figs. 1 and 2 and Lynn Welton who completed Figs. 3 and 4. We are grateful to Prof. Ross Jamieson and Dr. Daniela Balanzategui for discussions on the role of máchica in Ecuadorian indigenous cuisine. ETAP fieldwork reported herein was funded by grants awarded by the Social Sciences and Humanities Research Council, including SSHRC Standard Research Grant No. 410-2011-1646 and SSHRC Insight Grant No. 435-2014-0182.
Copyright information
© 2018 Springer Nature Switzerland AG
About this chapter
Cite this chapter
D'Andrea, A.C., Perry, L., Nixon-Darcus, L., Fahmy, A.G., Attia, E.A.E. (2018). A Pre-Aksumite Culinary Practice at the Mezber Site, Northern Ethiopia. In: Mercuri, A., D'Andrea, A., Fornaciari, R., Höhn, A. (eds) Plants and People in the African Past. Springer, Cham. https://doi.org/10.1007/978-3-319-89839-1_20