Abstract
So what is biblical servant leadership? There are several concepts that need attention in their connections between servant leadership and the teachings of Scripture. These are issues like humility, love, self-issues, confidence, as well as issues of ontology and how to teach servant leadership. In this study, Scripture has nuanced, expanded, and even critiqued the contemporary model of servant leadership. It is here that the virtue model of servant leadership is expanded based upon the biblical perspective that has the wisdom of antiquity as well as divine insights. This model has three stages of preparation for leadership that is personal and ontological; it brings real change to the person. The first stage is foundational with several ingredients for development and even keys for the process itself. The second stage is the process of leadership, and it includes virtues like the contemporary theory of servant leadership. However, it adds other attributes of leadership related to authority, guidance, and gifting. Then there is a final stage or third stage at the end of the leadership term, but it impacts how one leads in the second stage. Together this forms a robust though complicated model for biblical servant leadership.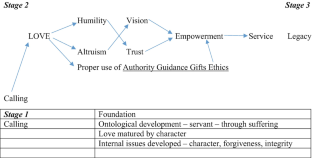 References
Bailey, K. E. (2011). Paul Through Mediterranean Eyes: Cultural Studies in 1 Corinthians. Downers Grove, IL: InterVarsity Press.

Fee, G. D. (2014). The First Epistle to the Corinthians, Revised Edition (The New International Commentary on the New Testament). Grand Rapids, MI: Wm. B. Eerdman's Press.

Fisk, B. N. (2000). First Corinthians (Interpretation Bible Studies). Louisville, KY: Geneva Press.

Greenleaf, R. (2002). Servant Leadership: A Journey into the Nature of Legitimate Power and Greatness. Mahwah, NJ: Paulist Press.

Witherington, B. (1995). Conflict and Community in Corinth: A Socio-Rhetorical Commentary on 1 and 2 Corinthians. Grand Rapids, MI: Wm. B. Eerdman's Press.
About this chapter
Cite this chapter
Crowther, S. (2018). Biblical Servant Leadership. In: Biblical Servant Leadership. Christian Faith Perspectives in Leadership and Business. Palgrave Macmillan, Cham. https://doi.org/10.1007/978-3-319-89569-7_7