Abstract

Research in mathematics education has clearly evidenced the ways wherein race structures school mathematics experiences of children and youths worldwide. Nevertheless, some countries, particularly in Latin America, position themselves as racial democracies or places where exist peaceful racial relationships and as free from racial conflicts and tensions. In this paper I argue that, in such countries, racism is alive and it is a critical factor in understanding student mathematics experiences and performance at school. I draw upon Bonilla-Silva's notion of racial ideology and its functions to approach racial dynamics within school mathematics. By using ideology critique as a method, I focus on the interchanges between a white-mestizo male teacher and an eight-grader, black female student to interpret and uncover the ideological fabric of discourses and practices within the mathematics classroom aimed to normalize racism. By bringing to light racial discrimination within school mathematics in racial democracies, my study contributes to unveil and understand racism within mathematics education from a global perspective, and to challenge the myth of these mistakenly called racial democracies.
Keywords
Race

Racism

Racial ideology

Ideology critique

Racial democracies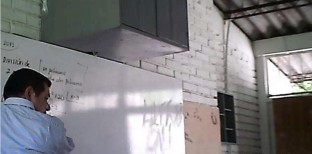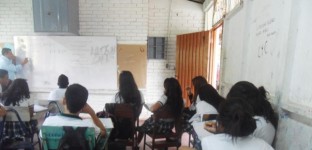 Notes
1.

A department is a community forming part of the Colombian political organization. It is the equivalent of a State in the U.S.

2.

Chocó is the Colombian department with the highest percentage of black population.

3.

Fausta is a black soap opera character, very popular at the moment of my observations.
References
Althusser, L. (1994). Ideología y aparatos ideológicos del estado. In S. Zizek (Ed.), Ideología. Un mapa de la cuestión (pp. 115–155). Fondo de Cultura Económica: Argentina.

Apple, M. (1990). Ideology and curriculum. New York: Routledge.

Apple, M. (2016). Piketty, social criticism, and critical education. British Journal of Sociology of Education, 37(6), 879–883.

Archer, L. (2003). Social class and higher education. In L. Archer, M. Hutchings, & A. Ross (Eds.), Higher education and social class. Issues of exclusion and inclusion (pp. 5–20). New York: Routledge Falmer.

Battey, D., & Leyva, L. (2016). A framework for understanding whiteness in mathematics education. Journal of Urban Mathematics Education, 9(2), 49–80.

Bishop, A. (2008). Values in mathematics and science education: Similarities and differences. The Montana Mathematics Enthusiast, 5(1), 47–58.

Bonilla-Silva, E. (2003). Racial attitudes or racial ideology? An alternative paradigm for examining actors' racial views. Journal of Political Ideologies, 8(1), 63–82.

Bonilla-Silva, E. (2010). Racism without racists. A color-blind racism & racial inequality in contemporary America. (Revised edition) Lanham: Rowman & Littlefield Publishers.

Bonilla-Silva, E. (2012). The invisible weight of whiteness: The racial grammar of everyday life in America. Michigan Sociological Review, 26, 1–15.

Bonilla-Silva, E. (2015). More than prejudice: Restatement, reflections, and new directions in critical race theory. Sociology of Race and Ethnicity, 1(1), 73–87.

Bonilla-Silva, E., & Glover, K. (2004). "We are all Americans": The Latin Americanization of race relations in the United States. In M. Krysan & A. Lewis (Eds.), The changing terrain of race and ethnicity (pp. 149–183). New York: Russell Sage Foundation.

Bosch, M. (1994). La dimensión ostensiva en la actividad matemática. El caso de la proporcionalidad. Unpublished PhD thesis, Universitat Autónoma de Barcelona, Spain.

Bourdieu, P. (2011). The forms of capital. In A. Sadovnik (Ed.), Sociology of education. A critical reader (pp. 83–96). New York: Routledge.

DANE (2005). Censo general 2005. Retrieved from: http://www.dane.gov.co/index.php/estadisticas-por-tema/demografia-y-poblacion/censo-general-2005-1

Elliot, J. (2005). Using narrative in social research. Qualitative and quantitative approaches. Thousand Oaks: Sage Publications.

Ernest, P. (1991). The philosophy of mathematics education. New York: Falmer Press.

García, M., Espinosa, J., Jiménez, F., & Parra, J. (2013). Separados y desiguales. Educación y clases sociales en Colombia. Colección DeJusticia. Bogotá: Ediciones Antropos.

Giroux, H. (1981). Ideology, culture, and the process of schooling. Philadelphia: Temple University Press.

Giroux, H. (2004). Teoría y resistencia en educación. Medico: Siglo XXI Editores.

Gramsci, A. (1975). Cuadernos desde la cárcel. Mexico: Ediciones Era.

Hall, S. (1986). Gramsci's relevance for the study of race and ethnicity. Journal of Communication Inquiry, 10(5), 5–28.

Leal, C. (2010). Usos del concepto de "raza" en Colombia. In C. Mosquera, A. Laó-Montes, & C. Rodríguez-Garavito (Eds.), Debates sobre la ciudadanía y políticas raciales en las Américas Negras (pp. 393–445). Bogotá: Universidad Nacional de Colombia.

Leonardo, Z. (2003). Idedology, Discourse, and School Reform. Westport: Praeger Publishers.

Leonardo, Z. (2009). The color of supremacy: Beyond the discourse of "white privilege". In E. Taylor, D. Gillborn, & G. Ladson-Billings (Eds.), Foundations of critical race theory in education (pp. 261–276). New York: Routledge.

Lim, J. (2008). Double Jeopardy: The compounding effects of class and race in school mathematics. Equity & Excellence in Education, 41(1), 81–97.

Mbembe, A. (2014). Crítica de la razón negra. Ensayo sobre el racismo contemporáneo. Barcelona: Futuro Anterior Editores.

Nasir, N., & McKinney, M. (2013). Power, identity, and mathematical practices outside and inside school. Journal for Research in Mathematics Education, 44(1), 264–287.

Omi, M., & Winant, H. (1994). Racial formation in the United States. In New York. Routledge.

Popkewitz, T. (1988). Institutional issues in the study of school mathematics: Curriculum research. Educational Studies in Mathematics, 19(2), 221–249.

Rodríguez, C., Alfonso, T., & Cavelier, I. (2009). Raza y derechos humanos en Colombia. Informe sobre la discriminación racial y derechos de la población afrocolombiana. Bogotá: Ediciones Unidandes.

Straehler-Pohl, H., & Pais, A. (2014). Learning to fail and learning from failure – ideology at work in a mathematics classroom. Pedagogy, Culture & Society, 22(1), 79–96.

Twine, F. W. (2006). Racism in a racial democracy: The maintenance of white supremacy in Brazil. New Brunswick: Rutgers University Press.

Urrea, F., Viáfara, C., Ramírez, H., & Botero, W. (2007). Las desigualdades raciales en Colombia: Un análisis socidemografico de condiciones de vida, pobreza e ingresos para la ciudad de Cali y el departamento del Valle del Cauca.

Valoyes-Chávez, L. (2015). Los negros no son buenos para las matemáticas: ideologías raciales y prácticas de enseñanza. Revista CS, 16, 173–210.

Valoyes-Chávez, L. (2017). Inequidades raciales y educación matemática. Revista Colombiana de Educación, (73), 127–150.

Valoyes-Chávez, L., & Martin, D. B. (2016). Exploring racism inside and outside the mathematics classroom in two different contexts: Colombia and USA. Intercultural Education Journal. https://doi.org/10.1080/14675986.2015.1106135.

Van Dijk, T. (1992). Discourse and the denial of racism. Discourse & Society, 3, 87–118.

Van Dijk, T. (2004). Racism and discourse in Spain and Latin America. Philadelphia: John Benjamins Publishing Company.

Viáfara, C. (2005). Diferencias raciales en el logro educativo y status ocupacional en el primer empleo. In M. C. Zabala (Ed.), Pobreza, exclusion social y discrimación étnico-racial en America Latina y el Caribe (pp. 85–119). Bogotá: Siglo del Hombre Editores.

Viáfara, C., & Urrea, F. (2006). Race and gender effects in the educational achievement and social-occupational status for three Colombian cities. Desarrollo y sociedad, Segundo semester, 115–163.

Wade, P. (1993). Blackness and race mixture: The dynamics of racial identity in Colombia. Baltimore: The John Hopkins University Press.

Wade, P. (2008). Race in Latin America. In D. Poole (Ed.), A companion to Latin American anthropology (pp. 177–193). New York: Blackwell Publishing Ltd..

Wade, P. (2009). Defining blackness in Colombia. Journal de la Société des Américanistes, 91(1), 165–184.

Williams, R. (1981). The sociology of culture. Chicago: The University of Chicago Press.

Zevenbergen, R., & Niesche, R. (2008). Equity, mathematics and classroom practice: Developing rich mathematical experiences for disadvantaged students. Australian Primarily Mathematics Classroom, 13(4), 21–27.
Acknowledgement

I gratefully acknowledge funding from PIA-CONICYT Basal Funds for Centers of Excellence Project FB003.
Copyright information

© 2018 Springer International Publishing AG, part of Springer Nature
About this chapter
Cite this chapter
Valoyes-Chávez, L. (2018). Racism and Mathematics Education in a Racial Democracy: Views from the Classroom. In: Gellert, U., Knipping, C., Straehler-Pohl, H. (eds) Inside the Mathematics Class. Advances in Mathematics Education. Springer, Cham. https://doi.org/10.1007/978-3-319-79045-9_8
DOI: https://doi.org/10.1007/978-3-319-79045-9_8

Published:

Publisher Name: Springer, Cham

Print ISBN: 978-3-319-79044-2

Online ISBN: 978-3-319-79045-9

eBook Packages: EducationEducation (R0)