Abstract

In this work, we present a quantitative analysis of cutaneous melanoma based on 615 patients attended in Cruces University Hospital between 1988 and 2012. First, we studied which characteristics are more associated with the metastasis of this kind of cancer. We observed that people with light eyes, light hair, an ulcerated nevus, or exposed to the sun during working hours, had more risk to suffer from metastasis. Besides, a big diameter or a thick nevus (measured by Breslow's depth) were also associated with this condition. Next, we evaluated the metastasis detection capability of the tests performed in this hospital, which indicated that X-rays and CT scan were the best techniques for metastasis detection, since they identified this condition successfully in 80% and 93.5% of the cases, respectively. Moreover, we concluded that the blood test was very inaccurate, since it recognized the presence of metastasis in only 40% of the cases and failed in the rest. Consequently, we suggest the replacement of this test in order to save money, time, and avoid the misdiagnosis of cutaneous melanoma metastasis. Finally, we built a predictive model to forecast the time that takes for metastasis to happen, based on Breslow's depth. This tool could be used not only for improving the programming appointment management of the dermatology section, but also for detecting metastasis sooner.
Keywords
Cutaneous melanoma

Breslow's depth

Metastasis

Odds ratio

Linear regression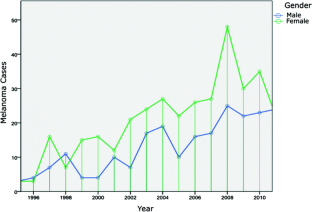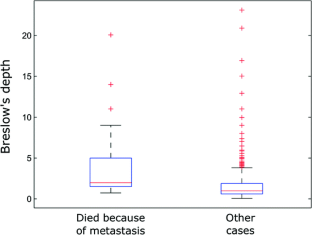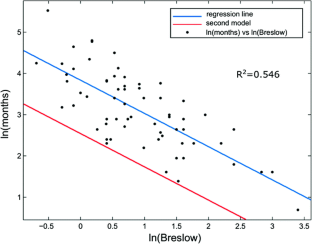 References
Miller, A.J., Mihm, M.C.: Melanoma. N. Engl. J. Med. 355, 51–65 (2006)

Lotze, M.T., Dallal, R.M., Kirkwood, J.M., Flickinger, J.C.: Cancer: Principles and Practice of Oncology. Lippincott Williams & Wilkins, Philadelphia (2001)

Tejera-Vaquerizo, A., et al.: Incidencia y mortalidad del cáncer cutáneo en España: revisión sistemática y metaanálisis. Actas Dermo-Sifiliográficas 107, 318–328 (2016)

Kolmel, K.F., Kulle, B., Lippold, A., Seebacher, C.: Survival probabilities and hazard functions of malignant melanoma in Germany 1972–1996, an analysis of 10433 patients. Evolution of gender differences and malignancy. Eur. J. Cancer 38, 1388–1394 (2002)

Lee, M.L., Toms, K., Von Eschen, K.B.: Duration of survival fordisseminated malignant melanoma: results of a meta-analysis. Melanoma Res. 10, 81–92 (2000)

Kraemer, H.C.: Reconsidering the odds ratio as a measure of 2 × 2 association in a population. Stat. Med. 23, 257–270 (2004)

Chatterjee, S., Hadi, A.S.: Regression Analysis By Example. Wiley, Hoboken (2006)

Candille, S.I., et al.: Genome-wide association studies of quantitatively measured skin, hair, and eye pigmentation in four european populations. PLoS ONE 7, e48294 (2012)

Mackie, R.M., Hauschild, A., Eggermont, A.M.: Epidemiology of invasive cutaneous melanoma. Ann. Oncol. 20, 6–7 (2009)

He, K.: Parametric empirical Bayes confidence intervals based on James-Stein estimator. Stat. Dec. 10, 121–132 (1992)

San Martín, A.L., et al.: Características clínico-patológicas del Melanoma Maligno en Pacientes del Hospital Hernán Henríquez Aravena de Temuco. Revista Anacem 2, 36–39 (2008)
Acknowledgements

Work by the first and second authors was supported by the Basque Government grant IT974-16.
Copyright information

© 2018 Springer International Publishing AG, part of Springer Nature
About this paper
Cite this paper
Malaina, I. et al. (2018). Metastasis of Cutaneous Melanoma: Risk Factors, Detection and Forecasting. In: Rojas, I., Ortuño, F. (eds) Bioinformatics and Biomedical Engineering. IWBBIO 2018. Lecture Notes in Computer Science(), vol 10813. Springer, Cham. https://doi.org/10.1007/978-3-319-78723-7_44
DOI: https://doi.org/10.1007/978-3-319-78723-7_44

Published:

Publisher Name: Springer, Cham

Print ISBN: 978-3-319-78722-0

Online ISBN: 978-3-319-78723-7

eBook Packages: Computer ScienceComputer Science (R0)