Smartphones and Evocative Documentary Practices
Abstract
Smartphones are part of a convergence culture that is reconfiguring our relationship with media and arguably shifting our understanding of documentary practices. Smartphones may now be understood as powerful enablers that provide users with the tools and resources necessary to capture and share mediated traces of the people and places that form part of our everyday habitus. In this chapter, Dean Keep puts forward a proposition that the smartphone is more than a dynamic networked media tool; rather, it is a "digital Wunderkammer", a portable database to aid the storage and retrieval of captured moments that can be later used for the production of a wide range of documentary stories.
Keywords
Evocative documentary 
Smartphones 
Memory 
Place 
Smartphones may be understood as a transformative new media technology that is changing the way people communicate in a networked digital media environment. But smartphones are much more than communication tools—they are also sophisticated portable media devices that present opportunities to capture, share and edit the mediated traces of everyday life. According to Manovich (2001, p. xv), "cinematic ways of seeing the world, of structuring time, of narrating a story, of linking one experience to the next, have become the basic means by which computer users access and interact with all cultural data".
The use of smartphones to create photographs and video content has become a routine practice as people go about the process of making and sharing the digital representations of the world around them. As observed by Germen,
The omnipresence of smartphones as imaging devices has a strong impact on the fact that they encourage, help us to take photos in places, instances, settings, occasions we would not otherwise think of photographing. (2014, p. 307)
Whereas traditional film and photography is often defined by the technical and aesthetic conventions of the medium, it may be said that smartphones, due to their size, portability and hybrid nature, promote a more informal and spontaneous approach to media production. From self-portraits (selfies) to images of travel, food, friends and family, the smartphone is ever at hand to capture the evidence of our personal experiences.
Unlike traditional film and photographic cameras, the smartphone requires no specialised skill and provides users with a simple means of creating high-resolution digital media content. But smartphone technology is arguably doing much more than simplifying image-making processes. Smartphones are also changing our understanding of the ways that visual media can be used to construct, share and screen a wide range of personal narratives.
The ubiquitous nature of mobile media means that we now arguably live in a panopticon where smartphones with cameras are ever present. As we move through the urbanscape, we often negotiate the gaze of the roving mobile eye as the people around us use smartphones and tablet computers to capture the ebb and flow of life on the streets. As observed by Kracauer, "this flow casts its spell over the flaneur, or even creates him. The flaneur is intoxicated with life in the street" (1960, p. 72). With smartphone in hand, we are both "flaneur" (Baudrillard) and "phoneur" (Luke) as we drift through private and public spaces using smartphones to capture the mediated traces of the people, places and events that shape our day-to-day lives.
As we learn to negotiate the technological challenges of an increasingly digitised and networked media space, it may be said that our relationship with media is shifting to meet the demands of an ever-changing new media ecology. As noted by Bruns (2006, p. 271), "Media play an important part in shaping our consciousness and understanding of the world around us, as well as our place within it", and the smartphone has emerged as a powerful enabler whereby users are able to easily collect digital renderings of personal and collective experiences in the form of digital media assets that can be stored within the device, or disseminated across the networks.
Here I put forward a proposition that the smartphone is more than a dynamic networked media tool: rather, it is a "digital Wunderkammer", an archive in which we can store and retrieve mediated moments that can be later used for the production of a wide range of non-fiction stories. Adopting Nora's (1989) "Les Lieux de Mémoire" (the sites of memory) as a travelling concept, this research interrogates the role that smartphones play in the recording of personal experiences and how the media captured on our phones may be used to create digital stories that promote the revisiting of memories.
Smartphone: Digital Storytelling and Mediated Memories
The smartphone, with its cameras and associated media production software, can be used as a tool to capture the traces of personal experience in the form of photographs and video content. Like a digital scrapbook, the smartphone is perhaps the ultimate archiving tool; messages, website histories, social media apps and audio-visual material provide a record of our interactions in both physical and virtual spaces. Inside the digital heart of the smartphone we store tiny moments, audio-visual fragments of the world around us. But as we use smartphones to create personal histories or "micro-biographies", we are not only engaging in media production practices, but also building a library of memories.
In his essay "Between Memory and History: Les Lieux de Mémoire", Nora (
1989
, p. 14) notes that "the imperative of our epoch is not only to keep everything, to preserve every indicator of memory—even when we are not sure which memory is being indicated—but also to produce archives". Nora goes on to say that
the archive has become the deliberate and calculated secretion of lost memory. It adds to life—itself often a function of its own recording—a secondary memory, a prosthesis-memory. (1989, p. 14)
But is the digital content (text messages, photos and videos etc.) that we store on our smartphones simply a way of escaping the burden of memory, or might these digital artefacts help individuals to unlock a remembrance of the people, places and events that occupy the past? I suggest that the personal photographs and videos we capture on smartphones provide artists and filmmakers with an opportunity to create innovative modes of visual storytelling that highlight the tensions that exist between history and memory.
As we use smartphones to collect the traces the everyday, we are also engaging in autobiographical practices. The photographs and videos that we take using smartphones arguably plays an important role in understanding our place within the world, both at the moment of capture and in the future. Van Dijck observes that
Media technologies are not just a method of building up a stockpile of personal memories, but their function is concurrently formative, directive and communicative. They enable the self to grow and mature, to give meaning and direction to one's past and present. (2007, p. 171)
A case in point is a concert I attended by UK band Goldfrapp. A group of teenagers were running in and out of the theatre constantly filming each other on smartphones. To the people outside of this circle of friends, it may have appeared that these teenagers were disengaged from the musicians performing onstage, but I would argue that they were actively engaged in using smartphones consciously to curate and construct the media narratives that will inform their future memories of the event.
Could it be that the videos we capture on smartphones also invite an engagement with personal memories? To what extent are smartphones memory sites to aid the storage and retrieval of personal memories? Nora suggests that "sites of memory" are material, symbolic and functional and that even a purely material site such as an archive can become a "lieux de mémoire" "if the imagination invests it with a symbolic aura" (1989, p. 19).
So, with this statement in mind, I put forward a proposition that smartphones may be understood as "lieux de mémoire", an interactive archive where mediated moments await retrieval, to be played and replayed on the screen of the smartphone, shared across local and global networks, or remixed and reimagined as evocative narratives that extend our understanding of factual storytelling in a new media ecology.
Smartphones: Mediated Moments and Documentary Practices
The smartphone has become the role model of technological convergence, whereby it seamlessly meshes the technology of the telephone with the language and tools of cinema and photography to create a portable networked media device that enables its users to become media content producers. Jenkins (2001, p. 1) suggests that "we are entering an era where media will be everywhere, and we will use all kinds of media in relation to one another" to construct narratives that exploit the parameters of digital media devices and communication networks. The smartphone is a one-stop shop for the planning, production and post-production of the media assets we capture throughout the day. Media content in the form of photos, videos and audio files captured on smartphones can now be easily manipulated and edited using a plethora of inexpensive or free editing applications (apps) and visual effect filters that may be downloaded to the smartphone.
Digital technologies, and in particular the smartphone, are shaping our understanding of media and reconfiguring the ways we engage with media tools and digital artifacts, therefore presenting new ways to construct, distribute and experience stories. Wood (
2007
, p. 48) suggests that digital technologies not only organise what we see and how it is seen, but they are also framing and expanding our understanding of narrative space. According to Keep and Berry,
The portability and technical capabilities of mobile technologies significantly alters the user's relationship with media and creative practice, presenting new ways for film-makers to interpret and shape the ephemera of everyday experiences. (2009, p. 6)
As outlined earlier, we often engage in digital storytelling practices whereby we find ourselves using smartphones to produce digital videos of our interactions with the people that share our physical and networked spaces. According to the Forecast and Methodology 2014–2019 White Paper (Cisco 2015, n.p.) global mobile data traffic is predicted to increase tenfold between 2014 and 2019 as more and more people engage in the uploading and downloading of user-generated media content via mobile devices. Whether it be capturing photographs or video of the profound through to the banal, these digital artefacts are central to an emergent storytelling culture that exploits the potential of portable digital media devices and communication networks for the purpose of creating and sharing mediated personal moments across the internet.
Smartphones provide users with an inexpensive means of engaging in media production practices that exploit the portable nature and connectivity of the mobile phone. Smartphones, not being a conventional video camera, invite experimentation as users mesh old and new media production techniques and/or strategies to push the creative parameters of both smartphone technology and storytelling. As noted by Schleser, Wilson and Keep, "As a media practice, mobile filmmaking opens up alternative means of film production and viewing, thus creating new modes of cinematic discourse" (2013, p. 126). The smartphone arguably presents us with opportunities to liberate ourselves from the constraints and preoccupations with traditional cinema, and in particular the documentary film genre.
Bill Nichols notes that "every documentary has its own distinct voice" (2001, p. 99) and that, like every speaking voice, cinematic voices carry their own unique fingerprint or signature. I would argue that due to the highly personal and intimate nature of smartphones, the images and video captured on these devices are also imbued with a unique voice and style. Making digital media with smartphones may be understood as a spontaneous process whereby individuals are engaged in the act of capturing fragments of lived experiences. In his book Introduction to Documentary , Nichols proposes six modes of documentary. Of particular interest is the "Poetic Mode", which may be understood as an artistic form that places an emphasis on mood, tone and affect rather than communicating knowledge or trying to persuade the viewer (2001, p. 103). With this in mind, I embrace the term "evocative-documentary" as a way of describing non-fiction narratives that do not easily fit within the parameters of the documentary genre. For me, the term "evocative-documentary" invites a poetic turn and describes a documentary form, which draws upon Nichols' "Poetic Mode" and autobiographical practices.
Evocative-Documentary: Two Examples
Since 2005, I have been using a variety of mobile phones with built-in cameras as a tool to aid the production of photographs and video works that interrogate the relationship between portable media technology and personal forms of digital storytelling. Ranging from the considered construction of a photographic archive documenting my recovery from open-heart surgery between 2006 and 2007 through to the creation of video works that repurpose smartphone videos to explore notions of personal memory, these works exploit the technical parameters, reflexive nature and creative potential of mobile media to create evocative forms of documentary storytelling. The following two examples were made using smartphone technology.
The first example I present here is
Decombres
, which I made in 2014. The aim of this project was to repurpose and construct a digital story using existing video and text messages stored on my smartphone. In
Decombres
, its title aptly taken from the French word for rubble, the project adopts bricolage techniques as a production methodology. Working only with digital artifacts stored on my smartphone, video footage from a long-forgotten train trip to a country town and remnants of text messages form a series of conversations with a friend (2009–2014) were used as a source material to construct an experimental documentary narrative (Fig.
5.1
).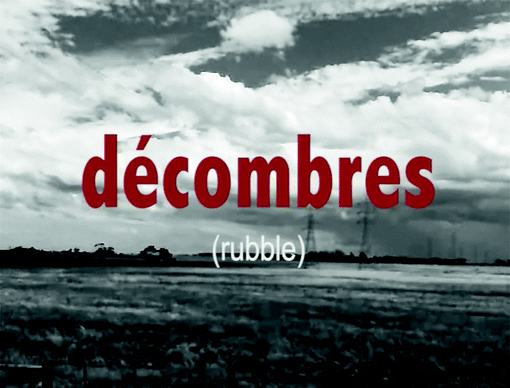 Decombres is drawn from my memories of the people and places I would see as a child when my family and I travelled by car to visit my grandmother. The landscape featured in the video now seems unfamiliar to me; and as the landscape drifts past the train window, I am increasingly aware of the construction of a liminal space where my remembrance of the past is folded over the present to create and entanglement of history and memory. Decombres is arguably an example of an evocative documentary project that meshes factual storytelling, autobiography and smartphone technology to extend the definition of the documentary genre.
The second example is
Remembering Hiroshima
(2016), a film constructed from smartphone footage and archival images and employs cinematic techniques such as slow motion, superimposition and split screens to represent visually the temporal gaps and shifts that exist between the past and present. Part diary, part documentary,
Remembering Hiroshima
demonstrates the ways in which smartphones may be used for auto-ethnographic research while providing artists/filmmakers with the means for spontaneous and simple collection of visual data. This short film fuses digital video and analogue (archival photographs) and employs experimental narrative strategies to explore the ways in which personal memory may shape the experience and representation of place (Fig.
5.2
).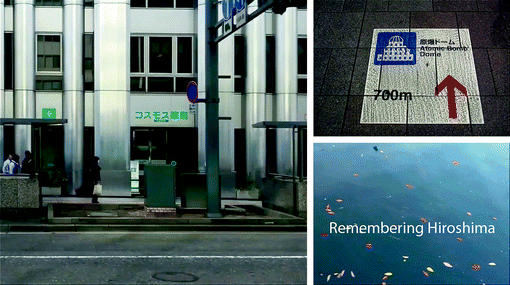 Adopting an inductive methodology, I look for significant patterns and reoccurring themes emerging in my creative practice. I also adopt auto-ethnographic strategies such as using smartphones and video cameras to regularly document my personal experiences so that I can later watch the video and initiate a return to the moment in an effort to make meaning from such experiences. In a similar way to an artist making a sketch, I capture smartphone moments that I later view and assemble (edit) into video works that explore my relationship with the world.
Projects such as Decombres (2014) and Remembering Hiroshima (2016) may be viewed as examples of the ways in which smartphone technologies can be harnessed to capture and preserve the ephemera of the everyday.
Conclusion
The smartphone has emerged as an important media device in an era dominated by convergence cultures and networked media technologies. Smartphones with cameras instigate new screen cultures and production practices whereby individuals use smartphones to capture and share personal stories in the form of photographs and videos that can be stored inside the phone or shared with others via dedicated online media platforms (YouTube, Vimeo, Flickr) and/or social media applications (Instagram, Facebook, Twitter).
The ubiquitous smartphone, being relatively cheap and accessible, presents opportunities for individuals to engage in a wide range of media production practices. Recording the traces of our personal experiences and observations has become an important form of personal expression in the "new media ecology". The intimate nature of the smartphone, being a device that is generally not shared and kept close to the body, means that the smartphone is almost always close to hand and ready to capture events as they occur.
As we capture the traces of our lives using smartphones, we are creating expansive digital archives in which to store media assets related to our personal histories and memories. This media may used to aid the production of innovative narrative forms that remix and refashion documentary practices. Smartphone technology is arguably changing our relationship with media and reconfiguring our understanding of documentary narratives and production practices and, in doing so, providing valuable opportunities for personal expression in a rapidly changing new media ecology.
In an age of smartphones, I find myself asking not what is a documentary is, but rather what a documentary might be.