Abstract

This study examines the boundary conditions of the emerging international entrepreneurship theories in explaining the internationalization of firms in the novel context of Iran. For this purpose, the alternate template strategy is employed to assess the extent to which the behaviors undertaken by the Iranian Small and Medium Enterprises (SMEs) to enter international markets are consistent with the emerging theories of international entrepreneurship, namely causation, effectuation and the revised Uppsala model. Our multiple case study approach indicates that behaviours suggested by the similar theories of effectuation and revised Uppsala model are dominant among the cases; yet when firms perceive lower level of uncertainty in a market or are not faced with the lack of resource availability, they show causal behaviour. These results provide a better understanding of the process of SMEs' internationalization in developing countries.
Keywords
Internationalization

Effectuation

Causation

The revised Uppsala model

Developing country

Iran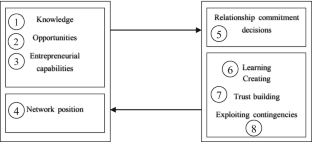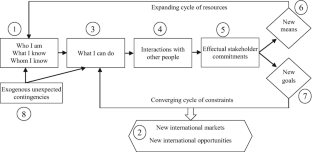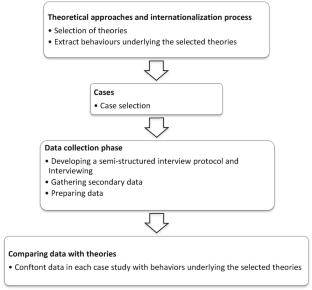 References
Andersson S (2011) International entrepreneurship, born globals and the theory of effectuation. J Small Bus Enterp Dev 18(3):627–643

Autio E, Sapienza HJ, Almeida JG (2000) Effects of age at entry, knowledge intensity, and imitability on international growth. Acad Manag J 43(5):909–924

Butler JE, Doktor R, Lins FA (2010) Linking international entrepreneurship to uncertainty, opportunity discovery, and cognition. J Int Entrep 8(2):121–134

Chandler GN, DeTienne DR, McKelvie A, Mumford TV (2011) Causation and effectuation processes: a validation study. J Bus Ventur 26(3):375–390

Coviello NE (2006) The network dynamics of international new ventures. J Int Bus Stud 37(5):713–731

Coviello NE, Jones MV (2004) Methodological issues in international entrepreneurship research. J Bus Ventur 19(4):485–508

Coviello N, Munro H (1997) Network relationships and the internationalization process of small software firms. Int Bus Rev 6(4):361–386

De Clercq D, Sapienza HJ, Yavuz RI, Zhou L (2012) Learning and knowledge in early internationalization research: past accomplishments and future directions. J Bus Ventur 27(1):143–165

Ellis PD (2011) Social ties and international entrepreneurship: opportunities and constraints affecting firm internationalization. J Int Bus Stud 42(1):99–127

Ferro LM, Préfontaine L, Skander D (2009) How do social networks make a difference in the internationalization of high-tech SMEs? The case of Colombia. Int J Entrep Innov 10(3):201–212

Fisher G (2012) Effectuation, causation, and bricolage: a behavioral comparison of emerging theories in entrepreneurship research. Entrep Theory Pract 36(5):1019–1051

Forsgren M (2016) A note on the revisited Uppsala internationalization process model–the implications of business networks and entrepreneurship. J Int Bus Stud 47(9):1135–1144

Hånell SM, Nordman ER, Tolstoy D, Sharma DD (2013) International entrepreneurship research during the last decade: a review. J Int Bus Entrep Dev 7(2):116–138

Harms R, Schiele H (2012) Antecedents and consequences of effectuation and causation in the international new venture creation process. J Int Entrep 10(2):95–116

Jantunen A, Puumalainen K, Saarenketo S, Kyläheiko K (2005) Entrepreneurial orientation, dynamic capabilities and international performance. J Int Entrep 3(3):223–243

Johanson J, Vahlne JE (1977) The internationalization process of the firm—a model of knowledge development and increasing foreign market commitments. J Int Bus Stud 8(1):23–32

Johanson J, Vahlne JE (2006) Commitment and opportunity development in the internationalization process: a note on the Uppsala internationalization process model. Manag Int Rev 46(2):165–178

Johanson J, Vahlne JE (2009) The Uppsala internationalization process model revisited: from liability of foreignness to liability of outsidership. J Int Bus Stud 40(9):1411–1431

Jones MV, Coviello NE (2005) Internationalization: conceptualising an entrepreneurial process of behavior in time. J Int Bus Stud 36(3):284–303

Kiss AN, Danis WM, Cavusgil ST (2012) International entrepreneurship research in emerging economies: a critical review and research agenda. J Bus Ventur 27(2):266–290

Knudsen T, Madsen TK (2002) Export strategy: a dynamic capabilities perspective. Scand J Manag 18(4):475–502

Kuada J (2006) Internationalization of firms in developing countries: towards an integrated conceptual framework. In: International conference on globalization, internationalization of companies and cross-cultural management, Aalbor

Langley A (1999) Strategies for theorizing from process data. Acad Manage Rev 24(4):691–710

Langley A (2009) Studying processes in and around organizations. In: Buchanan DA, Bryman A (eds) The Sage handbook of organizational research methods. Sage, Thousand Oaks, CA, pp 409–429

Mainela T, Puhakka V (2009) Organising new business in a turbulent context: opportunity discovery and effectuation for IJV development in transition markets. J Int Entrep 7(2):111–134

McDougall PP (1989) International versus domestic entrepreneurship: new venture strategic behavior and industry structure. J Bus Ventur 4(6):387–400

McDougall PP, Oviatt BM (2000) International entrepreneurship: the intersection of two research paths. Acad Manage J 43(5):902–906

Musteen M, Datta DK, Francis J (2014) Early internationalization by firms in transition economies into developed markets: the role of international networks. Glob Strateg J 4(3):221–237

Oehme M, Bort S (2015) SME internationalization modes in the German biotechnology industry: the influence of imitation, network position, and international experience. J Int Bus Stud 46(6):629–655

Oviatt BM, McDougall PP (1994) Toward a theory of international new ventures. J Int Bus Stud 25(1):45–64

Oviatt BM, McDougall PP (2005) Defining international entrepreneurship and modeling the speed of internationalization. Entrep Theory Pract 29(5):537–554

Peiris IK, Akoorie ME, Sinha P (2012) International entrepreneurship: a critical analysis of studies in the past two decades and future directions for research. J Int Entrep 10(4):279–324

Peng MW (2001) The resource-based view and international business. J Manag 27(6):803–829

Rialp A, Rialp J (2007) Faster and more successful exporters: an exploratory study of born global firms from the resource-based view. J Euromarket 16(1-2):71–86

Sarasvathy SD (2001) Causation and effectuation: toward a theoretical shift from economic inevitability to entrepreneurial contingency. Acad Manage Rev 26(2):243–263

Sarasvathy SD (2008) Effectuation: elements of entrepreneurial expertise. Edward Elgar Publishing, Cheltenham

Sarasvathy S, Kumar K, York JG, Bhagavatula S (2014) An effectual approach to international entrepreneurship: overlaps, challenges, and provocative possibilities. Entrep Theory Pract 38(1):71–93

Schweizer R (2013) SMEs and networks: overcoming the liability of outsidership. J Int Entrep 11(1):80–103

Schweizer R (2015) Decision–making during small and medium–sized enterprises' internationalization-effectuation vs. causation. J Int Bus Entrep Dev 8(1):22–41

Schweizer R, Vahlne JE, Johanson J (2010) Internationalization as an entrepreneurial process. J Int Entrep 8(4):343–370

Weerawardena J, Mort GS, Liesch PW, Knight G (2007) Conceptualizing accelerated internationalization in the born global firm: a dynamic capabilities perspective. J World Bus 42(3):294–306

Welch C, Nummela N, Liesch P (2016) The internationalization process model revisited: an agenda for future research. Manag Int Rev 56(6):783–804

Welter F, Smallbone D (2011) Institutional perspectives on entrepreneurial behavior in challenging environments. J Small Bus Manag 49(1):107–125

Yli-Renko H, Autio E, Tontti V (2002) Social capital, knowledge, and the international growth of technology-based new firms. Int Bus Rev 11(3):279–304

Zahra, S. A., & George, G. (2002). International entrepreneurship: the current status of the field and future research agenda.

Zahra SA, Korri JS, Yu J (2005) Cognition and international entrepreneurship: implications for research on international opportunity recognition and exploitation. Int Bus Rev 14(2):129–146

Zhang M, Tansuhaj P, McCullough J (2009) International entrepreneurial capability: the measurement and a comparison between born global firms and traditional exporters in China. J Int Entrep 7(4):292–322

Zhou L, Wu WP, Luo X (2007) Internationalization and the performance of born-global SMEs: the mediating role of social networks. J Int Bus Stud 38(4):673–690
Appendix
Appendix
1.1

Questions Used to Develop Case Studies
1.1.1

Warm Up Questions
What is firm's age?

Describe firm's history.

How many employees are working in the firm?

What products and services do you offer in local markets?

What is a firm's competitive advantage in local markets?

General questions about international activities

In what year did you start internationalization activities?

What countries have you entered?

What products or services do you offer in foreign markets?

What are your competitive advantages in foreign markets?
1.1.2

Main Questions
Describe your internationalization process.

Why did you select this foreign market?

How did you know this market?

Did you have a written business plan, marketing plan, competition analysis?

How are they detailed?

Do they have financial analysis? Do you decide based on this financial analysis?

How are these plans developed?

To what extent did you meet your goals?

How predictable is the market?

Did you have any contacts in this market?

How did you make this contact?

Did you need to change in order to enter the foreign market? What changes?

Did you need any other resources to enter the foreign market?

Who are your customers?

How did you access and sell to them?
Copyright information

© 2018 Springer International Publishing AG, part of Springer Nature
About this chapter
Cite this chapter
Sakhdari, K., Saniei, S. (2018). Effectuation, Causation and the Revised Uppsala Model: A Behavioral Analysis of Iranian SMEs' Internationalization. In: Faghih, N., Zali, M. (eds) Entrepreneurship Ecosystem in the Middle East and North Africa (MENA). Contributions to Management Science. Springer, Cham. https://doi.org/10.1007/978-3-319-75913-5_21