Abstract

In Chap. 5, Casas and Serrano propose that China's Free Trade Agreements (FTA) are part of a long-term multilateral approach with the potential to be included in the institutional infrastructure of the Belt and Road Initiative (BRI). By developing a BRI Initiatives Dynamic Evaluation Framework, they emphasize that initiatives under the BRI will be subject to decision and evaluation mechanisms that transcend China proper. This means that FTAs are dynamic rather than static. The key element in this iteration is the FTA upgrade, which includes trade impact analyses, business agent surveys, utilization rates, and signaling effects. The Sino–Swiss FTA is evaluated as part of this long-term strategy of upgrading bilateral relationships into a comprehensive system that relies on institutional outsourcing of the upward kind from nations with deep institution-building experience.
Keywords
China

Belt and Road Initiative (BRI)

Bilateralism

Multilateralism

Free Trade Agreement (FTA)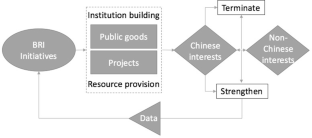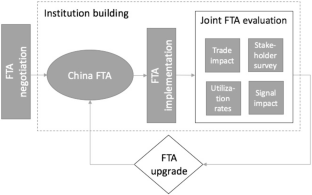 Notes
1.

2.

Sino–Swiss relations have a long history, dating back to the establishment of diplomatic relations on 17 January 1950. Switzerland was one of the first Western countries to recognize the PRC. The Schindler Group (a Swiss multinational producing escalators and elevators) was the first firm to establish an industrial joint venture in China in 1980, heeding Deng Xiaoping's call for reform and opening. Apart from the FTA, which entered into force in 2014, a currency swap agreement was signed that same year, cementing the close economic relationship.

3.

"The Swiss federal government does not follow any systematic monitoring of the real implications of its free trade agreements (FTA). It has been found that only customs duty-income reductions and country of origin specifications have been systematically controlled. Other customs aspects evaluated by the PVK (Parliamentary Commission) have been found to be failing in fulfilling its aims […]. Additionally, the aspect of FTA utilization (rates) is not systematically evaluated. The procedures and competences in the implementation and future development of FTAs also show deficiencies" (author's translation of the Parliamentary Report from German).

4.

Moser, Peter. 2017. Presentation at the "Enhancement of the Switzerland–China Free Trade Agreement" first meeting May 18, 2017, Bern, Switzerland.

5.

The principles are: mutual respect for sovereignty and territorial integrity; mutual non-aggression; non-interference in each other's internal affairs; equality and mutual benefit; and peaceful coexistence.
References
Akerlof, George A. 1970. The Market for 'Lemons': Quality Uncertainty and the Market Mechanism. The Quarterly Journal of Economics 84 (3): 488–500.

Aris, Stephen. 2016. One Belt, One Road: China's Vision of 'Connectivity'. In CSS Analyses in Security Policy, No. 195, ed. Christian Nünlist. Zurich: CSS.

Baier, Scott L., and Jeffrey H. Bergstrand. 2007. Do Free Trade Agreements Increase Members' International Trade? Journal of International Economics 71: 72–95.

———. 2009. Estimating the Effects of Free Trade Agreements on International Trade Flows Using Matching Econometrics. Journal of International Economics 77: 63–76.

Berden, Koen G., Joseph Francois, Martin Thelle, Paul Wymenga, and Saara Tamminen, 2009. Non-Tariff Measures in EU-US Trade and Investment—An Economic Analysis. Report for the European Commission. Directorate-General for Trade. ECORYS Nederland BV.

Blanchard, Jean-Marc F., and Colin Flint. 2017. The Geopolitics of China's Maritime Silk Road Initiative. Geopolitics 22 (2): 223–245.

BRI Leading Group. 2017. Building the Belt and Road: Concept, Practice and China's Contribution. Office of the Leading Group for the Belt and Road Initiative. Beijing: Foreign Languages Press.

Business Recorder. 2017. High Potential Items Facing Lofty Tariffs in China: Pakistan Business Council, January 29, 2017. Accessed August 6, 2017. https://fp.brecorder.com/2017/01/20170129135091/

Caixin. 2017. "AIIB: Lean, Mean, Funding Machine" by Wang Liwei and Liu Xiao, July 7, 2017. Accessed August 14, 2017. http://www.caixinglobal.com/2017-07-07/101112093.html

Callaghan, Mike, and Paul Hubbard. 2016. The Asian Infrastructure Investment Bank: Multilateralism on the Silk Road. China Economic Journal 9 (2): 116–139.

Cohen, Paul A. 1984. Discovering History in China: American Historical Writing on the Recent Chinese Past. New York: Columbia University Press.

Dawn. 2017. Exports to China fell to $770m in July–December, January 28, 2017. Accessed August 9, 2017. https://www.dawn.com/news/1311131

The Diplomat. 2016. Can China's Ambitious OBOR Mesh Withwith Russian Plans in Eurasia? November 9, 2016. Accessed August 9, 2017. http://thediplomat.com/2016/11/can-chinas-ambitious-obor-mesh-with-russian-plans-in-eurasia/

Eckhardt, Jappe, and Omar Serrano. 2014. Economic Integration and Rivalry in Asia: Comparing Regional Trade Strategies of China and India. NCCR Working paper 2014/10. Bern: World Trade Institute.

Egger, Peter, and Georg Wamser. 2011. Der Nutzen unterschiedlicher Arten von internationalen Wirtschaftsabkommen. KOF Analysen, Summer 2011, 63–72. Zürich: KOF.

Fairbank, John K. 1954. China's Response to the West: A Documentary Survey, 1839–1923. Cambridge, MA: Harvard University Press.

Financial Times. 2017a. China's Railway Diplomacy Hits the Buffers, July 17, 2017. Accessed August 9, 2017. https://www.ft.com/content/9a4aab54-624d-11e7-8814-0ac7eb84e5f1

———. 2017b. EU Sets Collision Course with China Over 'Silk Road' Rail Project, February 20, 2017. Accessed August 9, 2017. https://www.ft.com/content/003bad14-f52f-11e6-95ee-f14e55513608

———. 2017c. Jörg Wuttke: Xi Jinping's Silk Road Is Under Threat from One-Way Traffic, May 9, 2017. Accessed August 9, 2017. https://www.ft.com/content/61c08c22-3403-11e7-99bd-13beb0903fa3

Head, Keith, and Thierry Mayer. 2014. Gravity Equations: Workhorse, Toolkit, and Codebook. Handbook of International Economics 4: 131–195.

Kepaptsoglou, Konstantinos, Matthew G. Karlaftis, and Dimitrios Tsamboulas. 2010. The Gravity Model Specification for Modeling International Trade Flows and Free Trade Agreement Effects: A 10-Year Review of Empirical Studies. The Open Economics Journal 3: 1–13.

Kohl, Tristan. 2014. Do We Really Know that Trade Agreements Increase Trade? Review of World Economics 150: 443–469.

Legge, Stefan. 2018. Economic Analysis of the Sino-Swiss FTA, Mimeo.

Liu, Hai Yue, Ying Kai Tang, Xiao Lan Chen, and Joanna Poznanska. 2017. The Determinants of Chinese Outward FDI in Countries Along "One Belt One Road". Emerging Markets Finance and Trade 53 (6): 1374–1387.

Lu, Yue, Yunlong Lu, and Ka Zeng. 2018. China's Outward Foreign Direct and the Margin of Trade: Empirical Evidence from 'One Belt, One Road' Countries. China: An International Journal, May 2018 (forthcoming).

Mint. 2017. RCEP Talks Hit a Snag Over India's Demand for Liberalization of Services, March 30, Accessed August 9, 2017. http://www.livemint.com/Politics/m7oHka4DBZoNIlfabyStCP/RCEP-talks-hit-a-snag-over-Indias-demand-for-liberalization.html

MOFCOM (Chinese Ministry of Commerce). 2017. China and the Eurasian Economic Union Substantially Conclude the Negotiation of Trade and Economic Cooperation Agreement, October 13. Accessed November 7, 2017. http://fta.mofcom.gov.cn/enarticle/enrelease/201710/35977_1.html

Parliamentary Report. 2016. Evaluation zu den Auswirkungen von Freihandelsabkommen. Bericht der Parlamentarischen Verwaltungskontrolle zuhanden der Geschäftsprüfungskommission des Nationalrates vom 26, October 2016. Bern: National Council.

Santos Silva, J.M.C., and Silvana Tenreyro. 2006. The Log of Gravity. Review of Economics and Statistics 88 (4): 641–658.

SECO. 2016. Wirtschaftliche Bedeutung der Freihandelsabkommen für die Schweiz: Fokus auf Partner ausserhalb der EU. 731.5/2007/00390\COO.2101.104.4.1795300. Bern: Swiss Ministry of Economics (SECO).

Shen, Simon. 2016. How China's 'Belt and Road' Compares to the Marshall Plan Should We Think of "One Belt, One Road" as China's Marshall Plan? The Diplomat, February 6. http://thediplomat.com/2016/02/how-chinas-belt-and-road-compares-to-the-marshall-plan/

Times of India. 2017a. We Don't Need What Pakistan Produces: China Envoy, May 1. Accessed August 9, 2017. http://timesofindia.indiatimes.com/world/china/chinese-envoy-admits-china-cant-buy-much-from-pak-despite-cpec-promises/articleshow/58463839.cms

———. 2017b. Pak's Kick-Ass Idea: Export Donkeys to China, April 9. Accessed August 6, 2017. http://timesofindia.indiatimes.com/world/pakistan/paks-kick-ass-idea-export-donkeys-to-china/articleshow/58088577.cms

Tinbergen, Jan. 1962. Shaping the World Economy: Suggestions for an International Economic Policy. New York: Twentieth Century Fund.

Vision and Actions. 2015. National Development and Reform Commission, Ministry of Foreign Affairs, and Ministry of Commerce of the People's Republic of China. Vision and Actions on Jointly Building Silk Road Economic Belt and 21st-Century Maritime Silk Road. First Edition March 28, 2015. Accessed August 9, 2017. http://en.ndrc.gov.cn/newsrelease/201503/t20150330_669367.html

Zeng, Ka. 2016. China's Free Trade Agreement Diplomacy. The Chinese Journal of International Politics 9 (3): 277–305.

Ziltener, Patrick. 2014. Einschätzung des Potenzials des Freihandelsabkommens mit der Volksrepublik China für Schweizer Exporte: Landwirtschafts- und Industriegüter. In Study for Switzerland Global Enterprises. Zürich: SGE.

———. 2016. The Free Trade and Economic Partnership Agreement (FTEPA) Switzerland—Japan. An Evaluation of Its Utilization by Swiss and Japanese Companies, 2009–2014. In Report on Behalf of Switzerland Global Enterprise. Zurich: SGE.

———. 2017. Why Ex Post Evaluation of FTAs Is Important (and How To Do It). Presentation at UIBE Beijing on May 12, 2017 at the SSCC First Stepping Stone China Symposium on Globalization.
About this chapter
Cite this chapter
Casas i Klett, T., Serrano Oswald, O.R. (2018). Free Trade Agreements as BRI's Stepping-Stone to Multilateralism: Is the Sino–Swiss FTA the Gold Standard?. In: Zhang, W., Alon, I., Lattemann, C. (eds) China's Belt and Road Initiative. Palgrave Studies of Internationalization in Emerging Markets. Palgrave Macmillan, Cham. https://doi.org/10.1007/978-3-319-75435-2_5