Abstract

Finite element method is extensively used for the analysis of impact response in complex materials. The prediction from finite element model may exhibit significant difference from that of experiments due to uncertainties in model, experimental measurements, and parameters that are derived based on experiments for model development. The quantification of parametric uncertainties, such as parameters in constitutive relation, associated with the numerical model is an important aspect that needs to be investigated for a credible computational prediction. This work considers uncertainty quantification in finite element modeling of nanoscale dynamic impact problems. A viscoplastic power law constitutive model is obtained from nanoscale impact experiments on Hydroxyl-terminated polybutadiene (HTPB)-Ammonium Perchlorate (AP) samples. The constitutive model is used in a finite element model to simulate impact experiments. The measured response from impact experiment and FEM simulation is used to quantify the parametric uncertainties in the constitutive model for the analyzed HTPB-AP sample.
Keywords
Energetic Material

Stress/strain relationship

HTPB

AP

UQ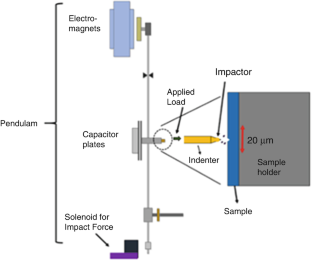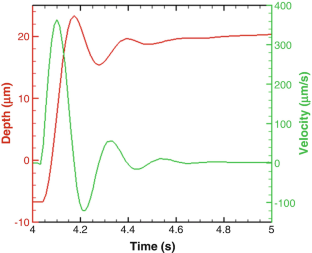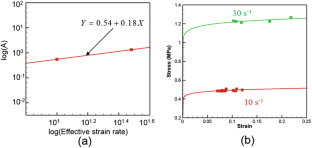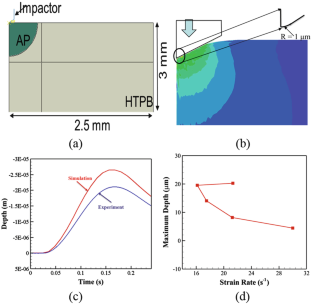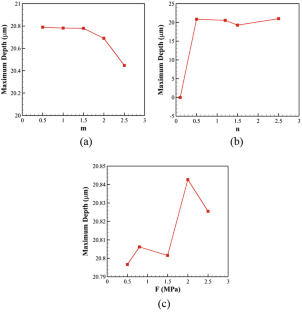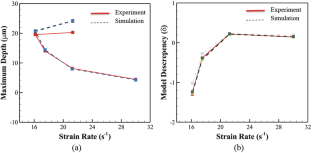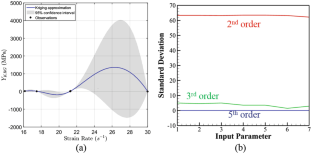 References
Hu, R., Prakash, C., Tomar, V., Harr, M., Gunduz, I.E., Oskay, C.: Experimentally-validated mesoscale modeling of the coupled mechanical–thermal response of AP–HTPB energetic material under dynamic loading. Int. J. Fract. 203, 1–22 (2016)

Wiegand, J.H.: Study of Mechanical Properties of Solid Propellant. Arlington, Armed Forces Technical Information Agency (1961)

Prakash, C., Verma, D., Exner, M., Gunduz, E., Tomar, V.: Strain rate dependent failure of interfaces examined via nanoimpact experiments. In: Challenges in Mechanics of Time Dependent Materials, vol. 2, Conference Proceedings of the Society for Experimental Mechanics Series (2017).

Prakash, C., Gunduz, I.E., Tomar, V.: Effect of strain rate and interface chemistry on failure in energetic materials. In: Fracture, Fatigue, Failure and Damage Evolution, vol. 7, Conference Proceedings of the Society for Experimental Mechanics Series (2018)

Verma, D., Prakash, C., Tomar, V.: Interface mechanics and its correlation with plasticity in polycrystalline metals, polymer composites, and natural materials. Procedia Eng. 173, 1266–1274 (2017)

Verma, D., Exner, M., Tomar, V.: An investigation into strain rate dependent constitutive properties of a sandwiched epoxy interface. Mater. Des. 112, 345–356 (2016)

Tsai, J., Sun, C.T.: Constitutive model for high strain rate response of polymeric composites. Compos. Sci. Technol. 62, 1289–1297 (2002)

Abaqus: Version 6.14 Documentation. Dassault Systemes Simulia Corp, Providence (2014)

Bogdanor, M.J., Mahadevan, S., Oskay, C.: Uncertainty quantification in damage modeling of heterogeneous materials. Int. J. Multiscale Comput. Eng. 11(3), 289–307 (2013)

Marrel, A., Iooss, B., Van Dorpe, F., Volkova, E.: An efficient methodology for modeling complex computer codes with gaussian processes. Comput. Stat. Data Anal. 52(10), 4731–4744 (2008)
Acknowledgments

This research was supported by US-AFoSR Grant FA9550-15-1-0202 (Program Manager Dr. Martin Schmidt).
Copyright information

© 2019 The Society for Experimental Mechanics, Inc.
About this paper
Cite this paper
Prakash, C., Gunduz, I.E., Tomar, V. (2019). Uncertainty Quantification in Nanoscale Impact Experiment in Energetic Materials. In: Barthorpe, R. (eds) Model Validation and Uncertainty Quantification, Volume 3. Conference Proceedings of the Society for Experimental Mechanics Series. Springer, Cham. https://doi.org/10.1007/978-3-319-74793-4_30
DOI: https://doi.org/10.1007/978-3-319-74793-4_30

Published:

Publisher Name: Springer, Cham

Print ISBN: 978-3-319-74792-7

Online ISBN: 978-3-319-74793-4

eBook Packages: EngineeringEngineering (R0)