Abstract

Startups, as an integral part of any entrepreneurship ecosystem, play a critical role in the success of emerging markets. Without these entities, less niche market opportunities are prone to be explored and exploited. In recent years, startup boom is happening in most of the emerging economies, and the startup ecosystem is shaped to some extent in different countries at this level of development. Then, in this chapter the author tries to elaborate the startup ecosystem in general, and investigates the startup ecosystem in an emerging economy, i.e. Iran. Then, a classification of the existing niche market opportunities which are explored and exploited by Iranian startups is presented. Finally, the chapter concludes with some remarks and directions for future research.
Keywords
Startup

Emerging market

Niche market

Startup ecosystem

Iran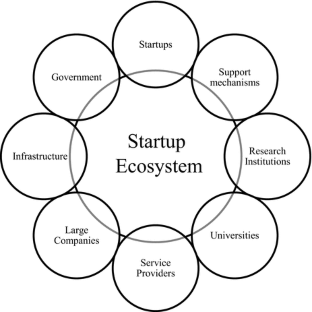 References
Akbari, M., & Alipour Pijani, A. (2013). ICT adoption: A case study of SMEs in Tehran (Iran). The International Journal of Humanities, 20(3), 93–121.

Audretsch, D. B., Heger, D., & Veith, T. (2015). Infrastructure and entrepreneurship. Small Business Economics, 44(2), 219–230.

Barilli, F. (2015). Italia Startup Association: The Italian Startup Ecosystem. Symphonya Emerging Issues in Management, 3, 87–93.

Berger, E. S., & Kuckertz, A. (2016). Female entrepreneurship in startup ecosystems worldwide. Journal of Business Research, 69(11), 5163–5168.

Blank, S. (2012). The startup owner's manual: The step-by-step guide for building a great company. Pennsauken, NJ: BookBaby.

Blank, S. (2017). There are four types of start-ups. Accessed July 15, 2017, from http://steveblank.com/2015/01/06/there-are-4-types-of-startups/

Cheraghi, M. (2017). Young entrepreneurs pushed by necessity and pulled by opportunity: Institutional embeddedness in economy and culture. International Journal of Entrepreneurship and Small Business, 30(3), 395–409.

Cohan, P., & Rangan, U. S. (2006). Follow the legend: Seven strategy lessons from top entrepreneurs. Business Strategy Review, 17(4), 56–61.

Cukier, D., Kon, F., & Krueger, N. (2015, December). Designing a maturity model for software startup ecosystems. In International Conference on Product-Focused Software Process Improvement (pp. 600–606). Cham: Springer.

Davila, A., Foster, G., He, X., & Shimizu, C. (2015). The rise and fall of startups: Creation and destruction of revenue and jobs by young companies. Australian Journal of Management, 40(1), 6–35.

Doshmanli, M., Salamzadeh, Y., & Salamzadeh, A. (2017). Development of SMEs in an emerging economy: Does corporate social responsibility matter? International Journal of Management and Enterprise Development, Forthcoming.

Ebrahimi, M., Yaghoubi, A., & Eskandari, F. (2015). Effects of entrepreneurial characteristics of successful managers of small and medium enterprises in rural areas (Case study: The villages of Hamadan province, Iran). Journal of Asia Entrepreneurship and Sustainability, 11(1), 127.

Fernández Fernández, M. T., Blanco Jiménez, F. J., & Cuadrado Roura, J. R. (2015). Business incubation: Innovative services in an entrepreneurship ecosystem. The Service Industries Journal, 35(14), 783–800.

Ghazinoory, S., Yazdi, F. S., & Soltani, A. M. (2012). Iran and nanotechnology: A new experience of on time entry. In N. Aydogan-Duda (Ed.), Making it to the forefront (pp. 85–108). New York: Springer.

Gobble, M. M. (2014). Charting the innovation ecosystem. Research-Technology Management, 57(4), 55–59.

Guerrero, M., Urbano, D., & Salamzadeh, A. (2014). Evolving entrepreneurial universities: Experiences and challenges in the Middle Eastern context. In A. Fayolle & D. T. Redford (Eds.), Handbook of research in entrepreneurship education: Entrepreneurial University handbook (Vol. 4). Cambridge: Edward Elgar Publishing.

Guerrero, M., Urbano, D., & Salamzadeh, A. (2015). Entrepreneurial transformation in the Middle East: Experiences from Tehran Universities. Technics Technologies Education Management, 10(4), 533–537.

Gupta, S., & Shapiro, D. (2014). Building and transforming an emerging market global enterprise: Lessons from the Infosys journey. Business Horizons, 57(2), 169–179.

Hauert, S. (2016). Building a startup ecosystem for robotics in Europe [Industrial activities]. IEEE Robotics & Automation Magazine, 23(3), 14–16.

Henderson, C. Q. (2017). High tech boom. Montana Business Quarterly, 55(1), 1–16.

Hernández, C., & González, D. (2017). Study of the start-up ecosystem in Lima, Peru: Analysis of interorganizational networks. Journal of Technology Management & Innovation, 12(1), 71–83.

Johnson, J. E. (2004). Factors influencing the early internationalization of high technology start-ups: US and UK evidence. Journal of International Entrepreneurship, 2(1), 139–154.

Khajeheian, D. (2013). New venture creation in social media plat-form; towards a framework for media entrepreneurship. In M. Friedrichsen & W. Mühl-Benninghaus (Eds.), Handbook of social media management: Value chain and business models in changing media market. Berlin: Springer.

Khajeheian, D. (2017). An introduction to entrepreneurship and innovation in media markets. Global Media Journal – Canadian Edition, 10(1), 1–8.

Khajeheian, D., & Tadayoni, D. (2016). User innovation in public service broadcasts: Creating public value by media entrepreneurship. International Journal of Technology Transfer and Commercialisation, 14(2), 117–131.

Mack, E., & Mayer, H. (2016). The evolutionary dynamics of entrepreneurial ecosystems. Urban Studies, 53(10), 2118–2133.

Motoyama, Y., & Knowlton, K. (2017). Examining the connections within the startup ecosystem: A case study of st. louis. Entrepreneurship Research Journal, 7(1), 1–32.

Oh, D. S., Phillips, F., Park, S., & Lee, E. (2016). Innovation ecosystems: A critical examination. Technovation, 54, 1–6.

Oppong-Tawiah, D., & Chan, Y. E. (2016). The influence of IT and knowledge capabilities on the survival of university IT startups. International Journal of Technoentrepreneurship, 3(2), 150–172.

Parrish, E. D., Cassill, N. L., & Oxenham, W. (2006). Niche market strategy for a mature marketplace. Marketing Intelligence & Planning, 24(7), 694–707.

Picken, J. C. (2017). From founder to CEO: An entrepreneur's roadmap. Business Horizons, 60(1), 7–14.

Prashantham, S., & Yip, G. S. (2017). Engaging with startups in emerging markets. MIT Sloan Management Review, 58(2), 51.

Quinones, G., Nicholson, B., & Heeks, R. (2015). A literature review of E-entrepreneurship in emerging economies: Positioning research on Latin American digital startups. In R. Lèbre La Rovere, L. de Magalhães Ozório, & L. de Jesus Melo (Eds.), Entrepreneurship in BRICS (pp. 179–208). Cham: Springer.

Renko, M., & Freeman, M. J. (2017). How motivation matters: Conceptual alignment of individual and opportunity as a predictor of starting up. Journal of Business Venturing Insights, 8, 56–63.

Renzi, A. B., Chammas, A., Agner, L., & Greenshpan, J. (2015, August). Startup Rio: User experience and startups. In International Conference of Design, User Experience, and Usability (pp. 339–347). Cham: Springer.

Rezaei, S., Dana, L. P., & Ramadani, V. (2017). Iranian entrepreneurship: Deciphering the entrepreneurial ecosystem in Iran and in the Iranian diaspora. Springer. ISBN: 978-3-319-50639-5

Salamzadeh, A., & Kawamorita Kesim, H. (2015). Startup companies: Lifecycle and challenges. In Proceedings of the 4th International Conference on Employment, Education and Entrepreneurship (EEE). Belgrade, Serbia.

Salamzadeh, A., & Kawamorita Kesim, H. (2017). The enterprising communities and startup ecosystem in Iran. Journal of Enterprising Communities, 11(4), 456–479.

Salamzadeh, A., & Kirby, D. A. (2017). Startup companies: How startups grow? AD-minister, 30(1), 9–29.

Salamzadeh, A., Arasti, Z., & Elyasi, G. M. (2017). Creation of ICT-based social start-ups in Iran: A multiple case study. Journal of Enterprising Culture, 25(1), 97–122.

Sarfaraz, L. (2017). Business environment in Iran. In L. Sarfaraz (Ed.), Women's entrepreneurship in Iran (pp. 3–31). Cham: Springer. https://doi.org/10.1007/978-3-319-39129-8

Semati, M., Faraji, M., & Hamidi, Y. N. (2016). Elite discourse on technology in Iran. Sociology of Islam, 4(4), 323–344.

Sparks, E. (2016). How bank startups build leaders. ABA Banking Journal, 108(4), 1–24.

Verhoeven, B., & Johnson, L. W. (2017). Business model innovation portfolio strategy for growth under product-market configurations. Journal of Business Models, 5(1), 35–50.

Wagner, V., Dullaart, A., Bock, A. K., & Zweck, A. (2006). The emerging nanomedicine landscape. Nature Biotechnology, 24(10), 1211–1217.

Wallin, A., Still, K., & Henttonen, K. (2016). Entrepreneurial growth ambitions: The case of Finnish technology startups. Technology Innovation Management Review, 6(10), 5–16.

Yang, H., Zheng, Y., & Zhao, X. (2014). Exploration or exploitation? Small firms' alliance strategies with large firms. Strategic Management Journal, 35(1), 146–157.
Copyright information

© 2018 Springer International Publishing AG, part of Springer Nature
About this chapter
Cite this chapter
Salamzadeh, A. (2018). Start-up Boom in an Emerging Market: A Niche Market Approach. In: Khajeheian, D., Friedrichsen, M., Mödinger, W. (eds) Competitiveness in Emerging Markets. Contributions to Management Science. Springer, Cham. https://doi.org/10.1007/978-3-319-71722-7_13