Abstract

In manipulation planning, dynamic interactions between the objects and the robots play a significant role. In this scope, dynamic engines allow to consider them within motion planners, giving rise to physics-based motion planners that consider the purposeful manipulation of objects. In this context, the representation of knowledge regarding how the objects have to be manipulated eases a semantic-based reasoning that reduces the computational cost of physics-based planners. In this work, an ontology framework is proposed to organize the knowledge needed for physics-based manipulation planning, allowing to derive manipulation regions and behaviors. A semantic map is constructed to categorize and assign the manipulation constraints based on the robot, the objects and the type of actions. The ontology framework can be queried using Description Language to obtain the necessary knowledge for the robot to manipulate the objects in its environment.
Keywords
Physically-based Manipulation

Ontological Framework

Manipulation Planning

Constraint Manipulation

Pushable Object
These keywords were added by machine and not by the authors. This process is experimental and the keywords may be updated as the learning algorithm improves.
J. Rosell—This work was partially supported by the Spanish Government through the projects DPI2013-40882-P and DPI2016-80077-R.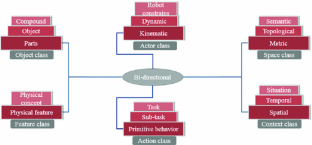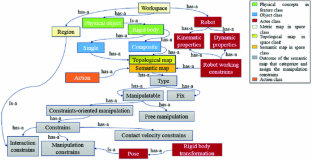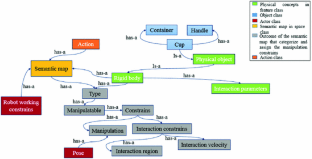 References
Weld, D.S., De Kleer, J.: Readings in Qualitative Reasoning About Physical Systems. Morgan Kaufmann, San Francisco (2013)

Kunze, L., Dolha, M.E., Guzman, E., Beetz, M.: Simulation-based temporal projection of everyday robot object manipulation. In: The 10th International Conference on Autonomous Agents and Multiagent Systems, vol. 1, pp. 107–114 (2011)

Muhayyuddin, Akbari, A., Rosell, J.: Ontological physics-based motion planning for manipulation. In: The 20th IEEE International Conference on Emerging Technologies and Factory Automation (2015)

Lim, G.H., Suh, I.H., Suh, H.: Ontology-based unified robot knowledge for service robots in indoor environments. IEEE Trans. Syst. Man Cybern. Part A Syst. Hum. 41(3), 492–509 (2011)

Cambon, S., Alami, R., Gravot, F.: A hybrid approach to intricate motion, manipulation and task planning. Int. J. Robot. Res. 28(1), 104–126 (2009)

Bateman, J.A., Farrar, S.: Modelling models of robot navigation using formal spatial ontology. In: Spatial Cognition, pp. 366–389. Springer (2004)

Chatterjee, R., Takao, I., Matsuno, F., Tadokoro, S.: Robot description ontology and bases for surface locomotion evaluation. In: IEEE Workshop on Safety, Security and Rescue Robotics, pp. 242–247 (2005)

Mozos, O.M., Triebel, R., Jensfelt, P., Rottmann, A., Burgard, W.: Supervised semantic labeling of places using information extracted from sensor data. Robot. Auton. Syst. 55(5), 391–402 (2007)

Schlenoff, C., Prestes, E., Gonçalves, P.S., Abel, M., Amirat, Y., Balakirsky, S., Barreto, M., Carbonera, J., Chibani, A., Fiorini, S.R., et al.: IEEE standard ontologies for robotics and automation (2015)

Fiorini, S.R., Bermejo-Alonso, J., Gonçalves, P., de Freitas, E.P., Alarcos, A.O., Olszewska, J.I., Prestes, E., Schlenoff, C., Ragavan, S.V., Redfield, S., et al.: A suite of ontologies for robotics and automation [industrial activities]. IEEE Robot. Autom. Mag. 24(1), 8–11 (2017)

Yoshioka, M., Umeda, Y., Takeda, H., Shimomura, Y., Nomaguchi, Y., Tomiyama, T.: Physical concept ontology for the knowledge intensive engineering framework. Adv. Eng. Inf. 18(2), 95–113 (2004)

Bozsak, E., Ehrig, M., Handschuh, S., Hotho, A., Maedche, A., Motik, B., Oberle, D., Schmitz, C., Staab, S., Stojanovic, L., et al.: Kaon towards a large scale semantic web. In: E-Commerce and Web Technologies, pp. 231–248 (2002)

Akbari, A., Muhayyuddin, Rosell, J.: Reasoning-based evaluation of manipulation actions for efficient task planning. In: Robot 2015: Second Iberian Robotics Conference, pp. 69–80. Springer (2016)

Tosello, E., Fan, Z., Castro, A.G., Pagello, E.: Cloud-Based Task Planning for Smart Robots, pp. 285–300. Springer International Publishing, Cham (2017)

Alirezaie, M.: Bridging the Semantic Gap between Sensor Data and Ontological Knowledge. Ph.D. thesis, Örebro university (2015)

Rosell, J., Pérez, A., Aliakbar, A., Muhayyuddin, Palomo, L., García, N.: The kautham project: a teaching and research tool for robot motion planning. In: Proceedings of the IEEE Emerging Technology and Factory Automation (ETFA), pp. 1–8, September 2014

Şucan, I.A., Moll, M., Kavraki, L.E.: The open motion planning library. IEEE Robot. Autom. Mag. 19(4), 72–82 (2012)

Antoniou, G., van Harmelen, F.: Web ontology language: OWL, pp. 67–92. Springer, Berlin, Heidelberg (2004)
Copyright information

© 2018 Springer International Publishing AG
About this paper
Cite this paper
Diab, M., Muhayyuddin, Akbari, A., Rosell, J. (2018). An Ontology Framework for Physics-Based Manipulation Planning. In: Ollero, A., Sanfeliu, A., Montano, L., Lau, N., Cardeira, C. (eds) ROBOT 2017: Third Iberian Robotics Conference. ROBOT 2017. Advances in Intelligent Systems and Computing, vol 693. Springer, Cham. https://doi.org/10.1007/978-3-319-70833-1_37
DOI: https://doi.org/10.1007/978-3-319-70833-1_37

Published:

Publisher Name: Springer, Cham

Print ISBN: 978-3-319-70832-4

Online ISBN: 978-3-319-70833-1

eBook Packages: EngineeringEngineering (R0)