Abstract
The expansive phase experienced by the Spanish economy had long been praised, described in the early 2000s as an 'economic miracle'. However, the crisis that struck in the late 2000s would become the deepest that the country had endured since at least the 1970s, leading to the general conclusion that its prior success had been a mirage rather than miracle. Using a political economy approach, this chapter identifies and analyses the factors that allow us to understand the Spanish model, including the role played by Spain in the European division of labour; the institutional framework of the domestic economy; and the key agents that have been central to the configuration of the whole model. Finally, it considers the distributive effects and consequences of the model.
Keywords
Political economy

Spanish growth model

Distributive struggle

2008 crisis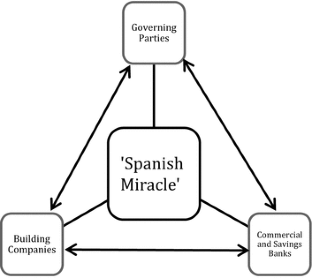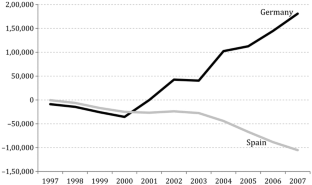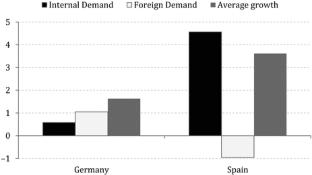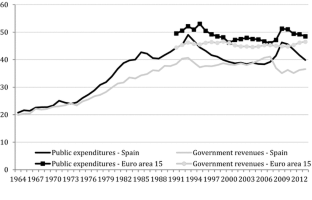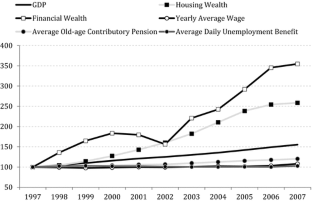 Notes
1.

Muñoz de Bustillo (2014) provides an excellent analysis of the theory and evidence of the so-called myth of expansionary austerity.

2.

Liberal economists and those linked to the parties in government tended to base this statement on the high rates of economic growth in the context of the 'Great Moderation' (see, e.g., Bernaldo and Martínez 2005). Moreover, within the European Commission Spain was presented in the mid-2000s as a model to follow (see the newspaper article 'El milagro económico español', El país, 22 March 2007).

3.

Only during the first years of democracy in Spain can we find another governing party, UCD, Unión de Centro Democrático, but since 1982, PSOE's governments have alternated with PP governments, sometimes with the support of other regional parties, namely from Catalonia and the Basque Country.

4.

There are many examples, but the most widely known are those related to the airports in Ciudad Real and Castellón, as well as the amusement park 'Terra Mítica' in Alicante.

5.

These firms are ACS, Acciona, Ferrovial, Fomento de Construcciones, OHL and Sacyr Vallehermoso. It is worth noting that, on the shoulders of the state, these same companies have become international champions in infrastructure building (Government of Spain 2014).

6.

7.

As an example of the ideological convergence of the PP and the PSOE concerning the public sector, it is worth mentioning that José Luis Rodriguez Zapatero, 'the would-be premier of the social democratic government in the period 2004–2011, [declared] "I think that the idea of lowering taxes is leftist"' (quoted in Muñoz de Bustillo and Antón 2014 from El País, 1 September 2000).

8.

World Wealth & Income Database, wid.world, 1981–2012.

9.

This assessment is in contrast with reporting in financial newspapers: see, for instance, Financial Times, 6 April 2017, 'Spain: Boom to bust and back again'.
References
Abiad, A., E. Detragiache, and T. Tressel. 2008. A New Database of Financial Reforms, IMF Working Paper WP/08/266. Washington: IMF.

Álvarez, I., F. Luengo, and J. Uxó. 2013. Fracturas y crisis en Europa. Madrid: Eudeba.

Banyuls, J., and A. Recio. 2015. Crisis dentro de la crisis: España bajo el neoliberalismo conservador. In El triunfo de las ideas fracasadas. Modelos de capitalismo europeo en la crisis, ed. S. Lehndorff, 39–69. Madrid: La catarata.

BBVA Research. 2013. Gasto e ingresos públicos: expansión, crisis y consolidación. Observatorio Económico, November 21.

Bernaldo de Quirós, L., and R. Martínez Rico. 2005. El modelo económico español. 1996–2004: una revolución silenciosa. Madrid: Instituto de Estudios Económicos.

Consejo Económico y Social (CES). 2012. La internacionalización de la empresa española como factor de competitividad. Madrid: CES.

European Commission. 2011. Quarterly Report on the Euro Area. Vol. 10, Issue 1, April. Brussels: European Commission.

Fernández-Villaverde, J., and L. Ohanian. 2010. The Spanish Crisis from a Global Perspective, Documentos de trabajo (FEDEA), N°. 3.

Fundación Banco Bilbao Vizcaya Argentaria (FBBVA). 2014. El stock y los servicios del capital en España y su distribución territorial y sectorial (1964–2012), Database. Available from: http://www.fbbva.es/TLFU/microsites/stock09/fbbva_stock08_index.html. Accessed 14 Dec 2016.

García, N. 2014. Las causas de la doble recesión de España en 2008–2013. In Qué ha pasado con la economía española, coords. Norberto García and Santos M. Ruesga, 29–54. Madrid: Pirámide.

Garrido, A. 2013. Sistema financiero. In Lecciones de economía española, ed. J.L. García Delgado and R. Myro. Navarra: Aranzadi.

Garzón, A. 2013. El capitalismo español en el siglo XXI. ¿Qué lugar en la economía mundial. Pensar desde abajo 2: 11–39.

Garzón, E. 2014. El déficit público es necesario para que las familias y empresas puedan ahorrar, Saque de esquina, November 14. Available at: http://eduardogarzon.net/el-deficit-publico-es-necesario-para-que-las-familias-y-empresas-puedan-ahorrar/. Accessed 21 July 2015.

Government of Spain. 2014. Spanish Firms Build the World. Madrid: Ministerio de Asuntos Exteriores y de Cooperación.

Lagares, M., et al. 2014. Informe de la comisión de expertos para la reforma del sistema tributario español. Madrid: Ministerio de Hacienda y Administraciones Públicas.

Lapavitsas, C., and D. Munevar. 2014. Greece Needs a Deep Debt Write-Off, Research on Money and Finance Occasional Policy Papers, No. 10. London: Research on Money and Finance.

Lapavitsas, C., A. Kaltenbrunner, G. Lambrinidis, D. Lindo, J. Meadway, J. Michell, J.P. Painceira, E. Pires, J. Powell, A. Stenfors, and N. Teles. 2010. The Eurozone Between Austerity and Default. London: Research on Money and Finance.

Lavoie, M., and E. Stockhammer. 2013. Wage-led Growth. An Equitable Strategy for Economic Recovery. Houndmills: ILO-Palgrave Macmillan.

López, I., and E. Rodríguez. 2010. Fin de ciclo. Financiarización, territorio y sociedad de propietarios en la onda larga del capitalismo hispano (1959–2010). Madrid: Traficantes de Sueños.

———. 2011a. Del auge al colapso. El modelo financiero-inmobiliario. Revista de Economía Crítica 12: 39–63.

———. 2011b. The Spanish Model. New Left Review 69 (May–June): 5–28.

Luengo, F., and N. Álvarez. 2011. Desde los desequilibrios comerciales a la crisis económica en la Unión Europea. In Economía política de la crisis, ed. P.J. Gómez, 145–160. Madrid: Editorial Complutense.

Mateo, J.P., and M. Montanyà. 2014. Acumulación de capital y burbuja inmobiliaria en España. Paper Presented to XIV Jornadas de Economía Crítica, Valladolid.

Molero, R. 2014. La desigualdad de la renta en el modelo de crecimiento de la economía española. Alternativas a las políticas de ajuste, Estudios de Progreso 82/2014. Madrid: Fundación Alternativas.

Molero, R., and F.J. Murillo 2014. La distribución de la renta en la economía española durante los periodos pre y post-crisis. La profundización del ajuste salarial. Paper Presented to XIV Jornadas de Economía Crítica, Valladolid.

Montgomerie, J. (Coord.). 2014. The Politics of Indebtedness in the UK. A Public Interest Report. London: Goldsmiths University of London.

Moreno, L. 2012. La Europa asocial. Crisis y estado de bienestar. Barcelona: Península.

Muñoz de Bustillo, R. 2014. Questioning the Myth of Expansionary Austerity: European Macroeconomic Policy During the Crisis and Its Aftermath. In Public Sector Shock: The Impact of Policy Retrenchment in Europe, ed. Javier Bilbao, 511–542. Cheltenham: Edward Elgar.

Muñoz de Bustillo, R., and J.I. Antón. 2014. Turning Back Before Arriving: the Dismantling of the Spanish Welfare State. In Dismantling the European Social Model: Europe Losing Its Soul, ed. Daniel Vaughan-Whitehead, 341–381. Cheltenham: Edward Elgar.

Murillo, F.J. 2008. El proceso de acumulación en España (1973–2005): ¿Progreso material para todos? Paper Presented to XI Jornadas de Economía Crítica, Bilbao.

Navarro, V., J. Torres, and A. Garzón. 2011. Hay alternativas. Propuestas para crear empleo y bienestar social en España. Madrid: Sequitur.

OECD. 2012. Social Spending During the Crisis. Paris: OECD.

Pavolini, E., M. León, A.M. Guillén, and U. Ascoli. 2016. From Austerity to Permanent Strain? The EU and Welfare State Reform in Italy and Spain. In The Sovereign Debt Crisis, the EU and Welfare State Reform, ed. C. De La Porte and E. Heins, 131–158. London: Palgrave Macmillan.

Pérez, S. 1999. From Labor to Finance Understanding the Failure of Socialist Economic Policies in Spain. Comparative Political Studies 32 (6): 659–689.

Recio, A., and J. Banyuls. 2004. ¿Crecimiento del empleo sin tecnología? La paradoja del mercado de trabajo en España. Paper Presented to IX Jornadas de Economía Crítica, Madrid.

Recio, A., R. de Alós-Moner, and I. Olivares. 2006. Construction in Spain, QUIT Working Paper No. 13. Available at: http://quit.uab.es. Accessed 21 May 2016.

Rodríguez Cabrero, G. 2011. The Consolidation of the Spanish Welfare State (1975–2010). In The Spanish Welfare State in European Context, ed. A.M. Guillén and M. León, 17–38. Surrey: Ashgate Publishing.

Ruiz Galacho, E. 2006. Las reformas laborales en España (1977–2002). Laberinto 20: 7–22.

Ryner, M. 2010. An Obituary for the Third Way. Eurozine, April 27. Available at http://www.eurozine.com/articles/2010-04-27-ryner-en.html. Accessed 10 June 2016.

Sanabria, A., and B. Medialdea. 2014. La crisis de la deuda en España: elementos básicos y alternativas. In Análisis y perspectivas 2014: Precariedad y Cohesión Social, ed. FOESSA, 63–70. Madrid: FOESSA.

Sanabria, A., and B. Medialdea. 2016. Lending Calling. Recession by Over-Indebtedness: Description and Specific Features of the Spanish Case. Panoeconomicus 63 (2, Special Issue): 195–210.

Santos Castroviejo, I. 2013. Elites del poder económico en España en 2013. Transformaciones en las redes de gobierno empresarial durante la crisis. Vigo/Pontevedra: Universidade de Vigo.

Soederberg, S. 2014. Debtfare States and the Poverty Industry. Money, Discipline and the Surplus Population. New York: Routledge.

Weisbrot, M., and H. Jorgensen. 2013. Macroeconomic Policy Advice and the Article IV Consultations: A European Union Case Study. Washington, DC: Centre for Economic and Policy Research (CEPR).

Zack, G., P. Poncela, E. Senra, and D. Sotelsek. 2013. Towards an Effective Structural Budget Balance for Economic Stability, Documentos de Trabajo UC-CIFF-IELAT No. 13, June. Alcalá de Henares: University of Alcalá de Henares.
About this chapter
Cite this chapter
Buendía, L. (2018). The Spanish Economic 'Miracle' That Never Was. In: Parker, O., Tsarouhas, D. (eds) Crisis in the Eurozone Periphery. Building a Sustainable Political Economy: SPERI Research & Policy. Palgrave Macmillan, Cham. https://doi.org/10.1007/978-3-319-69721-5_3
DOI: https://doi.org/10.1007/978-3-319-69721-5_3

Published:

Publisher Name: Palgrave Macmillan, Cham

Print ISBN: 978-3-319-69720-8

Online ISBN: 978-3-319-69721-5