Abstract

Shock is a pathological condition characterized by an imbalance between oxygen demand and supply. Different mechanisms have been recognized, and the causes that lead to the final condition of shock are classified according to the cardiac output (CO). In low-CO states, the problem is in oxygen delivery to the cells, while in high-CO (distributive) shock, there is a low oxygen extraction rate despite the delivery being normal.

Whatever the cause, in shock states, the impairment in cellular metabolism leads to an "energetic failure" due to a decrease in ATP production with consequent multiple organ failure.

Septic shock is the most common type of shock in the ICUs, and its mechanisms are still not entirely clear, since the problem lies in the periphery, either as a primary mitochondrial dysfunction or consequent to a microcirculatory alteration with hypoxic cellular damage.

The main issue is the early recognition of a patient in shock, because an early treatment and correction of the underlying mechanism have been associated with a better prognosis.

Clinical history and physical examination are fundamental, as they often suggest the type of shock. The role of hypotension is complex, because hypotension is not always a sign of shock and, at the same time, not all the patients in shock are hypotensive.

Laboratory tests are also very useful, and among them, lactate value and its trend over time play a main role in the prognosis of a patient in shock.

Echocardiography, if performed by a trained operator, can guide in the differential diagnosis with the advantage of being a rapid, noninvasive, and bedside evaluation.
Keywords
Arterial hypotension

Cardiac output

Echocardiography

Oxygen delivery

Oxygen extraction

Anaerobic metabolism

Microcirculation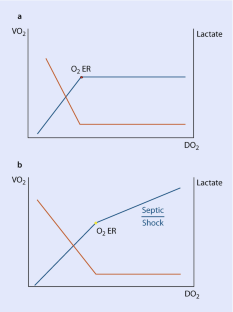 References
Vincent JL, Sakr Y, Sprung CL, Ranieri VM, Reinhart K, Gerlach H, Moreno R, Carlet J, Le Gall JR, Payen D, Sepsis Occurrence in Acutely Ill Patients I. Sepsis in European intensive care units: results of the SOAP study. Crit Care Med. 2006;34:344–53.

Vincent JL, De Backer D. Circulatory shock. N Engl J Med. 2013;369:1726–34.

Vincent JL, Dufaye P, Berre J, Leeman M, Degaute JP, Kahn RJ. Serial lactate determinations during circulatory shock. Crit Care Med. 1983;11:449–51.

Brealey D, Brand M, Hargreaves I, Heales S, Land J, Smolenski R, Davies NA, Cooper CE, Singer M. Association between mitochondrial dysfunction and severity and outcome of septic shock. Lancet. 2002;360:219–23.

Dantzker D. Oxygen delivery and utilization in sepsis. Crit Care Clin. 1989;5:81–98.

Schumacker PT, Cain SM. The concept of a critical oxygen delivery. Intensive Care Med. 1987;13:223–9.

Ardehali A, Ports TA. Myocardial oxygen supply and demand. Chest. 1990;98:699–705.

O'Connor PM. Renal oxygen delivery: matching delivery to metabolic demand. Clin Exp Pharmacol Physiol. 2006;33:961–7.

Vincent JL, Van der Linden P. Septic shock: particular type of acute circulatory failure. Crit Care Med. 1990;18:S70–4.

Textoris J, Fouche L, Wiramus S, Antonini F, Tho S, Martin C, Leone M. High central venous oxygen saturation in the latter stages of septic shock is associated with increased mortality. Crit Care. 2011;15:R176.

Carre JE, Singer M. Cellular energetic metabolism in sepsis: the need for a systems approach. Biochim Biophys Acta. 2008;1777:763–71.

Singer M, Deutschman CS, Seymour CW, Shankar-Hari M, Annane D, Bauer M, Bellomo R, Bernard GR, Chiche JD, Coopersmith CM, Hotchkiss RS, Levy MM, Marshall JC, Martin GS, Opal SM, Rubenfeld GD, van der Poll T, Vincent JL, Angus DC. The third international consensus definitions for sepsis and septic shock (Sepsis-3). JAMA. 2016;315:801–10.

Kandel G, Aberman A. Mixed venous oxygen saturation. Its role in the assessment of the critically ill patient. Arch Intern Med. 1983;143:1400–2.

Cecconi M, De Backer D, Antonelli M, Beale R, Bakker J, Hofer C, Jaeschke R, Mebazaa A, Pinsky MR, Teboul JL, Vincent JL, Rhodes A. Consensus on circulatory shock and hemodynamic monitoring. Task force of the European Society of Intensive Care Medicine. Intensive Care Med. 2014;40:1795–815.

van Diepen S, Katz JN, Albert NM, Henry TD, Jacobs AK, Kapur NK, Kilic A, Menon V, Ohman EM, Sweitzer NK, Thiele H, Washam JB, Cohen MG, American Heart Association Council on Clinical Cardiology; Council on Cardiovascular and Stroke Nursing; Council on Quality of Care and Outcomes Research; and Mission: Lifeline. Contemporary management of cardiogenic shock: a scientific statement from the American Heart Association. Circulation. 2017;136:e232–68.

Harjola VP, Mullens W, Banaszewski M, Bauersachs J, Brunner-La Rocca HP, Chioncel O, Collins SP, Doehner W, Filippatos GS, Flammer AJ, Fuhrmann V, Lainscak M, Lassus J, Legrand M, Masip J, Mueller C, Papp Z, Parissis J, Platz E, Rudiger A, Ruschitzka F, Schafer A, Seferovic PM, Skouri H, Yilmaz MB, Mebazaa A. Organ dysfunction, injury and failure in acute heart failure: from pathophysiology to diagnosis and management. A review on behalf of the Acute Heart Failure Committee of the Heart Failure Association (HFA) of the European Society of Cardiology (ESC). Eur J Heart Fail. 2017;19:821–36.

Attana P, Lazzeri C, Picariello C, Dini CS, Gensini GF, Valente S. Lactate and lactate clearance in acute cardiac care patients. Eur Heart J Acute Cardiovasc Care. 2012;1:115–21.

Kortbeek JB, Al Turki SA, Ali J, Antoine JA, Bouillon B, Brasel K, Brenneman F, Brink PR, Brohi K, Burris D, Burton RA, Chapleau W, Cioffi W, Collet e Silva Fde S, Cooper A, Cortes JA, Eskesen V, Fildes J, Gautam S, Gruen RL, Gross R, Hansen KS, Henny W, Hollands MJ, Hunt RC, Jover Navalon JM, Kaufmann CR, Knudson P, Koestner A, Kosir R, Larsen CF, Livaudais W, Luchette F, Mao P, JH MV, Meredith JW, Mock C, Mori ND, Morrow C, Parks SN, Pereira PM, Pogetti RS, Ravn J, Rhee P, Salomone JP, Schipper IB, Schoettker P, Schreiber MA, Smith RS, Svendsen LB, Taha W, van Wijngaarden-Stephens M, Varga E, Voiglio EJ, Williams D, Winchell RJ, Winter R. Advanced trauma life support, 8th edition, the evidence for change. J Trauma. 2008;64:1638–50.

Walsh M, Devereaux PJ, Garg AX, Kurz A, Turan A, Rodseth RN, Cywinski J, Thabane L, Sessler DI. Relationship between intraoperative mean arterial pressure and clinical outcomes after noncardiac surgery: toward an empirical definition of hypotension. Anesthesiology. 2013;119:507–15.

van Waes JA, van Klei WA, Wijeysundera DN, van Wolfswinkel L, Lindsay TF, Beattie WS. Association between intraoperative hypotension and myocardial injury after vascular surgery. Anesthesiology. 2016;124:35–44.

The Pro CI. A randomized trial of protocol-based care for early septic shock. N Engl J Med. 2014;370(18):1683–93.

Carlson BE, Arciero JC, Secomb TW. Theoretical model of blood flow autoregulation: roles of myogenic, shear-dependent, and metabolic responses. Am J Physiol Heart Circ Physiol. 2008;295:H1572–9.

Asfar P, Meziani F, Hamel JF, Grelon F, Megarbane B, Anguel N, Mira JP, Dequin PF, Gergaud S, Weiss N, Legay F, Le Tulzo Y, Conrad M, Robert R, Gonzalez F, Guitton C, Tamion F, Tonnelier JM, Guezennec P, Van Der Linden T, Vieillard-Baron A, Mariotte E, Pradel G, Lesieur O, Ricard JD, Herve F, du Cheyron D, Guerin C, Mercat A, Teboul JL, Radermacher P, Investigators S. High versus low blood-pressure target in patients with septic shock. N Engl J Med. 2014;370:1583–93.

Magder SA. The highs and lows of blood pressure: toward meaningful clinical targets in patients with shock. Crit Care Med. 2014;42:1241–51.

Tapia P, Soto D, Bruhn A, Alegria L, Jarufe N, Luengo C, Kattan E, Regueira T, Meissner A, Menchaca R, Vives MI, Echeverria N, Ospina-Tascon G, Bakker J, Hernandez G. Impairment of exogenous lactate clearance in experimental hyperdynamic septic shock is not related to total liver hypoperfusion. Crit Care. 2015;19:188.

Hernandez G, Tapia P, Alegria L, Soto D, Luengo C, Gomez J, Jarufe N, Achurra P, Rebolledo R, Bruhn A, Castro R, Kattan E, Ospina-Tascon G, Bakker J. Effects of dexmedetomidine and esmolol on systemic hemodynamics and exogenous lactate clearance in early experimental septic shock. Crit Care. 2016;20:234.

Jones AE, Shapiro NI, Trzeciak S, Arnold RC, Claremont HA, Kline JA, Emergency Medicine Shock Research Network (EMShockNet) Investigators. Lactate clearance vs central venous oxygen saturation as goals of early sepsis therapy: a randomized clinical trial. JAMA. 2010;303:739–46.

Jansen TC, van Bommel J, Schoonderbeek FJ, Sleeswijk Visser SJ, van der Klooster JM, Lima AP, Willemsen SP, Bakker J, LACTATE study group. Early lactate-guided therapy in intensive care unit patients: a multicenter, open-label, randomized controlled trial. Am J Respir Crit Care Med. 2010;182:752–61.

Rhodes A, Evans LE, Alhazzani W, Levy MM, Antonelli M, Ferrer R, Kumar A, Sevransky JE, Sprung CL, Nunnally ME, Rochwerg B, Rubenfeld GD, Angus DC, Annane D, Beale RJ, Bellinghan GJ, Bernard GR, Chiche JD, Coopersmith C, De Backer DP, French CJ, Fujishima S, Gerlach H, Hidalgo JL, Hollenberg SM, Jones AE, Karnad DR, Kleinpell RM, Koh Y, Lisboa TC, Machado FR, Marini JJ, Marshall JC, Mazuski JE, McIntyre LA, McLean AS, Mehta S, Moreno RP, Myburgh J, Navalesi P, Nishida O, Osborn TM, Perner A, Plunkett CM, Ranieri M, Schorr CA, Seckel MA, Seymour CW, Shieh L, Shukri KA, Simpson SQ, Singer M, Thompson BT, Townsend SR, Van der Poll T, Vincent JL, Wiersinga WJ, Zimmerman JL, Dellinger RP. Surviving sepsis campaign: international guidelines for management of sepsis and septic shock: 2016. Intensive Care Med. 2017;43:304.

Casserly B, Phillips GS, Schorr C, Dellinger RP, Townsend SR, Osborn TM, Reinhart K, Selvakumar N, Levy MM. Lactate measurements in sepsis-induced tissue hypoperfusion: results from the surviving sepsis campaign database. Crit Care Med. 2015;43:567–73.

van Beest PA, van Ingen J, Boerma EC, Holman ND, Groen H, Koopmans M, Spronk PE, Kuiper MA. No agreement of mixed venous and central venous saturation in sepsis, independent of sepsis origin. Crit Care. 2010;14:R219.

Kelly KM. Does increasing oxygen delivery improve outcome? Yes. Crit Care Clin. 1996;12:635–44.

Rivers E, Nguyen B, Havstad S, Ressler J, Muzzin A, Knoblich B, Peterson E, Tomlanovich M, Early Goal-Directed Therapy Collaborative Group. Early goal-directed therapy in the treatment of severe sepsis and septic shock. N Engl J Med. 2001;345:1368–77.

ARISE Investigators; ANZICS Clinical Trials Group, Peake SL, Delaney A, Bailey M, Bellomo R, Cameron PA, Cooper DJ, Higgins AM, Holdgate A, Howe BD, Webb SA, Williams P. Goal-directed resuscitation for patients with early septic shock. N Engl J Med. 2014;371:1496–506.

Mouncey PR, Osborn TM, Power GS, Harrison DA, Sadique MZ, Grieve RD, Jahan R, Harvey SE, Bell D, Bion JF, Coats TJ, Singer M, Young JD, Rowan KM, Pro MTI. Trial of early, goal-directed resuscitation for septic shock. N Engl J Med. 2015;372:1301–11.

Investigators P, Rowan KM, Angus DC, Bailey M, Barnato AE, Bellomo R, Canter RR, Coats TJ, Delaney A, Gimbel E, Grieve RD, Harrison DA, Higgins AM, Howe B, Huang DT, Kellum JA, Mouncey PR, Music E, Peake SL, Pike F, Reade MC, Sadique MZ, Singer M, Yealy DM. Early, goal-directed therapy for septic shock − a patient-level meta-analysis. N Engl J Med. 2017;376:2223–34.

Dell'Anna AM, Taccone FS. Early-goal directed therapy for septic shock: is it the end? Minerva Anestesiol. 2015;81:1138–43.

De Backer D, Donadello K, Sakr Y, Ospina-Tascon G, Salgado D, Scolletta S, Vincent JL. Microcirculatory alterations in patients with severe sepsis: impact of time of assessment and relationship with outcome. Crit Care Med. 2013;41:791–9.

Bakker J, Vincent JL, Gris P, Leon M, Coffernils M, Kahn RJ. Veno-arterial carbon dioxide gradient in human septic shock. Chest. 1992;101:509–15.

Mallat J, Benzidi Y, Salleron J, Lemyze M, Gasan G, Vangrunderbeeck N, Pepy F, Tronchon L, Vallet B, Thevenin D. Time course of central venous-to-arterial carbon dioxide tension difference in septic shock patients receiving incremental doses of dobutamine. Intensive Care Med. 2014;40:404–11.

Dres M, Monnet X, Teboul JL. Hemodynamic management of cardiovascular failure by using PCO(2) venous-arterial difference. J Clin Monit Comput. 2012;26:367–74.

Vallet B, Pinsky MR, Cecconi M. Resuscitation of patients with septic shock: please "mind the gap"! Intensive Care Med. 2013;39:1653–5.

Monnet X, Julien F, Ait-Hamou N, Lequoy M, Gosset C, Jozwiak M, Persichini R, Anguel N, Richard C, Teboul JL. Lactate and venoarterial carbon dioxide difference/arterial-venous oxygen difference ratio, but not central venous oxygen saturation, predict increase in oxygen consumption in fluid responders. Crit Care Med. 2013;41:1412–20.

Mallat J, Lemyze M, Meddour M, Pepy F, Gasan G, Barrailler S, Durville E, Temime J, Vangrunderbeeck N, Tronchon L, Vallet B, Thevenin D. Ratios of central venous-to-arterial carbon dioxide content or tension to arteriovenous oxygen content are better markers of global anaerobic metabolism than lactate in septic shock patients. Ann Intensive Care. 2016;6:10.

Ospina-Tascon GA, Umana M, Bermudez W, Bautista-Rincon DF, Hernandez G, Bruhn A, Granados M, Salazar B, Arango-Davila C, De Backer D. Combination of arterial lactate levels and venous-arterial CO2 to arterial-venous O 2 content difference ratio as markers of resuscitation in patients with septic shock. Intensive Care Med. 2015;41:796–805.
Copyright information

© 2019 European Society of Intensive Care Medicine
About this chapter
Cite this chapter
Dell'Anna, A.M., Torrini, F., Antonelli, M. (2019). Shock: Definition and Recognition. In: Pinsky, M.R., Teboul, JL., Vincent, JL. (eds) Hemodynamic Monitoring. Lessons from the ICU. Springer, Cham. https://doi.org/10.1007/978-3-319-69269-2_2
DOI: https://doi.org/10.1007/978-3-319-69269-2_2

Publisher Name: Springer, Cham

Print ISBN: 978-3-319-69268-5

Online ISBN: 978-3-319-69269-2

eBook Packages: MedicineMedicine (R0)