Abstract

Nowadays, liver radioembolization with 90Y microscpheres represents an innovative treatment for unresectable hepatic tumors. 90Y radioembolization treatment planning is performed by means of 99mTc-MAA SPECT imaging. However, photons interaction within human tissues and, in particular, 99mTc \(\gamma \)-rays attenuation, may significantly compromise the quantitative accuracy of SPECT images. The aim of this study was to validate a patient-specific and Computed Tomography (CT)-based attenuation correction of SPECT images, by employing and analyzing, both phantom models and clinical liver SPECT images. The results observed suggested that the implementation of attenuation corrections, during the iterative process of SPECT images reconstruction, resulted in qualitatively and quantitatively visually improved images, with higher contrast and increased count density profiles. Moreover, as compared to uncorrected images, attenuation corrected SPECT images presented a counts distribution more proportional to the real radiopharmaceutical concentration, both in phantom model and in human liver. Thus, the methodology implemented will permit to improve the liver radioembolization treatment planning, based on 99mTc-MAA SPECT imaging and its efficacy, while minimizing the complications.
Keywords
Hepatic tumors

90Y liver radioembolization
99mTc-MAA SPECT imaging

CT-based attenuation correction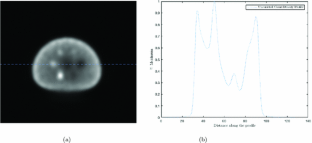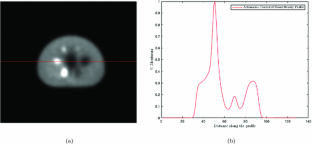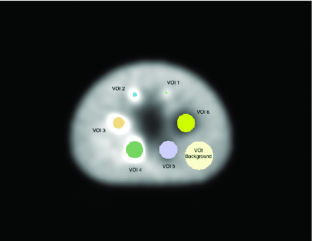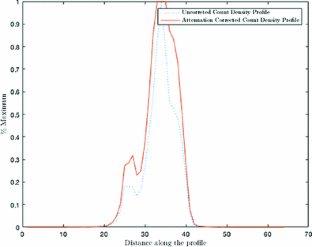 References
Cancer Facts & Figures 2016. American Cancer Society, Atlanta, GA (2016)

Salem, R., et al.: Yttrium-90 microspheres for the treatment of hepatocellular carcinoma: a review. Int. J. Radiat. Oncol. Biol. Phys. 66(2 Suppl), S83–88 (2006)

Bhangoo, M.S., et al.: Radioembolization with Yttrium-90 microspheres for patients with unresectable hepatocellular carcinoma. J. Gastrointest. Oncol. 6(5), 469–478 (2015)

Camacho, J.C., et al.: (90)Y radioembolization: multimodality imaging pattern approach with angiographic correlation for optimized target therapy delivery. Radiographics 35(5), 1602–1618 (2015)

Hamami, M.E., et al.: SPECT/CT with 99mTc-MAA in radioembolization with 90Y microspheres in patients with hepatocellular cancer. J. Nucl. Med. 50(5), 688–692 (2009)

Ahmadzadehfar, H., et al.: The significance of 99mTc-MAA SPECT/CT liver perfusion imaging in treatment planning for 90Y-microsphere selective internal radiation treatment. J. Nucl. Med. 51(8), 1206–1212 (2010)

Gulec, S.A., et al.: Radiomicrosphere therapy: nuclear medicine considerations, guidelines, and protocols. J. Interv. Oncol. 2(1), 26–39 (2009)

Selwyn, R.: Radiomicrosphere treatment dosimetry. J. Interv. Oncol. 2(1), 59–66 (2009)

Zaidi, H., et al.: Determination of the attenuation map in emission tomography. J. Nucl. Med. 44(2), 291–315 (2003)

Oloomi, S., et al.: A new approach for scatter removal and attenuation compensation from SPECT/CT images. Iran J. Basic Med. Sci. 16(11), 1181–1189 (2013)

NEMA Standards Publication NU 2–2001, Performance Measurements of Positron Emission Tomographs. National Electrical Manufacturers Association (2016)

Gnesin, S., et al.: Phantom validation of Tc-99m absolute quantification in a SPECT/CT commercial device. Comput. Math. Methods Med. 2016, 6 (2016). Article No: 4360371

Brown, S., et al.: Investigation of the relationship between linear attenuation coefficients and CT Houns field units using radionuclides for SPECT. Appl. Radiat. Isot. 66(9), 1206–1212 (2008)

Willowson, K., et al.: Quantitative SPECT reconstruction using CT-derived corrections. Phys. Med. Biol. 53(12), 3099–3112 (2008)
Acknowledgments

We gratefully acknowledge the technical staff at the Nuclear Medicine - Radiopharmacology Department, Champalimaud Foundation, Center for the Unknown, Lisbon, for their availability, dedication and without whom all data would have not been possible to acquire, process and analyze. Moreover, we wish to thank Professors Maria G. Signorini (Politecnico di Milano, Milan), Lidia S. Ferreira (Instituto Superior Técnico, Lisbon) and Enrico Maglione (Instituto Superior Técnico, Lisbon) for their sincere advice and guidance.
Copyright information

© 2018 Springer International Publishing AG
About this paper
Cite this paper
Demino, L., Ferreira, P., Oliveira, F.P.M., Costa, D.C. (2018). The Importance of SPECT Imaging Attenuation Correction During Treatment Planning for 90Y-labeled Glass Microspheres Liver Radioembolization. In: Tavares, J., Natal Jorge, R. (eds) VipIMAGE 2017. ECCOMAS 2017. Lecture Notes in Computational Vision and Biomechanics, vol 27. Springer, Cham. https://doi.org/10.1007/978-3-319-68195-5_29
DOI: https://doi.org/10.1007/978-3-319-68195-5_29

Published:

Publisher Name: Springer, Cham

Print ISBN: 978-3-319-68194-8

Online ISBN: 978-3-319-68195-5

eBook Packages: EngineeringEngineering (R0)