Abstract

Radioembolization (RE) is a radiation treatment based on intra-arterial injection of Yttrium-90 (90Y) labeled microspheres, recognized as an efficient clinical practice for liver neoplasms either primary or metastatic.

As a current practice, the RE procedure follows the guidelines of the microsphere manufacturers. At the Champalimaud Centre for the Unknown (CCU), Champalimaud Foundation (CF), we have been using 90Y-labeled glass microspheres (Therasphere®) in our patients referred for hepatic RE treatments. Following the Therasphere® guidelines, the calculation of 90Y activity to be injected through the hepatic artery, is based on the formalism of the MIRD (Medical Internal Radiation Dose) committee of the Society of Nuclear Medicine and Molecular Imaging (SNMMI). The calculation model is based on the prescribed absorbed dose and the liver volume (total, lobe or segment), not considering any patient-specific characteristics that can influence the microspheres deposition.

Accurate absorbed dose calculation in the liver is crucial for treatment planning and establishing the dose-effect correlation between tumor control and normal tissue complications. Therefore, our research group has been developing patient-personalized voxel-based dosimetry analysis of Single Photon Emission Computer Tomography (SPECT) images obtained from the patient injected with Technetium-99 m Macroaggregated Albumin (99mTc-MAA) in a pre-treatment phase.

The use of 99mTc-MAA as a 90Y microsphere surrogate is one of the biggest challenges in hepatic RE due to the intrinsic differences between particles (MAA vs glass microspheres) and consequent distribution in the liver parenchyma. Therefore, we capture post-treatment 90Y Positron Emission Tomography PET images to investigate the predictive power of the pre-treatment MAA dose distributions in comparison with the post-treatment 90Y dose maps.

Two analytical methods have been used in our analysis: the gamma-index (γ-index) test, as a numerical measure of the agreement between two image datasets, and the Dose-Volume Histograms (DVH), to quantify the absorbed dose in each volume of interest (VOI) previously defined, i.e., the total liver, the normal functioning liver tissue and the planning target volume (PTV).

We can conclude so far, that patients with multiple PTV undergoing hepatic RE (total or lobar) can be simulated by the MAA. For these patients, optimized pre-treatment voxel-based dosimetry seems to be suitable. Our hypothesis (ongoing work) is that patients with few PTV may also benefit from personalized pre-treatment dosimetry (segment or tumor) and optimization based on MAA.
Keywords
Radioembolization

Voxel-dosimetry

S values

Optimization

Dose-volume histograms

Gamma-index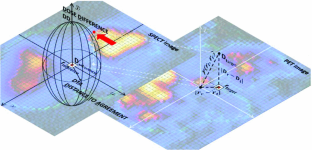 References
Ariel, I.M.: Treatment of inoperable primary pancreatic and liver cancer by the intra-arterial administration of radioactive isotope (Y90 radiating microspheres). Ann. Surg. 162, 267–278 (1965)

Ferreira, P., Parafita, R., Canudo, A., Oliveira, C., Rosa, L., Girão, P.S., Costa, D.C.: Multiple liver metastases from carcinoma of the thymus treated with Yttrium-90 Radioembolization (Glass Microspheres): clinical dosimetry. Clin. Oncol. 1024(1), 1–5 (2016)

Snyder, W.S., Ford, M.R., Warner, G.G., Watson, S.B.: "S," Absorbed Dose per Unit Cumulated Activity for Selected Radionuclides and Organs. MIRD Pamphlet No. 11. Society of Nuclear Medicine, New York (1975)

Koninklijke Philips Electronics N.V.: Imalytics Research Workstation - Stratos Research Dosimetry Solution (2014). www.philips.com/imalytics

Goedicke, A., Berker, Y., Verburg, F.A., Behrendt, F.F., Winz, O., Mottaghy, F.M.: Study-parameter impact in quantitative 90-Yttrium PET imaging for Radioembolization treatment monitoring and dosimetry. Med. Imaging 32(3), 485–492 (2013)

Berker, Y., Goedicke, A., Kemerink, G.J., Aach, T., Schweizer, B.: Activity quantification combining conjugate-view planar scintigraphies and SPECT/CT data for patient-specific 3-D dosimetry in radionuclide therapy. Eur. J. Nucl. Med. Mol. Imaging 38(12), 2173–2185 (2011)

Wierts, R., de Pont, C.D., Brans, B., Mottaghy, F.M., Kemerink, G.J.: Dosimetry in molecular nuclear therapy. Methods 55(3), 196–202 (2011)

Schweizer, B., Schaefer, A., Donsch, P., Kremp, S., Gouverneur, E., Farmakis, G., Grgic, A., Bal, M., Kirsch, C.M., Hellwig, D.: Evaluation of voxel-based dosimetry for targeted radionuclide therapies in phantom studies. Eur. J. Nucl. Med. Mol. Imaging 36(2), 428 (2009)

Gu, X., Jia, X., Jiang, S.B.: GPU-based fast gamma index calculation. Phys. Med. Biol. 56(5), 1431–1441 (2011)

Depuydt, T., Esch, A.V., Huyskens, D.P.: A quantitative evaluation of IMRT dose distributions: refinement and clinical assessment of the gamma evaluation. Radiat. Oncol. 62(3), 309–319 (2002)

Low, D.A., Harms, W.B., Mutic, S., Purdy, J.A.: A technique for the quantitative evaluation of dose distributions. Med. Phys. 25(5), 656–661 (1998)

Bolch, W.E., Bouchet, L.G., Robertson, J.S., Wessels, B.W., Siegel, J.A., Howell, R.W., Erdi, A.K., Aydogan, B., Costes, S., Watson, E.: MIRD pamphlet no. 17: the dosimetry of nonuniform activity distributions-radionuclide S values at the voxel level. J. Nucl. Med. 40(1), 11S–36S (1999)

Pacilioa, M., Lanconelli, N., Meo, S.L., Betti, M., Montani, L., Aroche, L.A., Pérez, M.A.: Monte Carlo codes in the calculations of voxel S values for radionuclide targeted therapy and analysis of their impact on absorbed dose evaluations. Med. Phys. 36(5), 1543–1552 (2009)

Lau, W.Y., Kennedy, A.S., Kim, Y.H., Lai, H.K., Lee, R.C., Leung, T.W., et al.: Patient selection and activity planning guide for selective internal radiotherapy with Yttrium-90 resin microspheres. Int. J. Radiation Oncology Biol. Phys. 1(82), 401–407 (2012)
Acknowledgments

We gratefully acknowledge the following people without whom all data would have not been possible to acquire, process and analyze: Nucliber/BTG for partially financing research tests towards the calculation of calibration factors for inter-modality imaging data correction; Jacob Beres, Medical Physicist of Radiological Imaging Technology (RIT), Colorado Springs, USA; Professor Dr. Carlo Greco, Head of Radiation Oncology Department, CCU, FC; Dr. Carlos Carvalho, Head of Digestive Tumor Department, CCU, FC; Dr. Luís Rosa, Interventional Radiologist; Dr. Carla Oliveira, Nuclear Medicine MD; Dr. Ana Canudo, Nuclear Medicine Technologist; all staff at the Nuclear Medicine – Radiopharmacology Department, CCU, FC for their availability and dedication.
Copyright information

© 2018 Springer International Publishing AG
About this paper
Cite this paper
Ferreira, P., Parafita, R., Girão, P.S., Correia, P.L., Costa, D.C. (2018). Radioembolization with 90Y-Labeled Glass Microspheres: Analytical Methods for Patient-Personalized Voxel-Based Dosimetry. In: Tavares, J., Natal Jorge, R. (eds) VipIMAGE 2017. ECCOMAS 2017. Lecture Notes in Computational Vision and Biomechanics, vol 27. Springer, Cham. https://doi.org/10.1007/978-3-319-68195-5_20
DOI: https://doi.org/10.1007/978-3-319-68195-5_20

Published:

Publisher Name: Springer, Cham

Print ISBN: 978-3-319-68194-8

Online ISBN: 978-3-319-68195-5

eBook Packages: EngineeringEngineering (R0)