Abstract

A strategy to foster innovation in organizations consists of the adoption of a Research, Development and Innovation (R&D&I) management model. This paper describes the MGPDI model focused on Process Improvement & Assessment that is applicable to any organization independently of size, type and activity. This new model is based on: (i) requirements based on innovation best practices and Brazilian and Spanish Standards; (ii) the ISO/IEC 330xx family of standards for Process Assessment; (iii) lessons learned with the Brazilian model (MPS) for software process improvement. The MGPDI model has three components: a Process Reference Model (MR-MGPDI), a Process Assessment Model (MA-MGPDI), and a Business Model (MN-MGPDI). This paper also describes the validation of this model and its pilot implementation and assessment in three Brazilian companies. In addition to its relevance in Brazil, it has a high potential for replication in other countries.
Keywords
Innovation management

MGPDI model

Process improvement & assessment

R&D&I management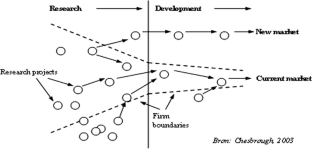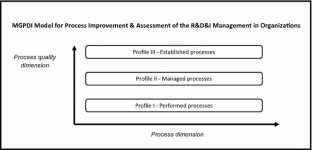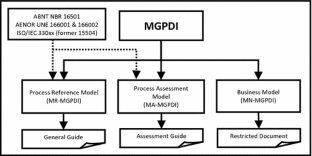 Notes
1.

MGPDI™ (Modelo de Gestão da Pesquisa, Desenvolvimento e Inovação, in Portuguese) is a trademark registered at INPI <http://www.inpi.gov.br/english>, owned by SOFTSUL.

2.

SOFTSUL <www.softsul.org.br> is a Brazilian private, non-profit organization created in 1994 aiming at the socio-economic development and the increase of the competitiveness of organizations ICT-intense, not only ICT companies. SOFTSUL has a Technology Development Center (CTEC) and has large experience in project coordination in the country and abroad, including Inter-American Development Bank (IDB) projects and the CONECTA 2020 project of the EU HORIZON 2020 Program.
References
Chesbrough, H.: Open Innovation: The New Imperative for Creating and Profiting from Technology. HBS Press, Harvard (2003)

Hansen, M.T., Birkinshaw, J.: The Innovation Value Chain. Harvard Business Review – HBR, June issue (2007)

Belussi, F., Sammarra, A., Sedita, S.R.: Learning at the boundaries in an 'Open Regional Innovation System – ORIS': A focus on firms' innovation strategies in the Emilia Romagna life science industry. Elsevier B.V. (2010). doi:10.1016/j.respol2010.01.014. www.elsevier.com/locatel/respol

Ranga, M., Etzkowitz, H.: Triple Helix Systems: An Analytical Framework for Innovation Policy and Practice in the Knowledge Society. Ind. High. Educ. 27(3), 237–262 (2013). doi:10.5367/ihe.2013.0165

Weinblein, T., Chesbrough, H.: Engaging with startups to enhance corporate innovation. Calif. Manag. Rev. 57(2), 66–90 (2015). http://www.jstor.org/stable/10.1525/cmr.2015.57.2.66

Weber, K.C., Antonioni, J.A., Melchionna, R., Pereira, R., Toniazzo, J.C., Schwening, C., Machado, C.F., Keglevich, P., Herbert, J., Villalobos-Aguayo, M.T.: MGPDI: Modelo de gestión de la I+D+i en las organizaciones. In: I Congreso Internacional de Gestión de la Innovación, 28 septiembre–02 octubre, PUCP, Lima, Perú (2015)

Weber, K.C., Melchionna, R., Machado, C.F., Machado, R.F.: Implementações e Avaliações Piloto Usando o Modelo MGPDI para Gestão da Pesquisa, Desenvolvimento e Inovação nas Organizações. In: International Symposium on Project Management, Innovation and Sustainability – V SINGEP, 20–22 Nov, UNINOVE, São Paulo-SP, Brasil (2016)

innoSPICE. Innovation, iso15504, SPICE. Innovation Capability Center of Bremen University, Germany. http://innospice.ning.com/

Montoni, M., Rocha, A.R., Weber, K.C.: MPS.BR: a successful program for software process improvement and practice. Softw. Process Improve. Pract. 14, 289–300 (2009). Wiley InterScience. www.interscience.wiley.com. doi:10.1002/spip.428

Kalinowski, M., Weber, K.C., Santos, G., Franco, N., Duarte, V., Travassos, G.H.: Software Process Improvement Results in Brazil Based on the MPS-SW Model. In: SQP ASQ – American Society for Quality, vol. 17(4) (2015). www.asq.org

ISO/IEC 330xx family of standards. Information technology: Process assessment. New family ISO/IEC 330xx updates ISO/IEC 15504 series of standards (2015)

ISO/IEC 33001. Information technology – Process assessment – Concepts and terminology (2015)

ISO/IEC 33004. Information technology – Process assessment – Requirements for process reference, process assessment and maturity models (2015)

ISO/IEC 33020. Information technology – Process assessment – Process measurement framework for assessment of process capability (2015)

OECD. Frascati Manual: Proposed Standard Practice for Surveys on Research and Experimental Development, 6th edn. (2002)

OECD. Oslo Manual: Guidelines for Collecting and Interpreting Innovation Data, 3rd edn. (2005)

Papageorge, A.: GoInnovate!: A Pratical Guide to Swift, Continual and Effective Innovation. GoInnovate! Publishing, San Diego (2004)

Altshuller, G.: Innovation Algorithm. Worcester: Technical Innovation Center, 1st Russian edn. 1969 (1999)

Teboul, J.: Service is Front Stage: Positioning Services for Value Advantage. Palgrave McMillan, New York (2006)

Teboul, J.: Serviços em Cena: O Diferencial que Agrega Valor ao seu Negócio. INSEAD, CNI/IEL (2008)

NORAD: The Logical Framework Approach: Handbook for objectives-oriented planning, 4th edn. ISBN 82-7548-160-0 (1999)

ABNT NBR 16501: Diretrizes para sistemas de gestão da pesquisa, do desenvolvimento e da inovação (PDI). Norma Brasileira (2011)

AENOR UNE 166001. Gestión de la I+D+i: Requisitos de un proyeto de I+D+i. Norma Española (2006)

AENOR UNE 166002. Gestión de la I+D+i: Requisitos del sistema de gestión de la I+D+i. Norma Española (2014)

Guia Geral do MGPDI, December 2016. http://softsul.org.br/mgpdi/wp-content/uploads/2015/10/GUIA-GERAL-MGPDI.pdf

Guia de Avaliação do MGPDI, December 2016. http://softsul.org.br/mgpdi/wp-content/uploads/2015/10/GUIA-DE-AVALIAÇÃO-MGPDI.pdf

APQC: Open Innovation: Enhancing Idea Generation Through Collaboration. In: ideaCONNECTION report (2013). https://www.ideaconnection.com/blog/2013/08/open-innovation-best-practices-a-new-report/
Copyright information

© 2017 Springer International Publishing AG
About this paper
Cite this paper
Weber, K.C. et al. (2017). A Process Reference Model and A Process Assessment Model to Foster R&D&I Management in Organizations: MGPDI. In: Mas, A., Mesquida, A., O'Connor, R., Rout, T., Dorling, A. (eds) Software Process Improvement and Capability Determination. SPICE 2017. Communications in Computer and Information Science, vol 770. Springer, Cham. https://doi.org/10.1007/978-3-319-67383-7_26
DOI: https://doi.org/10.1007/978-3-319-67383-7_26

Published:

Publisher Name: Springer, Cham

Print ISBN: 978-3-319-67382-0

Online ISBN: 978-3-319-67383-7

eBook Packages: Computer ScienceComputer Science (R0)