Abstract

Airport terminal decision makers in recent years need to deal with unexpected and sudden congestion situations. Although various types of mathematical researchs has analyzed the congestion situations and have succeed to manage a subsystem, they cannot sufficiently describe the variety of phenomena observed in a real airport terminal, because they have not considered the interactions between subsystems of the real airport terminal. A simulation approach enables us to describe the interactions between facilities and passenger behavior in detail as a whole airport system and to find various types of possible congestion situations. The simulation approach, however, cannot directly lead exact prediction that can be useful in practical management and operation for difficulties of modeling a complex airport terminal system and acquiring complete input data. In this paper, (1) we modeled Fukuoka airport international terminal in Japan as Complex Adaptive System and built a passenger flow simulation based on the Discrete Event Model. Validity of the model was confirmed by experiments. Moreover, (2) we confirmed that it is possible to acquire simulation input data from discussing with stakeholders using the simulation. Therefore, we believe that it is possible to reduce uncertainty of the model systematically by continuing modeling, predicting, and discussing with stakeholders, repeatedly.
Keywords
Passenger flow simulation

Airport terminal

Complex adaptive system

Discrete event model

System design methodology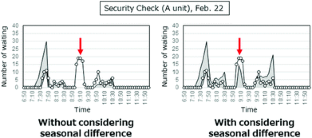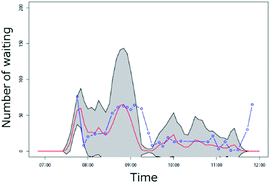 References
Barbo, W.A.: The use of queuing models in design of baggage claim areas at Airports. Graduate Report. Institute of Transportation and Traffic Engineering, University of California, Berkeley (1967)

Beria, P., Laurino, A.: Determinants of daily fluctuations in air passenger volumes. The effect of events and holidays on Milan Malpensa airport. J. Air Transp. Manag. 53, 73–84 (2016)

Borshchev, A., Filippov, A.: From system dynamics and discrete event to practical agent-based modeling: reasons, techniques, tools. In: Proceedings of the 22nd International Conference of the System Dynamics Society, Oxford, England (2004)

Bouarfa, S., Blom, H.A., Curran, R., Everdij, M.H.: Agent-based modeling and simulation of emergent behavior in air transportation. Complex Adapt. Syst. Model. 1(15), 1–26 (2013)

Cook, A., Blom, H.A.P., Lillo, F., Mantegna, R.N., Miccichè, S., Rivas, D., Zanin, M.: Applying complexity science to air traffic management. J. Air Transp. Manag. 42, 149–158 (2015)

Correia, A.R., Wirasinghe, S.C., de Barros, A.G.: Overall level of service measures for airport passenger terminals. Transp. Res. Part A: Policy Pract. 42(2), 330–346 (2008)

Dunlay, W.J., Park, C.H.: Tandem-queue algorithm for airport user flows. Transp. Eng. J. ASCE 104(TE2), 131–149 (1978)

Eilon, S., Mathewson, S.: A simulation study for the design of an air terminal building. IEEE Trans. Syst. Man Cybern. 3(4), 308–317 (1973)

Eurocontrol: Impact Study of Landside Elements on Airport Capacity and Delays (2009)

Fayez, M.S., Kaylani, A., Cope, D., Rychlik, N., Mollaghasemi, M.: Managing airport operations using simulation. J. Simul. 2, 41–52 (2008)

Gillen, D., Hasheminia, H.: Estimating the demand responses for different sizes of air passenger groups. Transp. Res. Part B: Methodological 49, 24–38 (2013)

Gongora, M., Ashfaq, W.: Analysis of passenger movement at birmingham international airport using evolutionary techniques. In: IEEE Congresson Evolutionary Computation (CEC), pp. 1339–1345 (2006)

Heidt, A., Gluchshenko, O.: From uncertainty to robustness and system's resilience in ATM: a case study. In: Proceedings of the Third International Air Transport and Operations Symposium, Delft, Netherlands (2012)

Holland, J.H.: Studying complex adaptive systems. J. Syst. Sci. Complexity 19, 1–8 (2006)

Horonjeff, R.: Planning and Design of Airports, 1st edn. McGraw Hill Book Company, New York (1962)

Jim, H.K., Chang, Z.Y.: An airport passenger terminal simulator: a planning and design tool. Simul. Pract. Theor. 6(4), 387–396 (1998)

Ju, Y., Wang, A., Che, H.: Simulation and optimization for the airport passenger flow. In: International Conference on Wireless Communications, Networking and Mobile Computing (WiCom), pp. 6605–6608 (2007)

Kim, B., Lee, G.-G., Yoon, J.-Y., Kim, J.-J., Kim, W.-Y.: A method of counting pedestrians in crowded scenes. In: Huang, D.-S., Wunsch, Donald C., Levine, Daniel S., Jo, K.-H. (eds.) ICIC 2008. LNCS, vol. 5227, pp. 1117–1126. Springer, Heidelberg (2008). doi:10.1007/978-3-540-85984-0_134

Madas, M.A., Zografos, K.G.: Airport slot allocation: from instruments to strategies. J. Air Trans. Manag. 12(2), 53–62 (2006)

Manataki, I.E., Zografos, K.G.: A generic system dynamics based tool for airport terminal performance analysis. Transp. Res. Part C: Emerg. Technol. 17(4), 428–443 (2009)

Newell, G.F.: Application of Queuing Theory. Chapman and Hall, London (1971)

Odoni, A.R., de Neufville, R.: Passenger terminal design. Transp. Res. Part A: Policy Pract. 26(1), 27–35 (1992)

Ohori, K., Kobayashi, N., Obata, A., Takahashi, A., Takahashi, S.: Decision support for management of agents' knowledge and skills with job rotation in service-oriented organization. In: 45th Hawaii International Conference on Systems Science (HICSS-45 2012), Proceedings, Grand Wailea, Maui, HI, USA, 4–7 January, pp. 1492–1501 (2012)

Ohori, K., Yamane, S., Kobayashi, N., Obata, A., Takahashi, S.: Agent-based social simulation as an aid to communication between stakeholders. In: Chen, S.-H., Terano, T., Yamamoto, R., Tai, C.-C. (eds.) Advances in Computational Social Science. ASS, vol. 11, pp. 265–277. Springer, Tokyo (2014). doi:10.1007/978-4-431-54847-8_17

Schultz, M., Fricke, H.: Managing passenger handling at airport terminals individual-based approach for modeling the stochastic passenger behavior. In: Proceedings of the 9th USA/Europe Air Traffic Management Research and Development Seminar, ATM 2011, pp. 438–447 (2011)

Takakuwa, S., Oyama, T.: Modeling people flow: simulation analysis of international-departure passenger flows in an airport terminal. Winter Simulation Conference, pp. 1627–1634. Louisiana, New Orleans (2003)

Tosic, V.: A review of airport passenger terminal operations analysis and modelling. Transp. Res. Part A: Policy Pract. 26(1), 3–26 (1992)

Tosic, V., Babic, O., Janic, M.: Airport Passenger Terminal simulation, Annals of Operations Research in Air Transportation, Faculty of Transport and Traffic Engineering. University of Belgrade, pp. 83–103 (1983)

Wu, P.P.-Y., Mengersen, K.: A review of models and model usage scenarios for an airport complex system. Transp. Res. Part A: Policy Pract. 47, 124–140 (2013)

McDermott, T., Rouse, W., Goodman, S., Loper, M.: Multi-level modeling of complex socio-technical systems. Proc. Comput. Sci. 16, 1132–1141 (2013)

Park, H., Clear, T., Rouse, W.B., Basole, R.C., Braunstein, M.L., Brigham, K.L., Cunningham, L.: Multilevel simulations of health delivery systems: a prospective tool for policy, strategy, planning, and management. Serv. Sci. 4(3), 253–268 (2012)
Acknowledgement

We appreciate to Fukuoka Airport Building Co., Ltd. for useful comments and considerable efforts. We are grateful to Mr. Daisuke Sunada and Mr. Kazuhiro Tokiwa for developing a simulator implemented our model. Naoyuki Kamiyama was supported by JST PRESTO Grant Number JPMJPR14E1, Japan. Akifumi Kira was supported in part by JSPS KAKENHI Grant Numbers 26730010 and 17K12644.
Appendices
Appendix 1
In this appendix, we describe detail of the problem situation. Figure 4 shows passengers flow and management organizations of Fukuoka airport international terminal (FUK int'l terminal) departure floor in Japan. The baggage X-ray inspection consists of 6 inspection units, the check-in consists of 12 check-in counters and each counter having 8 booths, the security check consists of 5 inspection units, and the departure examination consists of 3 counters. The departure floor roughly divide in north area and south area. North-units of baggage X-ray inspection and from A counter to F counter of check-in are placed in north area. South-units of baggage X-ray inspection and from G counter to M counter of check-in are placed in south area. Each check-in counter are managed by each airline, and the passengers use own flight counter. The check-in booth is assigned for business class passenger or economy class passenger. If the passengers use north area check-in counter, they have to use north-units of baggage X-ray inspection. It is the same in the south area. The security checks counters and departure examinations are used by all passengers freely.
The boarding process at the terminal departure floor is composed of the following steps: a passenger (i) has the examination of his/her check in baggage at the baggage X-ray inspection facility; (ii) checks in at the airport counter facility; (iii) gets the inspection of his/her body and carry-on baggage at the security checks facility; (iv) gets the inspections of his/her passport and flight ticket at departure immigration facility; and (v) proceeds to the boarding gate of his/her flight. In particular, most of passengers advance from the steps (i) to (iv) directly without visiting other facilities such as a restaurant and an exchange counter.
Appendix 2
In this appendix, we describe detail of the model. Figure 5 shows FUK int'l terminal departure floor represented by the Queueing Network. In this paper, we analyze only baggage X-ray inspection, check-in, and security checks. Because data about the departure examination could not be gathered for security reasons.
Tables 3 and 4 show values, source of values, and collected date of the each parameter.
Copyright information

© 2017 Springer International Publishing AG
About this paper
Cite this paper
Yamada, H. et al. (2017). Modeling and Managing Airport Passenger Flow Under Uncertainty: A Case of Fukuoka Airport in Japan. In: Ciampaglia, G., Mashhadi, A., Yasseri, T. (eds) Social Informatics. SocInfo 2017. Lecture Notes in Computer Science(), vol 10540. Springer, Cham. https://doi.org/10.1007/978-3-319-67256-4_33
DOI: https://doi.org/10.1007/978-3-319-67256-4_33

Published:

Publisher Name: Springer, Cham

Print ISBN: 978-3-319-67255-7

Online ISBN: 978-3-319-67256-4

eBook Packages: Computer ScienceComputer Science (R0)