Abstract
In this chapter Chrabieh argues that in the absence of a national memory in Lebanon, of an official peace—education curriculum, and a common history book for schools and universities, it is urgent to dwell on intergenerational transmissions of memory. She presents the results of a qualitative research project she conducted from 2007–2014 with a post-civil war generation of students at the Holy Spirit University. Chrabieh discusses how the students tended to reproduce the stories they learnt from parents, from older friends and acquaintances, or else from political parties and sectarian communities. This chapter develops a discussion of how the students engage and reflect on war memories as partial remembrances, providing a trigger to critically reconsider the family's/political party's/sectarian community's narratives and contested memories.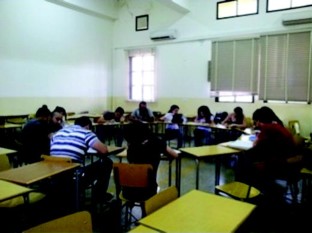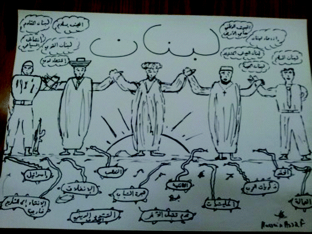 Works Cited
Adnan, Etel. 2005. In the Heart of the Heart of Another Country. San Francisco: City Light Books.

Alam, Johnny. 2014. Real Archive, Contested Memory, Fake History: Transnational Representations of Trauma by Lebanese War Generation Artists. In History, Memory, Performance, ed. David Dean, Yana Meerzon, and Kathryn Prince, 169–186. London: Palgrave Macmillan.

Albrecht, Mara, and Akar, Bassel. 2016. The Power of Remembrance: Political Parties, Memory and Learning about the Past in Lebanon. Forum Civil Peace Service (Forum ZFD Lebanon). http://www.forumzfd.de/en/lebanon. Accessed 5 July 2016.

Amaya-Akkermans, Arie. 2015. War Memory in Lebanon. Hannah Arendt Center, May 12. http://www.hannaharendtcenter.org/war-and-memory-in-lebanon/. Accessed 28 July 2016.

Arendt, Hannah. 1998. The Human Condition. Chicago: University of Chicago Press.

Argenti, Nicolas, and Katharina Schramm (eds.). 2009. Remembering Violence: Anthropological Perspectives on Intergenerational Transmission. Brooklyn: Berghahn Books.

Arkoun, Mohammad. 2002. The Unthought in Contemporary Islamic Thought. London: Saqi Books.

Assmann, Jan. 2011. Communicative and Cultural Memory. In Cultural Memories: The Geographical Point of View, vol. 4, ed. Peter Meusburger, Michael Heffernan, and Edgar Wunder, 15–27. Knowledge and Space Series. Dordrecht and Germany: Springer.

Beydoun, Ahmad. 1984. Identité confessionnelle et temps social chez les historiens libanais contemporains. Beyrouth: Université Libanaise.

———. 1993. Le Liban: Itinéraire dans une guerre incivile. Beirut: Karthala-CERMOC.

Bryant, Lia. 2016. Taking up the Call for Critical and Creative Methods in Social Work Research. In Critical and Creative Research Methodologies in Social Work, ed. Lia Bryant. Oxford: Routledge. https://books.google.de/books?id=BLq1CwAAQBAJ&pg=PR1&dq=Critical+and+Creative+Research+Methodologies+in+Social+Work. Accessed 6 July 2016.

Chrabieh, Pamela. 2005. Pour une gestion médiatrice des diversités au Liban: Une théorie du plurilogue, au-delà du confessionnalisme. PhD dissertation, Université de Montréal.

———. 2007. Breaking the Vicious Circle! Contributions of the 25–35 Lebanese Age Group. In Breaking the Cycle: Civil Wars in Lebanon, ed. Youssef Choueiri, 69–88. London: Stacey International.

———. 2008. Voix-es de paix au Liban: Contribution de jeunes de 25–40 ans à la reconstruction nationale. Collection l'interaction islamo-chrétienne 4. Beirut: Dar el-Machreq.

———. 2009. La gestion de la diversité au Liban: Visions de jeunes du secondaire. Collection l'interaction islamo-chrétienne 5. Beirut: Dar el-Machreq.

———. 2010. Mémoires de guerre et blogosphère libanaise. In Mémoires de guerres au Liban (1975–1990), ed. Franck Mermier and Christophe Varin, 165–83. Paris: Sindbad/Actes Sud.

———. 2016. Al-tarbiyya min ajil al-salām: Dirāsāt al-masʾala fī l-iṭār al-jāmiʿī. Al-Machreq, St. Josef University in Beirut, 90 (1): 109–36.

Corm, Georges. 2012a. Le Liban contemporain: Histoire et société. Paris: La Découverte Poche.

———. 2012b. Le Proche-Orient éclaté. Collection Folio histoire. Paris: Gallimard.

Dworkin's Law and Justice. 2015. Hannah Arendt Center, February 13. http://hac.bard.edu/news/post/?item=9441. Accessed 28 July 2016.

Erikson, Kai. 1995. Notes on Trauma and Community. In Trauma: Explorations in Memory, ed. Cathy Caruth, 183–200. Baltimore, MD: John Hopkins University Press.

Galeano, Eduardo. 1997. Mémoires et malmémoires. Le Monde Diplomatique, August. http://www.monde-diplomatique.fr/1997/08/GALEANO/4916. Accessed 3 Aug 2016.

Hayman, Brenda, Lesley Wilkes, Debra Jackson, and Elisabeth Halcomb. 2012. Story-Sharing as a Method of Data Collection in Qualitative Research. Journal of Clinical Nursing 21 (1–2): 285–287.

Hirsch, Eric, and Charles Stewart. 2005. Introduction: Ethnographies of Historicity. History and Anthropology 16 (3): 261–274.

Hirsch, Marianne. 2008. The Generation of Postmemory. Poetics Today 29 (1): 103–128.

Houbballah, Adnan. 1996. Le Virus de la violence: La guerre civile est en chacun de nous. Paris: Albin Michel.

Kahane-Nissenbaum, Melissa C. 2011. Exploring Intergenerational Transmission of Trauma in Third Generation Holocaust Survivors. PhD dissertation, School of Social Policy and Practice, University of Pennsylvania. http://repository.upenn.edu/cgi/viewcontent.cgi?article=1017&context=edissertations_sp2. Accessed 28 July 2016.

Kassir, Samir. 1994. La guerre du Liban: De la dissension nationale au conflit regional. Paris: Karthala.

Knight, Heather. 2014. Articulating Injustice: An Exploration of Young People's Experiences of Participation in a Conflict Transformation Program That Utilizes the Arts as a Form of Dialogue. A Journal of Comparative and International Education 44 (1): 77–96. http://www.tandfonline.com/doi/abs/10.1080/03057925.2013.859881?journalCode=ccom20. Accessed 11 July 2016.

Lambek, Michael. 2006. Memory in a Maussian Universe. In Memory Cultures: Memory, Subjectivity and Recognition, ed. Susannah Radstone, and Katharine Hodgkin, 202–216. New Brunswick, NJ: Transaction.

Larkin, Craig. 2010. Beyond the War? The Lebanese Postmemory Experience. International Journal of Middle East Studies 42 (4): 615–635.

Makdisi, Jean Said. 1999. Beirut Fragments: A War Memoir, Rev. ed. New York: Persea Books.

Raphael, Nada (ed.). 2009. Hyphen Islam-Christianity. Montreal: Electrochocks Editions.

Rothberg, Michael. 2009. Multidirectional Memory: Remembering the Holocaust in the Age of Decolonization. Redwood, CA: Stanford University Press.

Rowland-Klein, Dani, and Rosemary Dunlop. 1998. The Transmission of Trauma across Generations: Identification with Parental Trauma in Children of Holocaust Survivors. Australian and New Zealand Journal of Psychiatry 32 (3): 358–369.

Sabbag, Randa Chahal (director). 1999. Civilisées. France: Arte France Cinéma; Lebanon: Leil Productions.

Sharara, Sima Lynn. 2014. Mind at War: The Social and Cultural Dimensions of Mental Illness in (Post) Conflict Lebanon. Global Studies Honors Thesis, University of North Carolina at Chapel Hill. https://cdr.lib.unc.edu/indexablecontent/uuid:0bba466d-9e73-4e19-93a3-cd19bb9e2650. Accessed 12 July 2016.

Thompson, Edward Palmer. 1963. The Making of the English Working Class. London: Victor Gollancz.

Volk, Lucia. 2010. Memorials and Martyrs in Modern Lebanon. Bloomington, IN: Indiana University Press.

Weingarten, Kaethe. 2004. Witnessing the Effects of Political Violence in Families: Mechanisms of Intergenerational Transmission and Clinical Interventions. Journal of Marital and Family Therapy 30 (1): 45–59. http://onlinelibrary.wiley.com/doi/10.1111/j.1752-0606.2004.tb01221.x/abstract;jsessionid=16ABCE37ABB3CF3B0508CA915F53F232.f01t02. Accessed 11 July 2016.

Whitling, Frederick. 2010. Damnatio Memoriae and the Power of Remembrance. In A European Memory? Contested Histories and Politics of Remembrance, ed. Malgorsata Pakier and Bo Strath, 87–97. Studies in Contemporary European History. New York: Berghahn Books.
About this chapter
Cite this chapter
Chrabieh, P. (2017). Ressouvenirs in Dialogue: University Students Tell Their War Stories. In: Nikro, N., Hegasy, S. (eds) The Social Life of Memory. Palgrave Studies in Cultural Heritage and Conflict. Palgrave Macmillan, Cham. https://doi.org/10.1007/978-3-319-66622-8_7
DOI: https://doi.org/10.1007/978-3-319-66622-8_7

Published:

Publisher Name: Palgrave Macmillan, Cham

Print ISBN: 978-3-319-66621-1

Online ISBN: 978-3-319-66622-8