Abstract

In this chapter, we present a school-based, practice-oriented professional development approach to mathematics authentic assessment task design and examine its impact on elementary mathematics teachers' assessment literacy. The quality of teachers' assessment tasks used in the day-to-day mathematics instruction was used as an indicator of teachers' assessment literacy. We believe that authentic assessment tasks provide rich learning opportunities for students to develop their mathematical literacy, which was evident in students' work. In addition, teachers' active involvement in the design and implementation of mathematics authentic assessments has the potential to increase their diagnostic competence. Singapore, one of the high-performing education systems in the world, was used as an example to demonstrate the importance of improving mathematics teachers' assessment literacy in the context of twenty-first century teaching and learning. The chapter ends with some recommendations for using mathematics authentic assessments to increase teachers' diagnostic competence. It also includes some suggestions for future research.
Keywords
Authentic Assessment Tasks

Teacher Assessment Literacy

Diagnostic Competence

Professional Development Approach

National Council Of Teachers Of Mathematics (NCTM)
These keywords were added by machine and not by the authors. This process is experimental and the keywords may be updated as the learning algorithm improves.
References
Beesey, C., Clarke, B. A., Clarke, D. M., Stephens, M., & Sullivan, P. (1998). Effective assessment for mathematics. Carlton, VIC: Board of Studies/Addison Wesley Longman.

Borko, H., Mayfield, V., Marion, S., Flexer, R., & Cumbo, K. (1997). Teachers' developing ideas and practices about mathematics performance assessment: Success, stumbling blocks, and implications for professional development. Teaching and Teacher Education, 13(3), 259–278.

Bransford, J., Darling-Hammond, L., & LePage, P. (2005). Introduction. In L. Darling-Hammond & J. Bransford (Eds.), Preparing teachers for a changing world: What teachers should learn and be able to do (pp. 1–39). San Francisco, CA: Jossey-Bass.

Chapman, O. (2013). Engaging children in learner-focused mathematical tasks. Plenary presentation at the 13th Biannual International Symposium for Elementary Mathematics Teaching [SEMT-13], Charles University, Prague.

Clarke, D. (1996). Assessment. In A. J. Bishop, K. Clements, C. Keitel, J. Kilpatrick, & C. Laborde (Eds.), International handbook of mathematics education (Vol. 1, pp. 327–370). Dordrecht, The Netherlands: Kluwer Academic.

Cockcroft, W. H. (1982). Mathematics counts. The Cockcroft report. London: Her Majesty's Stationery Office.

Fan, L. (2002). In-service training in alternative assessment with Singapore mathematics teachers. The Mathematics Educator, 6(2), 77–94.

Garet, M. S., Porter, A. C., Desimore, L., Birman, B. F., & Yoon, K. S. (2001). What makes professional development effective? Results from a national sample of teachers. American Educational Research Journal, 38(4), 915–945.

Hiebert, J., & Carpenter, T. P. (1992). Learning and teaching with understanding. In D. A. Grouws (Ed.), Handbook of research on mathematics teaching and learning (pp. 65–97). New York, NY: Macmillan.

Hoth, J., Döhrmann, M., Kaider, G., Busse, A., König, J., & Blömeke, S. (2016). Diagnostic competence of primary school mathematics teachers' during classroom situations. ZDM Mathematics Education, 48, 41–53.

Koh, K. (2011a). Improving teachers' assessment literacy through professional development. Teaching Education, 22(3), 255–276.

Koh, K. (2011b). Improving teachers' assessment literacy. Singapore: Prentice Hall.

Koh, K. (2014). Authentic assessment, teacher judgment and moderation in a context of high accountability. In C. Wyatt-Smith, V. Klenowski, & P. Colbert (Eds.), Designing assessment for quality learning (Vol. 1, pp. 249–264). Dordrecht, Netherlands: Springer.

Koh, K. (2015). The use of video technology in pre-service teacher education and inservice teacher professional development. In S. F. Ng (Ed.), Cases of mathematics professional development in east asian countries (pp. 229–247). Singapore: Springer.

Koh, K., & Luke, A. (2009). Authentic and conventional assessment in Singapore schools: An empirical study of teacher assignments and student work. Assessment in Education: Principles, Policy & Practice, 16(3), 291–318.

Koh, K., Burke, L. E. C., Luke, A., Gong, W. G., & Tan, C. (2017). Developing the assessment literacy of teachers in Chinese language classrooms: A focus on assessment task design. Language Teaching Research., doi: 10.1177/136216881668436

McClung, M. S. (1979). Competency testing programs: Legal and educational issues. Fordham Law Review, 47, 652–711.

Ministry of Education. (2006). Mathematics syllabus primary. Singapore: Curriculum Planning and Development Division, Ministry of Education.

National Council of Teachers of Mathematics. (1989). Curriculum and evaluation standards for school mathematics. Reston, VA: Author.

National Council of Teachers of Mathematics. (2000). Principles and standards for school mathematics. Reston, VA: National Council of Teachers of Mathematics.

National Council of Teachers of Mathematics. (1991). Professional standards for teaching mathematics. Reston, VA: Author.

National Council of Teachers of Mathematics. (1995). Assessment standards for school mathematics. Reston, VA: Author.

Nickerson, S. D., & Masarik, D. K. (2010). Assessing teachers' developing interpretive power: Analysing student thinking. Mathematics Teacher Education and Development, 12(1), 19–29.

OECD. (2013). PISA 2012 Assessment and analytic framework: Mathematics, reading, science, problem-solving, and financial literacy. Paris: PISA, OECD Publishing.

Popham, W. J. (2009). Assessment literacy for teachers: Faddish or fundamental? Theory Into Practice, 48, 4–11.

Prenzel, M. (2013). Introduction: Research on PISA, with PISA, and for PISA. In M. Prenzel, M. Kobarg, K. Schöps, & S. Rönnebeck (Eds.), Research on PISA. Dordrecht, Netherlands: Springer.

Putnam, R. T., Lampert, M., & Peterson, P. L. (1990). Alternative perspectives on knowing mathematics in elementary schools. In C. Cazden (Ed.), Review of research in education (Vol. 16, pp. 57–152). Washington, DC: American Educational Research Association.

Ramaprasad, A. (1983). On the definition of feedback. Behavioural Science, 28, 4–13.

Romberg, T. A. (2001). Understanding the standards-based reform movement in school mathematics. The Mathematics Educator, 6(1), 17–21.

Ruiz-Primo, M. A., Shavelson, R. J., Hamilton, L., & Klein, S. (2002). On the evaluation of systemic science reform: Searching for instructional sensitivity. Journal of Research in Science Teaching, 39(5), 369–393.

Schoenfeld, A. H. (2002). Making mathematics work for all children: Issues of standards, testing, and equity. Educational Researcher, 31(1), 13–25.

Schoenfeld, A. H. (1992). Learning to think mathematically: Problem solving, metacognition, and sense-making in mathematics. In D. Grouws (Ed.), Handbook for Research on Mathematics Teaching and Learning (pp. 334–370). New York: MacMillan.

Senk, S. L., Beckmann, C. B., & Thompson, D. R. (1997). Assessment and grading in high school mathematics classrooms. Journal of Research in Mathematics Education, 28, 187–215.

Silver, E. A., Mesa, V. M., Morris, K. A., Star, J. R., & Benken, B. M. (2009). Teaching mathematics for understanding: An analysis of lessons submitted by teachers seeking NBPTS certification. American Educational Research Journal, 46(2), 501–531.

Stiggins, R. J. (1991). Assessment literacy. Phi Delta Kappan, 72(7), 534–539.

Webb, D. C. (2009). Designing professional development for assessment. Educational Designer, 1(2), 1–26. Retrieved from http://www.educationaldesigner.org/ed/volume1/issue2/article6
Appendix A
Appendix A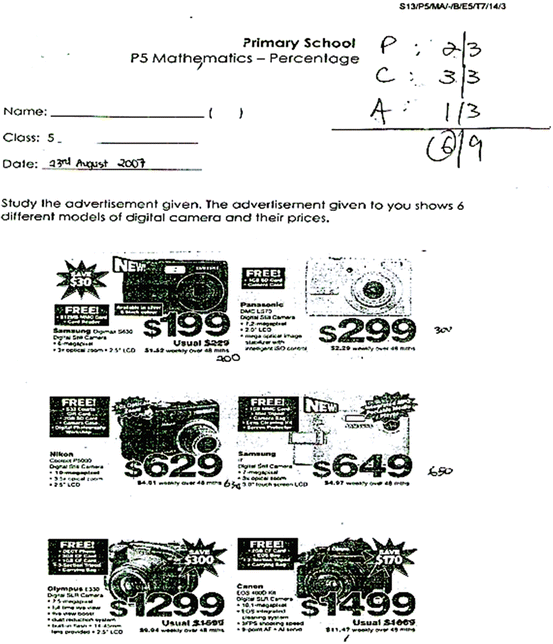 Copyright information

© 2018 Springer International Publishing AG
About this chapter
Cite this chapter
Koh, K., Chapman, O. (2018). Improving Teachers' Assessment Literacy in Singapore Mathematics Classrooms: Authentic Assessment Task Design. In: Leuders, T., Philipp, K., Leuders, J. (eds) Diagnostic Competence of Mathematics Teachers. Mathematics Teacher Education, vol 11. Springer, Cham. https://doi.org/10.1007/978-3-319-66327-2_11
DOI: https://doi.org/10.1007/978-3-319-66327-2_11

Published:

Publisher Name: Springer, Cham

Print ISBN: 978-3-319-66325-8

Online ISBN: 978-3-319-66327-2

eBook Packages: EducationEducation (R0)