Abstract

The contribution describes a maximum efficiency design of a push–pull (full-bridge and half-bridge) DC/DC converter transformer based on straightforward analytical calculations. The input parameters for the optimization are transformer core size, switching frequency and power. The output parameter is the core peak-to-peak flux density, from which all other essential parameters of the transformer (numbers of turns, core loss, winding loss etc.) can be derived. The optimization contains some simplifications which could cause a small error, but the result is an easy-to-use and simple to implement analytical formula, which can be used to quickly design a well-performing transformer or evaluate multiple designs.
Keywords
High-frequency transformer

Efficiency optimization

Push–pull converter

Full-bridge converter

Switch-mode power supply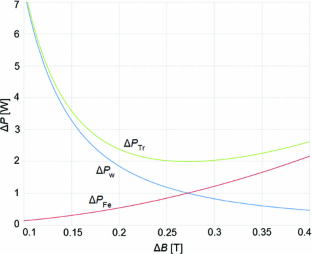 References
Kato, H., Karasuyama, S., Ishizuka, K., Ogasawara, K., Ueda, K.: Optimization of a transformer used for LLC resonant DC-DC converters for photovoltaic cell. In: Paper presented at the 2015 IEEE International Telecommunications Energy Conference (INTELEC), Osaka (2015)

Kanamarlapudi, V.R.K., Wang, B., So, P.L., Wang, Z.: Analysis, Design, and Implementation of an APWM ZVZCS Full-Bridge DC–DC Converter for Battery Charging in Electric Vehicles. In: IEEE Transactions on Power Electronics, vol. 32, no. 8, Aug 2017

Mu, M., Lee, F.C.: Design and Optimization of a 380–12 V High-Frequency, High-Current LLC Converter With GaN Devices and Planar Matrix Transformers. IEEE J. Emerg. Selected Top. Power Electron. 4(3), 854–862 (2016)

Qin, H., Kimball, J.W., Venayagamoorthy, G.K.: Particle swarm optimization of high-frequency transformer. In: Paper presented at the IECON 2010—36th Annual Conference on IEEE Industrial Elec-tronics Society, Glendale, AZ, 2010

Kumar, P.S.: Design of high frequency power transformer for switched mode power supplies. In: Paper presented at the 2016 International Conference on Emerging Trends in Engineering, Technology and Science (ICETETS), Pudukkottai, 2016

Barrios, E.L., Ursúa, A., Marroyo, L., Sanchis, P.: Analytical Design Methodology for Litz-Wired High-Frequency Power Transformers. In: EEE Transactions on Industrial Electronics, vol. 62, no. 4, April 2015

Petkov, R.: Optimum design of a high-power, high-frequency transformer. In: IEEE Transactions on Power Electronics, vol. 11, no. 1, Jan 1996
Acknowledgement

This research work has been carried out in the Centre for Research and Utilization of Renewable Energy (CVVOZE). Authors gratefully acknowledge financial support from the Ministry of Education, Youth and Sports of the Czech Republic under NPU I programme (project No. LO1210).
Copyright information

© 2018 Springer International Publishing AG
About this paper
Cite this paper
Martis, J. (2018). Push–Pull Converter Transformer Maximum Efficiency Optimization. In: Březina, T., Jabłoński, R. (eds) Mechatronics 2017. MECHATRONICS 2017. Advances in Intelligent Systems and Computing, vol 644. Springer, Cham. https://doi.org/10.1007/978-3-319-65960-2_27
DOI: https://doi.org/10.1007/978-3-319-65960-2_27

Published:

Publisher Name: Springer, Cham

Print ISBN: 978-3-319-65959-6

Online ISBN: 978-3-319-65960-2

eBook Packages: EngineeringEngineering (R0)